Butternut squash is more versatile than you think! Beside a quick sauté adding swiss chard and pomegranate to the butternut squash, I've rounded up several other vegan and vegetarian recipes to inspire you (plus some storage tips). Today's Dash of Science: What are carbohydrates and starches?
Do you find that you are doing the same thing over and over with particular ingredients? I certainly do. With butternut squash, I always find myself roasting it in halves or cubes. I wanted to push myself to do something a little different, so I took one of my favourite flavour combinations (butternut and rosemary) and sautéed it! I've also gathered together some other vegetarian and vegan butternut squash side dishes for you to expand your squash horizons.
Preparing Butternut Squash
Preparing butter squash does not have to be time consuming. You can easily peel it using a standard vegetable peeler (peel before attempting to cut in rounds if that is what you are doing). And a large spoon will easily scrape out the seeds and pith. And use a big, sharp knife for cutting. A sharp knife will pass through the squash faster and prevent wobbling and erratic cuts.
Storage
Whole butternut squash can be stored in a cool, dark space (like a pantry) for a long time. Sources suggest anywhere from 2-6 months if the stem is intact and there are no blemishes or cracks. I have kept them on the counter out of direct light for at least one month during the winter. If you are in a warmer climate (over 70F in the winter), storing in the fridge is a good option, but it will not last as long due to the high humidity.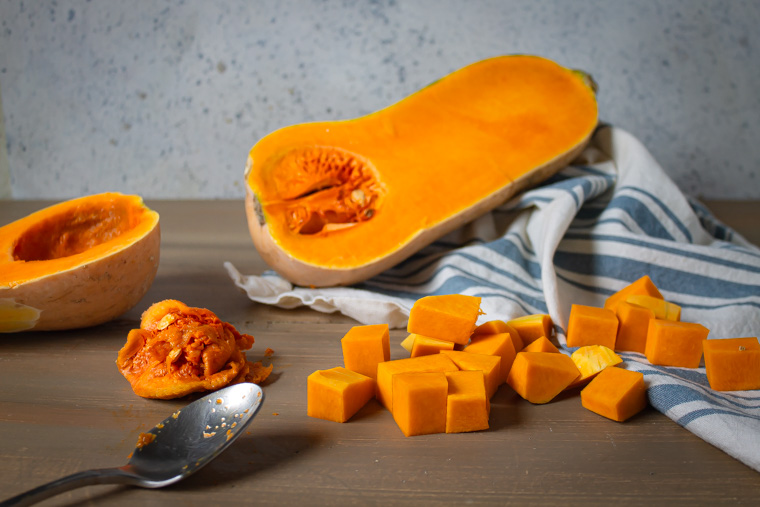 Storing Prepared Butternut
Butternut squash peeled and cut in cubes can be stored in air-tight containers in the fridge for up to 5 days. I find any longer than that and it begins to go dry and starchy. Half of a cut butternut will store in the fridge for up to 1 week (personal experience) in a plastic bag, but you might need to cut off the exposed layer before using again as it gets dry.
Cubed butter squash can be frozen for 3-4 months (longer if vacuum sealed). But frozen butternut squash will not hold in as nice of cubes when cooked. It all goes back to freezing lysing cells in fruits and vegetables. Because most squashes have a higher starch and fiber content, they do hold their shape better than fruits or vegetables which have a lot of water, but I would recommend using your frozen squash in a mashed way or perhaps as part of a pasta sauce.
A Dash of Science
What is a carbohydrate?
When discussed in chemistry terms, a carbohydrate is any one of several similarly composed and structured molecules. When I got exasperated at an article about "cellulose in food" a while ago, I mentioned that there are several times when the way these long chains of molecules are put together makes it impossible for humans to digest them. But some of the chains are perfect food sources for our bodies. So in nutrition terms, carbohydrates refer only to the version of these molecules which humans can digest: sugars and starches.
What is the difference between a starch, a fiber, and a sugar?
All of these things are carbohydrates. But we can only digest two of them. Starches refer to long chains of sugars – but don't run away – sugar isn't a bad word! The brain has to have glucose (the basis for a lot of types of sugars) to function. It cannot use any other energy source. Which isn't to say you should go crazy and eat tons of sugar to make yourself smarter. Your brain can still only use so much at one time and any extra is going to get stored as fat. But in plants, that extra sugar is stored as starch!
The third carbohydrate commonly referred to in nutrition – fiber – is not digestible but is still necessary because it keeps the gastro-intestinal tract functioning smoothly. You've heard of roughage in the diet "keeping you regular", well that is what fiber does. It moves through the GI tract catching all those wayward bits that have gotten wedged in the cracks and moving them out. Keeping all the nooks and crannies clean allows you to better absorb nutrients!
So while this recipe has a lot of digestible carbohydrates (starch in squash, sugar in the pomegranate) – it also has a lot of indigestible ones that are still good for you.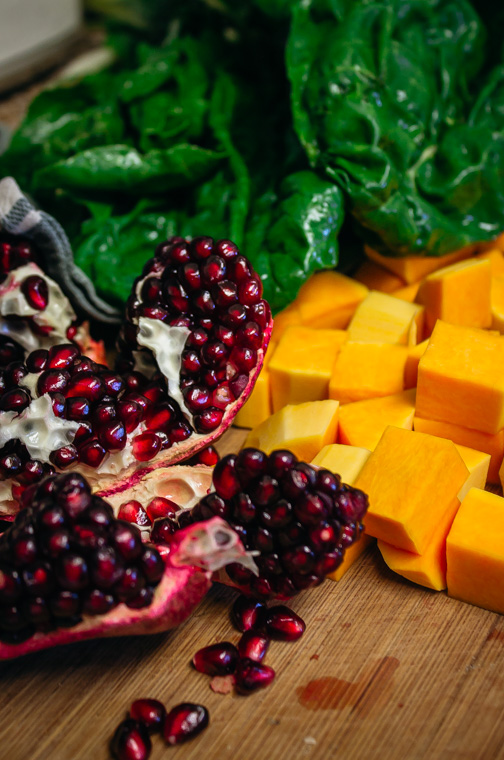 Butternut Squash Recipes
Dairy-free Swiss Chard and Butternut Squash Gratin from Kitchen Gone Rogue – I had to include such a different way of cooking chard and butternut together!
Kale and Butternut Salad with Maple Spiced Pecans from The View from Great Island – She also inspired my rhubarb cream cake, and I'm always a sucker for a good kale salad.
Chickpea Squash Fritters from Piping Pot Curry – Meeta is another one of my wonderful Bay Area bloggers and she does some really awesome food!
Butternut Squash Wild Rice Salad with Cranberries and Fennel from Caroline's Cooking– Wild rice and fennel are two things I think never get enough love. I need to correct that this winter.
Hasselback Butternut Squash from Hey Nutrition Lady – An interesting take on the more typical roasted butternut squash. A bit of sweet too for those who like it that way.
Mashed Roasted Butternut Squash from The Food Blog – Move over mashed potatoes. I may be weird, but I actually like gravy on butternut squash.
Roasted Butternut Squash with Rosemary and Lime from Kalyn's Kitchen – Very similar to my standard roasting method, but I like her addition of lime.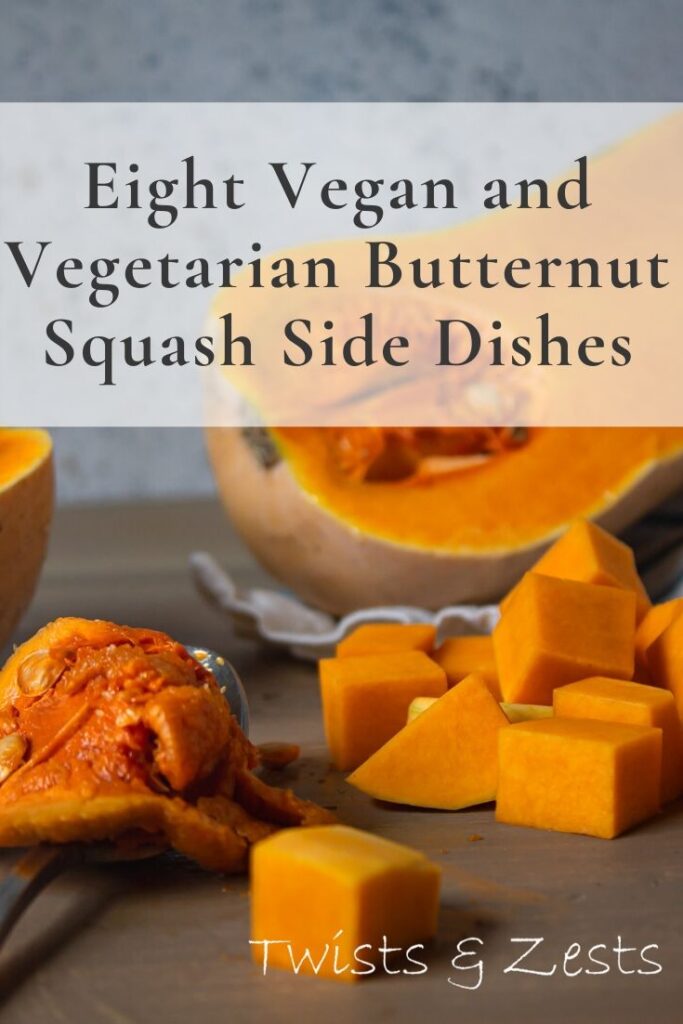 Sautéed Swiss Chard and Butternut Squash
Ingredients
~ 1 lb/500g butternut squash

1" cubes

¾

lb/350g chard

washed and sliced into 1" ribbons

2

tbs/30ml olive oil

1

tbs

+ 1 tsp/7g fresh rosemary leaves

chopped (2 sprigs)

¼

tsp

salt

¼

tsp

ground pepper

½

c/80g pomegranate arils
Instructions
Heat oil over medium in a large pan – cast iron works well.

Add cubed butternut squash and rosemary. Cook for 10 minutes, stirring regularly to expose the sides to the heat.

Reduce heat to low and cook for a further 15-20 minutes, stirring occasionally, until soft.

Increase heat to med-low. Add chard, salt, and pepper and cook for 5-7 minutes, stirring occasionally, until all of chard is wilted.

Add pomegranate, toss and remove from heat.

Stores well for 1-2 days. Reheat by sautéing over medium.