Sweet and savoury, these gorgonzola walnut shortbreads are a delicious addition to a fall dessert platter. With blue cheese and fresh rosemary, these cookies are a perfect treat that is not too sweet.
Blue cheese. In shortbread cookies. With walnuts and rosemary. No, wait! Don't run away! I swear it works. And it's a definitely a sweet treat not a savoury one. Its just one that is lightly sweet rather than loaded with sugar. Just my kind of nibble.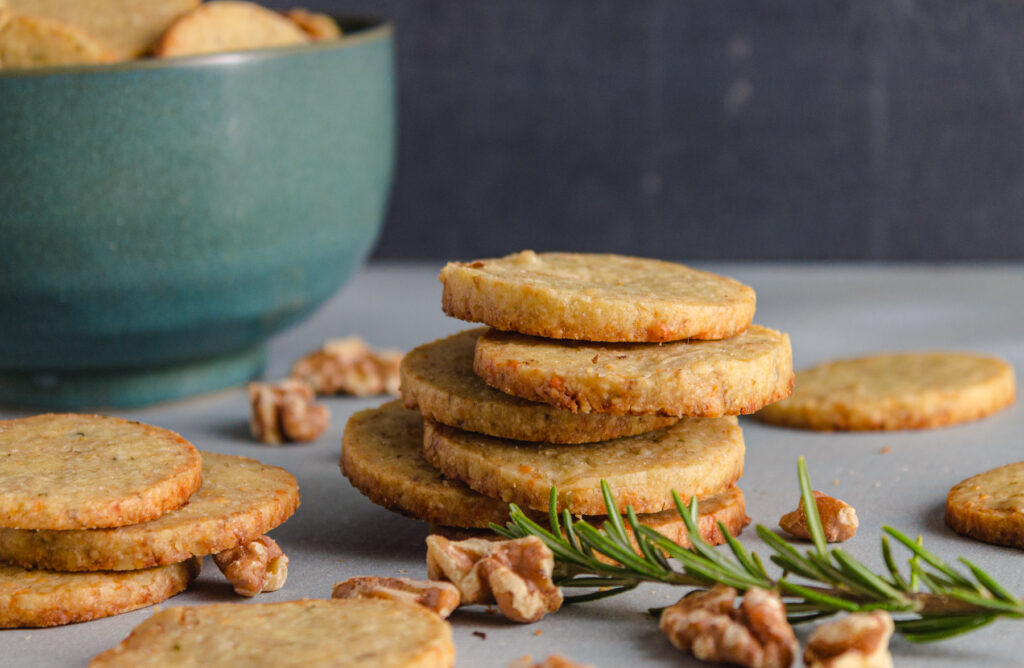 Gorgonzola balances out the sweetness and the walnuts prevent the blue cheese from being too intense. And I just like the combination of rosemary, cheese, and nuts.
Using Seasonal and Local Nuts
But where is the seasonal produce you may ask? It's in the nuts! Never forget that nuts are seasonal and local too. Particularly in California, the fresh batch of black walnuts are available starting in mid-fall. They are harvested in early fall, but require a bit of maturing in the shell before they are at their best.
Plus this is the perfect thing to pair with fall fruits! Put them on a fall dessert plate with slices of apple, pear, or fuyu persimmons. Add some hard, nutty cheeses and you have a delicious after dinner board that pairs with a small glass of port or whiskey.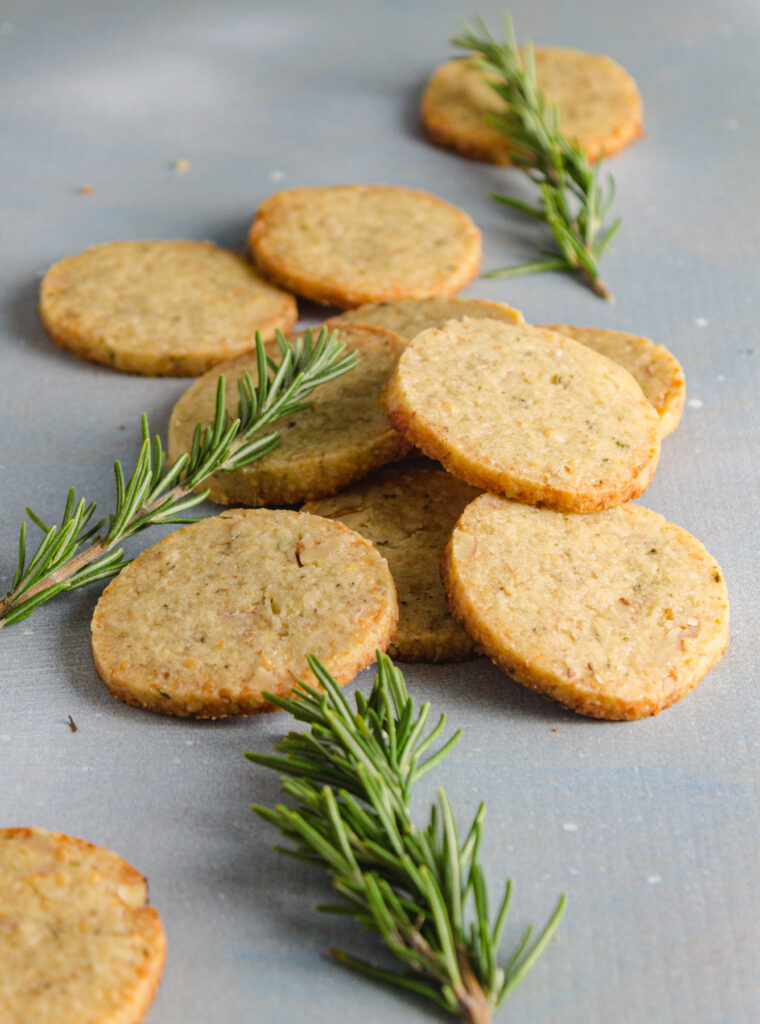 A Dash of Science
What makes shortbread short? And how do you balance that perfect texture between buttery and crumbly while still holding a shape and not falling apart in your fingers? It's a tough balance.
As has been previously discussed, the fats and oils that make dough tender inhibit gluten bonds, the part of flour that holds a pastry together. Since cookies don't contain water or other high water liquid like milk – unlike bread dough – they need some other way to hold together.
Most cookies contain egg for this function. The proteins in eggs create a structure to balance out the buttery nature of most cookies.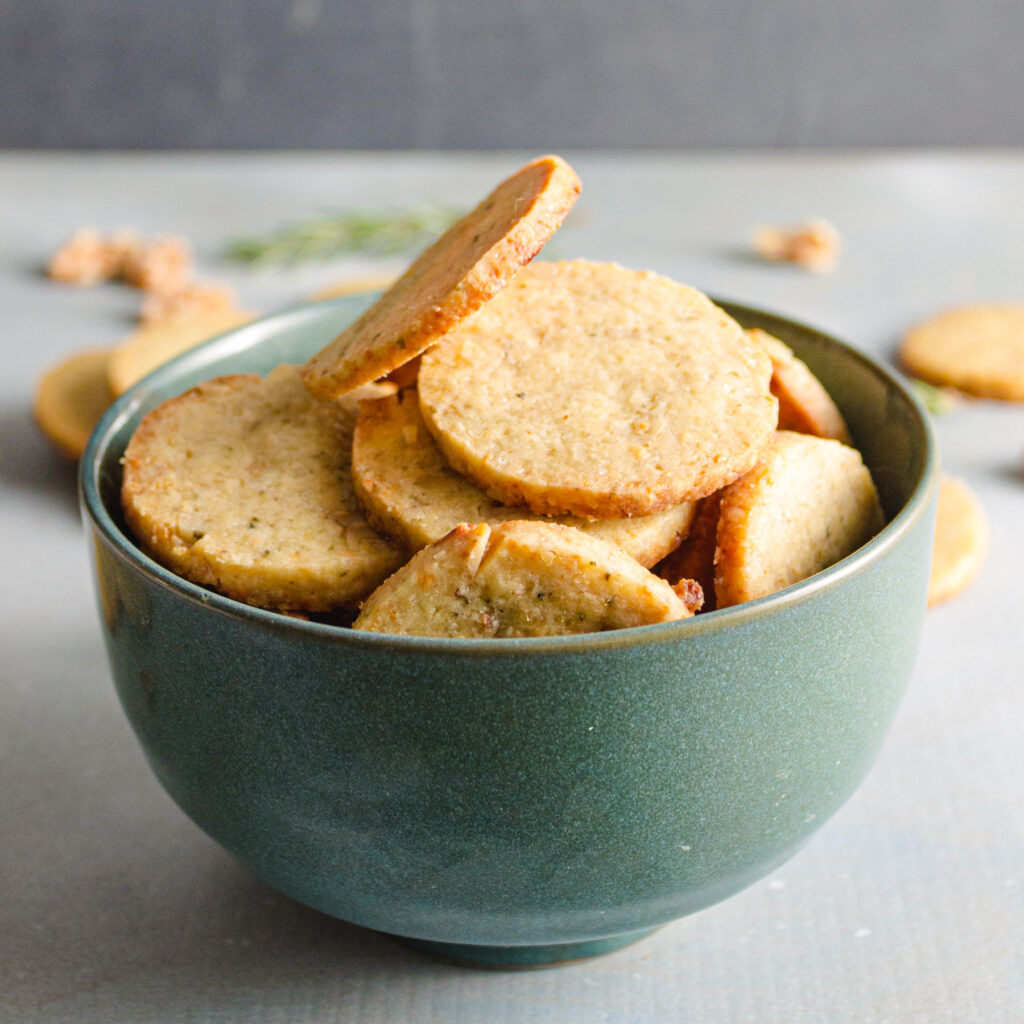 Why use an egg yolk?
But shortbread doesn't have egg for this purpose. My version does have an egg yolk, but cooked which inhibits gluten bonds even more. Instead, fats are softened to coat the flour and re-solidified in the fridge. Plus you work the dough a little bit more than you would in most pasties.
How to keep your shortbread together
Rather than worrying about overworking the dough as you would with pastry, you need to watch out for the dough being too crumbly. For this you need the right ratio between fats and flour.
The easiest thing to overdo is the flour. Particularly if you are using volume measurements. As you scoop flour it is easy to compact it into the measuring cup. To get a good measurement of flour, use a spoon to scoop flour into a measuring cup. Or just use weights. It's more accurate every time and you don't have to be fussy about how you scoop.
The last part of a successful shortbread cookie is properly chilling the dough. Before you cut the dough, make sure it is completely firm. This means that the fats are completely solidified and will hold the cookie in shape.
You will have a perfectly shaped shortbread circle with lots of flavour. A lightly sweet treat with lots of tangy cheese and rich nuts for a unique autumn dessert.
Snap a picture of what you cook and tag me @twistsandzests on Instagram and use the hashtag #twistsandzests so we can all see! You can also comment, email, or message me on any social media platform to find solutions to cooking problems.
Gorgonzola Walnut Shortbread
Ingredients
½

c/115g unsalted butter

softened

1/3

c/70g granulated sugar

1

tsp/1g fresh rosemary

1/8

tsp/1g salt

1

hardboiled egg yolk

¾

c/100g gorgonzola

crumbled

1 ½

c/180g all-purpose flour

1

c/100g walnut halves
Instructions
In a food processor with a standard blade, combine butter, sugar, egg yolk, salt, and rosemary. Process on low until smooth and creamy.

Add flour and gorgonzola. Process until big crumbles form.

Add the walnuts. Process on low until the walnuts are in small size pieces – about ¼"/6mm.

Bring the dough together into a log shape 2"/5cm in diameter. Wrap in cling film and roll and tap to flatten out the ends and smooth the sides.

Refrigerate for at least 1 hour.

Preheat oven to 350°F/180 C. Line a baking sheet with parchment or a silicon baking mat.

Cut the log into round slices a bit over ¼"/6mm thickness. Place on the prepared baking sheet about 1" apart.

Bake for 12-15 minutes until just golden brown on the edges.

Remove and allow to cool on the sheet for 3 minutes before transferring to a cooling rack.

Store in an airtight container for up to 1 week.