A tangy blueberry shrub with garden basil and balsamic for an exciting summer beverage that can be served with (or without) alcohol.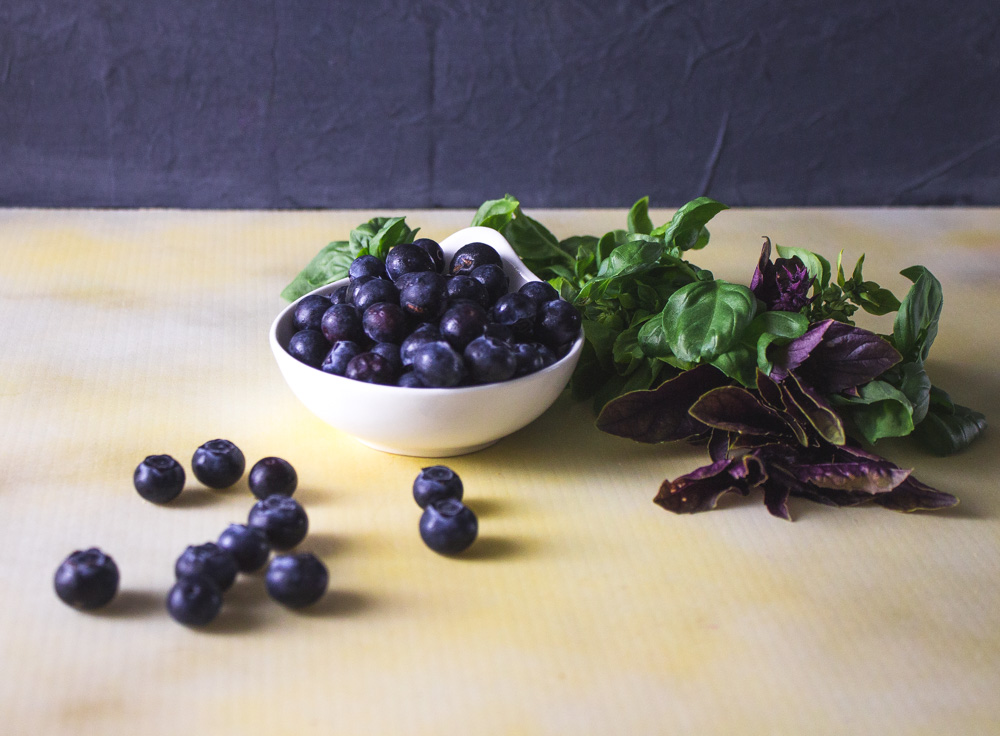 Warm weather definitely calls for refreshing sparkling drinks that can be served over lots of ice. I haven't done a blueberry shrub previously, so it seemed an excellent use for the blueberries at the farmstand. Also, basil! I planted 5 different varieties this year including a new one I hadn't seen before: Greek bush basil – it has super tiny leaves! I used primarily the Genovese and the purple basil in the shrub, but any standard variety works.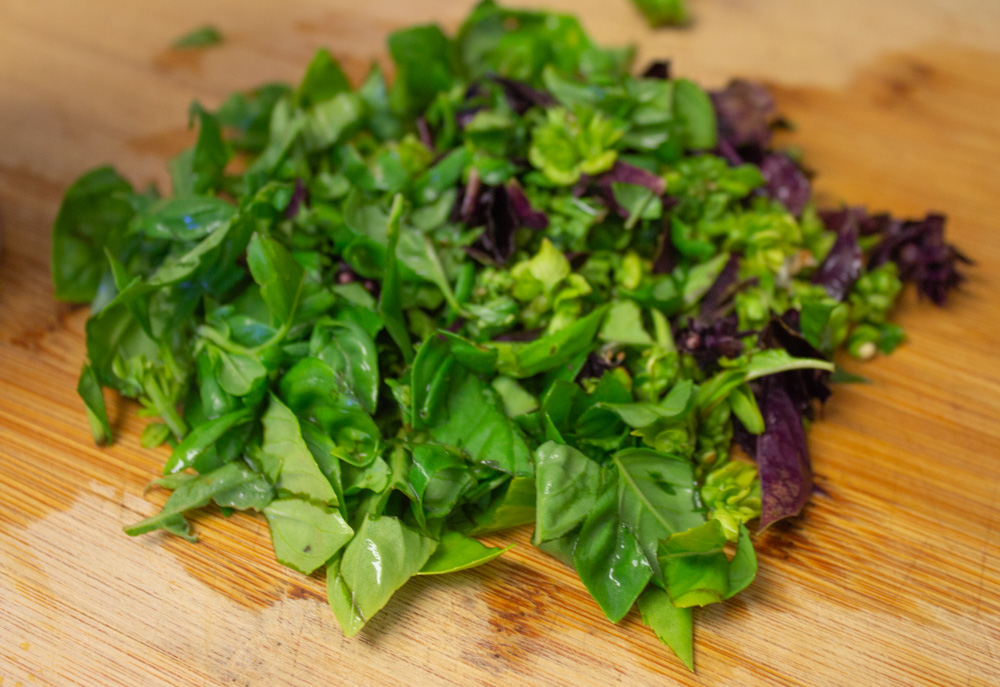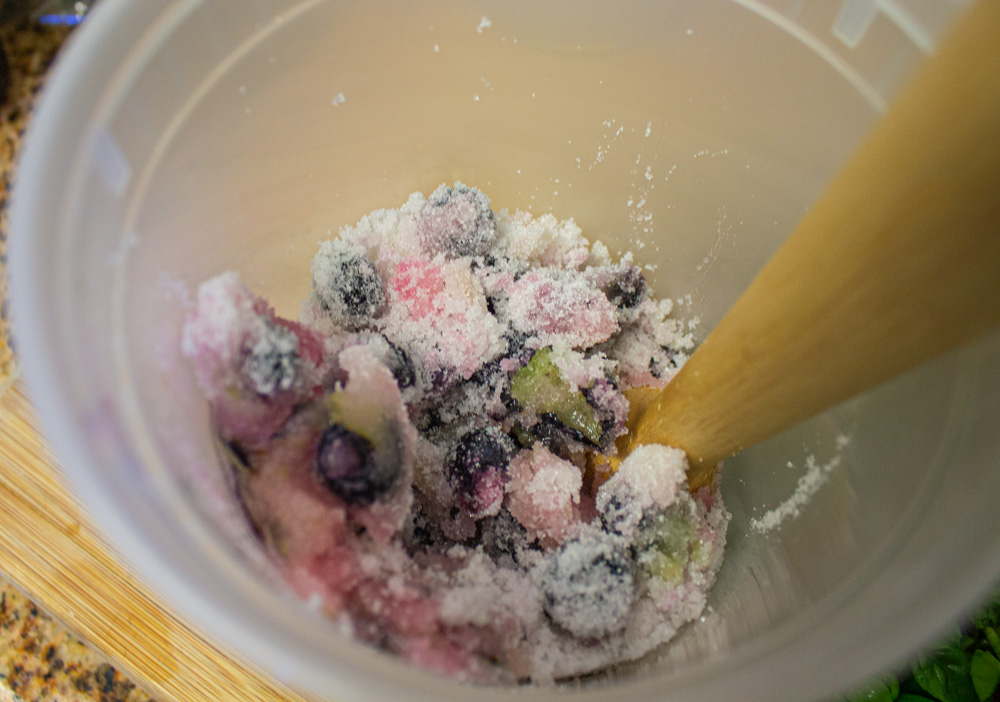 I do make this in the cold process method. If you are interested in making a shrub within a day another blogger I know has done several shrubs recently using the hot process method: Meg's Orange Shrub.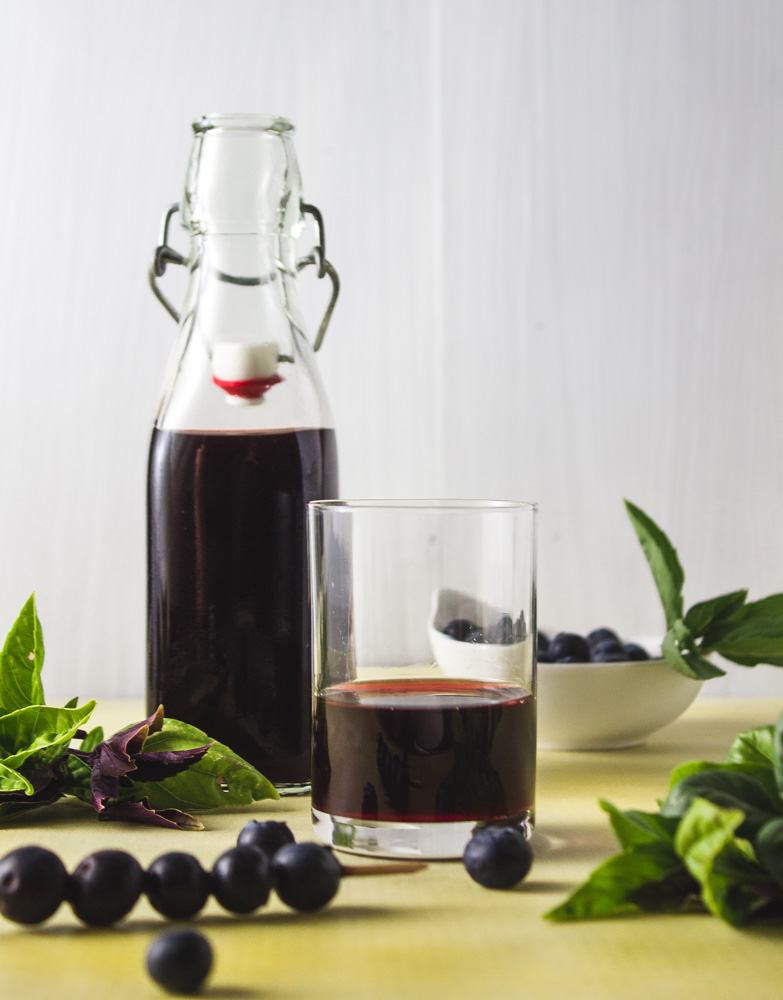 This is a very syrupy shrub, you don't add too much else for sweetness in a cocktail. The cocktail I made uses this fact – I was even able to add more acidic components. But at the same time, it's still plenty acidic when used on its own with soda water.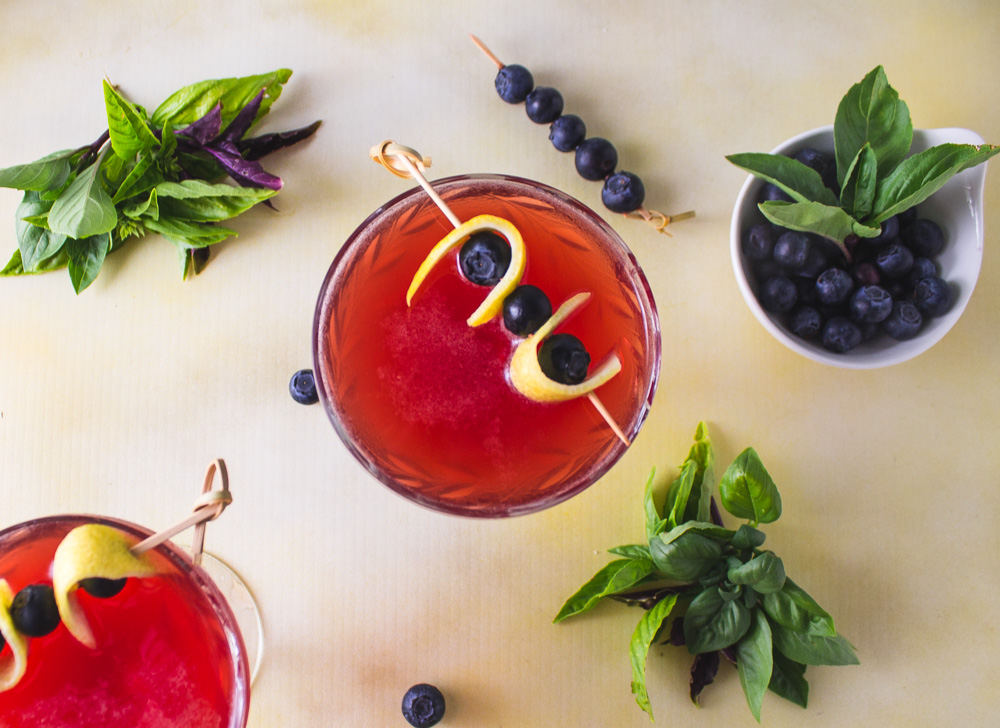 Given how much I enjoy acidic sparkling drinks, I'm sure this is not the last shrub I will have for you.
Blueberry Basil Shrub
Ingredients
1

c/150g blueberries

washed

1

c/30g loosely packed basil leaves

1

c/200g granulated sugar

½

c/120ml balsamic vinegar

1

c/240ml white wine vinegar
Instructions
Muddle blueberries with sugar in a quart (or other large container)

Coarsely chop basil and add to blueberry sugar mix.

Stir in vinegars until sugar is distributed (it won't completely dissolve).

Cover and set in fridge for five days. Stir or otherwise agitate daily.

At the end of 5 days strain into another container using a fine mesh strainer or a couple layers of cheese cloth. Press or squeeze to extract all liquid from the blueberries. Store in the fridge for up to one month.
Blueberry Basil Shrub Cocktail
Ingredients
¾

oz/22ml blueberry basil shrub

1

oz/30ml blanco tequila

½

oz/15ml lemon juice

2

dashes celery bitters

2

oz/60ml soda water
Garnish:
3

blueberries and lemon peel twist
Instructions
Combine shrub, tequila, lemon juice, and bitters in a shaker and shake with ice.

Double strain into a coupe. Top with soda water. Skewer blueberries and lemon twist and top on cocktail.