This Mediterranean-inspired steak marinade includes smoked paprika, tangy lemon and sumac, and a hint of nutty sweetness from amaretto. Perfect for a summer evening with some flatbread and spreads for an assemble-your-own meal.
Sorry I've been rather absent lately. I've been working on some fun (but time consuming) projects. For one, it was the tomato cooking contest time of year again (remember my winning tomato coconut chicken?): I got another 1st for my sauce and two 2nds for the soup and salsa I did. I even lost in the soup category to the same person as last year! And given how awesome my corn gazpacho is, that guy must be really good at soups. Il Fiorello Olive Oil has posted the recipes from this year's winners, so you should check out my mango tomato chicken while you can still get really fresh heirloom tomatoes.
The other much bigger project is that I am now cooking for a newly opened local taproom! Pioneer Taproom just opened so I have been spending way too much time making sure they have all the components they need for food and figuring out how quickly I need to replenish things. And because everything happened at once, one of our first menu items (prone to change based on seasonal availability of ingredients) includes the salsa I made for the Tomato Fest: a sungold and plum salsa.
Don't worry, I won't abandon you here, it will just be about finding the balance. It takes a bit extra to get things up and running.
In the meantime, a recipe
Like the lime and coriander marinade, this is one I used last year (then it was with cubed beef skewered and grilled) and have edited slightly. In this case, I switched so that it can be cooked in a pan or grilled. Also doing a flank steak made it so much more versatile; slice it on salads, serve with some cous cous and grilled summer vegetables, or as part of an assemble-your own platter like I did. Our meal was served with my version of caponata and pita-like flatbread (I don't get the proper pockets when I cook it stove top. But some hummus might be a great addition – perhaps this hatch chile variant from a fellow Bay Area food blogger.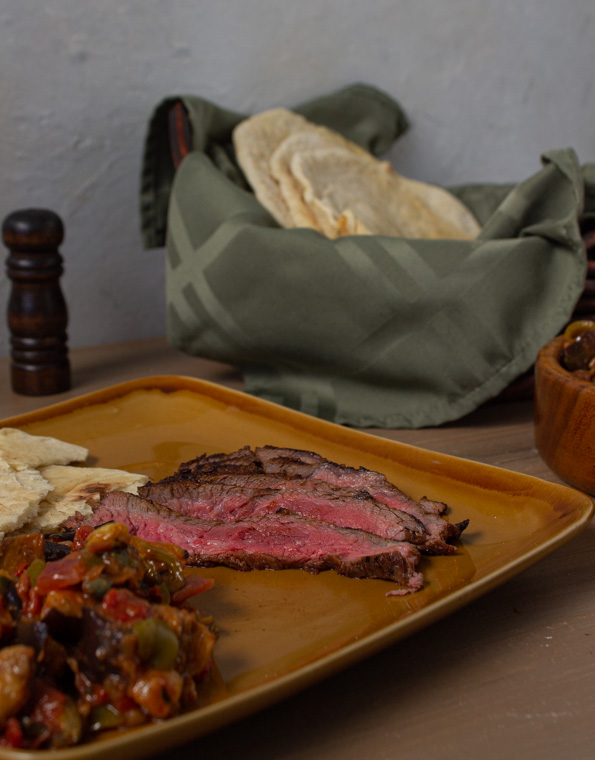 When I was going about perfecting this to post I made it several times. And I knew I had a winner when Ian ate it and said… well something I can't repeat here, but rest assured it was very positive. And he ate it happily three times in one month. Usually he's reluctant to eat anything twice (except for pizza, burgers, or sausage and eggs). The hardest part of the recipe creation process was timing it properly to get photographs before we ate it. It's always a tight confluence of events; having the time to cook and photograph, having the energy and not being voraciously hungry (which often results in haphazard images), and having the ingredients in the house (especially particular meats – we don't eat them, so I freeze them, then they aren't defrosted when I want to cook). When a recipe is a major hit it makes all of the above so much easier.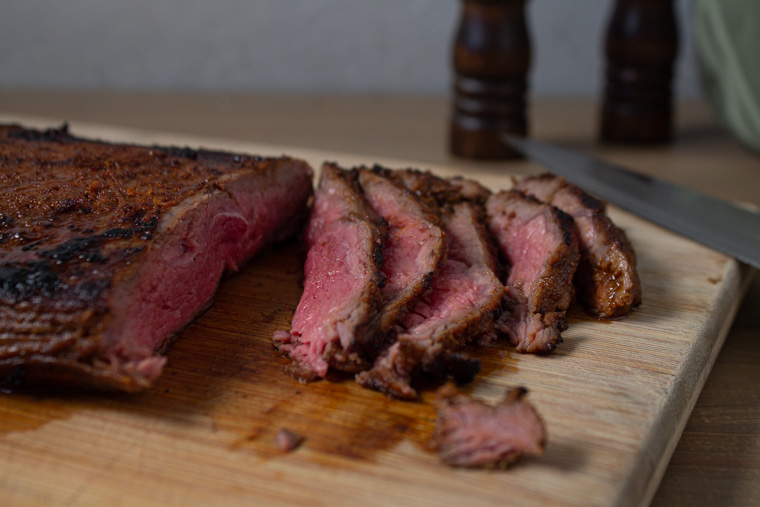 An extra note
While I am being busy and occasionally missing a post date (I will try not to, but let's be realistic here) there are 12 other never-posted recipes in my give-away cookbook: Produce Basket Cooking – Seasonal Recipes. All these vegetarian recipes are made with things you might get in a CSA produce box or from your local farmer's market. The summer section also includes my salad entry from last year's Tomato Fest!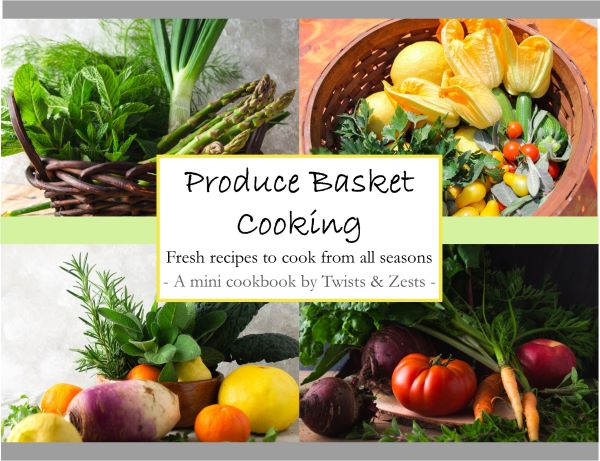 Mediterranean Marinated Flank Steak
Ingredients
1

lb/450g flank steak

1

tsp/3g cinnamon

1

tbs/7g smoked paprika

2

tsp/5g ground cumin

2

tsp/6g sumac

1

tbs/6g lemon zest

¼

c/60ml lemon juice

¼

c/60ml amaretto

2

tbs/30ml olive oil
Instructions
Combine all ingredients except steak and olive oil in a large bowl.

Pat dry flank steak and add to marinade, submerging as much as possible. Spoon marinade onto bits that are not covered.

Cover and allow to sit in fridge for at least 30 minutes (preferably up to 1 ½ hours), flipping at least once.

Heat oil in a heavy pan (cast iron is beson med-high. Sear first side of marinated steak for 2 minutes. Flip and sear second side. Reduce heat to medium and cook, flipping once more. (I don't have specifics because this well depend on the thickness of your steak and the desired doneness).

This can also be cooked on a grill.