A tangy, earthy marinade made with crushed coriander seed and fresh lime juice and zest. This lime and coriander marinade is great on fish or chicken.
When I was younger, I didn't like fish at all. I've slowly grown to eat a bit here and there, but certainly won't seek it out the way some people will. I think the biggest difference for me now is in how it is prepared. A good (light) marinade or sauce, not over cooking, and well-seasoned, refreshing accompaniments make it all perfect. Which is of course where these lime coriander marinated tuna and summer squash skewers come in!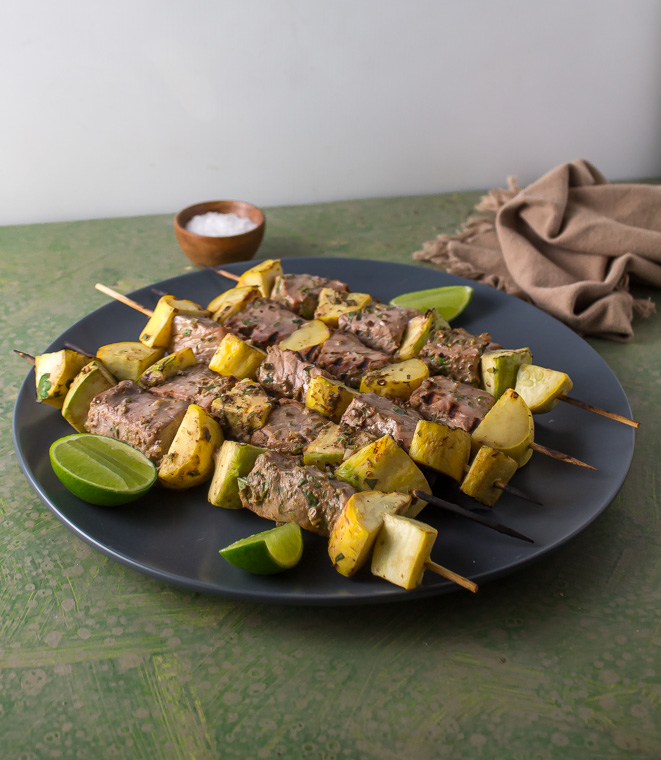 Last summer I used this marinade on chicken for a party, which was also delicious. But in the spirit of trying provide you with some recipe diversity, fish seemed like a good alternative (and it was). If you do use chicken, cut it into smaller pieces (closer to 1" cubes) as it is slower to cook and you don't want to over cook the squash.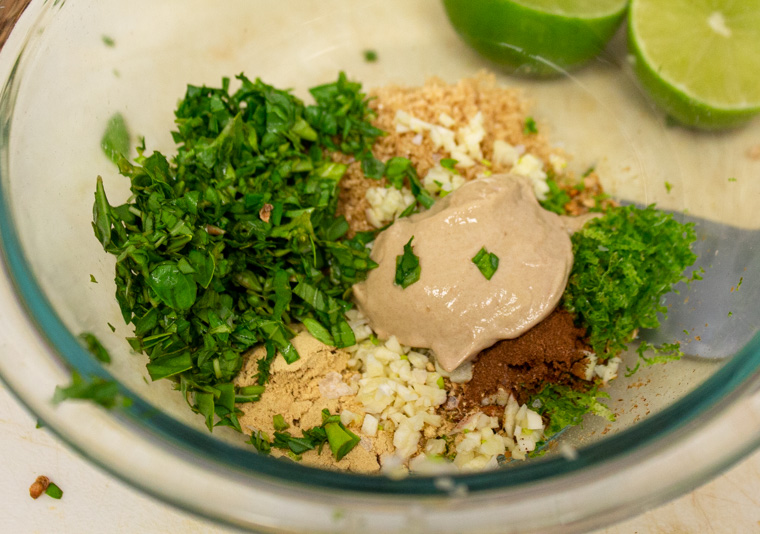 I recommend a minimum of a 1 hour marinade, but you can leave it for up to a day. At that point the lime juice will have actually started "cooking" the meat so you'll see some opacity on the surface. This is the same principle as ceviche, denaturing the proteins with acid as a means of cooking. But unless you are using sushi grade fish, you still need to cook with this recipe.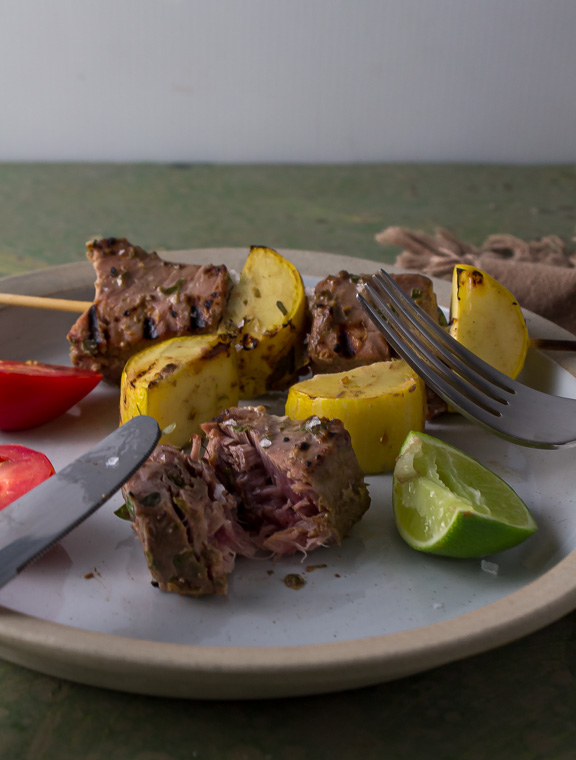 I find this goes perfectly with a vegetable heavy starch based salad, like this sage pesto farro salad. Two doses of vegetables, plus a bit of protein and some flavourful carbohydrates is a great summer meal. It's also great if your husband is a fitness nut who really needs some balanced meals.
Lime Coriander Marinade with Summer Squash and Tuna
Ingredients
1

lb/450g tuna steaks*

¾

lb/375g summer squash
Marinade
1

tbs/5g whole coriander seed

1

tsp/2g lime zest

3

tbs/45ml lime juice

½

tsp/1g ground cloves

1 ½

tbs/20g brown sugar

2

tbs/5g chopped basil

½

tbs/10g Dijon mustard

1

tsp/2g ground ginger

¼

tsp

salt

2

tbs/30ml water
Instructions
Cut tuna into 1 ½" to 2" chunks.

In a mortar, crush coriander seed until fine. Mix with all marinade ingredients in a medium bowl.

Add tuna chunks and stir until everything is coated. Submerge tuna as much as possible. Cover and put refrigerator for at least 1 hour.

Cut summer squash into 1" to 1 ½" chunks. Place on skewers alternating with marinated tuna (if you use bamboo skewers, don't forget to soak them in water beforehand – unlike me).

Grill over hot coals with occasional flame for about 7 minutes on the first side. Flip and grill for a further 6-7 minutes until squash is slightly soft on the edges.

-- Theoretically you could also do this under a broiler in your kitchen. My oven is not particularly cooperative when it comes to broiling, so I was not able to test it. Reduce the time per side slightly if attempting this.
Notes
*I used ahi tuna. I'm sure this would be even better on yellowfin tuna. As noted above, this recipe also is very good with chicken, just cut the chicken cubes smaller.