This summer farro salad has sweet, blistered corn, cherry tomatoes, crunchy green beans, and an intense but balanced homemade sage pesto with walnuts and parsley.
Really, did anyone expect me to not have several more summer tomato recipes? I did mention the veritable excess of sungold tomatoes my backyard is producing. Also I did mention this amazing salad in last week's post with those lime and coriander marinated tuna skewers. I created the salad last year for a get-together but it's awesome and needed to be done again this year (and I'm better at photography now). Of course if you're vegetarian and not prone to serving it with meat, there is always the option of putting a fried or poached egg on top.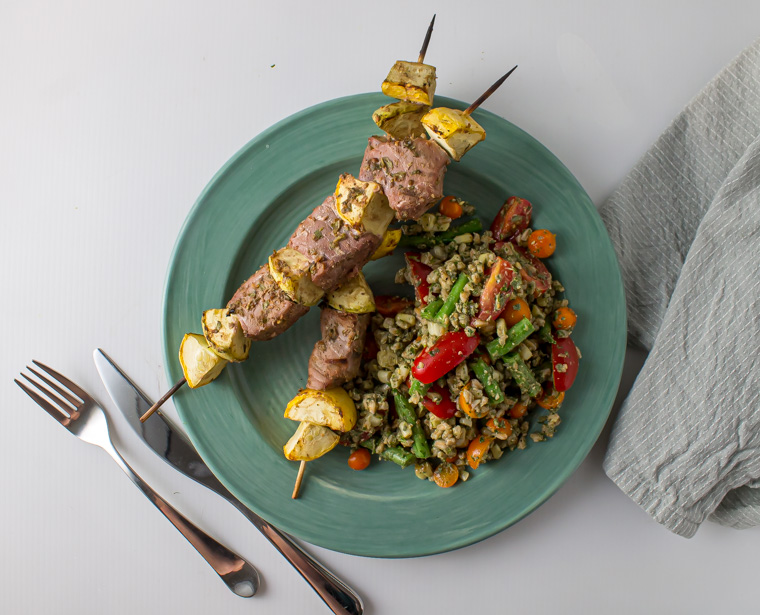 The real star of the show here is this pesto. I planted several sage plants last year (and a couple more this year – trying to plant things that will take over the lawn) so there was a major excess. Looking up recipes, I saw several recommending blending the sage with parsley, and it worked well. Add some walnuts (another thing that grows well locally) and all that intense sage gets mellowed out into a great pesto.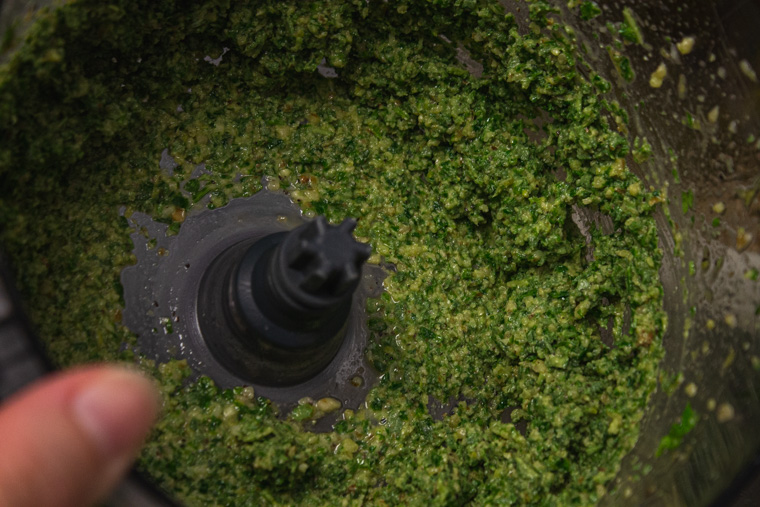 But the vegetables also make an important impact here, sweetness from the corn, acid from the tomatoes (and sweet, I did use some of my amazing sungolds), and a good crunch from the blanched green beans. All the amazing flavours of late summer mixed with wonderfully chewy farro.
You'll notice I list cooked farro rather than specifying a dry amount. Since different farros cook differently and I don't know who has access to what, I thought it was easier. I use the Trader Joe's 10 minute farro (because it's easy) and of that it takes about 2/3rds of a package. It will probably take a smaller volume of plain farro to achieve the same amount of cooked farro.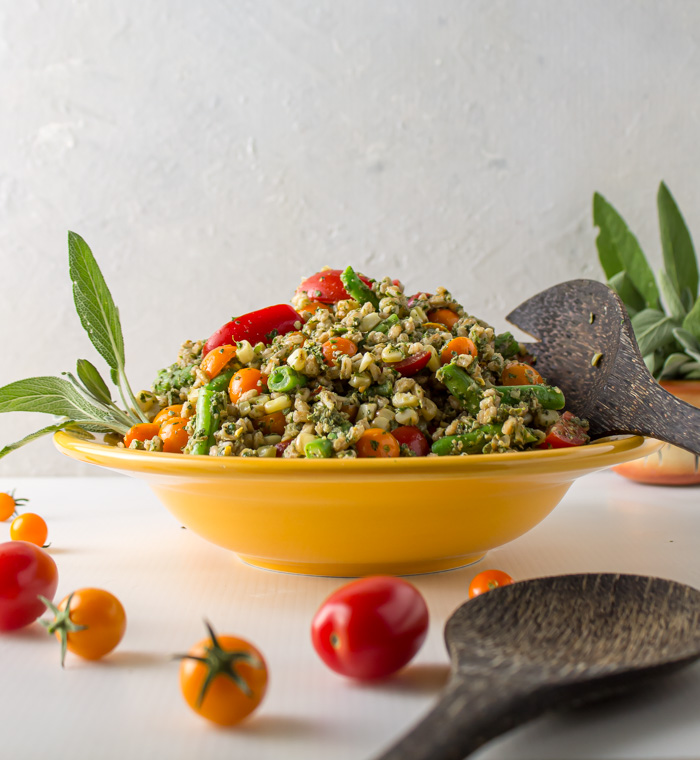 I used a mix of sungold tomatoes and red plum tomatoes here, but this could be be made with any combination of small tomatoes. My plants last year were standard sweet 100 cherry tomatoes and yellow pear tomatoes and I made this recipe with either at any given time. All you're looking for is a slight sweetness and mild acidity. And lots of flavour of course!
Sage Pesto Farro Salad
Ingredients
2

c

cooked farro

1/3

lb/180g green beans

1

ear/200g corn

1

lb/450g cherry tomatoes
Sage Pesto
1

c/35g sage leaves

1

c/20g parsley

3

cloves/10g garlic

1 ½

tsp/2g lemon zest

3

tbs/45ml lemon juice

½

tsp

salt

½

tsp

pepper

½

c/60g walnut pieces

¼

c/60ml olive oil
Instructions
Blend all pesto ingredients in a food processor or blender until a coarse paste.

Trim green beans and cut into 1 or 1 ½ inch pieces. Blanche in boiling water for 30 seconds and immediately plunge into ice water.

Blister corn on a grill, under the broiler, or over an open flame (great idea I picked up from Smitten Kitchen.

Slice tomatoes into halves or quarters depending on size.

Combine all ingredients and toss with pesto. Keeps well for a day or two in the fridge.