And so we continue with the recipes from my excess of zucchini. Also considering the ridiculous temperatures in Northern California in the last few weeks, I've been doing a lot of salads. This zucchini and steak salad is one of my successful attempts to balance my desire for cold refreshing salads with H's current need for a lot of protein (he is currently training for an iron man). That has meant that a lot of our meals are light salads with lots of raw fruits and vegetables topped with meat of some kind. Not particularly ingenious, but it works.
This salad gets a special mention however due to the earthy notes that the basil-walnut dressing added. I've been trying to experiment more with atypical dressings and sauces (my go-to is just drizzling olive oil and balsamic on a salad and seasoning with a bit of salt and pepper), and since a couple basil plants have been particularly prolific (they are nearly out-competing the tomato plant next to them in growth), a pesto derivative was in order. But pesto can be really chunky and intense, so I chose to diversify the herbal flavors with parsley, use some walnut to make it earthy and mellow it out, and used dry vermouth to enhance the flavors and thin it.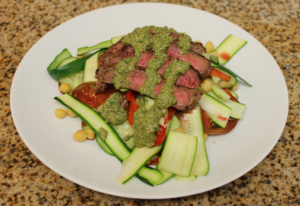 I think there should be more food recipes that utilize vermouths. They add even more flavor and can be mellower as an addition than wine. In food, vermouth serves the same function it does in cocktails, it adds those herbal flavors and it lengthens the product, increasing volume (or thinning) without increasing the alcohol content significantly (or seriously watering down the product in the case of using water in food). No, the alcohol doesn't get cooked off when you use it in this type of sauce, but it's only 2-3 tbsp. Not that significant over the grand scheme of the dish.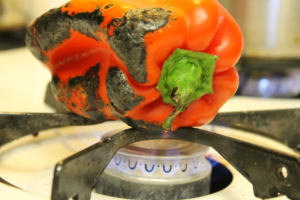 Very short chemistry of cooking interlude
---
Don't cut meat as soon as you are done cooking it. Allowing the meat to sit for a short while after coming out of the pan (or oven) reduces the amount of moisture that is lost as steam, preventing the meat from drying out as much. When the meat first comes off the heat, the moisture is trapped inside as vapor (because you seared it, sealing in the moisture that was there pre cooking). As the meat cools, the vapor condenses again, keeping the meat moist. If you cut it right away, all that vapor escapes and condenses outside the meat. But don't leave the meat in the pan while it rests, it will continue cooking inside, particularly if there is more heat. The exception would be if you have an induction stove, but I haven't met anyone except a chemistry professor who has one for everyday cooking.
Zucchini and Steak Salad with Basil Dressing
Ingredients
Salad
3

small/250g zucchini - shaved lengthwise

1

medium/150g cucumber

edible skin variety - sliced into 1/8" thick rounds or ovals

1

medium/125g red bell pepper

roasted* - sliced into ¼" strips

Or

1/3

c

/100g roasted red peppers

1

medium/150g tomato – cut in ¼" thick semi circles

½

lb/225g steak

rib eye, strip steak, flank, top sirloin

Salt

Pepper

1

tbsp

butter

¼

c/100g chickpeas

cooked
Basil Dressing
1

c/40 g basil leaves

packed

¼

c/10 g fresh parsley

1/3

c/50 g lightly toasted walnuts

chopped

2

cloves

garlic

½

tsp/4 ml ground pepper

¼

tsp/2 ml salt

3

tbsp/45 ml olive oil

1

tbsp/15 ml balsamic vinegar

2

tbsp/30 ml dry vermouth
Instructions
Dressing
Combine all ingredients in a food processor or high powered blender on high, stopping and scraping down the sides regularly until a very few flakes of greenery are left. If needed add more vermouth 1 tsp at a time.
Salad
To create "ribbons" of zucchini you can use a mandoline slicer set to 1/8", but if you don't have that specialized tool, a peeler works as well. Set the zucchini on the work surface, hold the sides and peel lengthwise away from yourself.

Prepare rest of vegetables and combine in bowl with chickpeas tossing lightly to combine.
Pan sear steak
Heat a heavy bottomed (preferably cast iron) pan on high. Add butter and swirl to coat pan.

Season both sides of steak with salt and pepper.

When pan is hot enough that butter is just starting to brown, add steak. Cook each side of steak on high for 2 minutes. Turn heat to medium and continue cooking until steak reaches desired doneness (I prefer medium-rare).

Remove from pan and allow to sit for 1-2 minutes. Slice the steak into 1/4" thick strips, or as thin as you can get.

Assemble the salad on the plates, placing half the vegetable mixture in a heap (it does take some delicacy to make the zucchini ribbons curl photogenically). Top with half the steak slices and drizzle with dressing.
Notes
You will probably have a bit more dressing than you need for two salads, but some people might want more or less. If you have a bit left over, serve it with some fresh bread!
*To roast a red pepper without heating up the oven or a grill: I stole this method from Smitten Kitchen, but it works really well when you want a little char flavor without a bunch of effort. Unfortunately it only works if you have a gas stove.
Turn on a burner and rest the washed and dried pepper on the tines over the flame. Turn with tongs as each side chars.