The zucchini I planted just over 2 months ago is now taking over the garden. It is producing so much I can't use it all and pawning it off on other people barely makes a dent. So, you will be seeing a lot of zucchini recipes in the next couple months. H hasn't started to get sick of it yet, but I think we might be approaching that point fairly soon. Too bad for him. I figured a lightly sweetened zucchini bread was a good place to start.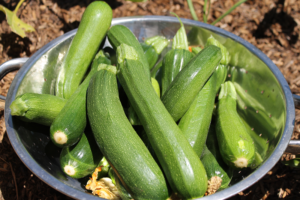 A primary school teacher used to bring us zucchini bread all the time. As 7 year-old's, we thought it a very odd offering, but we sort of ate it. Most would have preferred banana bread (not a personal preference) at the time, but I bet if you were to offer any of us a well made zucchini bread today, we would eat it gladly, the more zucchini the better.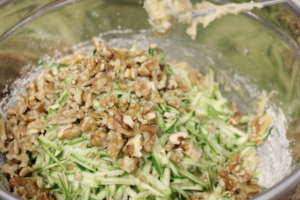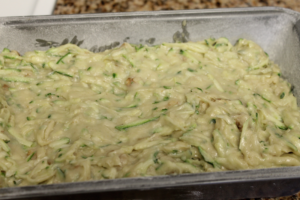 I embraced that in this recipe (also I have to use up a lot of zucchini). Based on Tartine's Zucchini and Orange Marmalade Tea Cake, I increased the zucchini and flour slightly to compensate for the extra water in the zucchini, used butter rather than vegetable oil for a richer flavor, and used nutmeg and ginger instead of cinnamon to brighten the flavor a bit. It is more like a dense cake than a bread, tending towards crumbling, but is definitely firm enough to hold up to a variety of preparations.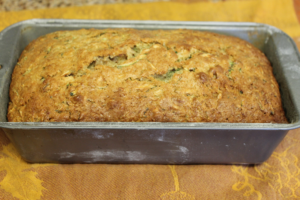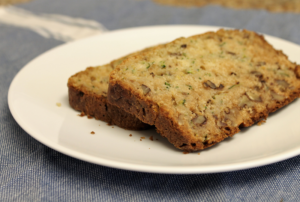 Zucchini bread is so versatile, serve it at room temperature with a cup of tea, or toasted with a slathering of butter, and of course just warm with a dollop of cream cheese frosting. A restaurant I worked for in Seattle – The Whale Wins – had a very popular butter roasted zucchini bread drenched in powdered sugar. H and I grilled some on the outdoor fireplace with some melted butter. A very satisfying after supper treat.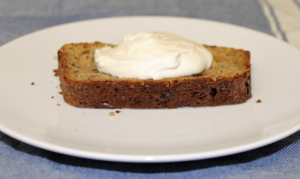 As a final note, I will be working very hard from here on out to include the metric measures for all the ingredients. I may slip up here and there, but I am working on it. Measuring this multiple ways just adds so much more time to cooking!
Zucchini Bread with Lemon Cream Cheese Frosting
Ingredients
Zucchini Bread
10

tbsp/125 g butter

melted and cooled slightly

¾

c/150g granulated sugar

3

medium eggs

2 extra large

½

c/115g orange marmalade

2

c/285g flour

½

tsp/2 ml baking powder

½

tsp/2 ml baking soda

1

tsp/4 ml nutmeg

¼

tsp/1 ml ginger

½

tsp/2 ml salt

3

c/330 g shredded zucchini

1

c/115 g toasted walnuts

chopped
Lemon Cream Cheese Frosting
8

oz/225g cream cheese

softened

2

tsp/5 ml lemon zest

about 1 lemon

¾

c/175 ml heavy cream

¼

c/60 ml honey
Instructions
Zucchini Bread
Preheat oven to 350F. Butter and flour a 9" x 5" loaf pan.

With an electric mixer, beat together butter, sugar, eggs, and marmalade on medium.

Add baking powder, baking soda, nutmeg, ginger, salt, and flour, beating on low until just combined.

Fold in zucchini and walnuts with a spatula. The mixture cannot be allowed to sit at this point or the sugar with draw all the moisture out of zucchini and produce more of a soggy brick.

Scrape into prepared loaf tin and level surface.

Bake for 60-70 minutes or until a skewer inserted in the middle comes out with just a few crumbs.

Cool in pan for at least 20 minutes before inverting. Allow to cool to until just warm or room temperature before slicing. Allowing the loaf to cool will keep more of the moisture in.

Store in the fridge and bring to room temperature or toast lightly before serving.
Cream Cheese Frosting
With an electric mixer, beat cream cheese on high until fluffy.

Add cream and continue beating until soft peaks form.

Add honey and lemon zest and finish beating on medium until stiff peaks start forming.