I like making flatbreads. I won't pretend that my flatbreads are particularly amazing in flavor or true to a particular cuisine (even though I call them pita breads), but you can go from "I want some bread" to eating homemade bread in 2 ½ hours. Less proofing time than a standard loaf, no worry about crust consistency, and now cooling time after the bread comes out of the oven. Also, there are a bunch of different ways to cook flatbreads, so you don't have to heat up the oven if it's 90F.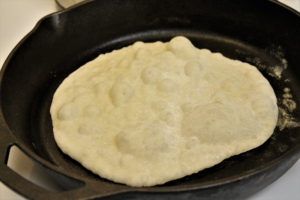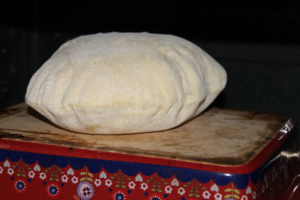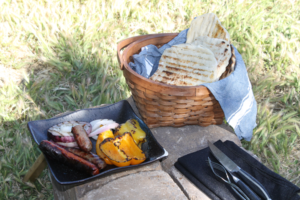 I do recognize to some the flaw in this plan is "if you want bread, why not just go to the store?", but any introvert will tell you that going to store and interacting with people is a big, harrowing ordeal. Also, homemade bread tastes better.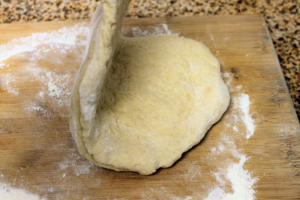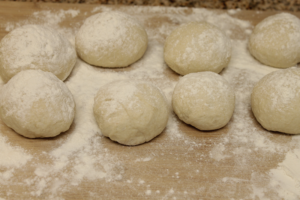 So I do have a great big science lesson for bread that is in process of being written, but I need to get it a little shorter than the multiple pages my last draft was. In the meantime, here is a tasty, light flatbread that you can cook three different ways (oven, stove top, grill). The oven method is going to give you the standard pita pocket that a lot of people desire. You get smaller pockets from cooking in a pan or on the grill. Each method gives you a soft bread that is great to wrap around food or just to dip in olive oil.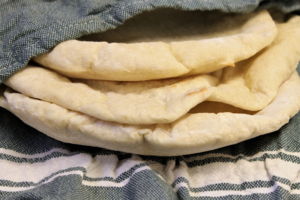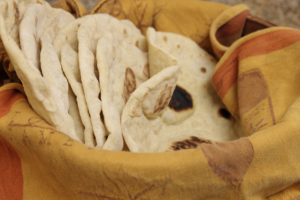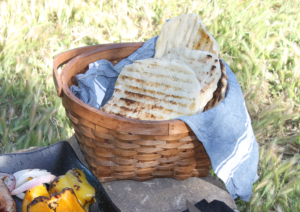 Flatbreads
Ingredients
2

tsp

yeast

1

tsp

salt

1

tbsp

sugar

2 ½

c

all-purpose white flour + more for kneading

½

c

whole wheat flour

1 ¼ - 1 ½

c

luke-warm water

2

tbsp

oil
Instructions
Combine flours, salt, sugar, and yeast in a large bowl. Mixing thoroughly. Create well in flour mixture.

Add 1 ¼ c water and oil to the well. Using a spatula or wooden spoon, blend all ingredients until a shaggy mass forms. Add more water 1 tbsp at a time if needed.

Turn dough out on to a lightly floured surface. Fold and knead dough back on itself several times until dough is smooth and stretchy.

Return to bowl, cover with plastic wrap or a damp towel and set aside to rise.

Allow to triple in size (1 ½ - 2 hours).

Turn back out onto floured surface. Gently depress and stretch, folding back on itself 2 or 3 times.

Cut dough into 8 equal pieces. Roll into spheres and coat lightly in flour. Set on surface and cover with a cloth.

Allow to rest for 15-20 minutes.

Shape by using a rolling pin on a floured surface or by flattening with your hands to ~7" in diameter.

Don't try to stack or they will stick together
Cooking Methods
Oven – Preheat oven to 450F. Place bread stone or overturned ceramic dish in oven to heat at the point at which you turn on the oven. Depending on the size of your stone/dish you might be able to cook 2 breads at a time. Cook about 90 seconds per side. Allow the stone to cool as the oven cools rather than removing immediately.

Skillet/pan – Using a very heavy pan (cast iron works well), heat pan on high for at least 90 seconds. Turn down the heat slightly. Cook 1 bread per pan at a time, for 60-75 seconds per side.

Grill – When grill is hot and more coal than flame, place rounds one or two at a time on the outer portion of the grill (not directly over the flame area). Allow to cook for 30-40 seconds, then flip. Cook for another 30 seconds.

Serve immediately or store in an airtight container in the fridge for up to 3 days.