Juicy melon and tangy tomatoes mixed with basil and walnuts for a light side salad. This heirloom tomato and cantaloupe melon salad with a homemade balsamic reduction is great for appreciating the last few days of summer.
Well let's be honest, I have a few more summery recipes: California tends to take a little longer to hit fall than everywhere else. This summer hasn't lasted as long as last year – there was rain into May and we've even had a few cooler evenings already. And since I know there are others near me still with the plethora of summer produce you'll get the recipes anyway. The rest of you can just plan for next summer!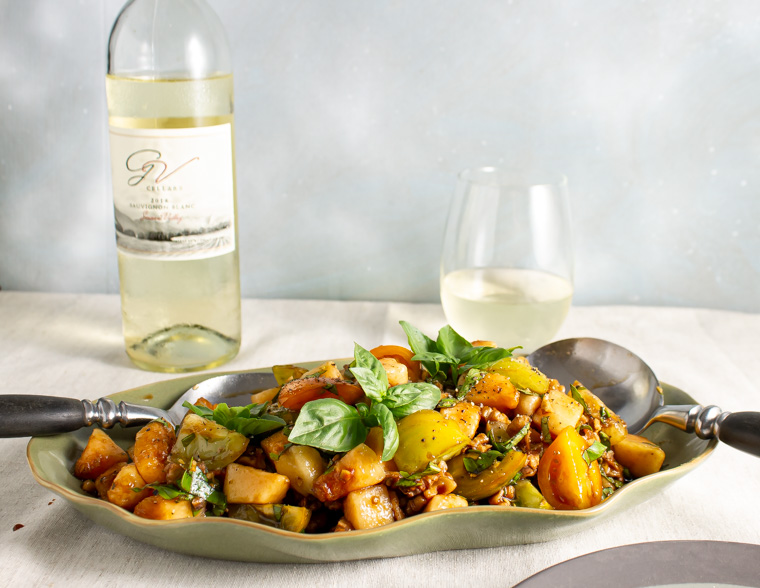 Working with Pioneer Taproom (the reason I've been a bit absent) has introduced me to even more of the local wine and produce growers. In particular one of the family from Tenbrink Vineyards has been bringing us some of their extra produce (other than their wine grapes) for me to play with. Since they produce several specialty varieties of peppers, tomatoes, and stone fruits for fancy restaurants in San Francisco, I've had some fun.
This week there were some heirloom tomatoes in the box they brought. Not enough to do anything for the taproom, but just perfect for a couple batches of inventive salad with the melons I picked up at my favourite Robledo's produce stand. In these pictures I used sprite melon (I'd never heard of it either until I started trying to find the variety for this post), but it is very similar in flavour to cantaloupe which I have also tried in the salad. But anything earthy and sweet will balance nicely.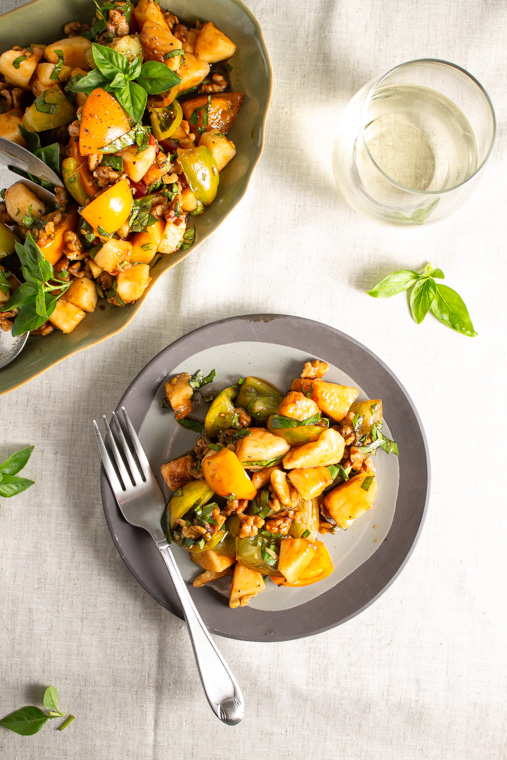 Not shone in these pictures is a great idea I came up with after taking all the pictures (that part where I eat whatever I was photographing for supper – Yes I really do eat everything, no tricks of photography here). But since this is rather a light salad, I needed to make it a little heartier – so I added some ricotta I made a couple days ago with milk that was about to go bad. Usually I make yogurt if I have this problem with milk (higher yield) but I haven't been eating much yogurt (even if I make labne). So… ricotta!
But if you're vegan, I assure you it isn't any less without the ricotta. The walnuts (also local, yay!) add some depth and protein and the reduced balsamic (occasionally called balsamic glaze or balsamic cream) a nice tang. Enjoy the last of your summer produce!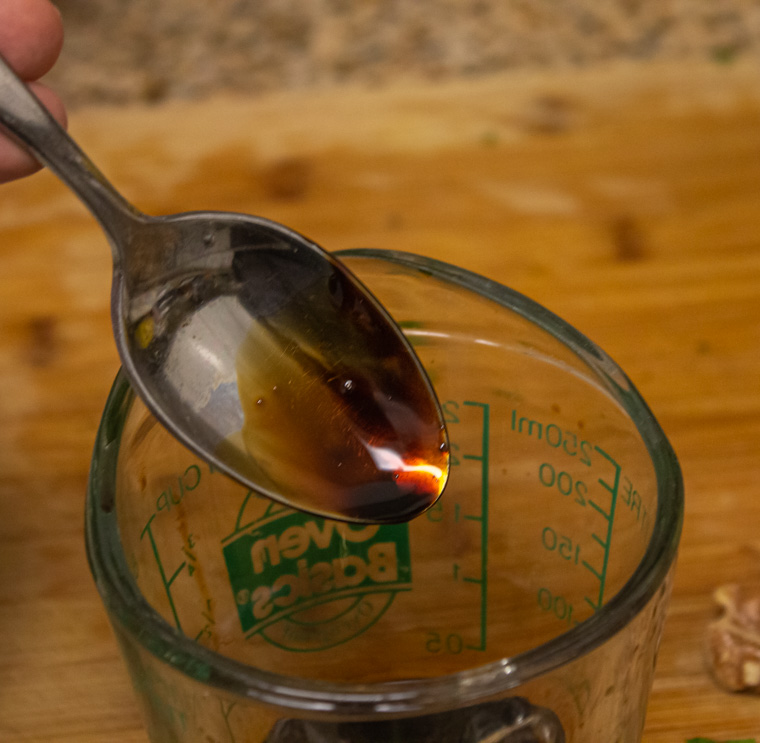 Melon and Heirloom Tomato Salad
Ingredients
2

c/375g diced melon

1 – 1 ½" pieces

¾

lb/325g small heirloom tomatoes

¼

c/10g basil leaves

¾

c/75g walnut halves

toasted

½

c/120ml balsamic vinegar

2 tbs balsamic glaze
Instructions
In a small sauce pan on low heat, reduce balsamic vinegar by ¾ until it lightly coats a spoon (it will get thicker as it cools).

Coarsely chop walnuts and set aside. Chiffon basil leaves into ribbons.

Cut tomatoes into ¼'s or 1/8ths depending on size. They should be about the same size as the melon pieces.

Toss all ingredients and serve.
Notes
I recommend adding a bit of ricotta to the salad if you are looking for something a little heartier - or just because!