This late summer take on the classic cream puff blends a fresh blackberry flavour into the cream and is coated in rich dark chocolate. Perfect mouthfuls of blackberry cream puff indulgence and the chemistry of raising and stabilizing your choux paste for best results.
When designing this recipe, I kept trying to make this more complicated with caramelized or praline hazelnuts, so the recipe kept getting put off until I had all the right ingredients in the house at the same time (who else has that issue?). But really, cream puffs don't need much adornment. And blackberries really do go well with chocolate. Crispy pastry, tart fruit and cream, and a nice shell of dark chocolate: simple and elegant.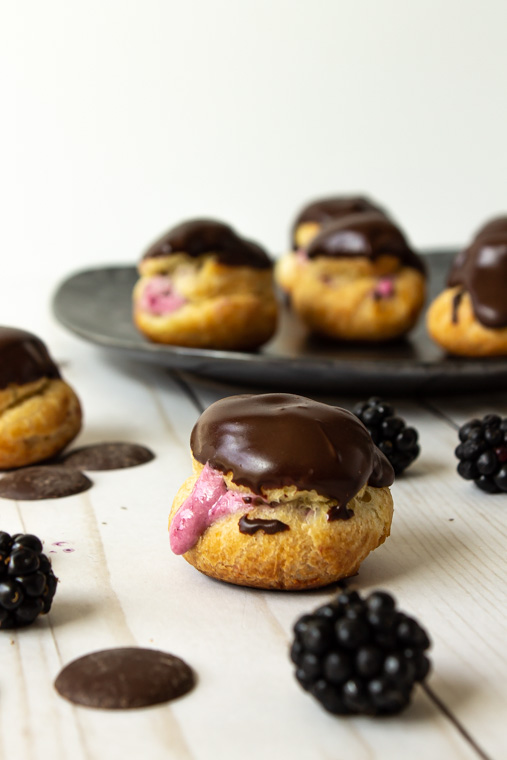 Of course, trying to infuse cream with blackberries won't be as successful as doing so with herbs, given the water content of the blackberries. Even if you make a thick syrup with lots of sugar, you just aren't going to be able to add more than a light blackberry flavour and still get the cream to whip. For the intensity I wanted (really had to capture that late summer awesomeness) you need to add other stabilizers and fold the flavour into already whipped cream. Don't worry, the whipped cream helps balance out the sticky texture of the cornstarch to keep the filling silky – a nice contrast to the crispy shell.
One of the things that I love about cream puffs is how well they store in the freezer. Not perfectly (and it is better without the chocolate which doesn't react well to the moisture inherent in defrosting), but if you make a batch you can put them in the freezer and enjoy them a few at a time for the week without the pastry going too soft. If you want to prep them ahead of time for a party, the best thing to do would be bake the choux pastry shells and store them (once cool) in an airtight container at room temperature for up to 3 days. Then you can do the assembly at the last minute.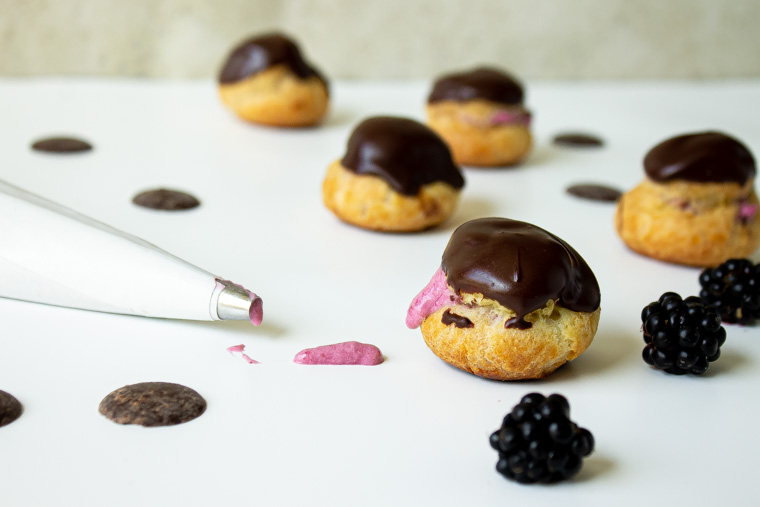 That Dash of Science
There are so many science concepts involved in choux paste and producing cream puffs that it was hard to settle on one topic to cover here. A couple authors I like have gone in depth into all the science aspects: Food Crumbles of course has some great diagrams on the physics and chemistry, and The Flavor Bender has some really nice side by side comparisons and troubleshooting tips. We'll try to stick to the steam raising and stabilizing here because it is unique.
Choux puffs hinge on the rapid evaporation of water to create the rise. Then you maintain the rise by drying out the exterior of the pastry in the oven at a lower temperature than was used for the initial rise. Once the puffs are out of the oven, poking a hole in them releases the steam trapped by the solid shell so that it does not condense and soften the puff.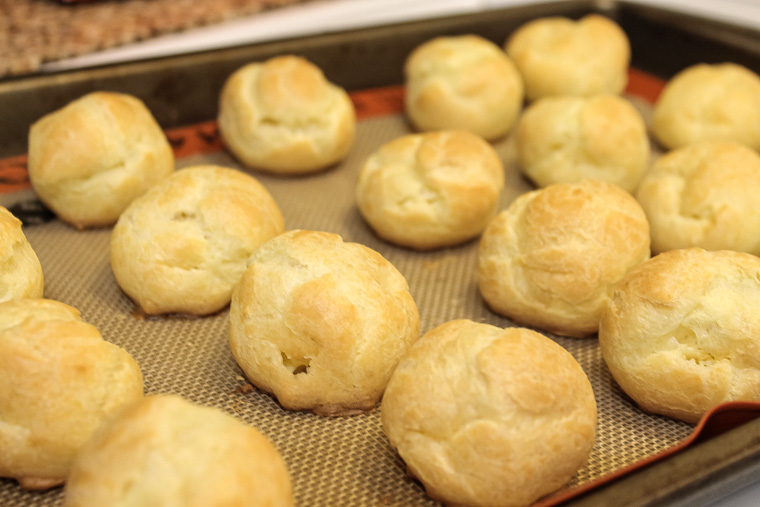 As a side note on the actual method; many people poke that hole in the bottom of the puff so it's hidden later. Personally, I like to poke the hole at an already weak spot on the side so I can cover it up with chocolate. I also suggest a chopstick over the frequently recommended spoon handle. For one, the narrow point damages the structure less, for another, a spoon handle is far too big for small cream puffs rather than large profiteroles.
Proteins from the eggs and the gluten bonds formed while stirring the pastry stabilize the air expansion. Too much water will unbalance the ratio of evaporation potential to gluten bond stability. Lots of steam will be created, but with nothing to trap and hold it, you don't get the desired rise. Cooking any excess water off and keeping the paste to a glossy but sticky consistency after the eggs are added (adding them one at a time gives you better control over this) will give you the correct structure.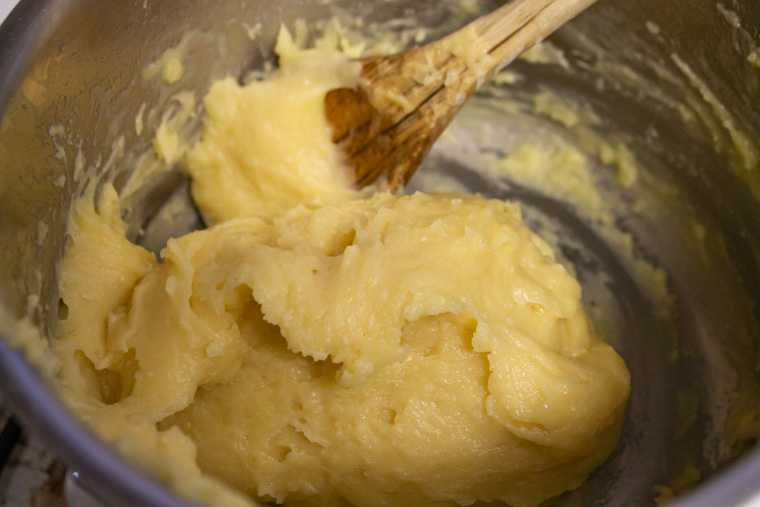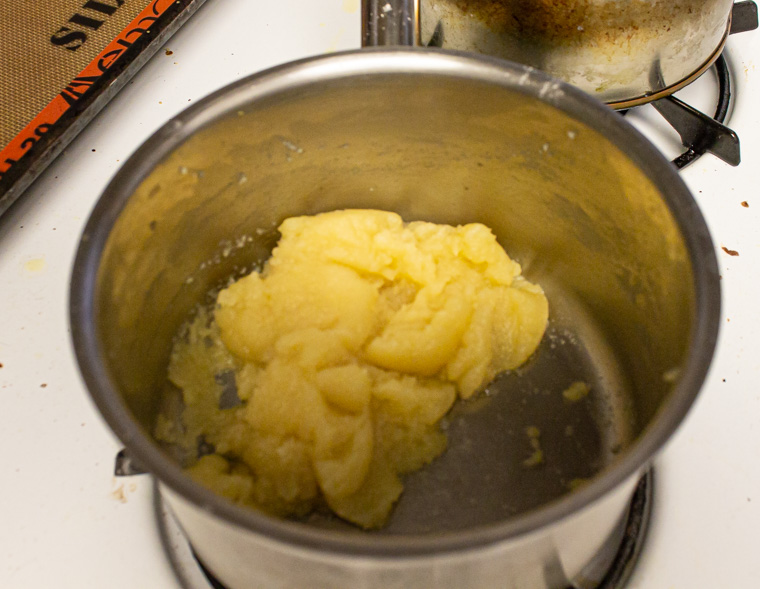 The starch in the flour also gelatinizes in hot water adding to the structural integrity. The same science is used in stabilizing the blackberry filling. Starch + hot water creates a gelatin structure (I've previously talked about starch stabilization in cream). Then you get a paste which holds its shape when piped or formed into balls (it will settle somewhat, but that's gravity for you). Ready to be blasted with heat and dried out. It sounds so unappetizing when you describe it that way doesn't it?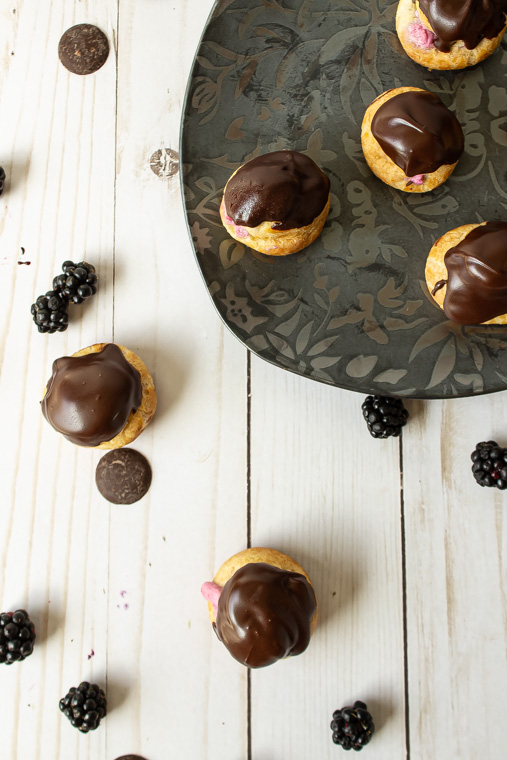 And an Extra Bit of Science

This choux paste recipe comes from the eponymous Tartine cookbook. This recipe includes a bit of sugar (rather atypical in choux paste) which helps keep the pastry crisp because the sugar caramelizes as it bakes. If your puffs are softer than you like once they are cooling (after you have poked the hole in them), you can return them to the oven at about 250F for 10-15 minutes to help them completely dry out. Remember you are adding lots of extra moisture later.
Blackberry Cream Puffs
Recipe from Tartine
Ingredients
Choux Paste
¼

c/60g butter

¼

c/60ml milk

¼

c/60ml water

1/8

tsp

salt

2

tsp/8g granulated sugar

½

c/60g flour

3

large eggs
Filling
½

lb/225g blackberries

6

tbs/70g sugar

2

tbs/30ml lemon juice

2

tbs/15g corn starch

1

c/240ml heavy cream
To coat
4

oz/115g dark chocolate

less than 60% coco solids
Instructions
Make Choux Puffs
Preheat oven to 425F.

Melt butter in heavy sauce pan over med-low heat with milk, water, salt, and sugar. Bring to simmer.

Once simmering, add all flour at once stirring constantly for about 3 minutes to evaporate some of the water and bring together into a mass that pulls away from the sides of the pan.

Remove from heat. Add eggs one at a time stirring vigorously for 2-3 minutes until smooth and glossy.

Add 2 tsp mounds to a baking sheet lined with a silicon baking mat or parchment paper.

Two options to shape:

Add to pastry bag and pipe with a large star or round tip in a spiral. OR

Use two spoons to form approximate spheres.

Wet fingers can be used to press down peaks or reshape odd lumps.

Bake at 425F for 10 minutes until just starting to turn golden brown. Reduce heat to 375 and bake for a further 8-10 minutes until fully golden brown and crunchy.

Remove from oven then poke a hole in the side of each puff (I suggest a chopstick), allowing remaining steam to escape so that the pastry doesn't become soggy. Allow to cool completely.
Make Filling
Macerate blackberries with sugar for 30 min. Puree (blender or immersion blendeand strain into a small saucepan. Being heating over low.

Mix lemon juice with corn starch to form a smooth paste. Add to blackberry puree, whisking constantly until mixture begins to thicken, about 3 minutes. Remove from heat and put in fridge to cool completely.

Whip cream to stiff peaks. Fold in blackberry mixture 1/3 at a time until completely incorporated. Return to fridge.
Assemble
Pipe blackberry cream mixture into cooled choux puffs. Place in fridge or freezer until cream is thick again.

Melt chocolate in a double boiler or a small bowl above a saucepan with simmering water. Temper if desired.*

Dip the tops of the cold puffs into the chocolate and return to a non-stick surface. Place in fridge until hardened. Cream puffs can be stored for several days in an airtight container in the freezer. Defrost in the fridge until ready to eat.