A bourbon old-fashioned. In a caramel form. Covered in dark chocolate. Step aside simple bourbon caramels, you have been upstaged.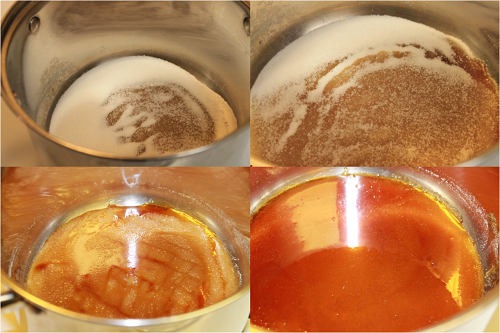 You and your kitchen will get messy making these. It's best just to resign yourself to it,keep the dog away from the chocolate splatters and clean up later. Cleaning up while working with the chocolate leaves you at the risk of getting water into the chocolate which throws off the crystalline structure, leading to blooming –that crumbly, light texture that happens. And I wouldn't recommend trying to make these if the temperature in your kitchen is over 75F.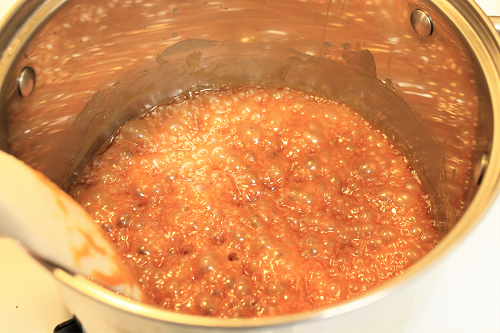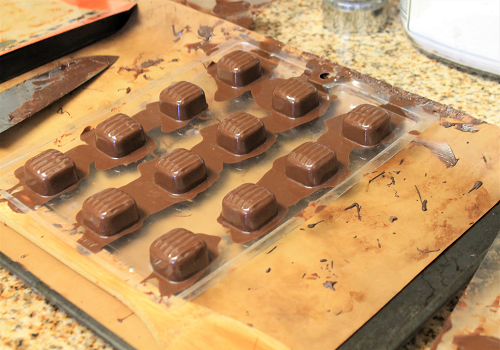 I do specify that you should use something between 50% and 60% cacao. While there is some flexibility, bear in mind that the tendency to use really dark, bitter chocolate throws the flavors out of balance. Particularly with caramel filings, a bitter chocolate will actually make the filling seem too sweet and the chocolate too bitter. Similarly, a milk chocolate of 40% or less can be cloying overall and not provide enough contrast. Also, milk chocolate can be difficult to work with due to the sugar content. Use Real Butter has a simple description of how to temper all kinds of chocolate.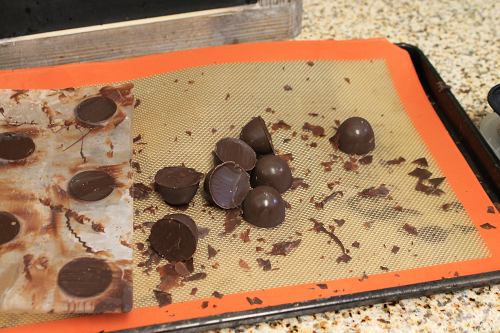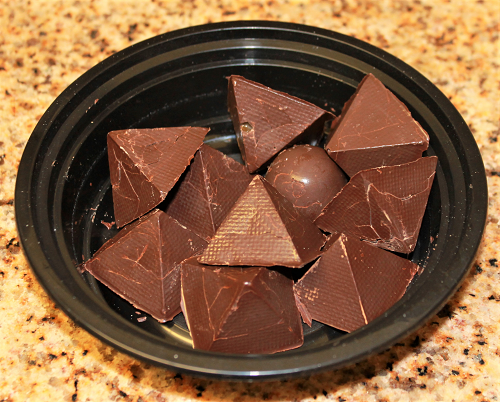 Of my molds, I have the best results with the dome shapes. The pyramids tend to end up with very thin coatings of chocolate that broke when I removed them. And I've always had trouble getting the squares to release. But if you want to eat them all yourself, who cares if they're a little broken?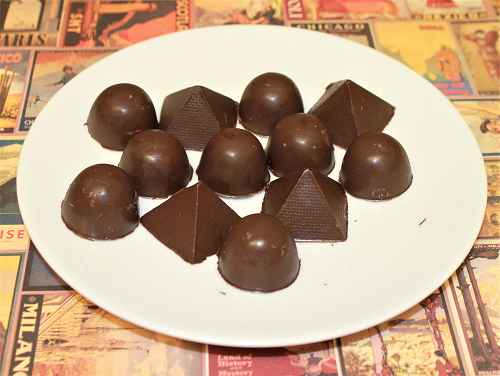 Bourbon Old-Fashioned Caramels
Ingredients
1

c/200g sugar

3

tbsp/45g butter cut in pieces

¼

c

+ 1 tbsp/75ml cream

2

tbsp/30ml bourbon

2

dashes vanilla bitters

or ½ tsp/2ml vanilla extract

1

dash angostura bitters

8

oz/225g dark chocolate

50-60% cacao
Instructions
Have all caramel ingredients measured out and ready to add.

Melt sugar over low heat in large, heavy bottomed sauce pan. Swirl to redistribute until completely melted. Do not be tempted to increase heat.

Remove from heat and stir in butter until amalgamated.

Return to low heat. Stir in cream all at once.

Cook to hard ball stage (~255-265F on a candy thermometer), stirring occasionally.

Allow to settle (no bubbling) in pan. Add bourbon and bitters. Stir very gently to distribute.

Allow to settle and pour into a smaller container to cool.

Melt 2/3 of chocolate in a bowl over a pot of gently boiling water. Temper if possible*.

Line approximately 30 (1 tbsp) chocolate molds by filling halfway, tilting to coat entire depression and turn upside down, resting at least ½" above non-stick mat or parchment paper.

Allow at least 15 minutes for excess chocolate to start draining.

Run a sharp level edge across flat surface of molds to remove most of chocolate. Return upside-down and allow to set.

Fill each chocolate with 1 - 1 ½ tsp of caramel. Use two spoons or fingers and a spoon.

Melt remainder of chocolate and any non-contaminated excess. Fill caramel filled molds to the top.

Run sharp level surface across the top to remove excess. Allow to set for at least 4 hours (more if warm).

Stick molds in freezer for 2-3 minutes before attempting to unmold. Eat any imperfect ones. Store in an airtight container in a cool dark place.
Notes
*Use Real Butter has a good description of how to do so that keeps it simple and unintimidating (http://userealbutter.com/2017/05/10/sous-vide-tempering-chocolate-technique/).