I really like making ice cream. It is involved and makes a mess (at least with my ice cream maker and tendencies to do too many things at once), but the result is always very tasty. And you get to pick your own flavors. Or make some unusual ones. Like grilled apricot.
Check out this recipe as a Food52 contest entry here.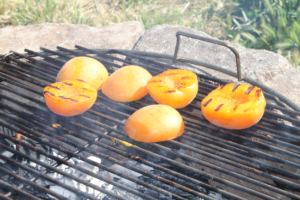 Because this ice cream is made with egg whites rather than egg yolks, it has a much lighter texture and flavor that goes well with the slight tartness and subtle caramelized flavor of the apricots. I tried using egg whites in ice cream previously because I had an excess of whites from the other base recipe I use frequently. And the thing about hot weather is that while it is great to make ice cream in, it is not a time when you want to be turning on the oven to make anything with the egg whites. But Swiss buttercream starts with an egg white base (and buttercream can be great frozen), so one could theoretically start the same with ice cream. Obviously there is less sugar and fat than in buttercream since we are going for an ice cream rather than frosting, but it has the same textural quality of cold buttercream that I like, where it starts solid and melts in your mouth.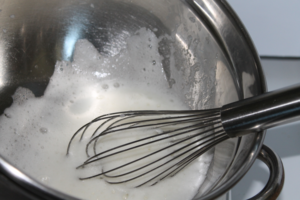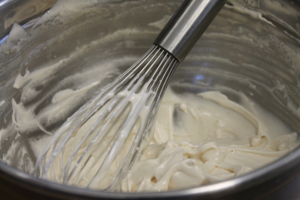 I got the idea to try grilled apricots due to the current Food52 contest on grilling. I certainly am a newcomer to the food blogging world, but I thought it would be a good challenge for me to try entering something, just because. And H wanted to grill this weekend, so the timing was perfect.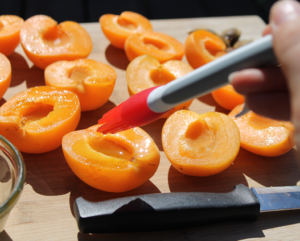 You can of course use the same base ice cream for other flavors, I suggest sticking with fruit where you can really make use of that light quality. The flavor combination I have done previously was blackberry and peach. Also, I might try blanching and peeling the apricots before grilling them in the future, but for now I rather like the array of textures the skins provide.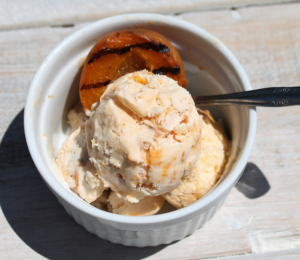 Grilled Apricot Ice Cream
Ingredients
½

c

egg whites

about 3 large

½

c

granulated sugar

¼

brown sugar

2 ½

c

heavy cream

6-7

large apricots

~1 lb - more to serve if desired

1

tbsp

olive oil
Instructions
Wash and dry apricots. Cut in half (removing stones and stems). Brush cut sides with olive oil.

Place cut side down on hot grill surface. Cook until edges just begin to bubble and slight caramelization occurs. Flip and cook uncut surfaces until fruit edges are softened.

Cut grilled apricots into ½" chunks and set aside to cool.

Whisk egg white in bowl over hot water. When thoroughly aerated, slowly add sugars in a continuous stream while continuing to whisk. Continue whisking whites and sugars until hot to touch (~120F). Remove from heat and beat until soft peaks form.

Allow to cool further. Beat in cream 2 tbsp at a time for the first cup, then ¼ cup at a time. Don't worry about the mixture being very fluid, you are not trying to make buttercream here. Cover and chill.

Add cooled cream mix and apricots to ice cream maker and process.

Remove from ice cream maker and transfer to sealed containers and freeze until firm.
Notes
Best if allowed to sit out of the freezer for 5 minutes before serving.
---