Peaches and fresh garden snap peas combine in a light vinegary dressing with some nutty cheese in a light salad for the cusp of spring and summer.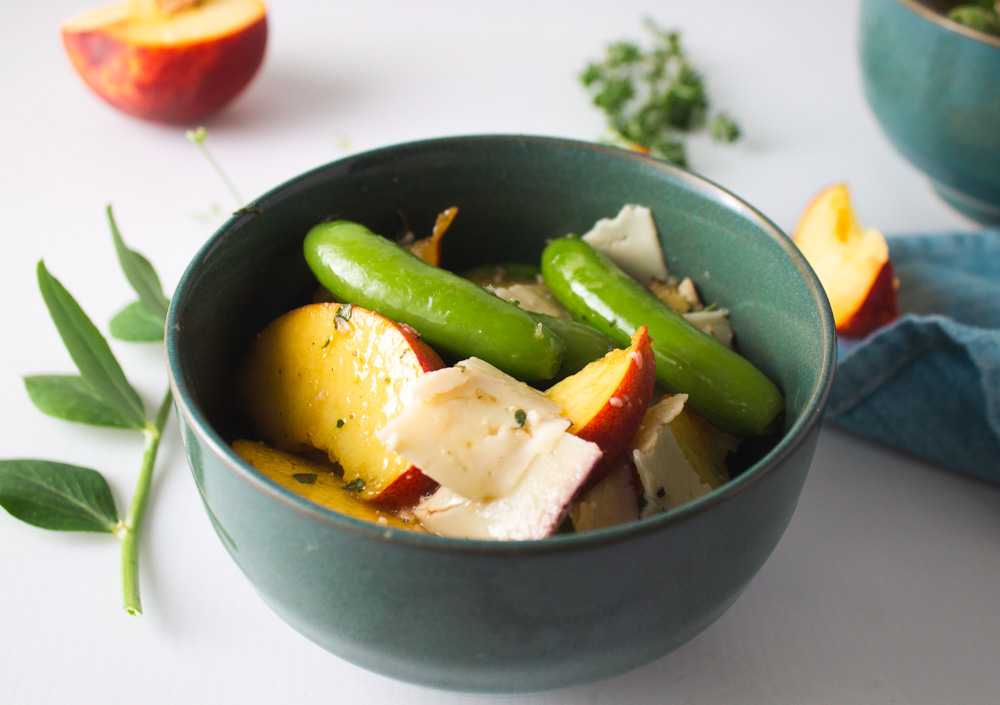 Only in California will peaches and snap peas be in season at the same time. Honestly, I'm not cheating. The peaches came from the farmer's market last week and the peas came from my garden. As an aside, I'm so pleased I actually managed to have a few snap pea vines producing this year. Every year I try to grow them and only get a couple peas. This year I have lovely sweet snap peas!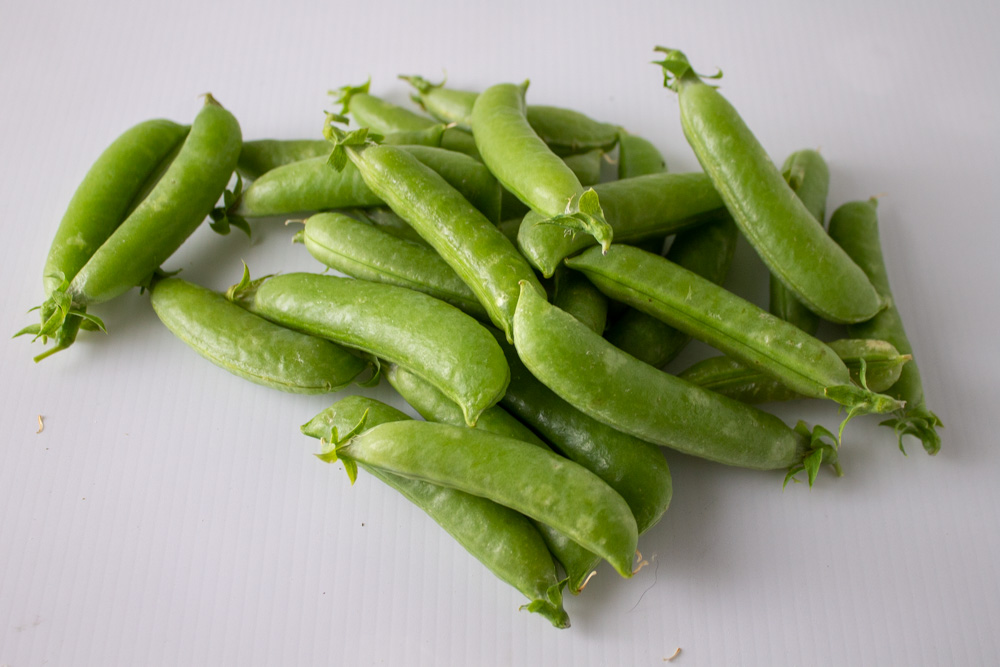 Not having been cooking regularly I'm rather lacking in a backlog of current seasonal recipes. I was feeling rather desperate for something to post. Also it has gotten way too warm the last couple days. Supper definitely needed to be cold. And I really wanted to use some of that great produce from my garden!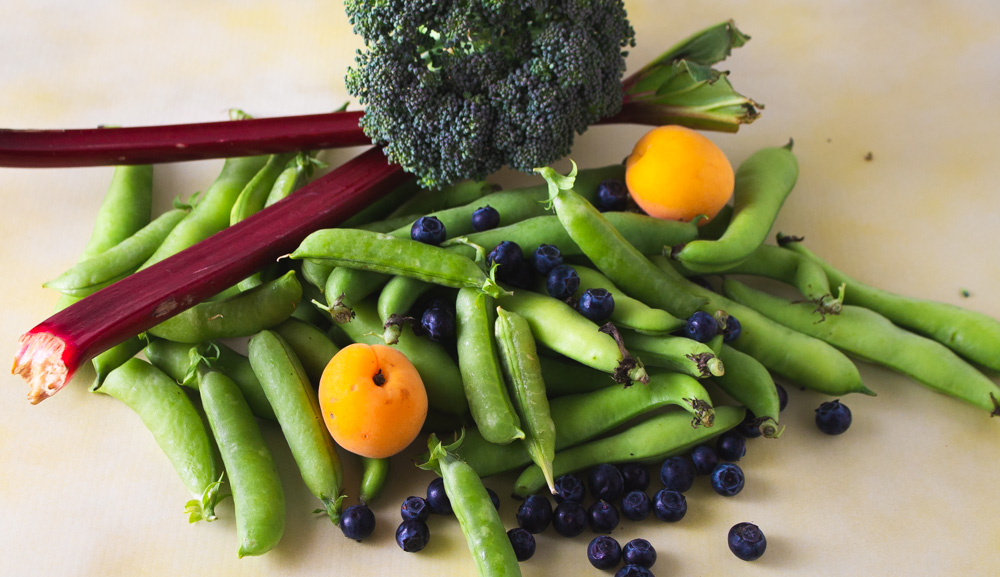 If you can get them, I do suggest using the very plump snap peas available from farm stands or farmer's markets. The ones you typically get in supermarkets aren't nearly as sweet.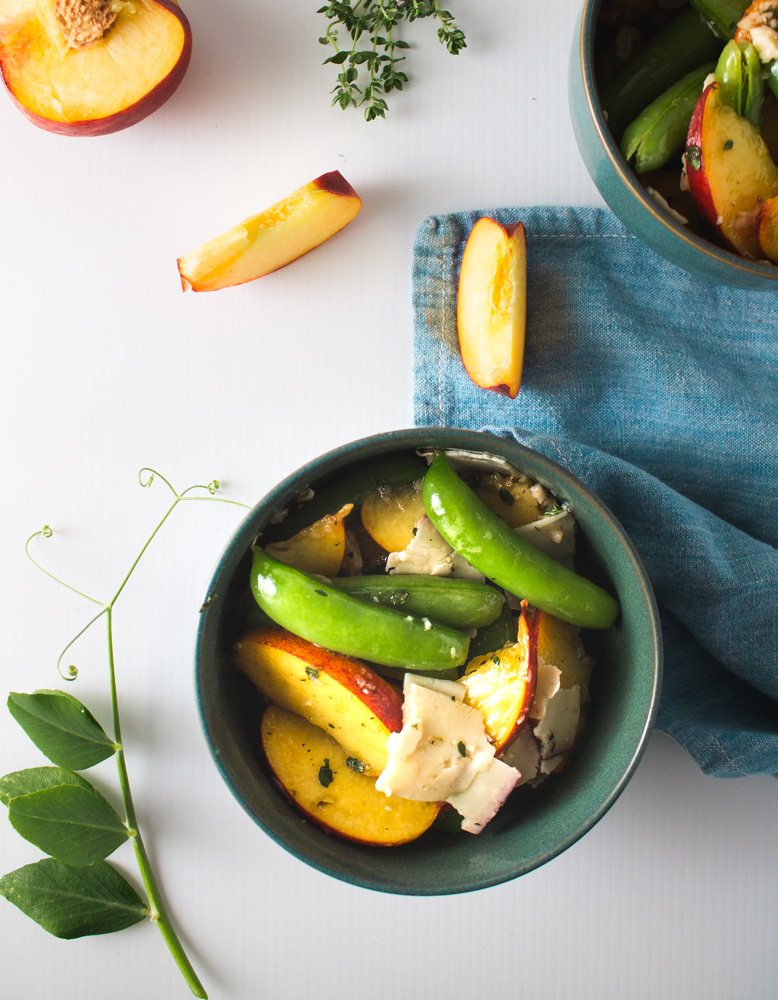 Peach and Snap Pea Salad
Ingredients
12

oz/340g snap peas

1

lg/180g peach

2

cloves/10g garlic

minced

½

tbs/1g fresh thyme leaves

chopped

1

tbs/15ml red wine vinegar

1

tbs/15ml olive oil

¼

tsp

ground pepper

¼

c/35g shaved Toscano or parmesan
Instructions
Trim and remove the strings on the snap peas. Blanch peas for 20 seconds in boiling water before plunging in ice water. Drain thoroughly.

Wash, dry, and slice peach into 12-16 segments (very thin).

Combine garlic, thyme, vinegar, olive oil, and pepper.

Toss sliced peaches and peas in dressing until coated. Add shaved cheese and very gently toss. Serve within 4 hours.