A tender cake with bright rhubarb and lime, topped with walnuts and brown sugar. A perfect anytime cake that you can just about justify being breakfast.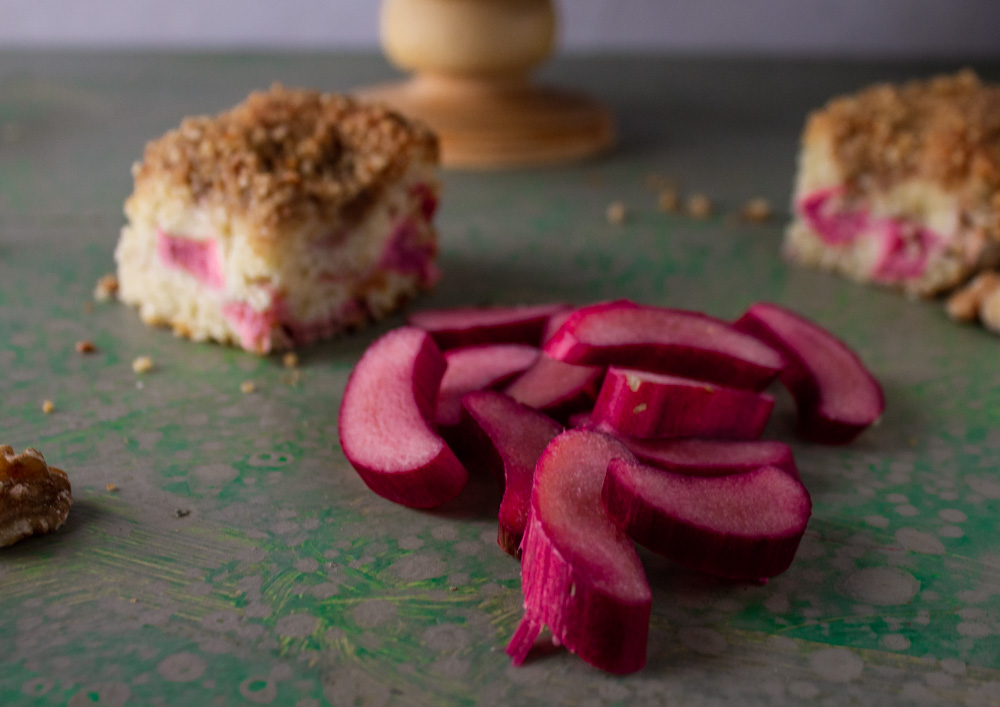 Alright, I'm back on schedule. Sort of. It counts if it's before midnight. I haven't been cooking much post-surgery which is reducing my enthusiasm for getting new posts written. I really prefer the cooking and the photography to the expository writing so it ends up being 3-4 recipes cooked per post written to keep me excited about it. But you deserve content! And before spring ends (I can't believe it's June already) I needed to give you at least one rhubarb recipe, hopefully more.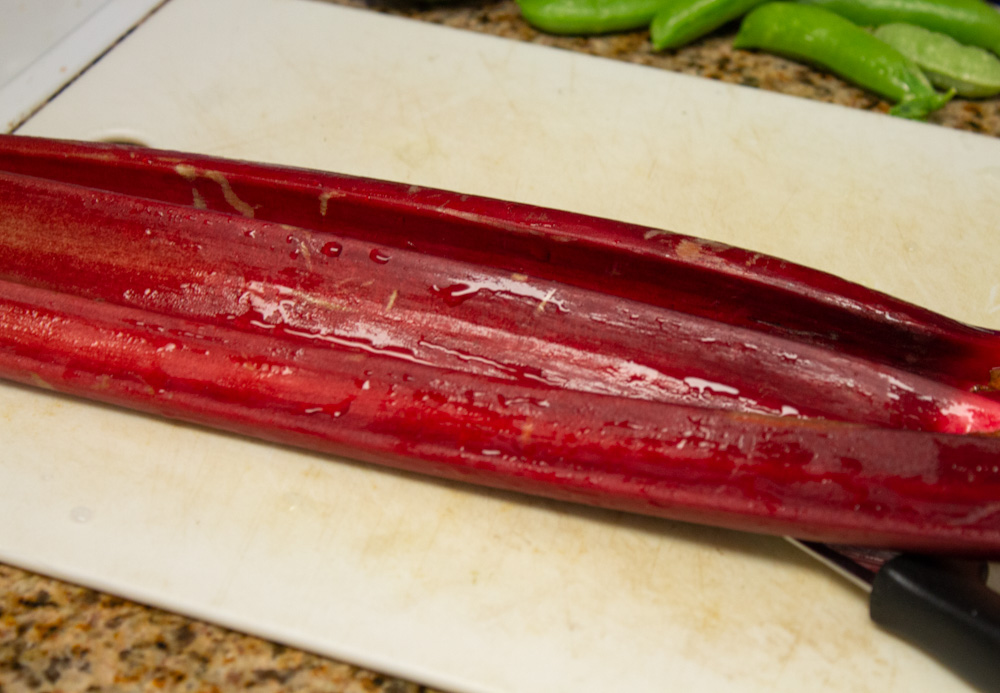 A couple weeks back I went looking for something I could pair with a coconut walnut stout and I really wanted the flavours from rhubarb. I found this rhubarb breakfast cake from The View from Great Island. I liked how it wasn't a typical coffee cake or pudding like (important when you are trying to develop something portable). I added the lime to offset the rhubarb and topped it with walnuts and brown sugar just because.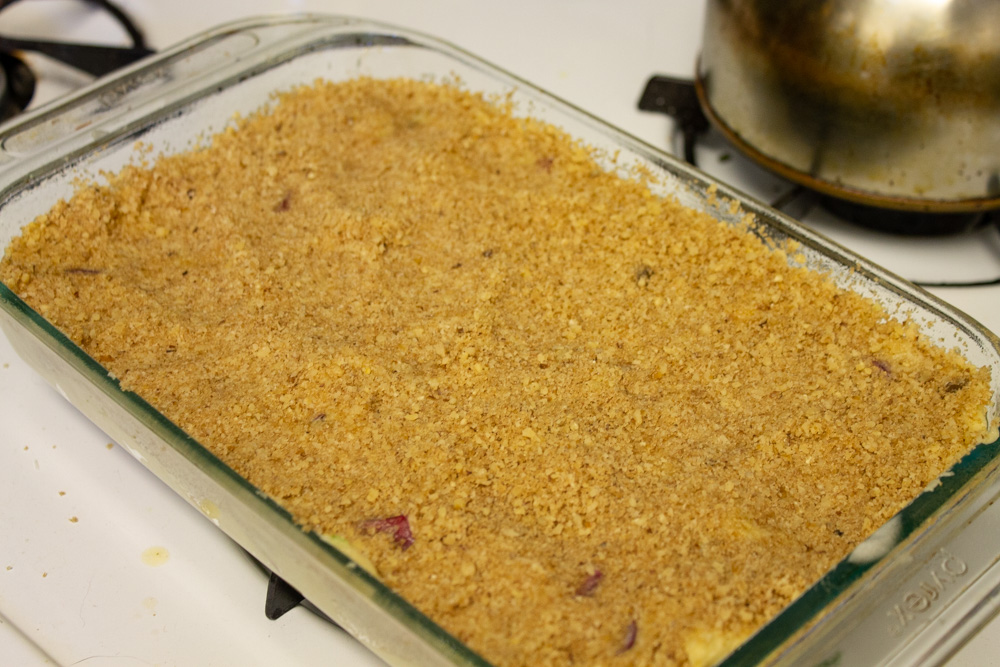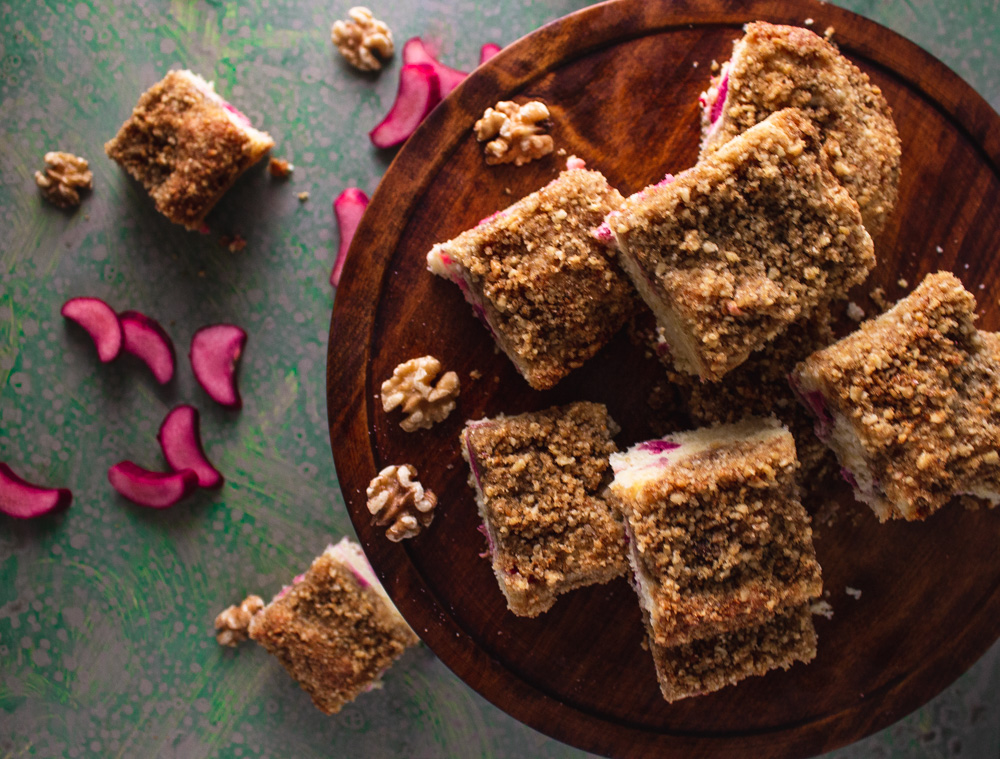 A (very small) Dash of Science
Gluten formation deserves a much longer explanation than I'm going to give it here, but that's better done in a bread post where kneading comes into play. The sort introduction to the subject is that adding water to flour and manipulating it creates gluten bonds from the gluten proteins which are in wheat (and similar) products. The less you work the batter after combining the water and flour, the more tender your product. This is why muffins always advise that you not over mix the batter, leaving lumps if necessary.
However there are several things that get added to doughs and batters regularly that inhibit (partially) the formation of gluten bonds. The most common: sugar and fats. And fats are what come into play in this recipe in the form of cream instead of half and half and an extra egg yolk. These fats get in the way of forming very long chains of gluten proteins, partially because there is less water in contact with the flour. This is also the origin of shortening as the name for a baking fat. You are using fats to "shorten" the gluten bonds making your product have a looser structure. So if you want a very tender, crumbly product, don't be shy about the fats.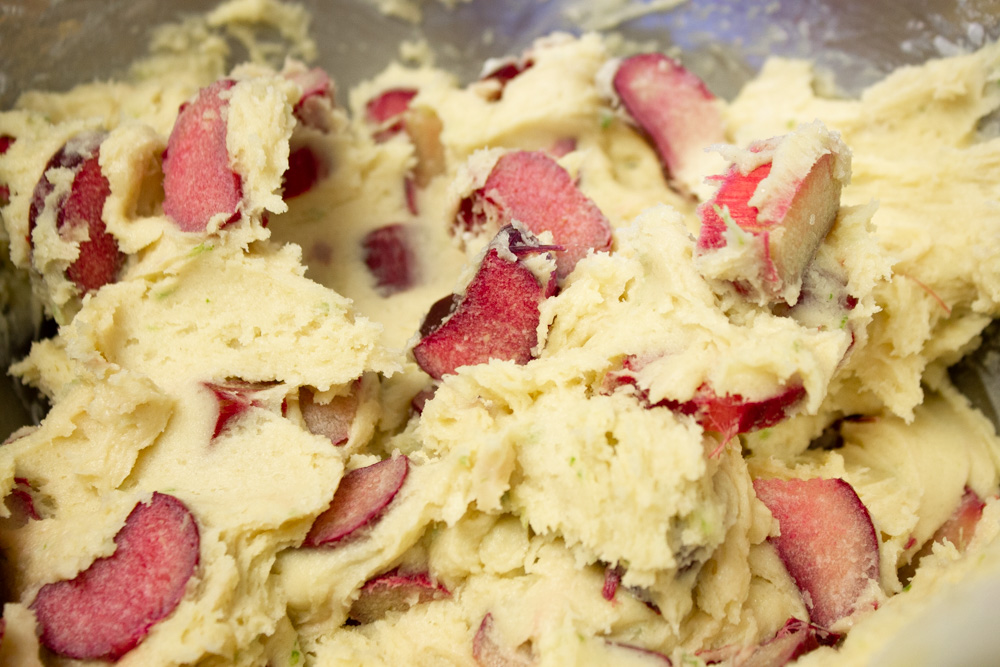 That actually got a little longer than I initially intended and it only scratched the surface. If you want to read more right away on the subject, Food Crumbles has an in-depth discussion of gluten proteins. And I will try to delve more into the mechanics with a future post.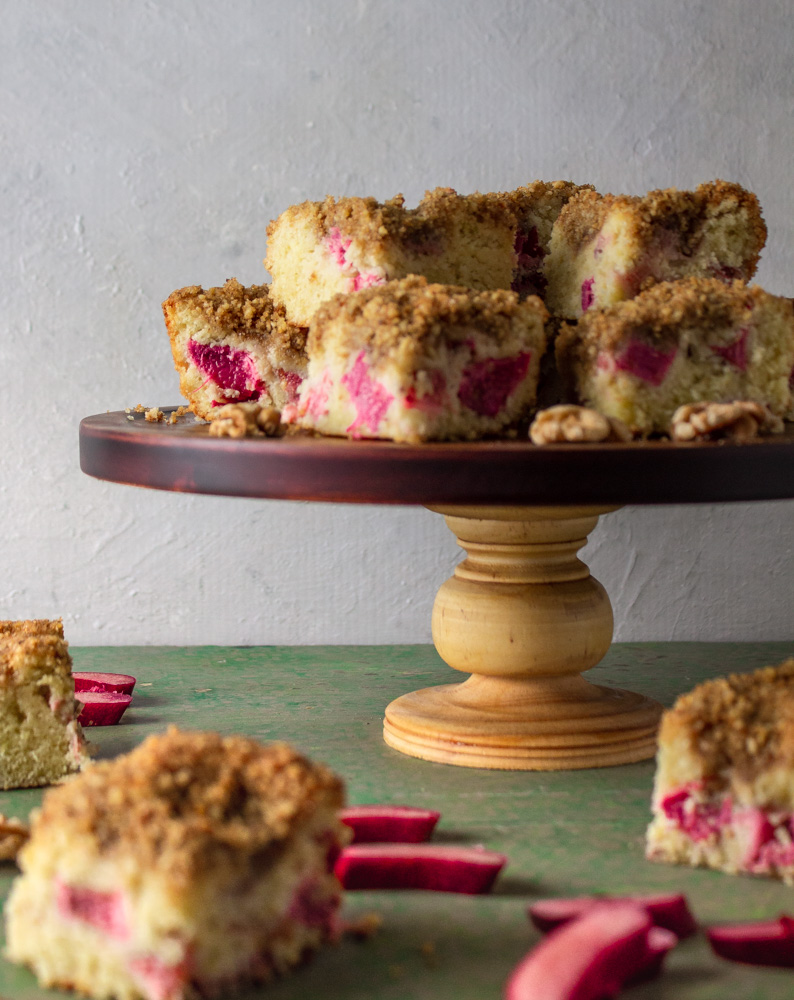 Rhubarb Cream Cake
Adapted from the Rhubarb Breakfast Cake by The View From Great Island
Ingredients
½

c/115g butter

softened

1

c/200g granulated sugar

1

egg

1

egg yolk

2

tsp

lime zest

about 1 lime

½

c/120ml cream

2

tbs/30ml lime juice

2

c/240g all purpose flour

2

tsp

baking powder

½

tsp/3g salt

2 ½

c/280g rhubarb

cut in ½" segments

1

c/100g walnut pieces

½

c/105g brown sugar
Instructions
Preheat oven to 350Grease and flour a 7 x 11" pan

Cream butter and sugar until fluffy. Add egg, yolk, and zest and beat until incorporated.

Mix in lime juice and then cream.

Beat in flour, baking powder, and salt until batter is smooth. It will be very thick at this point.*

Fold in chopped rhubarb. Spread evenly in prepared pan. You might have to use your fingers to push the very sticky batter into the corners.

Coarsely grind walnuts in a food processor. Add brown sugar and pulse until combined.

Pour walnut mixture onto batter and gently press in to bring fully into contact with top layer of batter.

Bake for 35-40 minutes until a skewer inserted comes out completely clean.

Allow to cool completely in pan. Cut into 15 pieces. Can be stored in an airtight container in fridge for up to 5 days.
Notes
*The original recipe suggests alternating adding the wet and dry ingredients, I assume to prevent the batter from being over worked and tough. But my variation added so many things that inhibit gluten bonds that you really needn't be worried.