These savory plum and goat cheese tarts  are a great summer appetizer, including a spiced plum jam swirled with mild, whipped goat cheese blend in a nutty pastry case. Beautifully highlighted by a bit of mint and a drizzle of aromatic olive oil.
I've been doing quite a bit of reading, trying to improve this blog for you readers and recipe seekers. One of the pieces that struck me was in regards to categories. It was proposed that you shouldn't have a bunch of categories with very few recipes each. But I want to be able to provide a variety of options for you, for whatever seasonal inspirations you need. So I'm going to try to focus on those categories I haven't done much with yet (don't worry, salads and sweets will still be added to prolifically).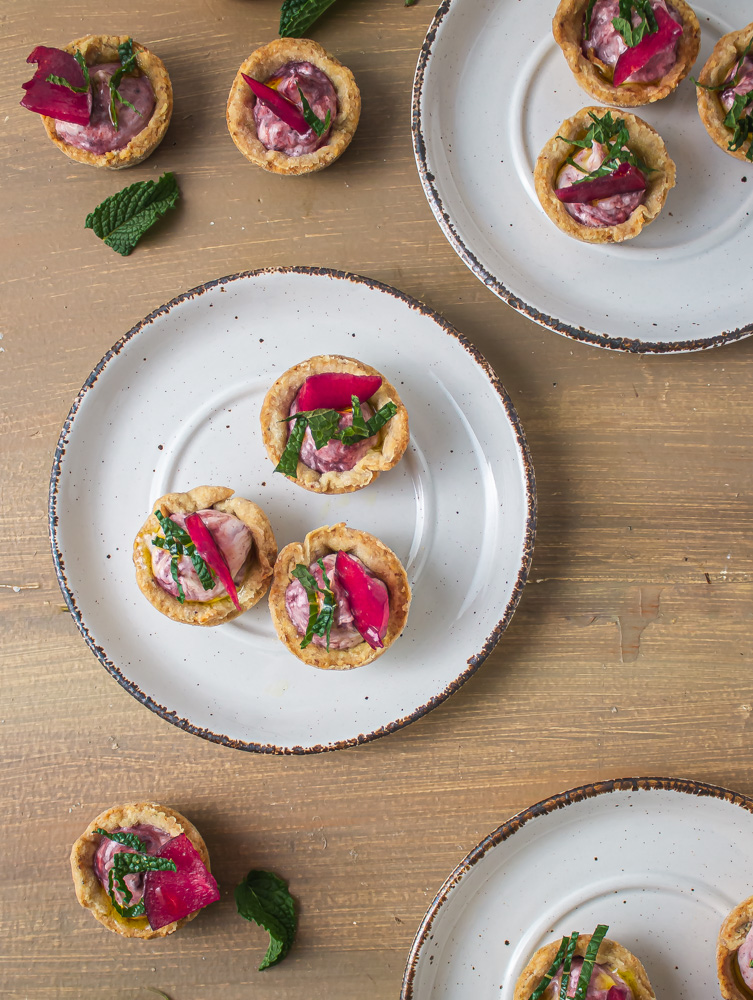 As well, I'm trying to use the ingredients I haven't yet, or ingredients that are difficult to find diverse recipes for. The latter piece is partially to stretch myself, making me be creative and do more research. And I do want to hear from you on what ingredients you want recipes for or a scientific explanation of.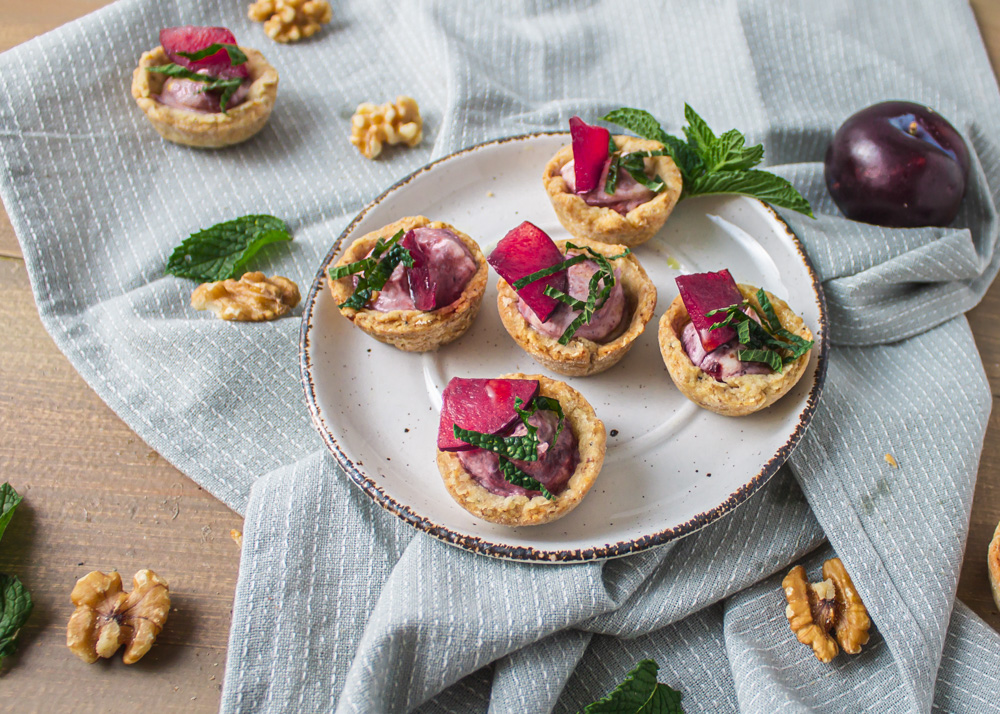 These plum and goat cheese tarts are a push for both seasonal ingredients I haven't used yet (plums) and to improve the appetizers category. I had started off thinking about baked goat cheese and bubbly jam, but that just wasn't working out. Besides, being served cold makes these much easier to produce for a party or to share (at work I suppose, though I took them to one of our local tasting rooms – people there are so good at eating up the extra foods I produce).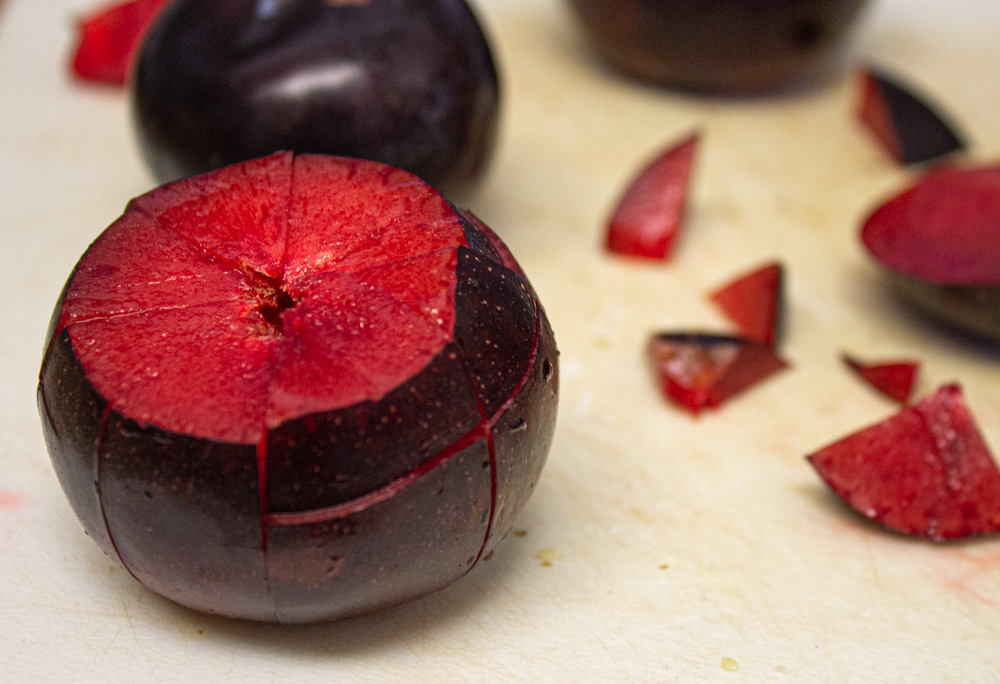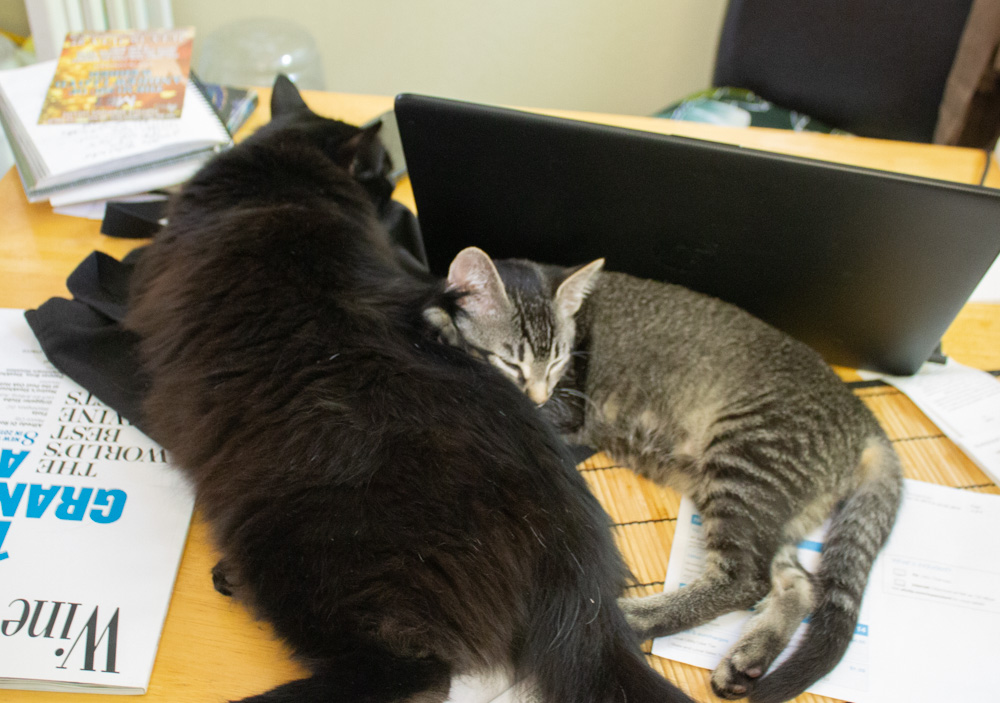 A Dash of Science
Pastry versus Shortbread. It's a matter of gluten bonds and therefore water. I spoke a bit about gluten bonds and how to inhibit them previously (and my larger post on gluten structure is up now), but let's talk about how to form them now. Gluten bonds are what hold any wheat (or similar flour) products together. While the gluten proteins are always present in the flour, they need water to activate and form bonds. The water doesn't have to be from an obvious addition of tap water. Most liquids that are not straight oil contain some water (even oils contain some as part or their molecular structure that becomes available when heated, see this brief discussion of butter). 
In addition it takes a bit of mechanical action to expose all (or most) of the gluten proteins to the water. The more mechanical action (i.e. mixing or kneading), the more gluten bonds are formed and the more elastic the mix becomes. This is great for bread, but bad for cakes, muffins, and anything else you want a bit of crumbly tenderness to. So your options are to limit the addition of water, limit the amount of mixing, or add things which will inhibit the gluten bonds from forming (like fats).
Pastry is tricky because you need some gluten formation, but too much will make your product tough. But don't have enough and it will never hold whatever you are trying to use it as a vessel for, crumbling as soon as you pick it up. That's great for shortbread, where at most you will add an egg yolk for liquid and otherwise rely on the minute amounts of water in the butter for the structure. So with pastry you add some water to create those proper bonds and sugar and butter to shorten them. And you need to be careful not to over work it (don't reroll it too many times).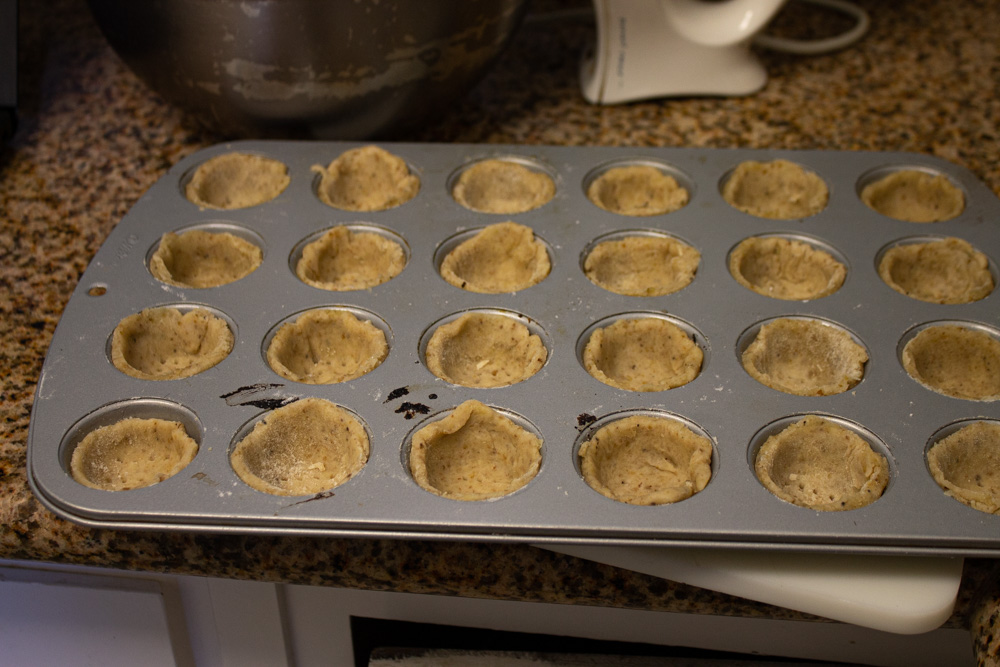 For those that want to know more about the mechanisms behind this, I found another food scientist blogger, Jessica Gavin, who has a great diagram for gluten formation. And for the very in depth science nerds, Food Crumbles delivers as always.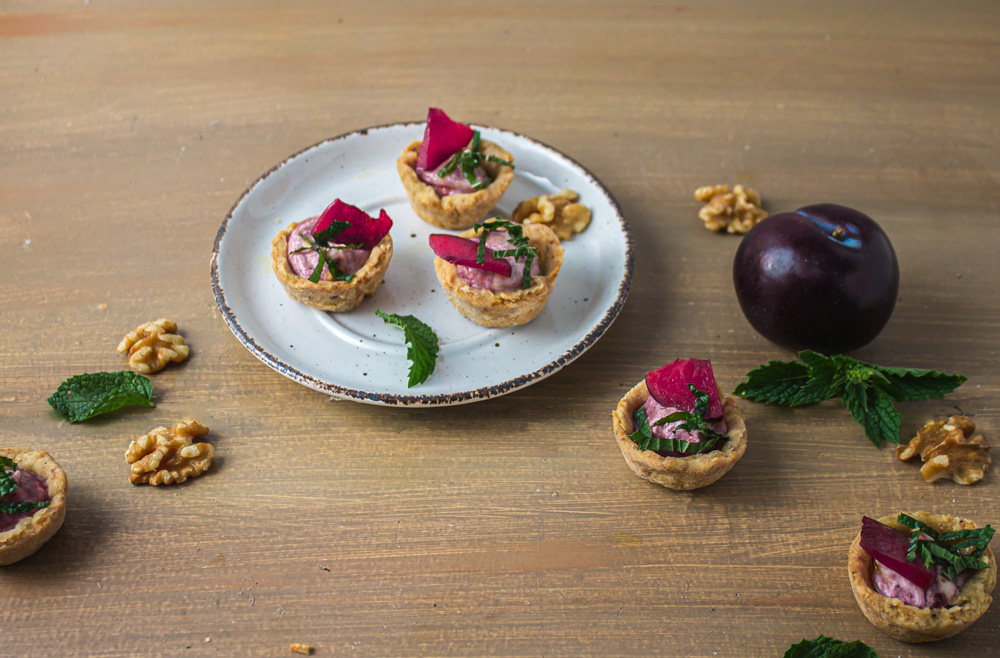 Savory Plum and Goat Cheese Tarts
Ingredients
Pastry
1

c/100g walnut pieces

1

c/120g all purpose flour

6

tbs/90g butter

cut in pieces

¼

tsp

salt

¼

tsp

pepper

3-4

tbs/45-60ml water

1

tbs/13g sugar
Plum Jam
1

lb/450g plums

diced

½

c/100g granulated sugar

1

tsp

ground coriander

½

tsp

ground cardamom

½

tsp

ground pepper

2

tbs/30ml balsamic vinegar

2

tbs/30ml red wine vinegar

¼

tsp

salt
Whipped Goat Cheese
4

oz/115g goat cheese

3

oz/85g cream cheese

at room temp

¼

c/60ml cream

¼

tsp

salt
To garnish
5-6

large mint leaves

chiffonade

Olive oil to drizzle
Instructions
In a food processor, pulse walnuts with flour, sugar, salt, and pepper until finely ground. Add butter and blend until butter is distributed in pea size or less pieces. Add water 1 tbs at a time, pulsing after each addition until dough just forms. Bring into disc, cover with plastic wrap and refrigerate for at least 30 minutes.

In a medium sauce pan, bring all jam ingredients together over med-low heat. Cook, stirring occasionally until reduced and thick, 30-40 minutes (this takes longer because of low sugar). It can also be done faster over higher heat but needs more active maintenance so that it does not burn. Set aside and allow to cool.

Preheat oven to 325Roll dough on a well floured surface to a little over 1/8" thick. Cut 2 ½" circles and place in mini muffin tins.* Gently press into the corners and prick the bases a couple times with a fork. Chill until ready for the oven.

Bake for 20-25 minutes until just starting to brown on the edges. Cool in the tins for at least 5 minutes before removing to cool completely.

Combine goat cheese (can be cold), room temperature cream cheese, and salt in a large bowl. Whip with a hand mixer until well blended. Add cream and beat until fluffy. Cover and return to fridge to chill.

Once everything is cool, fold plum jam into cheese mix until streaky (there should still be defined areas of whipped cheese and sticky jam). Pipe (or dollointo walnut cups.

Sprinkle with thinly sliced mint and a tiny drizzle of olive oil. Serve the same day.
Notes
*This is a very delicate dough. If it is tearing too much, you can also form the cups using a 2-3 tsp size amount of the dough and forming into a circle with your finger-tips. Make sure the outside is well floured before you place it in the tin. You will need to chill these longer the second time if you form them using your fingers.