This blueberry buckle is a coffee cake with lots of fresh blueberries and a generous helping of streusel topping. Serve with yogurt and you can almost convince yourself it's breakfast.
I've been using this recipe for a very long time. I got in from a neighbor as a kid and though I've made some tweaks over the years, it is largely the same. I have no idea where she got it from or why it is called a buckle. That kind of culinary etymology is not my forte. I'll stick with science.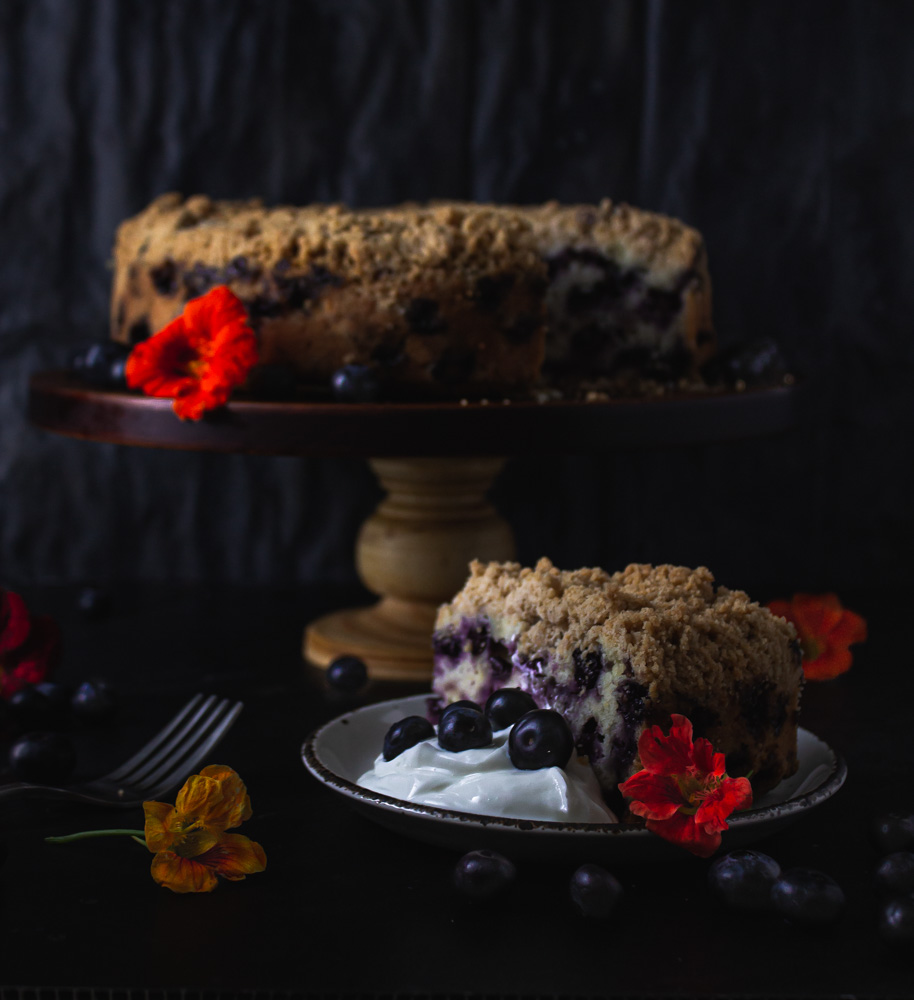 This is basically an un-yeasted coffee cake with a lot of blueberries and a generous helping of streusel topping (I've increased that from the original because, why not?). And when I say a lot of blueberries, I mean a full 2 lbs worth. There are quite literally equal parts batter and berries. And no, frozen berries just don't work the same here. They release too much water into the batter. But this is the time of year you can get those giant packages of blueberries from the supermarket (or find lots of blueberries at the farm stands), so it's not insurmountable.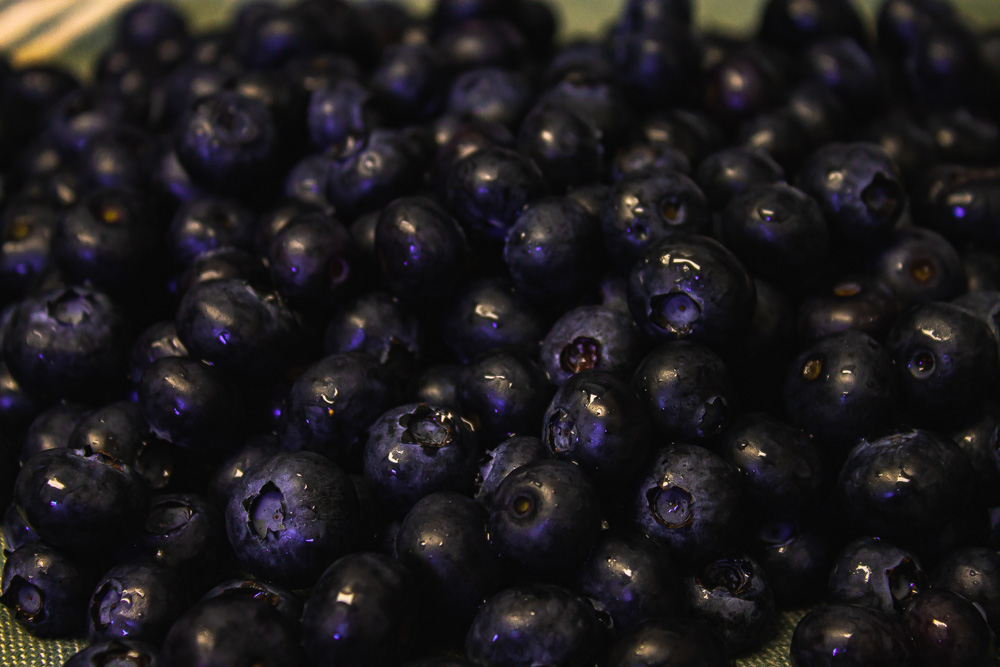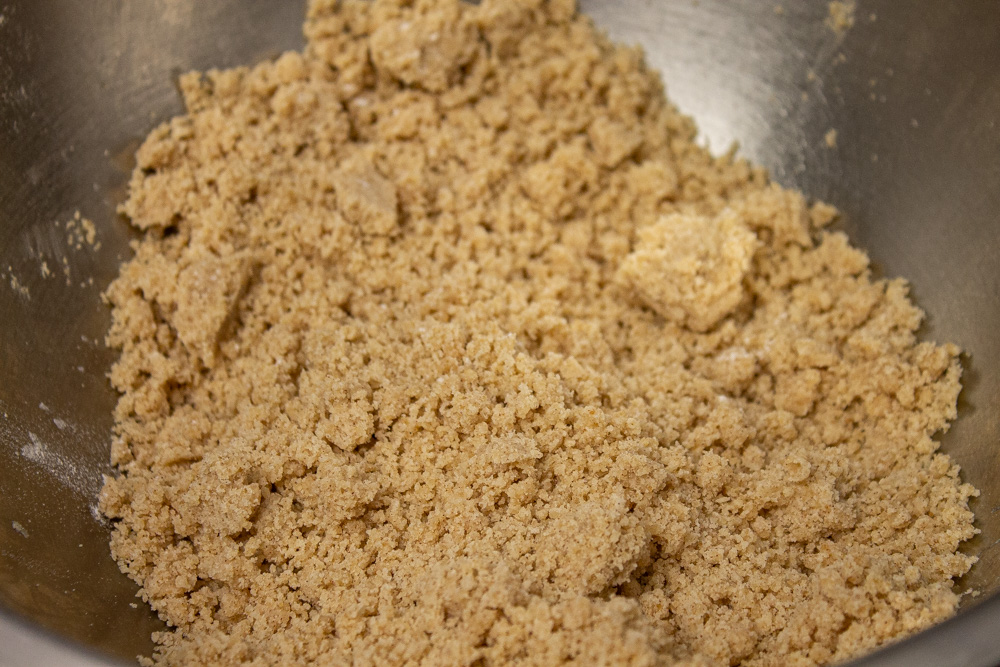 Just a pinch of science today
In regards to not being able to use frozen fruit: Once you freeze produce, you damage the cell structure. Almost all plant cells have organelles (err, the organ of the cell) called vacuoles which store water and a lot of the colour and flavour. Basically these are just storage compartments for the cell for when they use these products later in their lifetime – kind of like fat in humans and other animals. But water expands when it freezes, so the vacuole bursts, allowing the water out. And since the cells are permeable to water, all that liquid escapes the fruit.
Heat does also damage all the membranes allowing the water escape… eventually. The batter insulates the fruits for quite a while. Which is why when you bake with whole fresh fruit you get the little pockets of jam and a bit of air – because the cake has baked around the fruit until all that water evaporates from the fruit. But if the fruit has a lot of water already leaking from it then that is going to leak into the batter before it can bake properly, resulting in a different bake time for that pocket of batter. And the frozen fruit defrosts much more quickly than a fresh fruit would burst, releasing all that water (all those cells are damaged and not holding the water in) leaving soggy pockets.
This can also happen with cut fruits or really juicy fruits. When cutting, you have mechanically damaged the cells and vacuoles allow the water to be released before it evaporates. I haven't really gone into it here, but the skin on most fruits has a different cellular composition that the rest of the fruit helping retain the water should any internal cells get damaged. Really juicy fruits are likely to burst or otherwise damage the skin and cells during handling, with the same result. Lots of liquid in the batter where it's not supposed to be. There are ways to adapt for it, but that's why most recipes you can't simply switch out any kind of fruit without accounting for the water.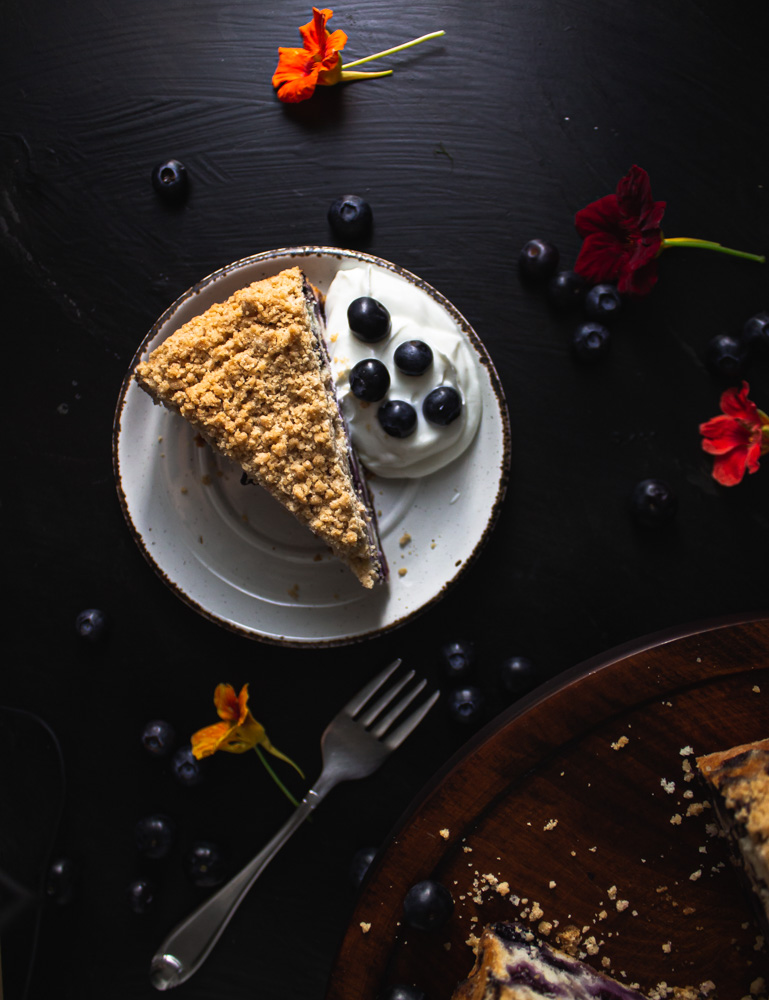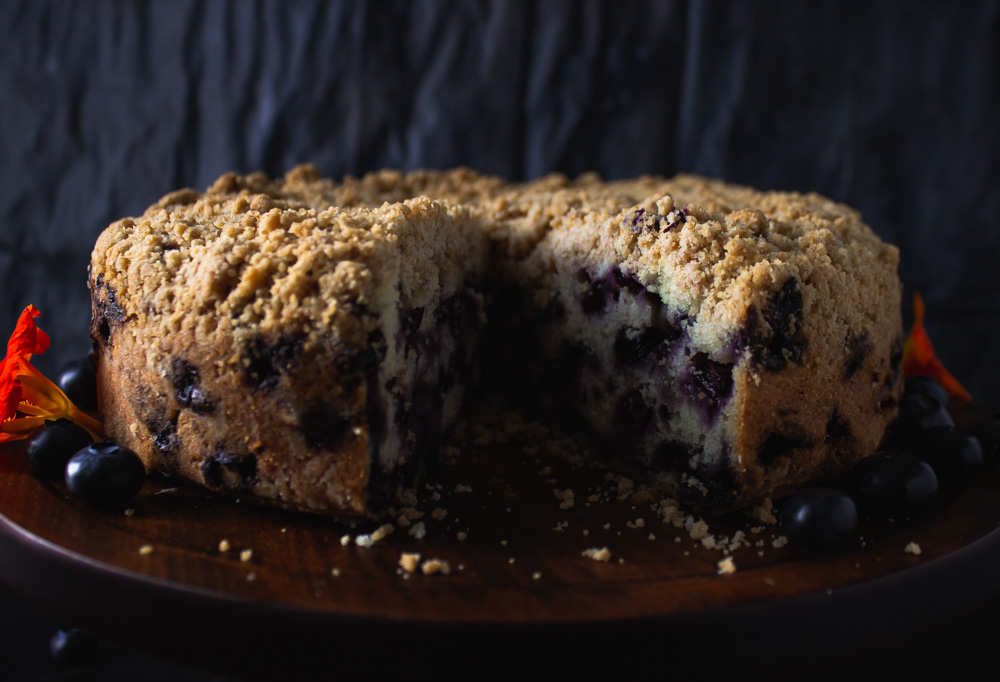 Blueberry Buckle
Ingredients
½

c/115g butter - softened

2

c/240g all-purpose flour

1 ½/6

g

tsp baking powder

½

tsp

salt

¾

c/150g sugar

1

lg egg

1

tsp/5ml vanilla extract

2

tsp/2g lemon zest

½

c/120ml milk

5

cups/900g fresh blueberries
Streusel Topping
6

tbs/90g butter at room temperature

1

c/120g all-purpose flour

¼

c/50g packed brown sugar

1

tsp/6g ground cinnamon
Instructions
Heat oven to 350Grease and flour a 10" springform pan and line bottom with parchment.

Make streusel: Mix dry ingredients together, cut in butter until fine and crumbly. Set aside.

Combine flour, baking powder, and salt and set aside. Wash and thoroughly dry blueberries.

Cream butter and sugar with an electric mixer on high until fluffy. Add egg, zest, and vanilla. Continue blending on med-low until pale and creamy.

Keep mixing on low. Alternate adding flour mixture and milk to mixture, beginning and ending with flour mixture.

Fold in blueberries.

Scrape into prepared pan. Spread to edges and flatten. Sprinkle topping evenly over cake.

Bake 60-70 minutes or until cake tester comes out clean.

Remove from oven and let cool 10 minutes in pan. Remove from pan and allow to cool at least 15 more minutes before serving.

Stays well overnight or longer. Flavors bend nicely with age.