A tangy homemade blackberry tomato ketchup with just enough sweetness and a hint of heat made with fresh tomatoes and summer blackberries. Especially amazing with sweet potato fries, but also so many other things.
Finally I can share this recipe with you. I've been itching to do so since last year. On our way back from Italy last autumn, we ended up with a 20 hour layover in Stockholm, and since we had no desire to sleep in the airport, we went exploring. And had an amazing meal. I'll spare you the excess of detail I could include, but one of the dishes came with a lingonberry ketchup and roasted sweet potatoes. It was amazing and unique and I really wanted to make a similar homemade ketchup.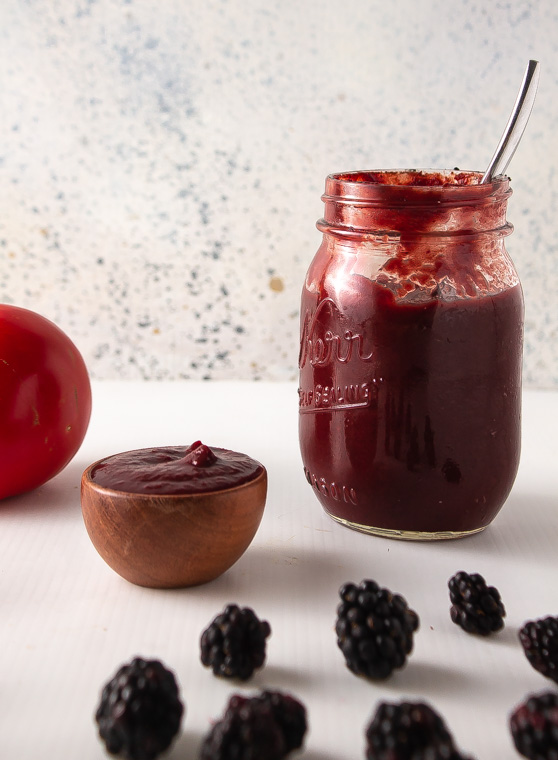 But since you can't get lingonberries in California, I thought blackberry would be a great alternative. And it was. Lots of tomatoes for an actual fresh tomato flavour in the ketchup, a hint of heat, and not too much sugar. I don't use much ketchup normally (a tablespoon or less with fries), but this would be brilliant pretty much anywhere you typically use the store bought version. Though maybe not on eggs (I never understood that one anyway).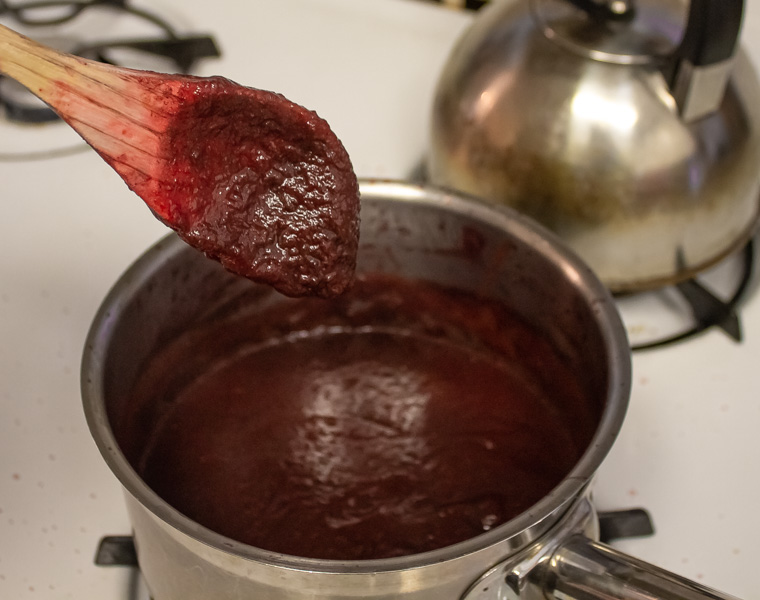 Even though I was able to make this homemade blackberry ketchup when we got back in early November (it was a very long summer in California last year), I knew that most of the world wouldn't have access to great tomatoes and blackberries, so I resisted until now. I suppose it is just as well because my photography has improved significantly.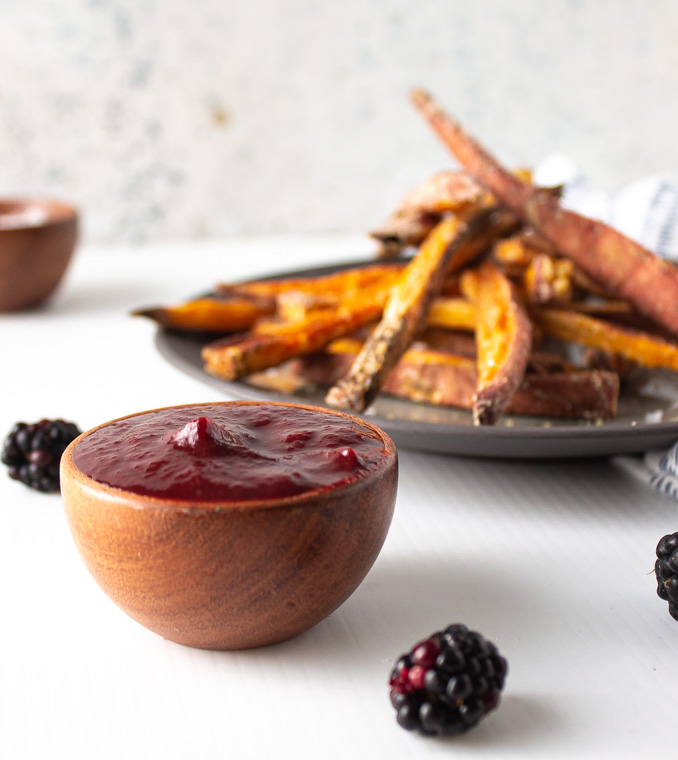 So go make some, preserve it properly (unlike me), and enjoy it until next summer when you can make some more. Or try a different fruit. Maybe plum? I'll admit, I wasn't brilliantly excited by the recipe for the sweet potato fries I used in the photographs, so if anyone has a great one, I'd love to include it.
Blackberry Tomato Ketchup
Ingredients
2

lb/900g tomatoes

diced

¾

lb/375g fresh blackberries

2

pieces/2g anise star

½

tsp/1g whole cloves

¾

tsp/2g white peppercorns

½

c/105g brown sugar

¾

tsp/2g ground all spice

¼ - ½

tsp/1g cayenne

1 ½

c/350ml red wine vinegar

½

tsp/3g salt
Instructions
Combine all ingredients in a large pot over low to med-low heat.

Cook at simmer for 1 hour or until reduced by ½.

Strain through cheese cloth and store in glass jars in the fridge.