This easy cake is a fabulous everyday treat chock-full of fresh strawberries. Make a strawberry olive oil cake for any occasion – even just because you want something sweet.
Unlike many cooks and bibliophiles, I'm not particularly careful with my books, particularly my cookbooks. I have never invested in stands or plastic covers, or writing out the recipe on some scratch paper (so strange that people make that effort). Instead my cookbooks are well used; covered in flour and splatters such that you can catalog my favorite recipes by the status of the pages.
One of these books is Pastries from La Brea Bakery by Nancy Silverton. Her Tiny Cappenza Olive Oil cakes are surprisingly unfussy and make for an easy go to when you want to bring something to a potluck, for coworkers, or need a lightly sweet snack. The cake itself is not super sweet – more of a breakfast pastry that makes a good dessert – which provides a great background to the sweet jammy-ness of baked strawberries.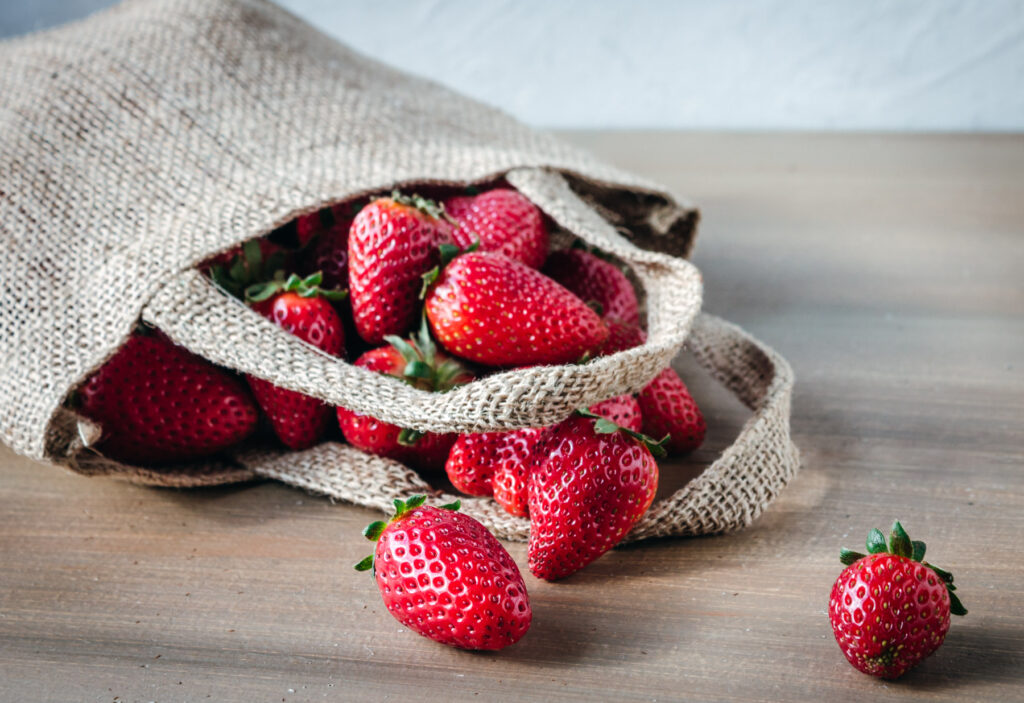 Use good quality olive oil
It is important to use flavorful olive oil in this cake as it is not just the background oil, but the main flavoring component. Using anything too mild or an olive oil cut with other oils is going to give you a pleasant but rather boring snack cake. The nutty and vegetal flavor of the olive oil is what belies the ease of this cake. With one bowl and a single pan, you can have this cake ready in under an hour, but everyone thinks it is so special because it is an olive oil cake – if you just called it a lemon cake, no one would be as impressed.
What kind of pan to use
Nancy Silverton recommends baking it in small molds, especially ones with lots of nooks and crannies because the golden brown crusty bits really are delicious, but it is still excellent when done as a single cake. Metal pans give the best crunchy edges for this recipe. I replaced the recommended orange zest with lemon from La Brea's recipe, both because I like the combination of lemon with strawberries (or the rosemary I usually use) and because I had lemons rather than oranges around.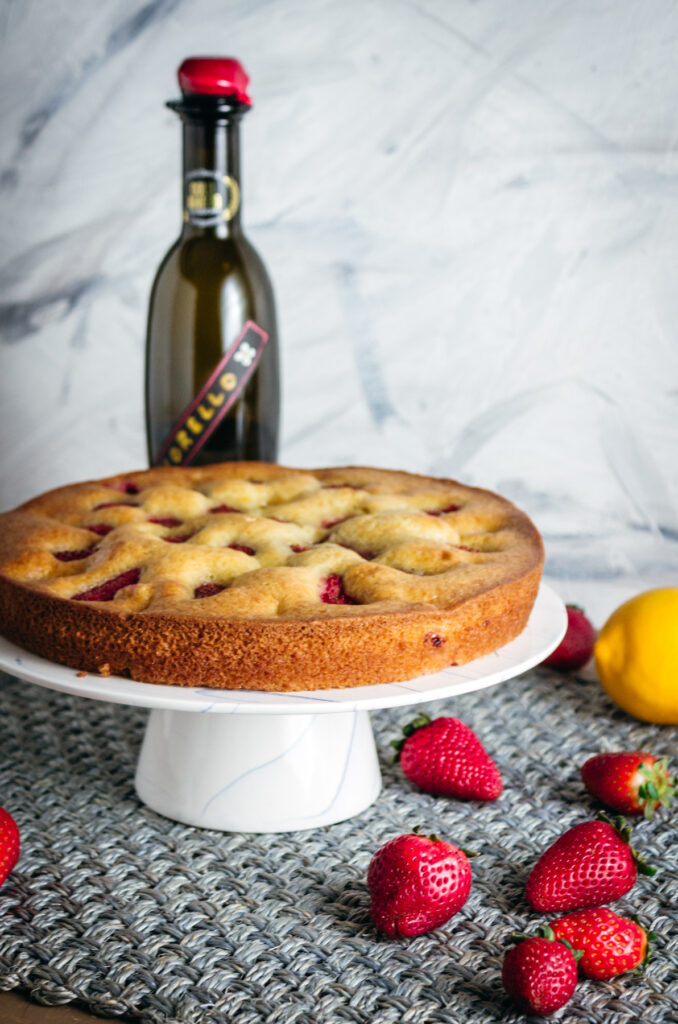 What makes a perfect cake?
Like many cakes, this one is reliant fats to form a tender crumb. In this case, a high proportion of olive oil rather than butter or cream to coat the gluten molecules. Using a liquid oil is exceptionally good for that purpose because it is easy to evenly distribute it through out the mixture – making for an exceptionally delicate cake.
Another way science makes this cake perfect is cutting the fruit just right. Not cutting the strawberries too much keeps them from leaking everywhere and compacting the crumb. This is because cutting fruits releases the water stored in the molecules. When working with fruit laden cakes I prefer the contrast of having cake surrounding exclusive pockets of fruit that are so different in taste and texture when you bite into them.
Crumbly but moist, this cake is so wonderfully versatile, I think trying it with other fruits would be wonderful as the seasons change. Perhaps quartered apricots in early summer or whole black grapes in fall?
Snap a picture of what you cook and tag me @twistsandzests on Instagram and use the hashtag #twistsandzests so we can all see! You can also comment, email, or message me on any social media platform to find solutions to cooking problems.
---
Strawberry Olive Oil Cake
A light and tender olive oil cake with sweet strawberries.
Ingredients
½

lb/225g strawberries

¾

c

+ 1 tbsp/100g all-purpose flour

½

c/100g granulated sugar

¼

tsp

baking powder

¼

tsp

baking soda

1

tsp/2g lemon zest

½

c/120ml olive oil

½

c/120ml milk

1

lg egg

¼

tsp/1g salt
Instructions
Preheat oven to 350F and oil (with olive oil) a 9" cake pan. Note – you could use muffin tins here for those crispy edges.

Mix all dry ingredients together in a bowl.

Create a well in the flour mix and add eggs, oil, and milk. Whisk into the flour mixture.

Add lemon zest and whisk/stir until completely combined and there are no lumps.

Pour half of batter into prepared pan. Place 2/3 of the strawberry halves cut side down on the batter. Cover with remaining batter. Place remaining strawberries on top. Some of the lower strawberries will float up, so avoid placing another strawberry directly on top of those.

Bake for 30-35 minutes or until a toothpick inserted comes out clean.

Allow to cool for at least 10 minutes before slicing and eating. Is also just fine at room temperature but if stored in the fridge, it gets a little too dense unless heated back up.
Notes
Adapted from Pastries from La Brea Bakery
*Use high quality olive oil – the flavour really comes through.