Creamy and lemon sharp, these tarts have a hint of thyme and almond, perfect for an early spring dessert. Particularly if you still have too many lemons (includes my recipe for lemon curd)!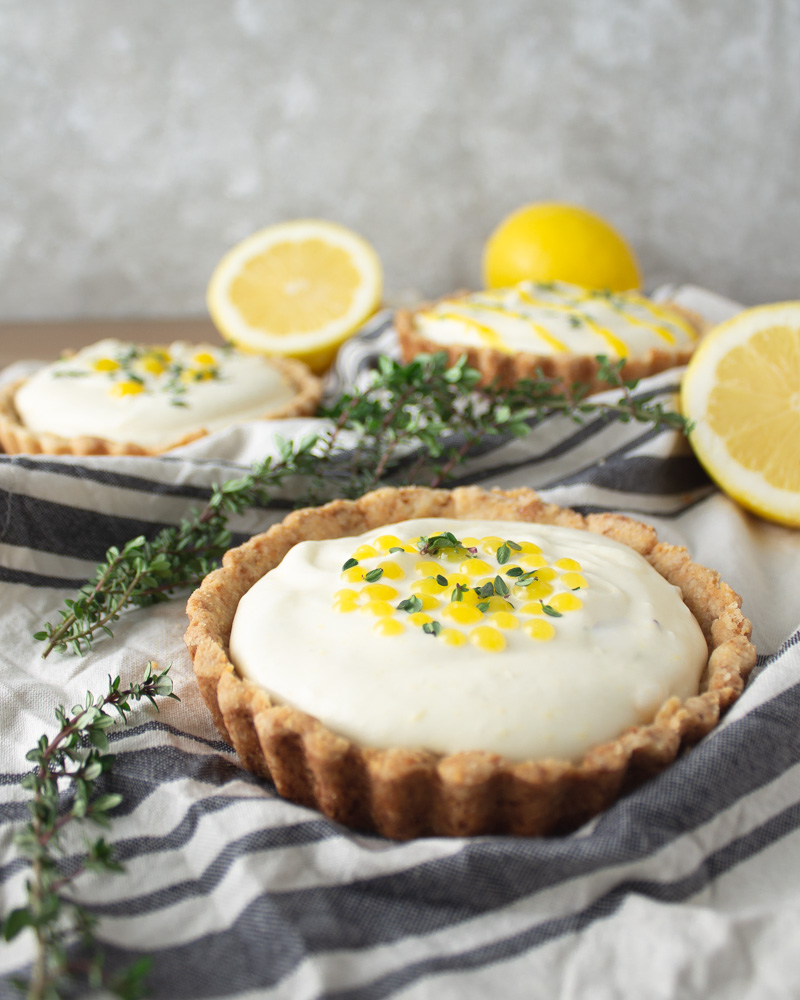 I love lemon and other citrus desserts, but I always want something creamy to balance it out. But if I don't have something, I feel unsatisfied, so I eat another piece of whatever it was. You can see where this is going. These tarts are great since the cream is combined with the lemon. I added the thyme to make it a little more spring and for the earthy flavor to balance the lemon and cream. But mostly, I needed to use up some lemon curd.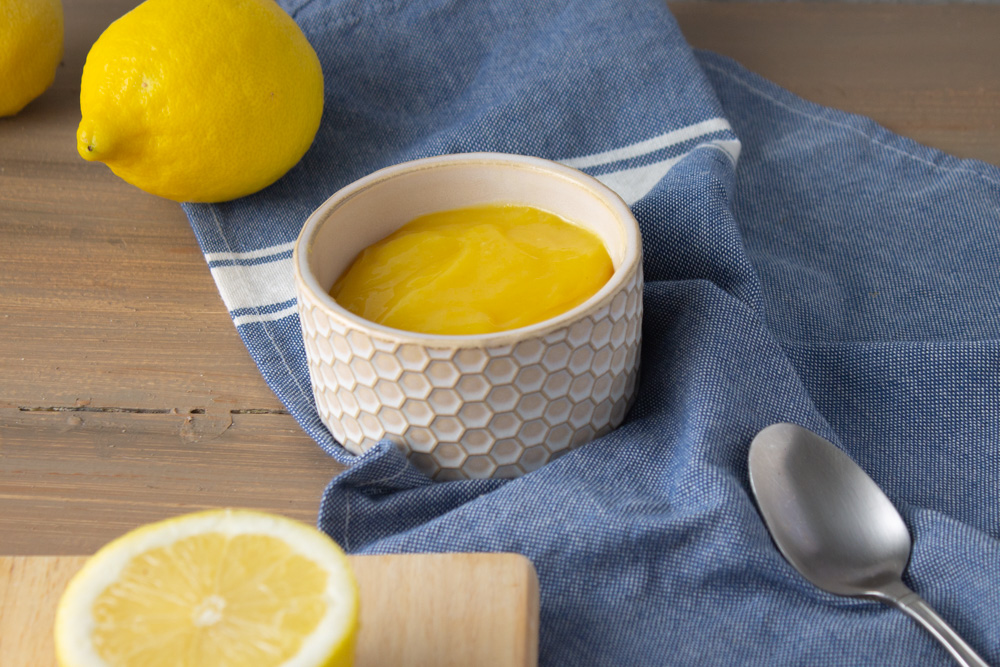 The lemon curd recipe makes significantly more than you will need, but it is delicious on many things. I think I've made at least two quarts of lemon curd this winter. You've seen the logo right? I have a very prolific lemon tree. It's a great way to preserve the fresh lemon flavor if you aren't in a climate where the trees produce all year long.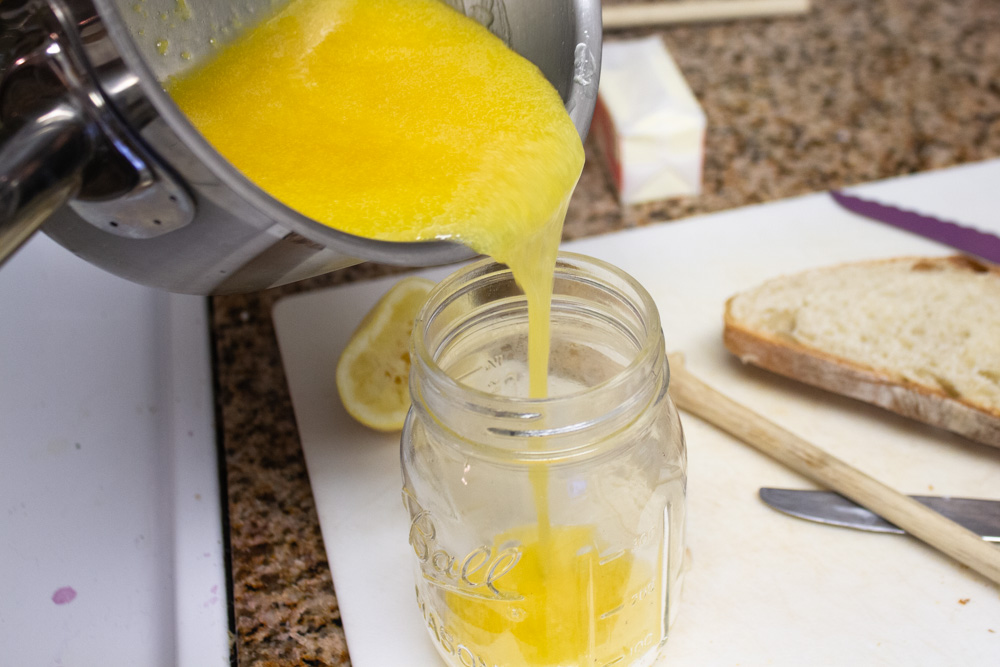 And you will end up with a lot of leftover egg whites, but there's plenty to make. Omelets, buttercream, macarons (fill them with some of the lemon curd), macaroons, chiffon cake, and so many other options. Inevitably I will make something from these categories if I make lemon curd or pastry cream. I recently made some fun rosemary mandarin macarons with mandarin buttercream. Sorry no recipe yet, I'm still getting comfortable making them.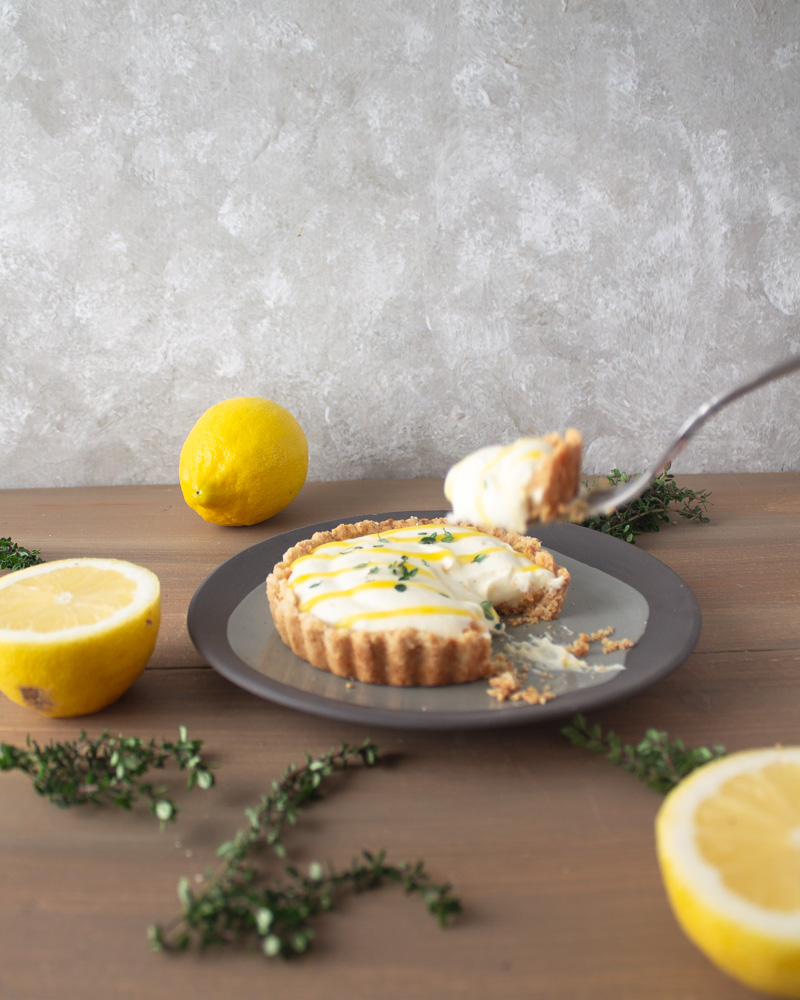 This kind of crust can be tricky. Since there is no water (except for a tiny bit in the butter – see this post), very few gluten bonds form. The melted fats are the only thing holding the crust together. And I have you add almonds, which reduces those gluten bonds further (almonds do have starches, proteins and fats, but not gluten proteins), though it does increase the fat moderately. This makes the tarts quite tasty, but very difficult to unmold. If you don't have a tart pan(s) with a removable bottom, don't try to unmold the tart. Serve it as is and no one with fault you for it. In my trial batches, I tried some in brioche molds, but the only ones that held together were the full flour and I found those a little plain. I will take flavor over looks anytime.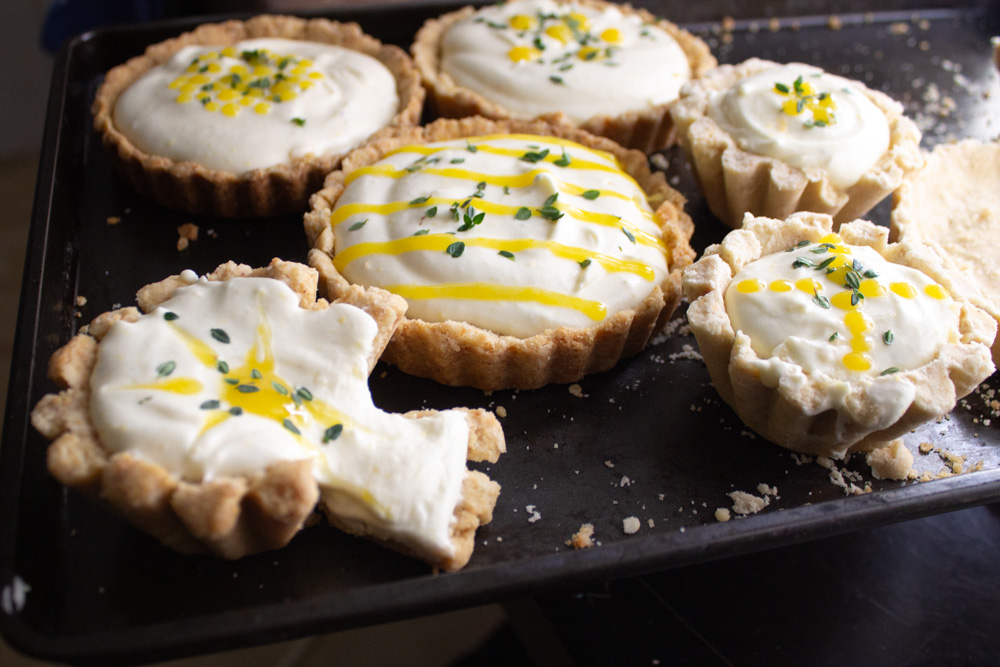 Lemon Thyme Tarts
6 – 4" mini tarts or 1 – 9" tart
Ingredients
Lemon Curd:
1

tbs/4g lemon zest

3 lemons

½

c/115g butter

½

c/120 ml lemon juice

¾

c/150g sugar

¼

tsp

salt

6

egg yolks
Filling:
20

g

thyme sprigs

coarsely chopped (about 10 – 4" sprigs)

1 ¼

c

heavy cream

1

tbs/15ml honey

2

tbs/25g granulated sugar

½

c

lemon curd
Crust:
6

tbs/90g unsalted butter

melted

½

c/60g ground almonds/almond flour

1

c/120g all-purpose flour

2

tbs/25g sugar

1/8

tsp

salt

Lemon curd and thyme leaves to decorate
Instructions
Steep fresh thyme sprigs in cream (in fridge) for at least 4 hours, preferably overnight.
Make curd:
Combine lemon juice, zests, and butter in sauce pan over medium low heat until butter is melted. Add remaining ingredients, whisking briskly to incorporate.

Continue heating, stirring regularly, for 10-15 minutes. Do not allow to boil (you don't want to scramble the eggs).

When mixture is towards the end of this time, stir constantly until thick enough to coat the back of a spoon (makes a very definitive *plop* when falling back into pot).

Strain into a glass container, cover, and chill in fridge.
Prepare tart shells:
Preheat oven to 350F. Place tart pans on a larger baking sheet for ease of movement.

Combine all ingredients in a medium bowl (or the pot you melted the butter in), stirring with a fork until fully incorporated. This will be more like a crumbly paste than a dough.

Using your fingers, press mixture into tart pans until about ¼" thick all around (error on the side of thicker). Prick the bottoms with a fork several times.

Bake for 15-20 minutes (depending on size of the tarts) until just starting to turn golden. Remove and allow to cool in the pans.
Make the cream:
Strain the thyme from the cream using a fine mesh sieve or cheese cloth. Press to express all the flavor from the thyme.

Whip cream to soft peaks by whatever your preferred methodology – as previously mentioned, I like to do so manually.

Add honey and granulated sugar, continue beating until cream is stiff (but not butter).

Fold in lemon curd using gentle, repetitive, round motions until completely combined. Chill until shells are cool and ready.

Unmold shells, pressing up from the removable base and very gently handle by the sides while removing said base.

Place shells on a tray or flat plate that can fit in the fridge. Fill to just level (maybe a little over for smaller tarts) with the top edge of the crust.

Drizzle/pipe/dollop a small amount of lemon curd (1-2 tsp) on the tops in a decorative manner – I like the non-uniform look.

Place the fridge for 1-2 hours (depending on size) before attempting to cut or photograph. Garnish with a sprinkle of thyme leaves just before serving.