A sweet and sour, herbaceous apricot lavender sage shrub plus a bright apricot shrub gin spritz to make from it.This wasn't actually the recipe I intended to give you today. I've been working on a stone fruit meringue pie this week, but the filling is being a bit tricky. Tastes delicious, but lets out too much moisture. And moisture plus meringues just doesn't work. But that's something for us to look forward to later. For now, I've got more apricot fun.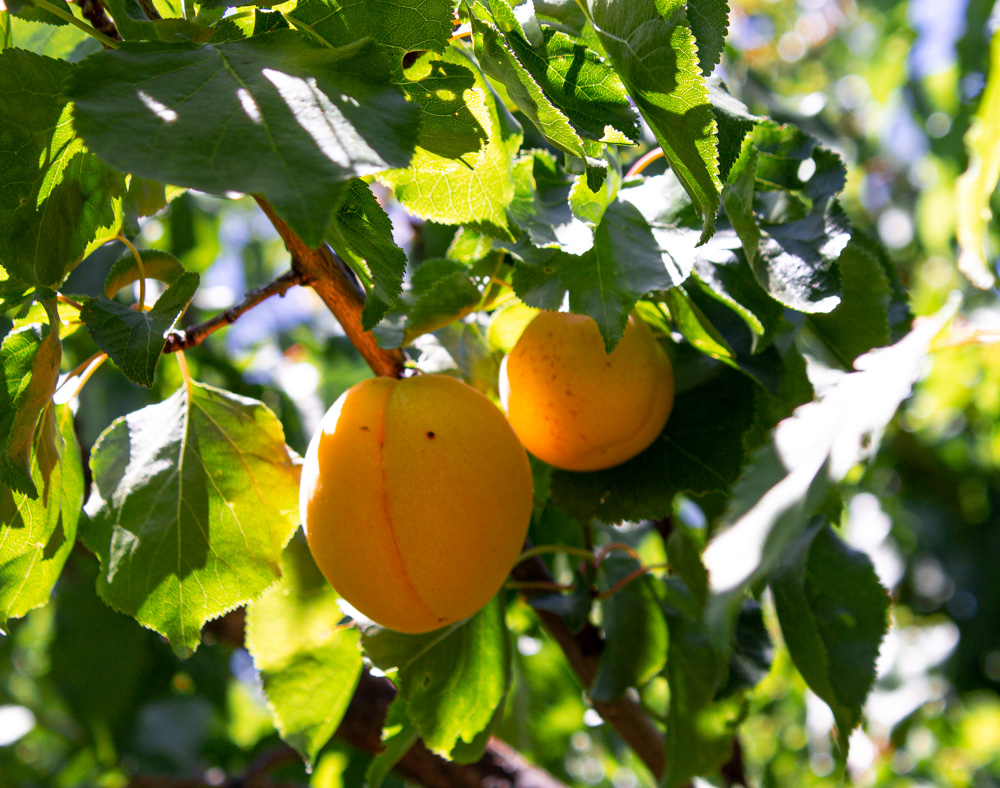 I mentioned that I finally got fruit off our apricot tree this year. But when I say that, I mean there was probably a total of 15 fruits on the tree and the birds and squirrels got half of them. But it's an ancient tree and it was nice to know my haphazard pruning last autumn was effective. Perhaps we'll manage even more next year.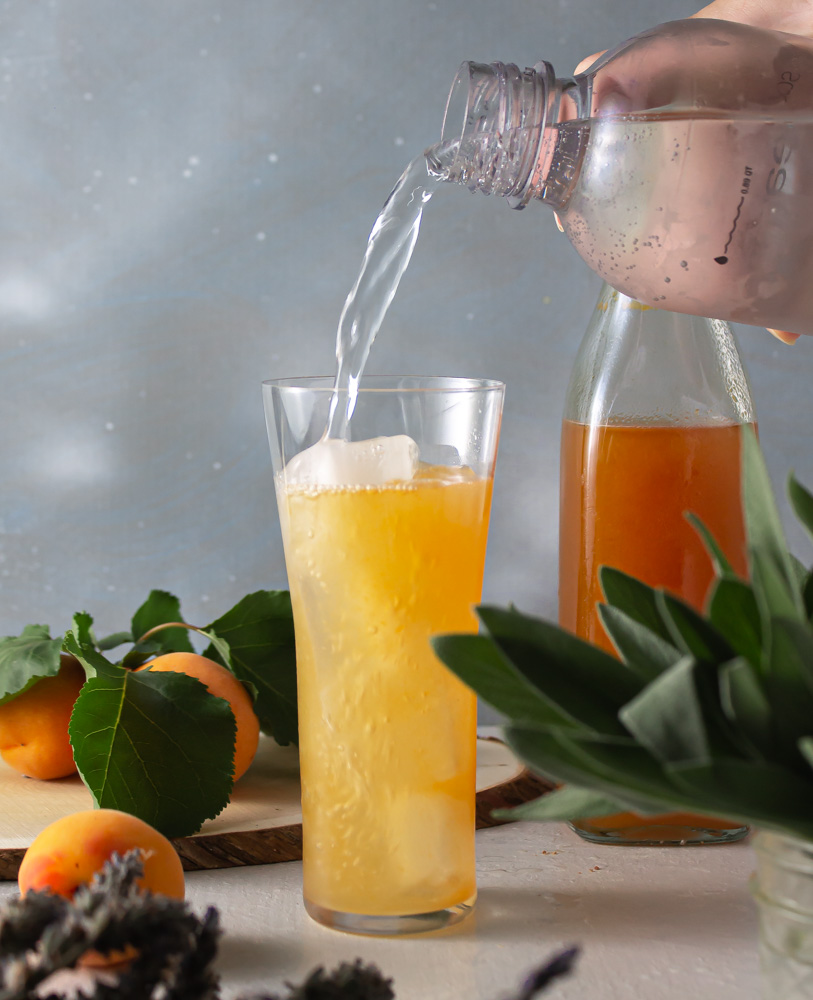 This shrub was started when I was working on the apricot pasta salad last week so I fortunately had it ready when that meringue pie didn't work out. The sage and lavender make it very nuanced in its own right. I honestly prefer it straight with soda water rather than in a cocktail (but I have included one anyway). It would also be an excellent addition to sparkling wine for a tart mimosa. But if you are mixing it, keep the spirits light in flavour. Aged spirits just don't work. They overwhelm the lavender and sage and make them come off as bitter. Better to stick to flavours that will enhance the botanicals. I used St. George's Botanivore Gin (not an affiliate link, just a great product), which is very floral rather than juniper heavy. It brings out the lavender nicely.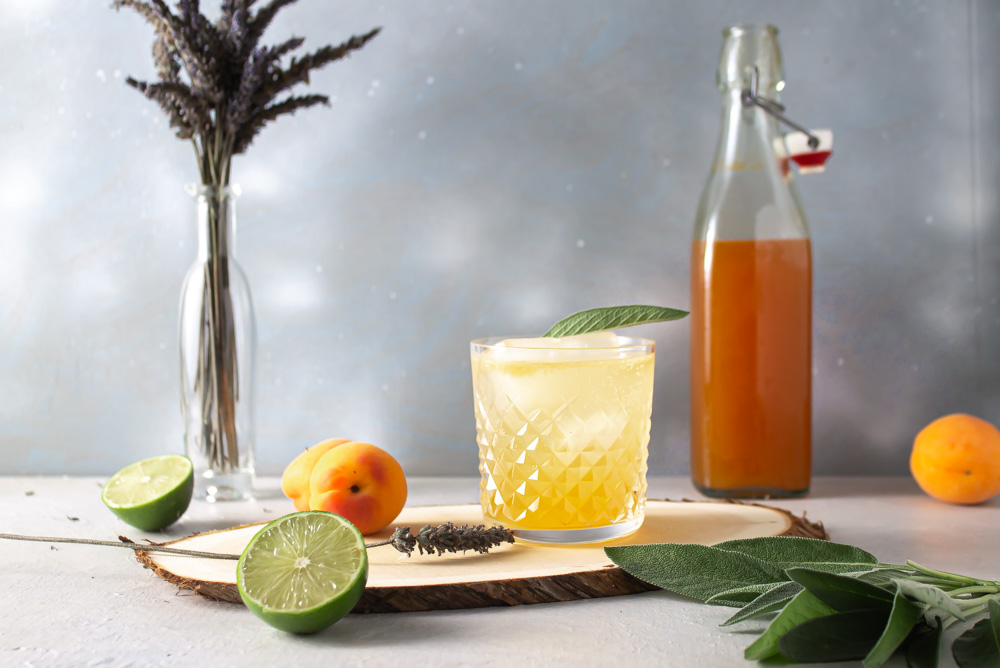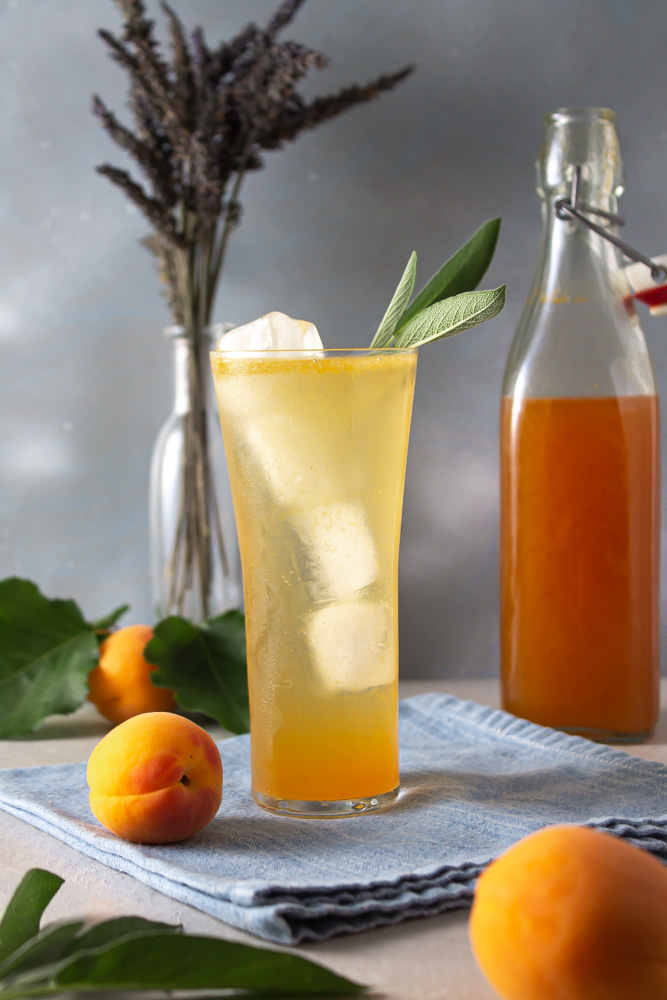 While I have made shrubs using the hot process method (Meg is Well recently did a few nice ones) when I need to make something quickly, I find the cold process method very convenient. Cut up everything, add to vinegar and sugar, and leave in the fridge. Limited work for a great result. Also very useful if you are headed out of town this summer and have a bunch of fruit in the fridge. Make up several shrubs to blend while you are out of town and when you get back you'll have refreshing beverages. No waste and far less active work than making preserves from it. Wins all around.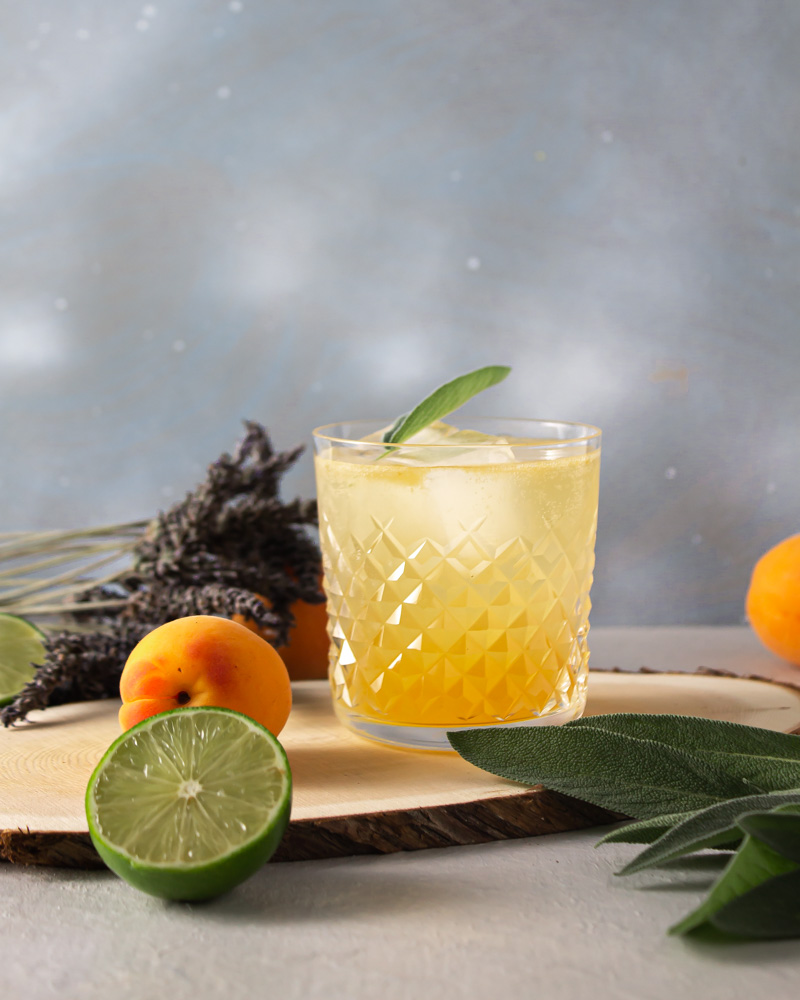 Apricot Lavender Sage Shrub
Makes 500ml
Ingredients
¼

c/10g fresh sage leaves

2

c/400g diced apricot*

1

tbs/3g dried lavender

1 ½

c/350ml apple cider vinegar

¾

c/150g granulated sugar
Instructions
Combine sugar and diced apricots in a quart container. Muddle lightly.

Coarsely chop sage. Add sage and lavender to container. Add vinegar and stir.

Leave in fridge for 4-5 days until flavour is as desired. Agitate daily.

Strain into a clean container and store in fridge for up to 2 weeks.
Notes
*Gram measurement is for whole apricots.
Apricot Shrub Gin Spritz
Ingredients
¾

oz/22ml floral gin

¾

oz/22ml Lillet blanc

¾

oz/22ml Apricot Lavender Sage Shrub

½

oz/15ml lime juice

2

oz/60ml soda water
Instructions
Shake gin, Lillet, shrub, and lime juice with ice.

Strain into a rocks glass filled with ice.

Top with soda water. Lightly crush sage leaf and rub along edge of glass.