Tender carrot cake studded with walnuts and homemade candied orange peel, in cupcake form topped with mascarpone frosting. Perfect recipe for highlighting the difference between using baking soda and baking powder in baked goods.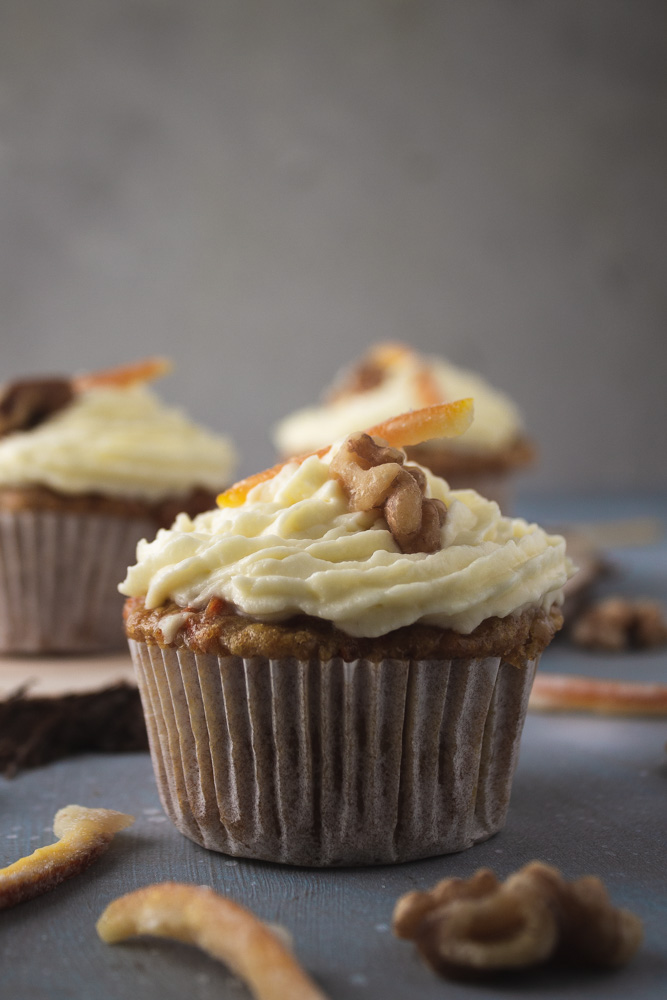 I know posting carrot cakes is customary before Easter, but since I don't celebrate, it didn't really occur to me to do so. But it's still spring, there's still tasty fresh carrots coming out of the ground, and is anyone really going to argue with cupcakes? And a good carrot cake recipes is nice to have at any time of the year.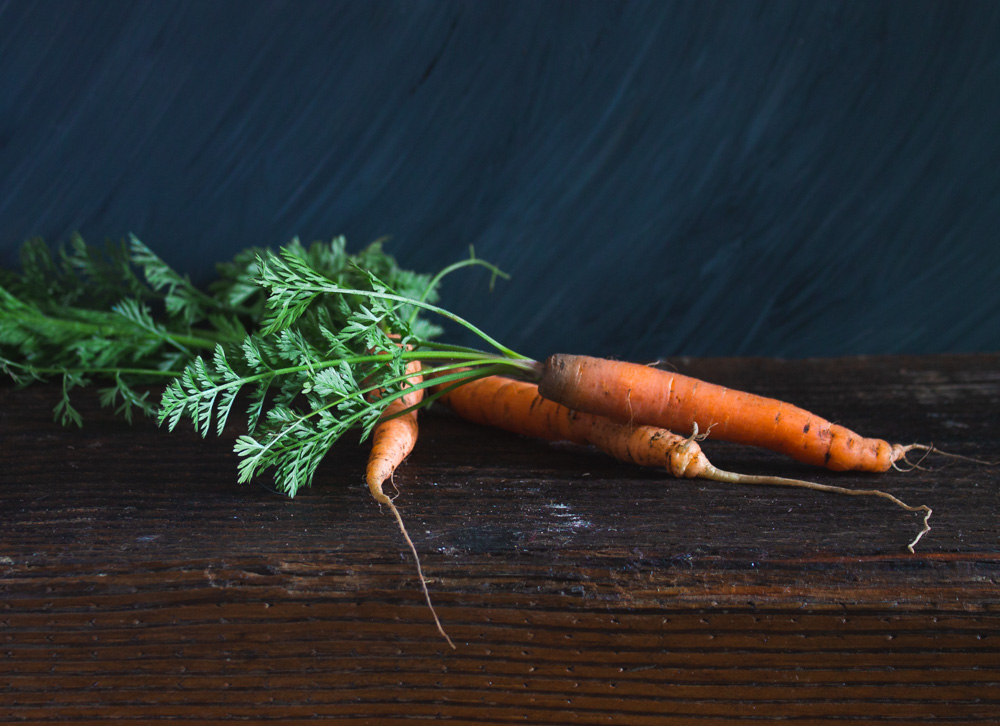 I adapted this recipe from a cookbook I use for a lot of inspirations: Eat Fresh, cooking through the seasons by Annabel Langbein. It's one of those books I randomly picked up in a used bookstore several years ago and have been very pleased with. Though I don't think I've followed any recipe faithfully (I rarely do). I did have to scale down this recipe so that it didn't make more than 12 cupcakes – I still don't have a muffin pan that can accommodate more than that.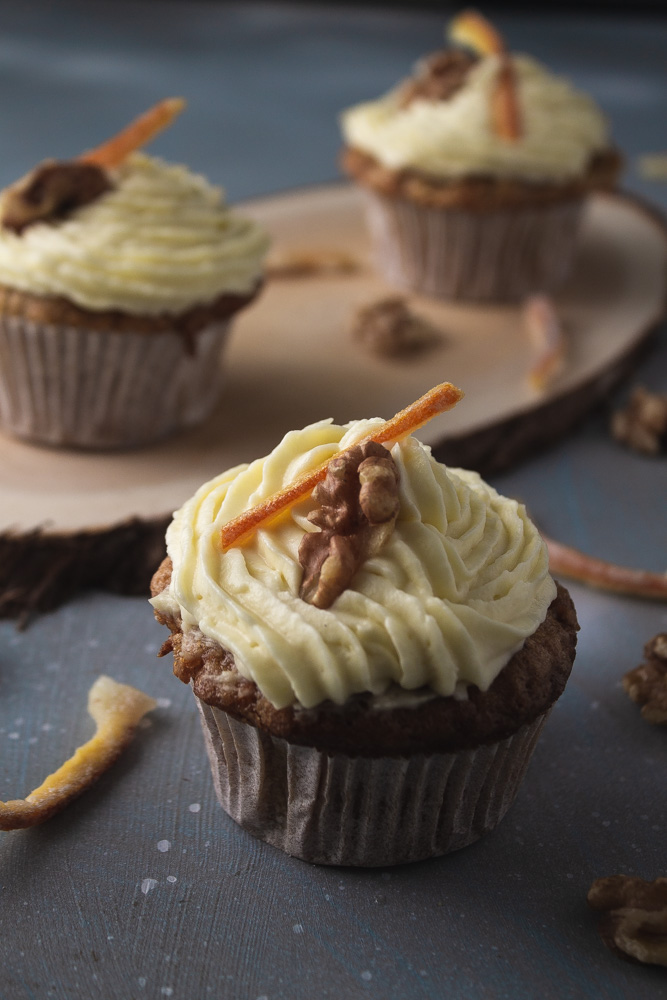 A Dash of Science 
The other major change I did was trading the baking soda and orange juice for baking powder. Since baking soda requires an acidic component to activate it, you end up adding more liquid to the batter and the reaction that causes a rise is less predictable. Both of these can lead to the cupcakes spilling over and having a less consistent shape. Baking power incorporates its own acid (tartaric otherwise known as cream of tartar), the acid-base reaction is better calibrated and more stable. While the exchange doesn't work for all recipes, I prefer the results in this one.
These are great for making in advance. This kind of cake stores very well because of the tender nature. The only liquids are oil and egg, limiting the amount of water in the cake (which would otherwise interact with the gluten in the flour). The cream actually does better with some time to rest – the sugar gets mellowed out. I discovered this on my first batch, when I thought I had added far too much sugar (it was a bit more than I ultimately put in) but the next day, it was milder and you could taste the mascarpone. Allowing the sugar to distribute naturally did great things.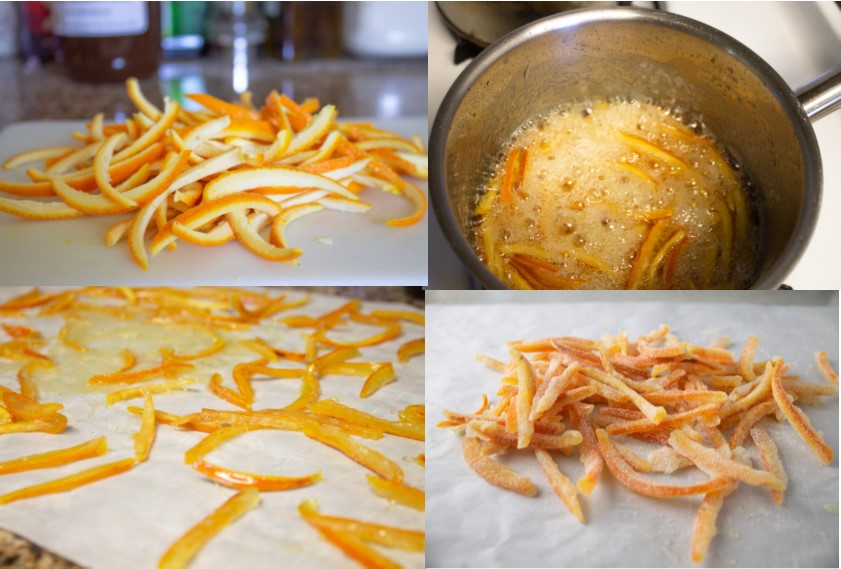 And a Confusing Encounter
This recipe led to a very odd encounter about cake definitions. Since I have a rather small household, I need to find victims for the largess from the recipes (mostly sweets) that I am unable to scale down. (Not that I object to lots of sweets, but there really is only so much that I can eat, much less should!) I've taken to bringing treats to local winery and brewery tasting rooms because there's always a fun audience. But it was odd when I took these cupcakes, that after tasting it, someone asked: "So what kind of cake is it [bear in mind they had been introduced as carrot cupcakes], they're like carrot cake but not really." This left me rather befuddled, since how is a cake containing carrot as primary component not a carrot cake? Maybe this person had only ever had dense, slab like carrot cakes? This variation does have a much more delicate crumb. Or perhaps they were just tipsy on wine. Who knows? But it was so very odd a way of discussing the cupcakes.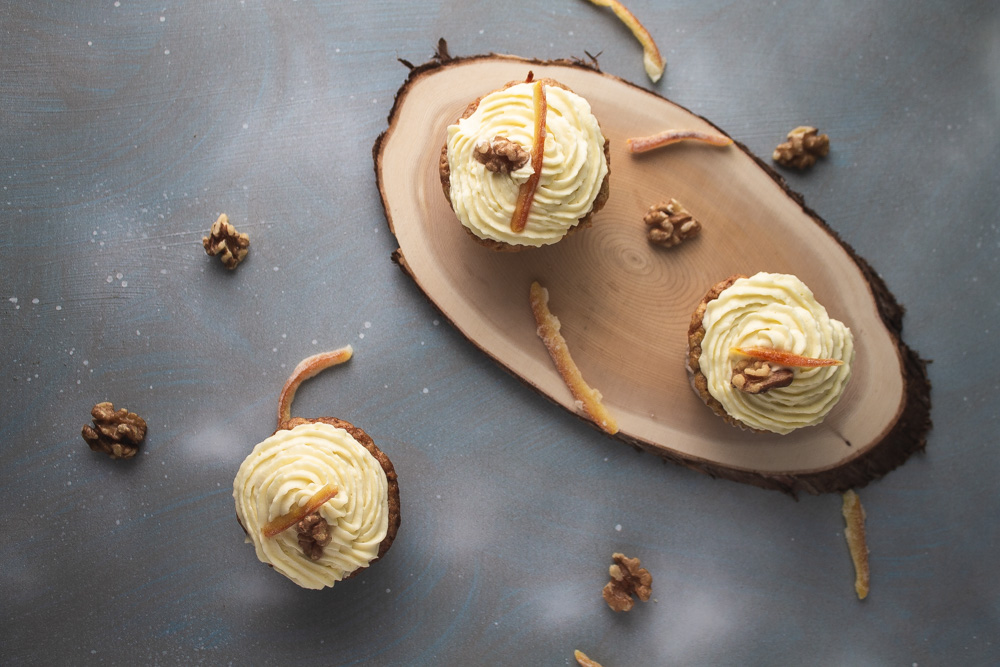 Carrot Cupcakes
Cake recipe adapted from Eat Fresh by Annabel Langbein
Ingredients
Candied Orange Peel:
3

medium oranges

thin-skinned navel or Valencia are best

1

c/200g granulated sugar

¾

c/175ml water
Cake:
¾

c/150g granulated sugar

¾

c/165g brown sugar

¾

c/175ml vegetable oil

2

lg eggs

1 ¼

c

+ 2 tbs/165g all-purpose flour

1

tsp/3g cardamom

1

tsp/3g ground ginger

¼

tsp

salt

1

tsp/3g baking powder

2

c/240g grated carrot

¼

c/50g chopped candied orange peel

¾

c/75g chopped walnuts
Frosting:
8

oz/225g mascarpone

¾

c/90g powdered sugar

¾

c/175ml heavy cream

1

tbs/15ml orange juice
To decorate:
Toasted walnut halves

Candied orange peel
Instructions
Candied orange peel:
Remove peel from oranges in large sections. I did this by cutting off the top/sepal end of the orange and scoring four quadrants before attempting to peel, using a paring knife to loosen any difficult bits.

Trim peels so that the white pith is less than or equal to the quantity of orange rind and there are no spots of flesh. Slice into 1/8" strips.

Bring water and ¾ c sugar to a simmer in a medium sauce pan. Add orange peel and cook over low heat, stirring occasionally. Continue cooking as syrup reduces, 15-25 minutes.

Once syrup is very sticky and white pith is completely translucent, use a fork to remove peels from syrup and place separately on a silicon mat or parchment paper. Allow to cool completely – orange peels should snap when bent firmly.

Once cool, toss separated peels in remaining sugar to coat. Store in a sealed container at room temperature for up to 3 weeks. Any moisture will significantly reduce shelf life.
Cake:
Preheat oven to 325F. Prepare a muffin pan with liners.

Whisk sugars and eggs together until smooth. Whisk in oil and eggs.

Stir in flour, spices, salt, and baking powder until completely combined.

Fold in carrot, walnuts, and candied orange peel. Divide among muffin tins, I used just under ½ c per tin.

Bake for 30-35 minutes, until a tester comes out with a few crumbs. Allow to cool at least 15 minutes in pan before removing and cooling completely.
Frosting:
Whip cold mascarpone on medium-high for 1-2 minutes until light. Add sugar and orange juice and continue beating.

Once very light and fluffy, add cream and beat until very stiff peaks form. Chill until ready to pipe.

Pipe (or dollop) cream onto cupcakes and decorate with a large toasted walnut piece and a small piece of candied orange peel. Store in the fridge in a sealed container for up to 1 week.
Notes
You can certainly make this as a full size cake. I suggest a 8 or 9" cake pan and it will likely take closer to 1 hour to bake.