Asparagus and favas in a warm farro salad base, tossed with some mint and lemon for a light meal highlighting the best in early spring vegetables.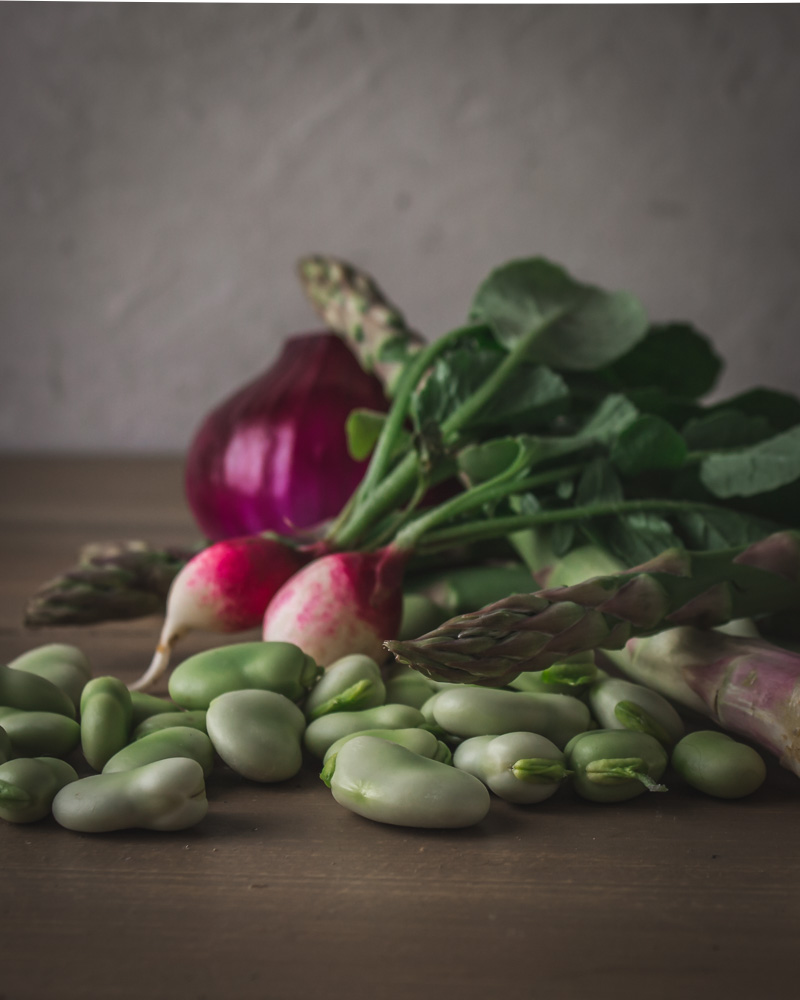 I like dishes which highlight the flavors of their primary ingredients with their simplicity. Especially during spring and summer when produce is so plentiful and flavourful. This is one of those recipes, capturing the flavours of early spring in asparagus, fava beans, and young onions. Add some farro for its nuttiness and mint, and all you need in terms of dressing is a squeeze of lemon.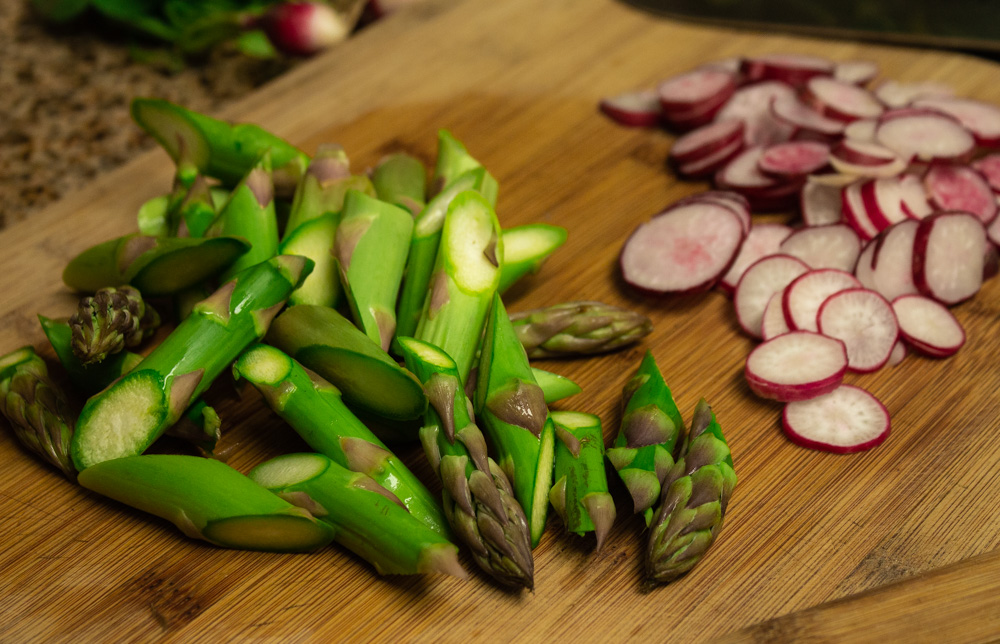 Of course if you have someone in your house that needs something more conventional as their protein source, this is an excellent base to plop an egg on. My preference is fried for those crispy edges.
I always get quite excited when favas show up at the farm stands. They are one of those vegetables that you just can't find out of season. And before anyone gives me examples of how you can; I would assert that those places are few and far between and it is always a risk. Besides, the fresh ones are better.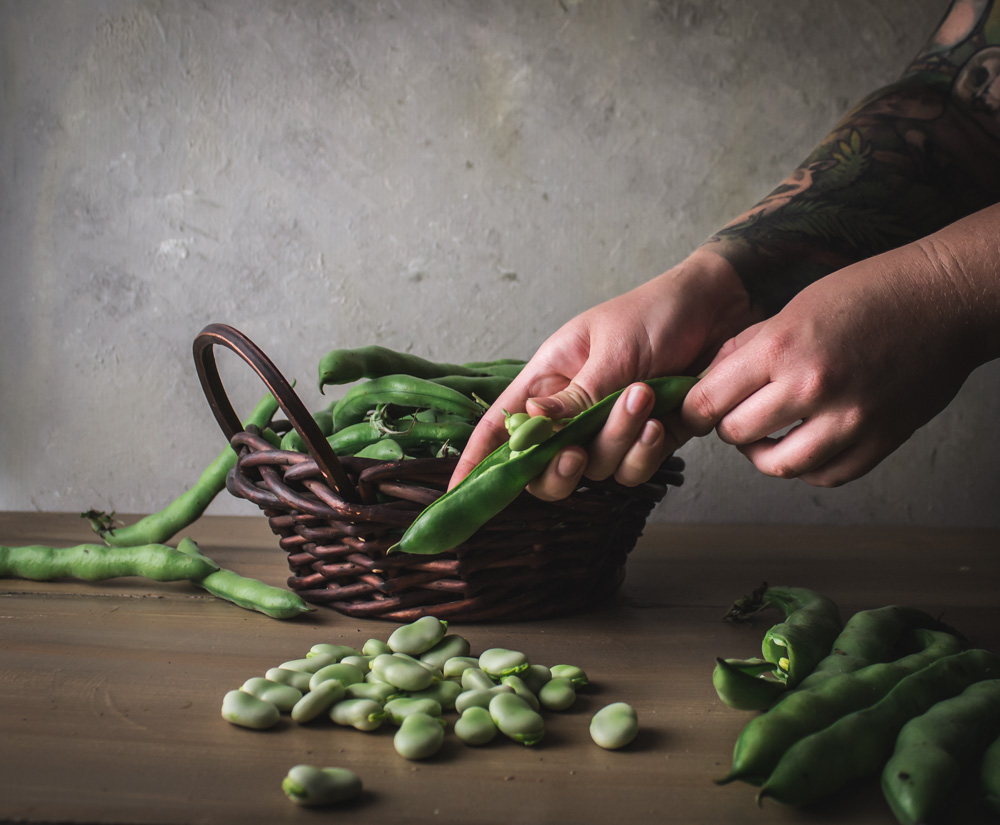 I'm a little disappointed that California's weather this spring means that we didn't have much in way of mushrooms at the same time as some of these vegetables. I really wanted to show case a pizza I did with favas, ricotta, and chanterelles. I guess it will have to wait for another year. The weather has been quite ridiculous. Serious rain, later than is normal in the last few years (many of the farms were discussing how hard it has been to plant anything in a timely manner), then rapid climb into the 80's. I went from ignoring my garden to needing to water most days. But the heat means sweet strawberries – I have several recipes in the works for you over then next couple weeks to use the bounty of them.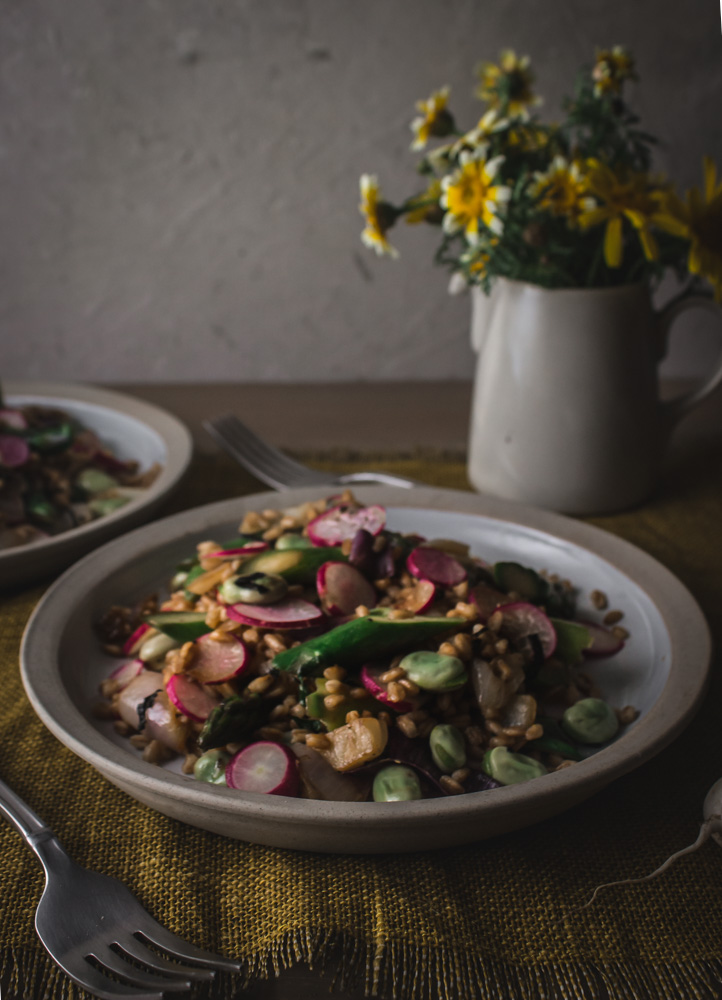 You might notice some changes happening to the site in the next few weeks. I'm always learning new things and adapting. I've also be experimenting with different photography styles to see what works. I always love feedback – what do you want to see?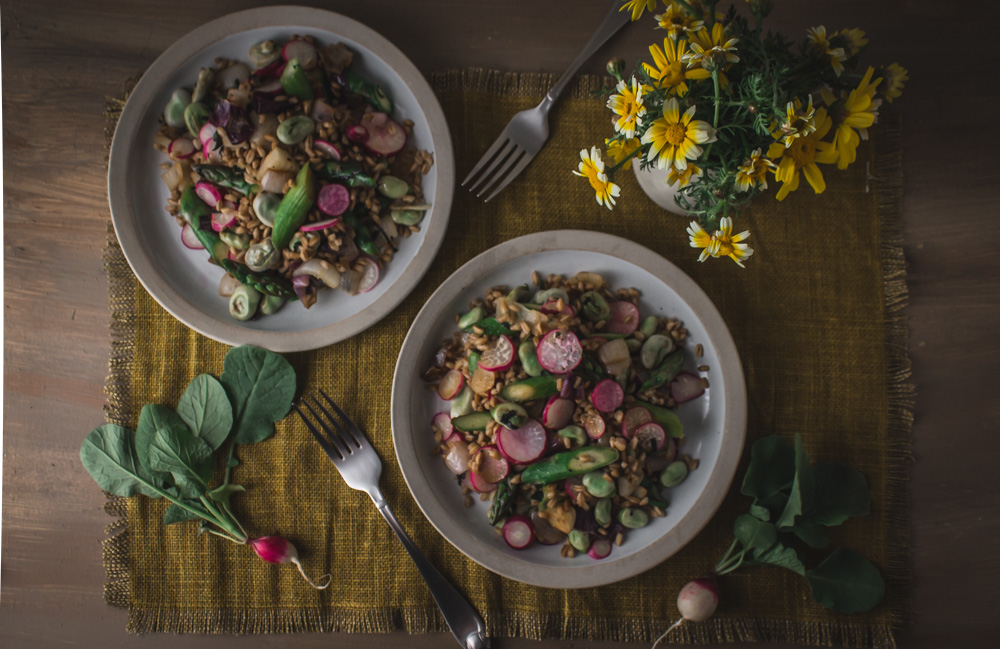 Warm Farro Salad with Spring Vegetables
Ingredients
¾

c/150g fava beans

~360g in pod

½

lb/225g asparagus

trimmed and cut into 2" segments on the bias

1

lg/150g young onion

no greens

1

bunch/75g radishes

1 ½

tbs/22ml olive oil

1/8

c/7g mint leaves

chiffonade

¾

c/ quick cook farro

½

tsp

salt

½

tsp

pepper

Lemon juice to taste
Instructions
Cook farro according to package instructions. Drain.

Thinly sliced radishes into rounds. Cut onions into ~1 ½" chunks.

Heat oil on medium high in a pan. Sauté onion for 1-2 minutes until starting to turn translucent.

Add asparagus and fava beans. Continue to cook for about 1 minutes until just pierced with a fork.

Remove from heat and toss in radish, farro, mint, salt, and pepper.

Add lemon juice to taste. Serve. Refrigerates well for lunch the next day.