This page may contain affiliate links to outside products including the Amazon Associates program, from which I earn a commission on qualifying purchases. Read full disclosure policy here.
A couple of months ago, I gave you a multitude of ways to make pita/flatbread, but no serving ideas. So now I'm remedying that with some lightly roasted vegetables, seasoned with olive oil and paprika for a Mediterranean flair. I hate to use the terms easy or quick too frequently as others might associate dishes with a different difficult level than I do, but this is something that can be put together in under 30 minutes (assuming you already have the bread made or bought).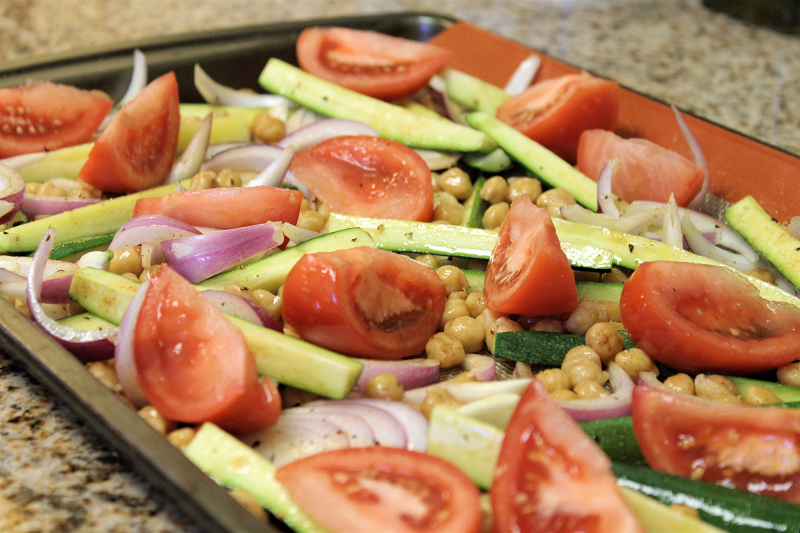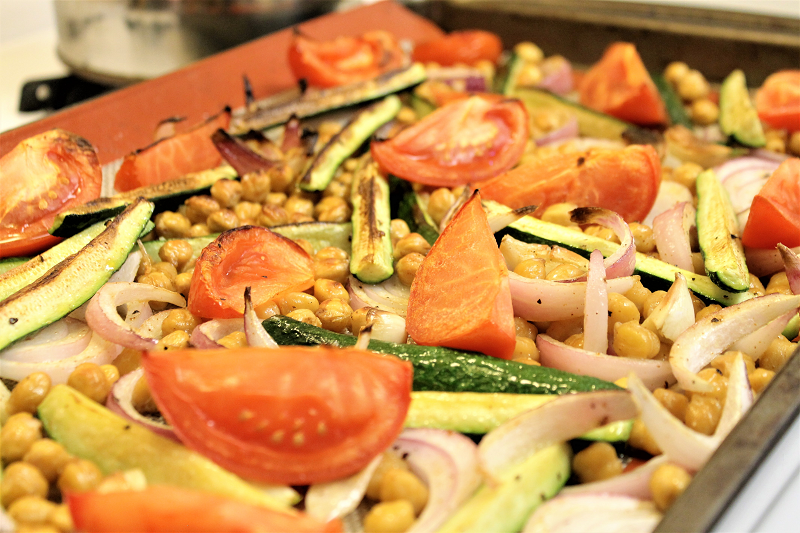 When we ate this it was without any extras, but there are certainly things you could dress this up with. Some hummus certainly wouldn't go wrong, but I was thinking a tzatziki variant would go amazingly with the paprika and garlic and make the roasted flavors really pop. I don't have a go to recipe for something like that right now, but I'll work on it in the future. And of course if you have people around that simply don't think it's a meal without meat, some lightly seasoned grilled chicken would fill out the dish. Because this is so much better as an assemble-your-own, it makes it easy to set out any or all of these additions for a group of guests with widely varying dietary needs.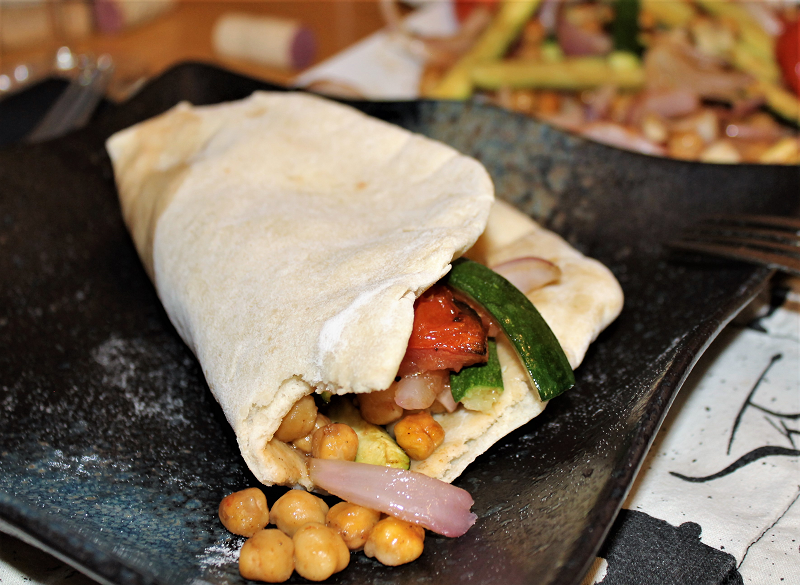 Goes very well with a peppery, full-bodied red wine.
Roasted Vegetables with Pita
Ingredients
7-8

garlic cloves lightly smashed and peeled

1

medium/ ¾ lb/350g red onion sliced thickly

1

lb/500g zucchini

small sliced lengthwise into 1/4s or 1/6ths

2

large/1 lb/500g tomatoes cut in 1/8ths

1 ½

c/375g cooked and drained chickpeas

3

tbsp/45ml pungent olive oil

½

tsp/3 ml salt

½

tsp/3 ml ground pepper

½

tsp/3 ml paprika

Pita and balsamic vinegar to serve
Instructions
Set oven to broil.

Toss all ingredients in oil and spices and place on lined baking sheet (use foil for less clean up).

Broil for ~12-15 min.

Drizzle with balsamic to serve.