Sweet cakes with a perfectly crusty exterior, chewy center, hint of spicy ginger, and zing of fresh citrus. These butter mochi derivations are worth the wait for them to cool. Conveniently dairy and gluten free.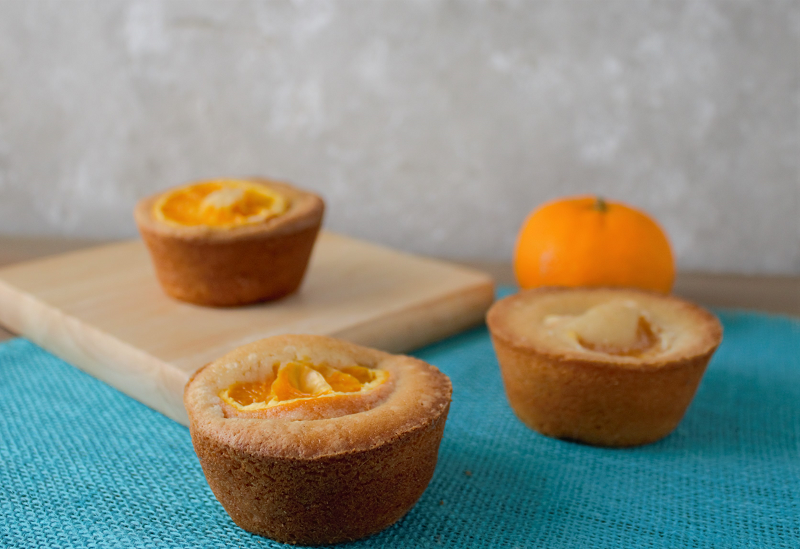 I have an extreme fondness for chewy/gummy sweets. And since the other day I ran out and didn't want to go to the store – it was a good time to get creative. I've made chocolate mochi bites in the past, but I wanted something different. I started with this butter mochi recipe from Miss Hangry Pants, but since I had some coconut milk open, I elected to use that instead of the called for milk and butter. A couple other tweaks and I got a recipe that I ended up making multiple times in two days.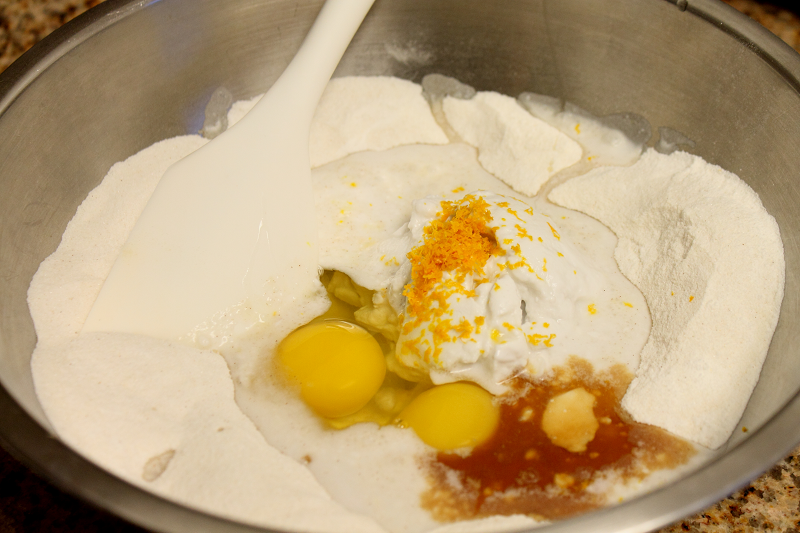 The first batch was difficult to get out of the tins (I just buttered them and probably missed some spots). On one of the next I tried several different methods for preventing sticking – liners, butter (or other grease), butter with corn starch, and butter with rice flour. On this batch even the just greased ones came out alright, but I suspect I was a bit more thorough. However, the rice flour coated tins did excellently so I recommend adding the extra step just to be safe. Even though it is less work, I don't recommend liners; the cakes look a mess and don't have the nice crunchy exterior.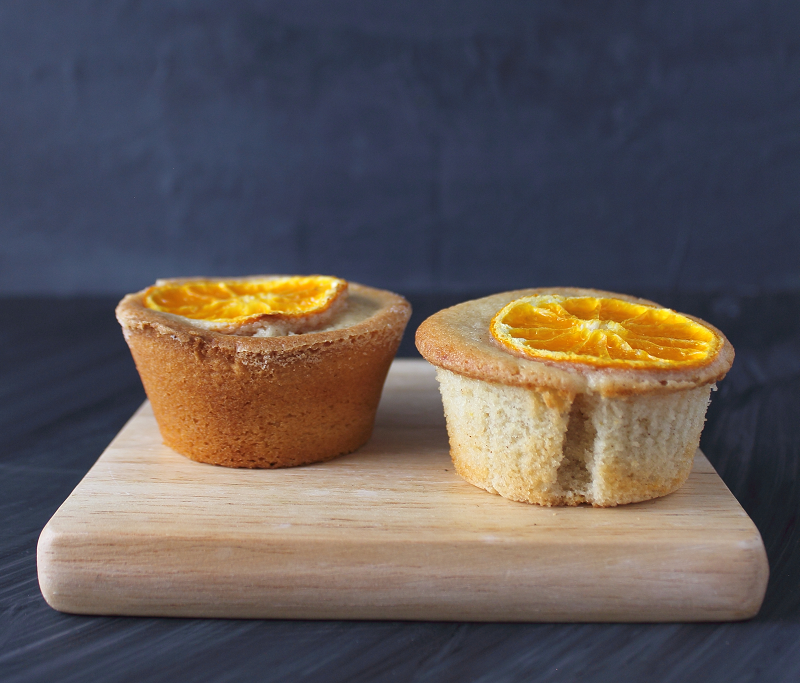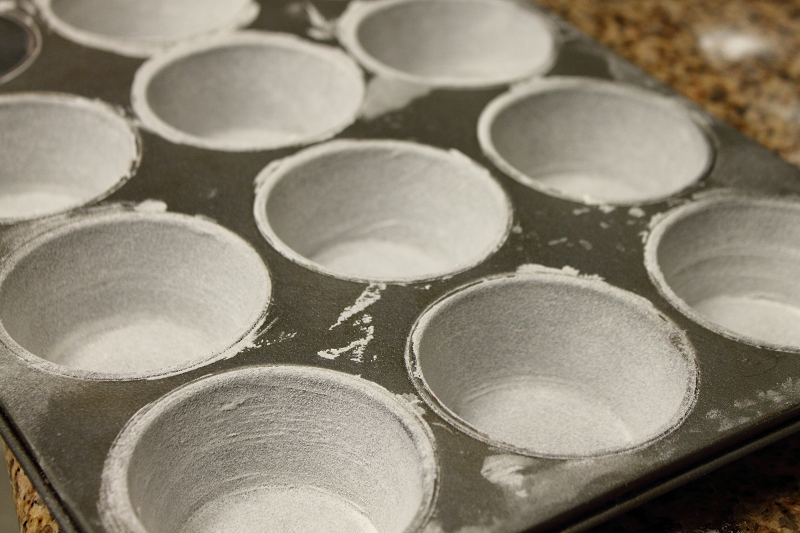 I was also playing around with topping the citrus on the cakes. The half circles worked just fine but didn't look as fun as the full circle where the cake pushed up in the center – a bit of a flower look to it. The segments actually resulted in the soggiest center, but they did make a nice butterfly type top. Just make sure your slices are very thin so that the rind doesn't make it too bitter. The slightest hint really balanced out the sugar in these and I ate way too many. I urge you to do the same!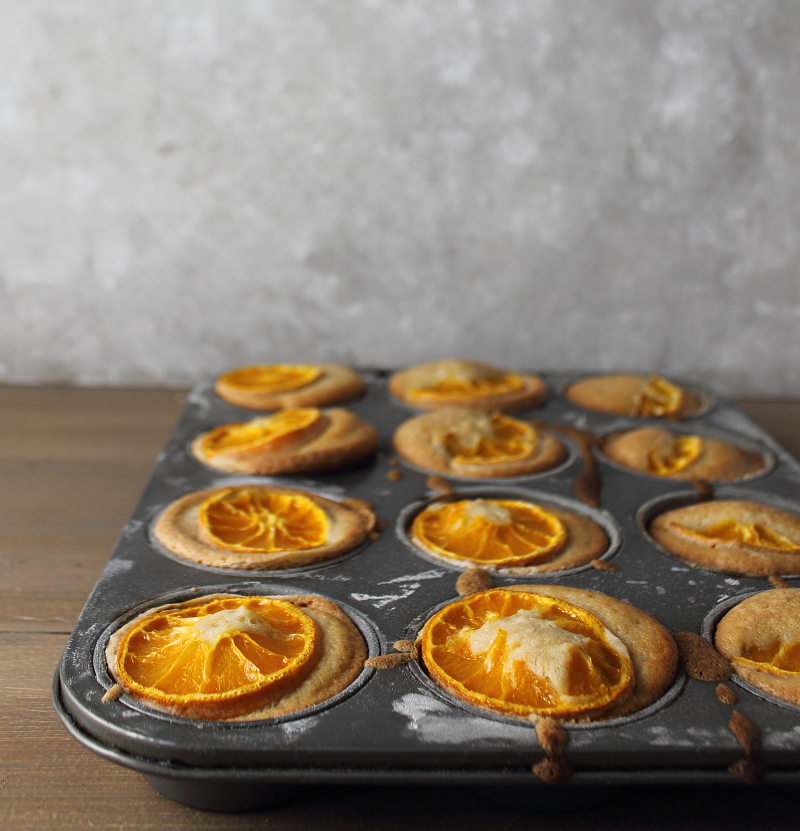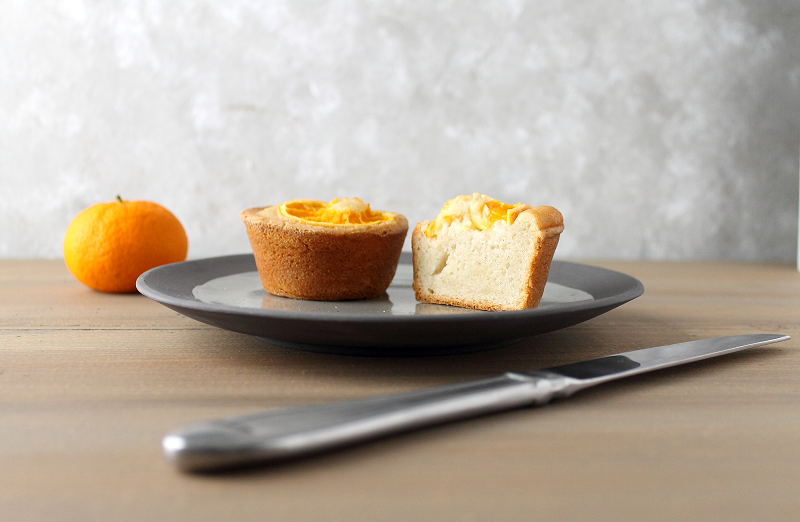 Ginger Mandarin Mochi
Adapted from http://www.misshangrypants.com/2016/05/blood-orange-chai-mochi-cakes.html,
Ingredients
1 ½

c

/250g glutenous rice flour

aka sweet rice flour

1 ½

c

/290g sugar

1 ½

tsp

/7g baking powder

¼

tsp

salt

2

tsp

/5g ground ginger

¼

tsp

cinnamon

3

tbsp

/45ml coconut cream

or the fat from a can of coconut milk

1

c

/235ml coconut milk

full fat

2

lg eggs

1

tsp

/5ml vanilla

1

tsp

/5g mandarin zest

optional

2-3

mandarins

sliced in 1/8th in rounds (total of 12 rounds)

Raw or demerara sugar

optional
Instructions
Preheat oven to 350F. Grease a ½ c muffin tin and powder with rice flour or cornstarch so that all surfaces are covered. Make as much of a mess as you need to ensure that there are no exposed points.

Combine all dry ingredients in a bowl, mixing to distribute spices and baking powder.

Make a well in the center and add all wet ingredients (except the sliced mandarins). With a heavy spatula or wooden spoon mix wet ingredients, slowing incorporating some of the flour.

When wet ingredients are blended, mix more heavily to incorporate all dry ingredients.* Do not leave any lumps. These are not like muffins – you do not need to worry about making them tough by over mixing.

Evenly fill 12 muffin cups (should be about ¼"-1/2" from the top). Place one mandarin slice on each cake. Sprinkle with ½ tsp of raw sugar if desired.

Bake for 40-45 minutes or until a tooth pick inserted in the center comes out clean.

Allow to cool most of the way in the pan before removing and cooling further. Try not to eat them until they are at most lukewarm for optimum chewiness.
Notes
*This can all be done with electric beaters or a stand mixer if that works better for you.