A rich coffee flavored syrup with hints of cinnamon, pepper, and other spices. Plus a Citrine Coffee cocktail highlighting the amazing coexistence of coffee and citrus.
I was having difficultly writing a good article for this syrup and then I got distracted by improving my photography. I took the plunge and asked for some advice from other food bloggers and I have gone a little overboard implementing the suggestions. Better backgrounds, more interesting props and dishes and most of all, better light. I even created a DIY light box that is working very well. I now have a huge backlog of recipes and pictures. I just need to write everything up, the greatest holdup in all this. But the more I do so, the easier it is, right?
Back to the original programing for this month. To start back with the previous discussion of the syrups and liqueurs epic of December 2018 check out Part 1. Next up we have this coffee spice syrup. Mix with some soda water and you have a nuanced caffeinated soda – possibly reminiscent of the days when soda syrups were supposed to be medicinal but actually tasted so good that people drank them for pleasure. Or possibly not. I have not attempted to find an "original" formula for any of those tonics for comparison. We'll simply enjoy this as it is, shall we?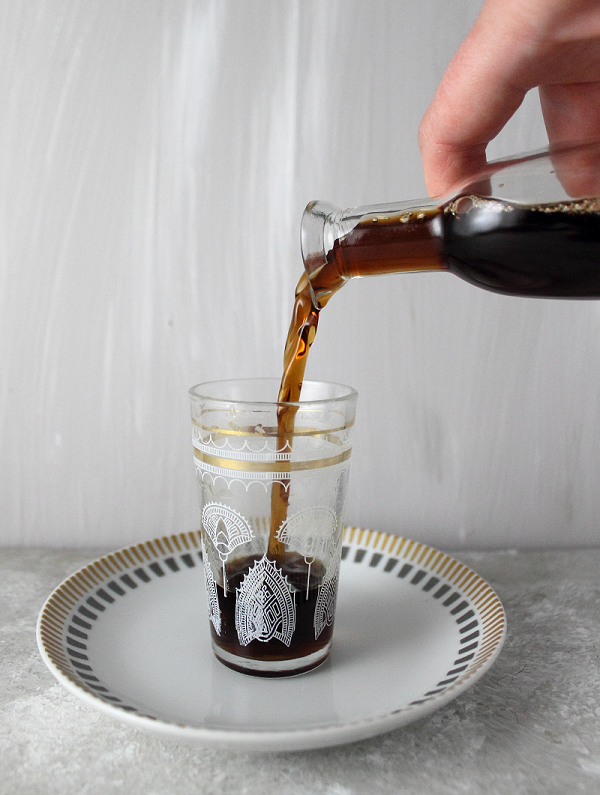 For the cocktail; tequila is such a natural pairing with coffee, isn't it? The earthy smoky nature of both products is similar, but just different enough to enhance the qualities of each. Not to say there aren't other amazing cocktails with coffee components that have other base spirits, I'm just very fond of the coffee and tequila blend. One of the surprising combinations I have run into over the years is coffee and grapefruit. The bitter aspect of the citrus brings out some of the sweetness of the coffee rather than exacerbating it. Ginger is also a great addition to throw into that blend.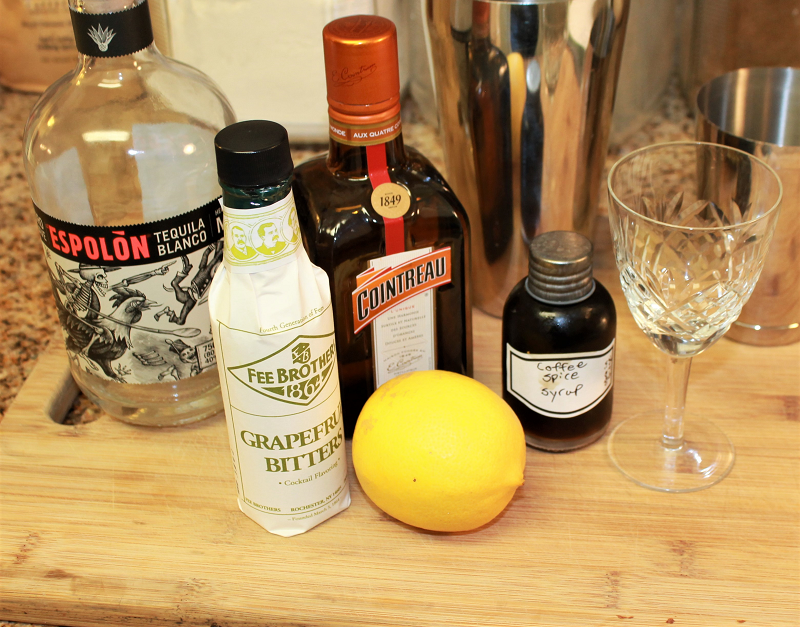 So enjoy using this syrup in myriad combinations. Perhaps try something new – it might surprise you.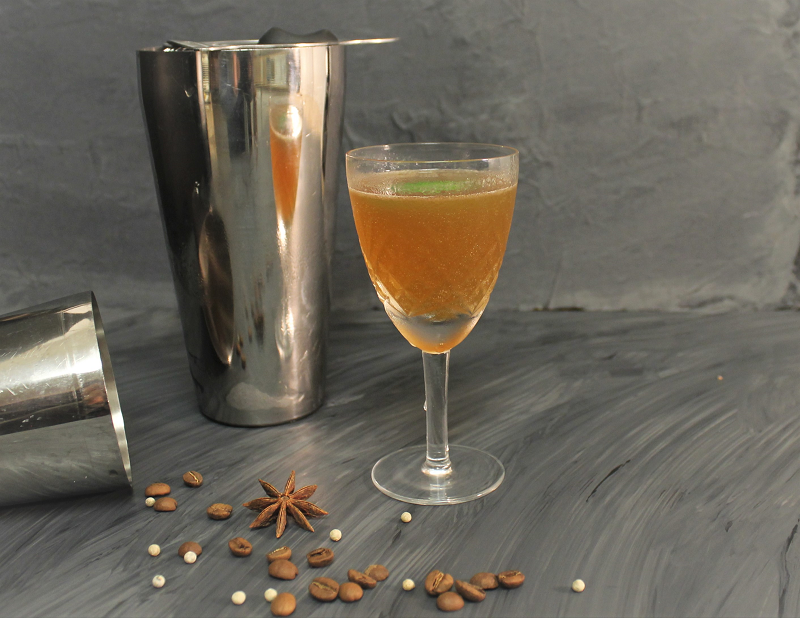 Coffee Spice Syrup
Ingredients
1

c

/200g brown sugar

1 ½

c

/350ml water

1

in/3g cinnamon stick

2

g

(15) whole cloves

1

g

(1 sm) whole star anise

2

g

(15) white peppercorns

5

g

(40) coffee beans
Instructions
Combine sugar and water in a small sauce pan and heat on medium until sugar is dissolved.

Remove from heat and add spices.

Soak 2 hours. Strain into a glass bottle.

Store in fridge for up to 2 weeks.
Citrine Coffee Cocktail:
Ingredients
1 ½

oz

/45ml blanco tequila

¾

oz

/22ml coffee spice syrup

¾

oz

/22ml lemon juice

1/3

oz

/9ml orange liqueur

(Cointreau)

1

dash grapefruit bitters
Instructions
Garnish: lime twist

Glass: Nick and Nora glass (or a coupe)

Shake all ingredients and double strain into glass.

Squeeze twist to release oils over drink.