Continuing on the trend of contest entries, I participated in the cooking competition hosted by Il Fiorello as part of this last weekend's Fairfield Tomato Festival. Obviously, the parameters involved tomatoes. I did several entries as there were multiple categories and I wanted to push myself. For the soup I did a sweet corn and tomato gazpacho, as a salad I did a fried eggplant, tomato, and onion, and for the sauce category I did this tomato coconut chicken – which won the sauce category (even though I think it kind of stretches the definition of sauce). I will post the other recipes soon, because they are definitely worth sharing, especially the gazpacho which is incredibly tasty even if it only came in second.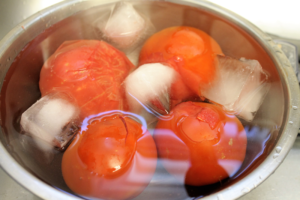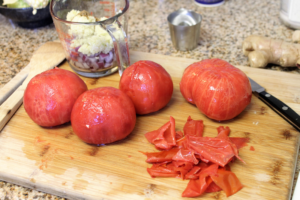 The tomato coconut chicken is excellent for its uncluttered flavors, just a really nice acidity with a touch of sweet from the fresh tomatoes (use fresh not canned, even if peeling them is tedious, the flavor is different), a hint of heat and spice from the cumin and ginger, and the obvious creaminess from the coconut milk. I added some lightly pan fried potatoes to make it a bit heartier of a meal, but I wanted to keep it simple so that it was the sauce (more of a broth really) that stood out. Besides peeling the tomatoes, frying the potatoes is the hardest component of this dish. Everything else just gets left to simmer to tenderness which give you time to prep whatever else you want to accompany it.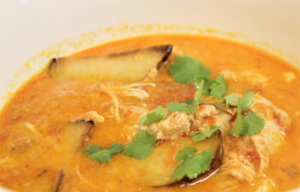 Tomato Coconut Chicken
Ingredients
1

tbsp

minced garlic

2

tbsp

minced ginger

¼

tsp

ground cumin

1

c

finely diced red onion

4

tbsp

mild olive oil

Il Fiorello's Pendolino

1

14 oz can organic coconut milk

1 ½

lb

tomatoes

peeled and diced*

2

tsp

rice vinegar

Salt to taste

~1 lb boneless-skinless chicken

if you use pieces smaller than breasts, reduce the cooking time a bit

½

lb

small creamy potatoes
Instructions
In a deep pan or broad-bottomed pot, heat 1 tbsp oil on med-high. Add garlic, ginger, cumin, and onion. Sauté for 1-2 minutes until fragrant.

Reduce heat to low, add tomato and coconut milk. Stir to distribute spices and onion.

Add chicken breasts. Cover and simmer for 30-40 minutes until chicken is fully cooked.

While chicken is cooking, cut potatoes in sixths or eighths depending on size of potatoes.

Heat remaining oil in a heavy bottomed pan on high. Add potatoes so that they are in a single layer, not over-lapping. Cook for 3-5 minutes per side, turning when browned. When all sides are browned, remove from heat and set aside.

Uncover and add potatoes for a remaining 10-15 minutes until chicken is very tender and some of liquid is reduced.

Add rice vinegar and salt.

*To peel the tomatoes easily, blanche them:

Remove the core of the tomatoes (without cutting it in half). On the other side of the tomato, make a shallow X-cut in the skin.

Place the tomatoes in a bowl and completely cover with boiling water. Leave for 15 seconds, dump the hot water out and plunge the tomatoes into ice water. Leave until cool enough to handle.

The edges of the skin at the X should have started pulling away from the tomato flesh, making them easy to grasp and peel away.