A few months ago I went to Blind Tiger in Oakland with a friend. One of the items we tried was a trio of pickled deviled eggs (beet ginger, turmeric garlic, black tea shoyu). We both really liked the beet ginger, and well, all of them, so I wanted to create something similar. The garlic was a little much with the turmeric to eat several of, but you can't really go wrong with the combination of turmeric and ginger so I started from there.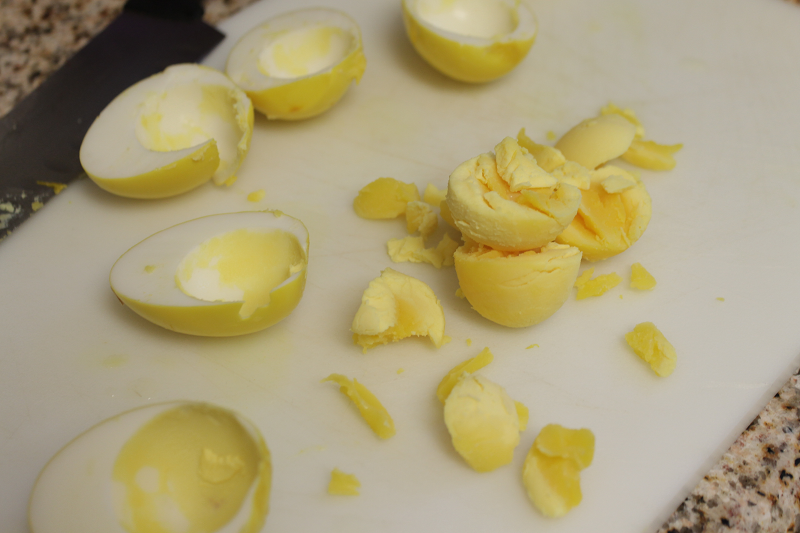 I ended up creating a giant platter of them for a party held recently, and they were some of the first foods to run out. And I had people telling me how much they liked them days later, so I guess that is a pretty good indicator of a successful recipe.
The recipe here is for 6 eggs, which is pretty much the minimum you can make just because of the difficultly of dealing with small volumes. But of course the recipe is very easily scalable, and why would you not just make more when you are going to all that work in the first place. Also, they tend to disappear when you take them to a party. Better to make lots. (And you should probably account for a few extra for that inevitable yolk that sits wrong when the egg is boiled, or the white that rips…)
Science Interlude
Making easily peel-able eggs can be tricky, and of course the primary time you want your eggs to look perfect is when you are making deviled eggs. But in general, there is an easy science trick to facilitate peeling eggs: add baking soda to the water. This increases the pH (makes it more alkaline) of the water which helps separate the inner membrane from the shell (i.e. keeps the albumin in the egg white adhered to itself). Check out Gnarly Science for a more thorough discussion of the science behind all this.
Don't however make the mistake H did while trying to use this trick and add baking powder. Baking powder contains tartaric acid as well as the sodium bicarbonate of baking soda, which is a great boon in baking because you don't need to add other acids to activate the CO2 formation, but having that acid there while you are trying to increase the pH rather cancels out the effect. He was rather put out that I was laughing at him until I pointed out that baking powder contains its own acid. He knows the science, but not the cooking.
Turmeric Pickled Deviled Eggs
Ingredients
Turmeric pickling
6

hard-boiled eggs*

peeled

1

tbsp

ground turmeric

1

tsp

ground ginger

½

tsp

cumin

¼

c

rice vinegar

½-1

c

water
Filling
6

hard-boiled egg yolks

from the same eggs above

2

tbsp

mayonnaise

2

tsp

smooth ground Dijon mustard

½

tsp

turmeric

½

tsp

ginger

1/8

tsp

salt

1/8

tsp

pepper

Ground cumin to garnish
Instructions
At least one day before you are going to want them, start the eggs pickling/marinating
Combine turmeric, ginger, cumin, rice vinegar, and ½ c water in a container with a lid large enough to hold all the eggs loosely.

Add the peeled eggs and add just enough water to cover the eggs. Cover and allow to sit in the fridge for at least 24 hours (no more than 48). Agitate the container every so often to redistribute the spices as they settle out. I simply do so every time I open the fridge.
The day of consumption
Remove the eggs from the turmeric mix and slice in half lengthwise. Remove the yolks into a bowl. Set aside the whites.

Add the mayonnaise, mustard, turmeric, ginger, salt, and pepper. Blend with a hand mixer until light and fluffy. Add more mayonnaise as needed for preferred consistency.

Either pipe the filling into the eggs from a pastry bag or use two small spoons to scoop about 2-3 tsp of filling into the sliced eggs. Sprinkle a bit of cumin over each egg.
Notes
*I'm including how to hard-boil an egg well because I know it can elude some people *cough*H*cough*:
Heat a pot of water at least 3 inches deep until boiling. Using a large spoon, add the eggs into the water quickly (straight from the fridge). Add 1 tsp of baking soda per quart of water. Boil for 10 minutes. Immediately submerge in cold water. Change water as it warms.
Adapted from Blind Tiger