A tasty red wine and rhubarb syrup for pouring on ice cream or waffles or to use in drinks. And some crystallized rhubarb for good measure.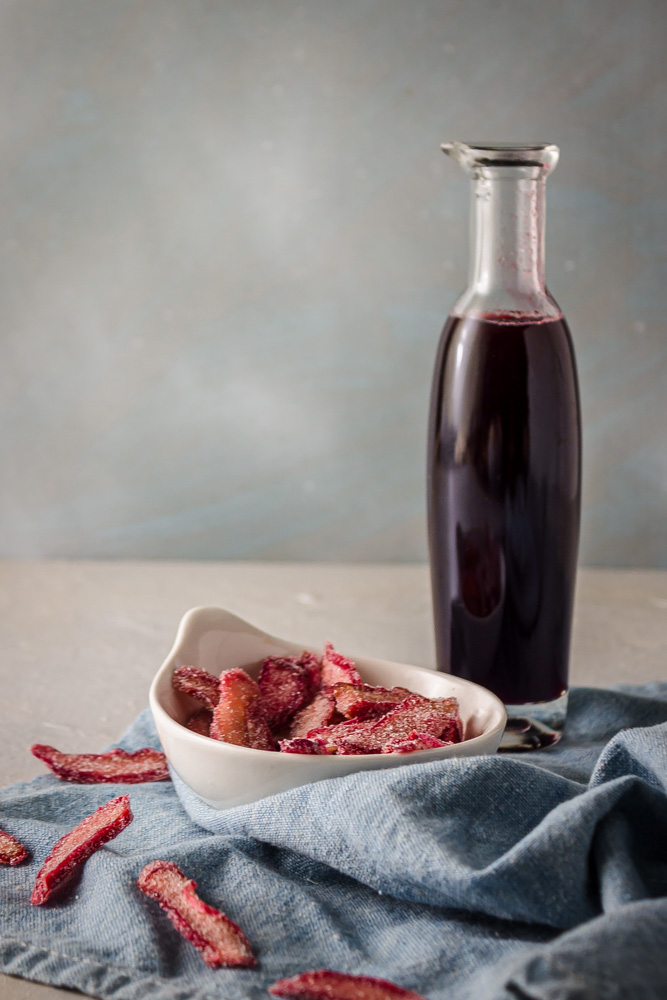 With spring nearly ending I was intent on making a rhubarb syrup to share. But I wanted something different than my typical fruit and spices or herbs. Well I did just pick up a wine club shipment. And who doesn't like a red wine reduction? I suggest a fruity red for this rather than something dry. I used one of our California fruit bomb cabernets.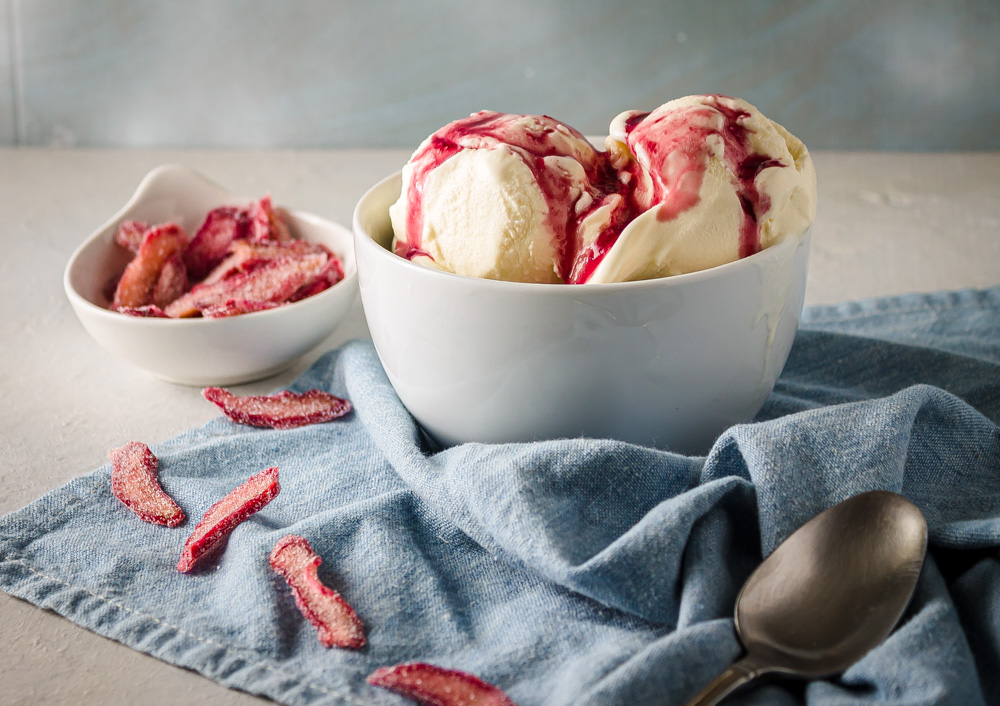 And because I had a bit of extra rhubarb, I made some crystallized rhubarb to top the ice cream I was going to pour the syrup on. I used the recipe from James Beard Foundation, though there were some other interesting ones, just more fussy. I adapted them a bit, not cooking them completely dry and dousing in sugar.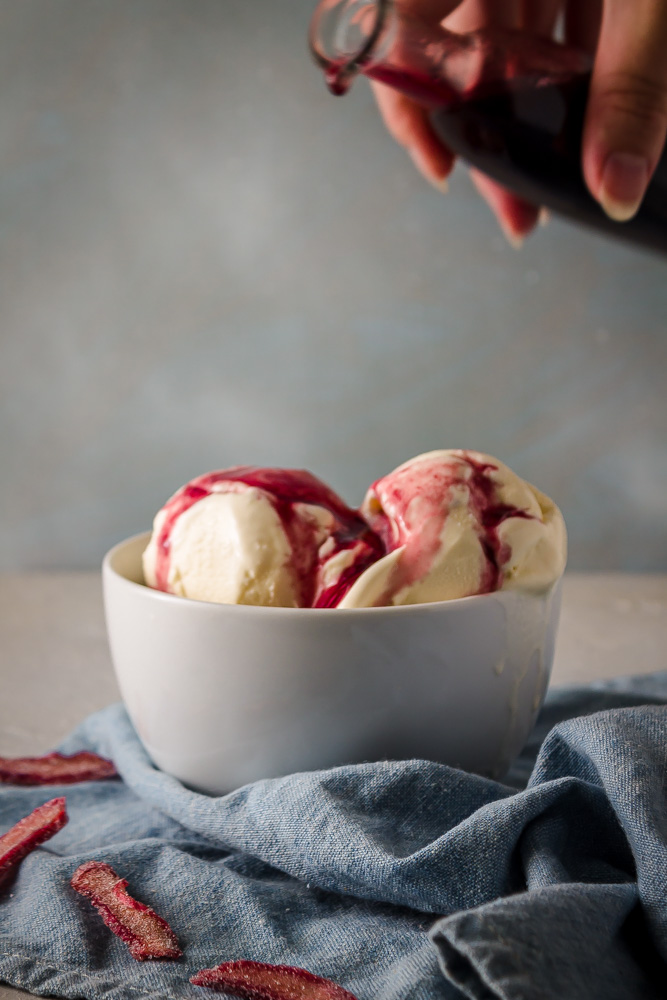 Definitely save the extras from making the syrup – the rhubarb red wine pulp makes a great jam and the syrup from the candied rhubarb is great in drinks.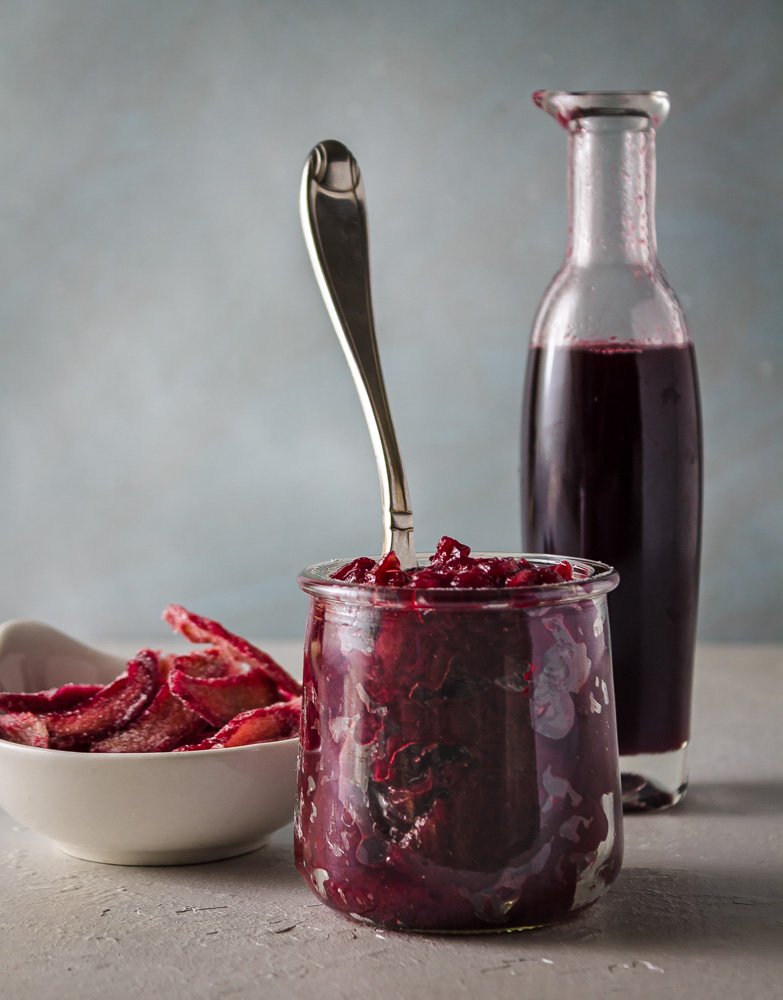 Red Wine Rhubarb Syrup
Candied rhubarb adapted from James Beard Foundation
Ingredients
2

c/475ml red wine

2

c/250g thinly sliced rhubarb

1

c/200g granulated sugar
Candied rhubarb
1

lg stalk/200g rhubarb

1

c/200g sugar

½

c/120ml water
Instructions
Combine ingredients in a medium sauce pan. Heat over low for 45 min – 1 hour not quite simmering.

Strain liquid from rhubarb. Squeeze or press to extract all liquid. Keep rhubarb pulp to use as a jam.

Reheat syrup at a simmer on med-low for 10-15 minutes until slightly reduced and at desired consistency.

Store in a closed container in the fridge for up to 2 weeks.
For candied rhubarb:
Preheat oven to 225F.

Thinly slice rhubarb across the grain (1/8" slices or leson a diagonal.

Bring ¾ c sugar and water to boil in saucepan. Boil for 30 seconds and then remove from heat.

Add rhubarb and stir gently to ensure all slices are submerged. Allow to sit for 15-20 minutes.

Drain rhubarb slices (but keep the syruand spread out on a parchment lined baking sheet.

Dry in oven for 30-40 minutes, until slightly tacky to the touch. Remove from oven and allow to cool.

Once cool toss slices in remaining sugar and store in an airtight container.