Onion wine jam is a tasty spread that is a beautiful harvest recipe. With sweet and savoury flavours, it is a great addition to all kinds of dishes including cheese boards and sandwiches.
I love things that blend sweet and savoury flavours. Foods that have just a bit of bite, but also enough sugar to satisfy my sweet tooth. I especially love preserves that can be paired with tangy or nutty cheese – like this onion jam.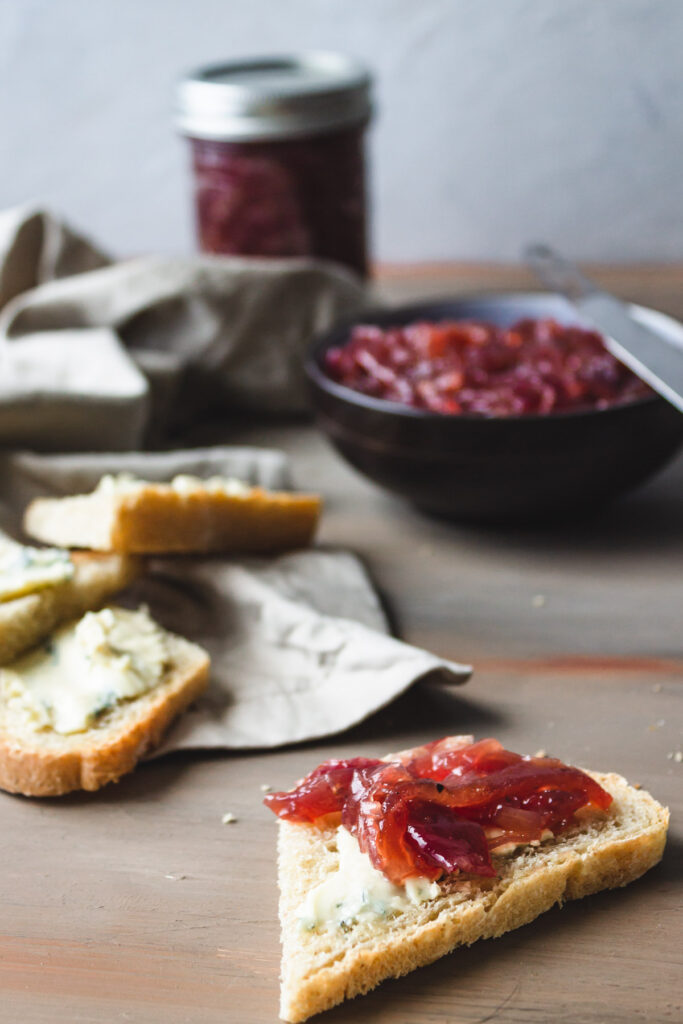 It's one of those preserves that is perfect to add to a cheese or charcuterie board. When I have a pint of it in the fridge, it is my go-to snack with some goat cheese on bread or a rice cake. Or you can smear it on chicken to bake. There are lots of possibilities.
Sweet wine or dry wine?
You'll find that most recipes that call for white wine want a dry white. Most of the time you don't want sugars to interfere with the savoury flavours of a dish. But that is not a problem here. Fruity sweetness is definitely a good thing.
Which is not to say you should seek out a super sweet Moscato or ice wine, but something with lots of fruit notes does not go amiss.
I like cooking with an albariño when I need some versatility. Otherwise a dry Riesling or chenin blanc is a good choice for this onion jam. But if you don't have any of those, a fruity rosé absolutely works!
Make it Vegan
As you read through the recipe you'll notice there is only one thing keeping this recipe from being vegan rather than just vegetarian. Butter. Admittedly a lot of butter, but in all fairness, it's a lot of onions too.
I chose butter rather than another oil simply because I like the way it caramelizes onions. I find the proteins interact with the sugars in the onions for a perfect nutty-sweetness. But you can absolutely use other oils. I like something with a low smoke point like olive oil. So much less risk of changing the texture (a high temperature is likely to crisp the onions).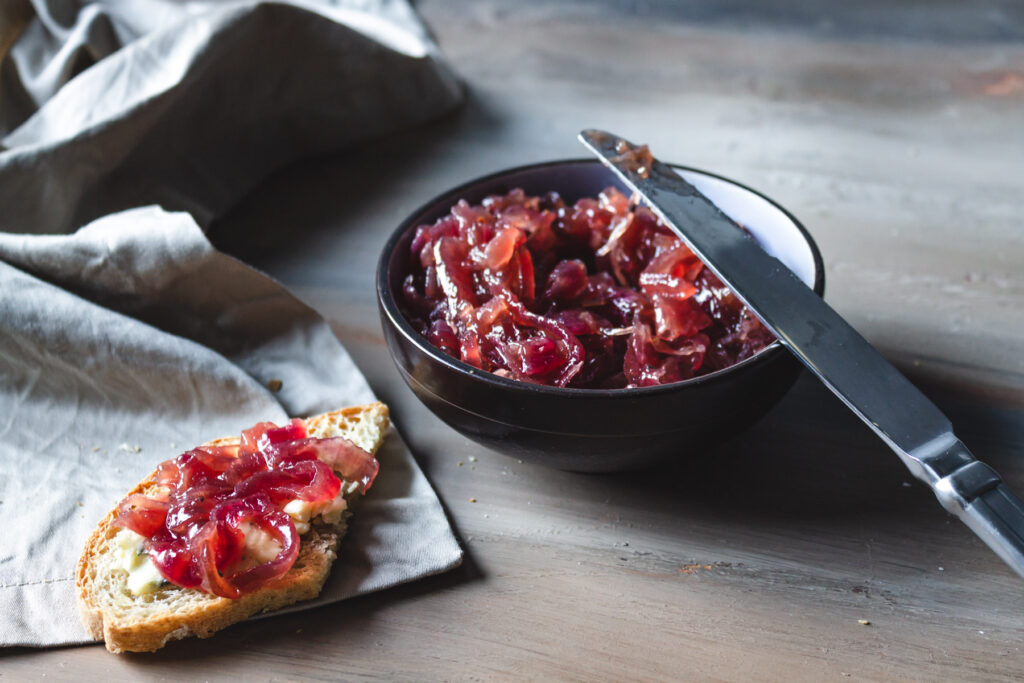 Canning for Later
Now, I'm lazy. I usually don't bother to can my preserves properly with a water bath or pressure canner. Normally I will just make refrigerator jam (or chutney, or sauce, but you get the idea). I just scoop the hot preserves into a clean jar and seal it while everything is still boiling. Once this cools, it will typically form a good seal that can last for a long time. I just store it in the fridge to be safe.
But you can properly can your onion and wine jam to be given as gifts. Mikayla over at The Flour Handprint has great instructions on properly canning using a water bath.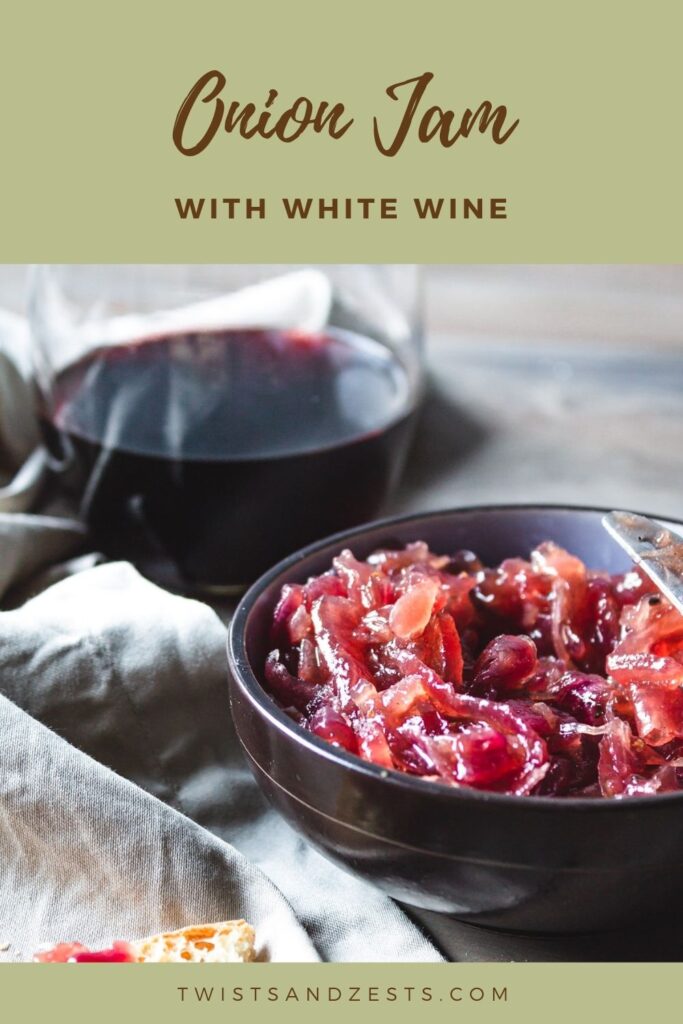 No matter how you choose to store the jam, it is a delicious addition to any snack, sandwich, or cheese plate.
Snap a picture of what you cook and tag me @twistsandzests on Instagram and use the hashtag #twistsandzests so we can all see! You can also comment, email, or message me on any social media platform to find solutions to cooking problems.
Onion Wine Jam
A sweet and savoury condiment with lots of caramelized onion and white wine flavours.
Ingredients
2 ½

lb/1125g red onion

1

sm head/50g green garlic

6 cloves regular garlic

5

tbs/75g butter

1

tsp/6g salt

1

tsp/2g pepper

1 ½

c/300g granulated sugar

1 ½

c/360ml white wine

sweet preferred

¼

c/60ml lemon juice
Instructions
Slice onion into ¼" semi-circles or quarter circles. Slice garlic as thinly as possible.

Heat butter in a large, heavy pan over medium heat.

When hot, add onion and stir frequently. Cook until almost translucent and starting to caramelize- about 5 minutes.

Add garlic, salt, and pepper. Continue cooking, stirring frequently, until onion is translucent and the liquid from the onion is milky – another 3-4 minutes.

Add sugar and stir to coat all the onions. Add wine. Stir to combine everything then reduce heat to low. Simmer, stirring occasionally, until wine is mostly reduced to a thick syrup – about 40 minutes.

Add lemon juice and stir vigorously. Continue to simmer until all liquid is reduced and onion mixture falls in coated clumps from the spoon. Remove from heat.

Add further salt and pepper to taste. Immediately dispense into jars and tighten the lids. Store in the fridge.
Notes
The jam can be vegan if you switch out the butter for 3-4 tbsp of olive oil
Adapted from Patent & the Pantry