The second farm stand in the area has opened this week! And unlike my earlier prediction, snap peas actually came before asparagus this year. I always love snap peas from farm stands. These aren't the anemic things from the grocery store that are just a vehicle to ferry dip to your mouth when they sit on vegetable platters, these are the full bodied perfection of snap peas. Sweet and filling, I almost always buy multiple bags at a time. They make great snacks to munch on while doing computer work.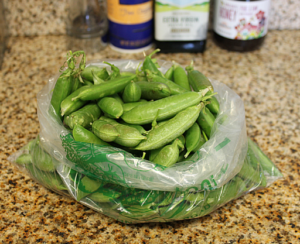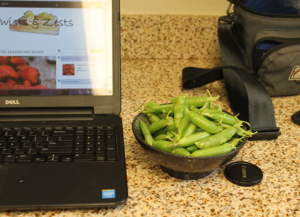 But the other available produce includes the requisite spring onions. I wasn't planning it when I bought them, but by the time I got home and had done some gardening, I had the intent of trying onion jam with spring onions instead of the sweeter, late season ones. Also, we had a bottle of wine in the fridge that I needed to use up in cooking.
The wine is actually a local vintage as well and why it's a cooking wine is a story in and of itself. The local wine producer Seven Artisans has some amazing wines, one of our favorites being the Red Cote Rose 2008. On the front of the palate, you think it is going to be another sweet rose, but by the swallow, it is quite dry without being acidic. A couple weeks ago we were at the winery and the owner informed us that he was down to 4 bottles of the rose. We were devastated. Because he knew how much we loved that rose (we almost never left the winery without a bottle of it), he offered us a case of the 2007 rose for $25- with a warning. Apparently the 2007 decided to go all over the map as it aged. Some bottles were perfect, others not so much. And there is no way to tell beforehand. Since that's not necessarily something the winery wants to try to market, there are still several cases sitting around. I totally get it, I mean, some of them are good and you can't let good wine go to waste. Well the first bottle we opened was one of the not great ones – too sweet – but still a good flavor, so it got relegated to cooking wine. But I digress, you wanted to hear about the onion jam…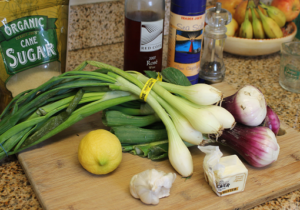 I really like savory jams and chutneys. They are so versatile. This one is fairly straight forward, no atypical ingredients besides the spring onions and as I discuss below, you could also use regular onions.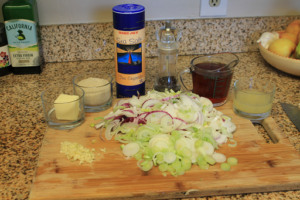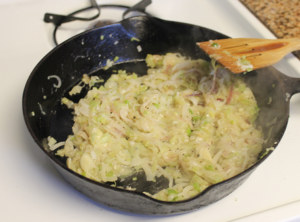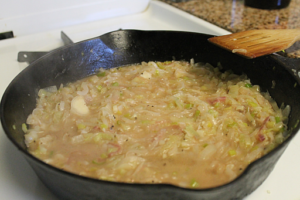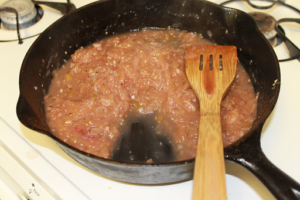 Want to experiment? This would work just as well with a mix of standard yellow and red onions – you might need to reduce the sugar a little bit. All red onion with a jam-y red wine would vary it up a bit. Also, it's really easy to turn this vegan simply by substituting the butter with olive oil, though I would suggest adding a bit more. Butter tends to make the onions a little creamier which is the only advantage. Want to spice it up? I was going to add some mustard seed, but I discovered I was out. Fennel seed also makes a great addition to onion jams.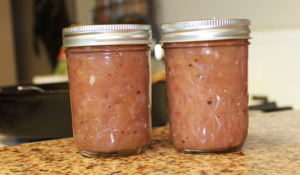 And I had just enough that didn't fit into the two jars to make a snack for myself. Some nicely toasted bread I made earlier this week (I'll get you the recipe when I perfect it), goat cheese, and a nice dollop of jam. Served with a glass of wine of course. A jam-y red blend from Cass Winery in Paso Robles.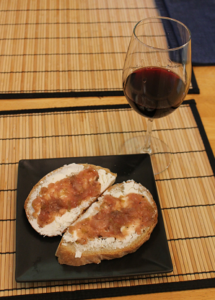 Serving Suggestions
On toast with cheese obviously.

As part of a cheese board.

On scrambled eggs or an omelette.

On a sandwich.
Onion Wine Jam
Ingredients
3

tbsp

butter

1/2

c

sugar

2

c

rose or sweet white wine

1

tbsp

minced garlic

1

c

sliced yellow spring onions

4

c

sliced red spring onions

1/4

c

lemon juice

1/2

tsp

salt

1

tsp

ground pepper
Instructions
Melt butter on medium in a large pan. When hot, add onion and stir frequently. Cook until almost translucent and starting to caramelize- about 4 minutes - and add garlic, salt, and pepper. Continue cooking until onion is translucent and the liquid from the onion is milky - another 2 minutes.

Add sugar and stir to coat all the onions. Add wine. Stir to combine everything then reduce heat to low. Simmer, stirring occasionally, until wine is mostly reduced to a thick syrup - about 40 minutes.

Add lemon juice and stir vigorously. Continue to simmer until all liquid is reduced and onion mixture falls in coated clumps from the spoon. Remove from heat.

Add further salt and pepper to taste. Immediately dispense into jars and tighten the lids. Store in the fridge.
Notes
The jam can be vegan if you switch out the butter for 3-4 tbsp of olive oil
Adapted from Patent & the Pantry