Want to do make something different with all those extra bananas? Try a baked banana pie! Thinly sliced fresh bananas are baked into an easy custard, all in a dead simple flaky pastry for a unique fruit pie.
Have you ever had a baked banana pie? It's certainly not a common one. When people think of baked banana desserts they usually think of banana bread. Or in my case, banana loaf cake.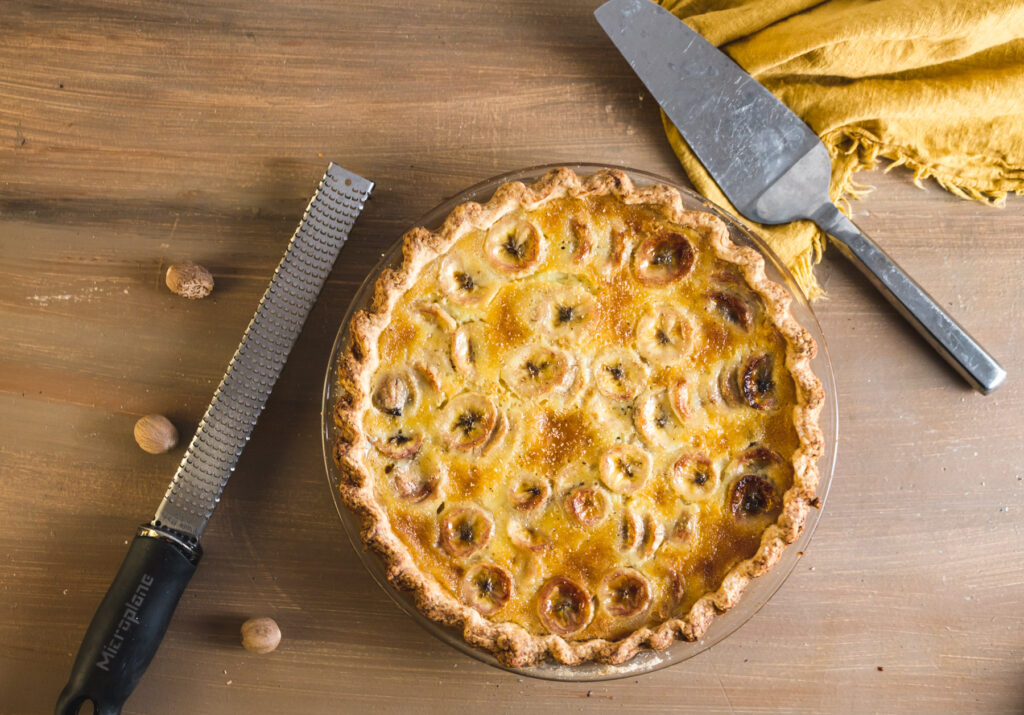 So, banana pie. But instead of a no-bake pie with lots of cream and raw bananas, this pie bakes thinly sliced bananas into a lightly sweetened custard for a naturally caramelized top and flaky pastry made in a food processor. Nothing overly complex, but the result is unique and delicious.
Because this pie uses a baked custard and lots of bananas, it is best eaten at room temperature or cold. This makes it a perfect choice for preparing ahead of time for potlucks and picnics. Plus, the bananas stabilized the custard even further, so each slice comes out beautifully and doesn't need a fork. You can hold a slice in your hand and just nibble away.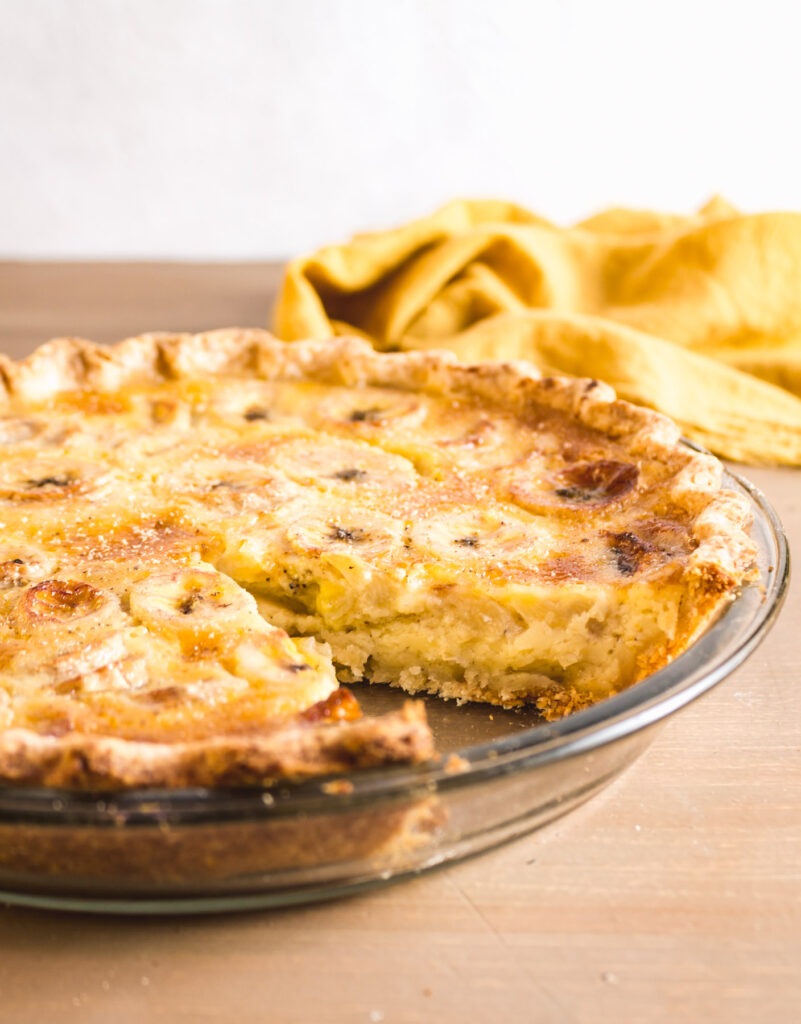 Overripe or underripe bananas?
When bananas are underripe, they are comprised of mostly starch rather than simple sugars. As they ripen, the starch is converted into sugars. If left long enough, those sugars will get eaten by bacteria and yeast and turn into ethanol (among other things).
What does this have to do with pie? Well, most people are usually looking for recipes to make with overripe bananas. You know, those ones that you left on the counter and now have a lot of brown spots and are really soft and, ahem, fragrant. I'll admit, I don't like the smell.
This pie is best made with well ripened to slightly overripe bananas. Unlike banana bread, you don't want a banana mush, you want to keep the shape of the banana. But, they should be ripe enough that the sugars will caramelize in the oven, giving you a delightful pie.
If your bananas have gotten really ripe, peel them and freeze them to use for banana cake later.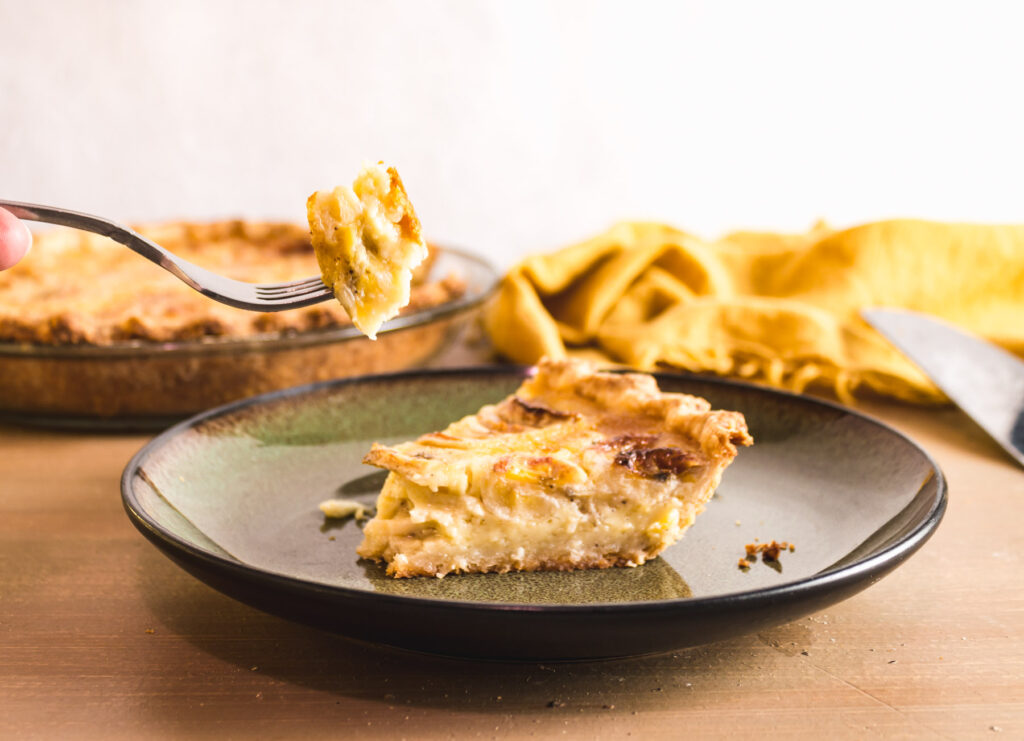 Keep it cold!
I know when you are in a rush – or at least, don't want to spend hours in the kitchen – constantly pausing to chill pastry is obnoxious. But please do it. There's a really good reason. The outcome will have a noticeable difference I swear!
When working with the oils for pastry you want everything cold. Always. That is why I start with frozen butter. You can read more about why you need to keep pastry cold, but the big take-away is that it should be.
It's also super easy to just store butter in the freezer. Now that I make recipes professionally I go through a ridiculous amount, but before a pound of butter might last for a couple months. Freezing was a good way to remove just what I needed and not have to worry about it going bad.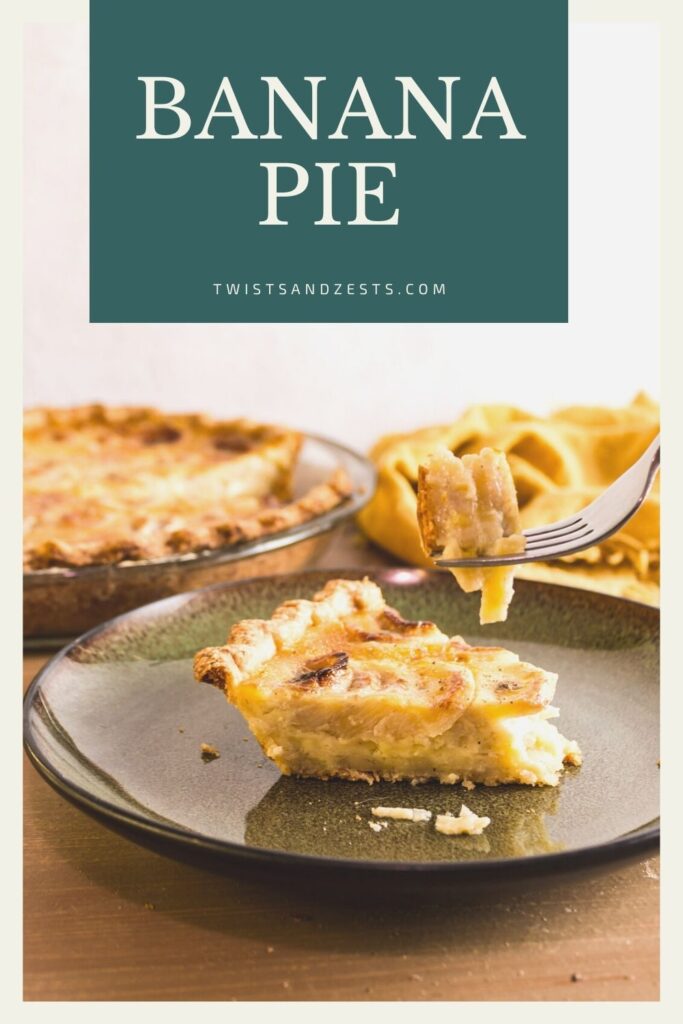 Enjoy the easy flaky pastry encasing this baked banana pie. Just sweet and creamy enough to satisfy your sweet tooth, and a great use for extra bananas to boot.
Snap a picture of what you cook and tag me @twistsandzests on Instagram and use the hashtag #twistsandzests so we can all see! You can also comment, email, or message me on any social media platform to find solutions to cooking problems.
Banana Pie
Thinly sliced fresh bananas are baked into an easy custard, all in a dead simple flaky pastry for a unique fruit pie.
Ingredients
½

c/115g unsalted butter

frozen

1 ½

c/180g all-purpose flour

¼

tsp/2g salt

2

tbs/30ml cream

cold

¾

c/150g granulated sugar

¾

c/180ml milk

½

c/120ml cream

2

lg eggs

1

tsp/5ml vanilla

¼

tsp

nutmeg

1

tbs/8g corn starch

3

large bananas
Instructions
Dice the frozen butter. Combine with flour and salt in food processor. Blend on low until butter is in small pea size pieces.

Add 2 tbs/30ml cream with ¼ c/60ml ice water. Process until a shaggy mass forms. If there is still a lot of loose flour, add more ice water 1 tbs at a time.

Bring pastry together in a thick disk. Wrap in cling film and chill in the fridge for at least 30 minutes.

Roll pastry out to a ¼"/6mm thick circle. Line a standard pie pan, trim and crimp the edge.

Prick the base a few times with a fork. Return to the fridge and chill for at least 15 minutes.

Preheat the oven to 350°F/180 C.

Slice bananas into ¼ – ½" slices.

Whisk the sugar, eggs, vanilla, nutmeg, and cornstarch in a large bowl until pale ribbons form.

Heat the milk and cream in a small saucepan until barely simmering. Remove from heat.

Whisk about 1/3 of milk mixture into the eggs. Pour the warmed egg mixture into the hot milk and stir to combine.

Layer the banana slices in the pastry case. Pour the custard over the bananas and make sure everything is level.

Bake for 50-55 minutes until the custard is just firm in the center, jiggling slightly when tilted, but not moving.

Allow to cool completely before serving.

Can be stored covered in the fridge for up to 3 days.