A tender banana cake (not bread!) with a hint of coffee and a sweet cold-brew drizzle. Excellent as dessert or breakfast.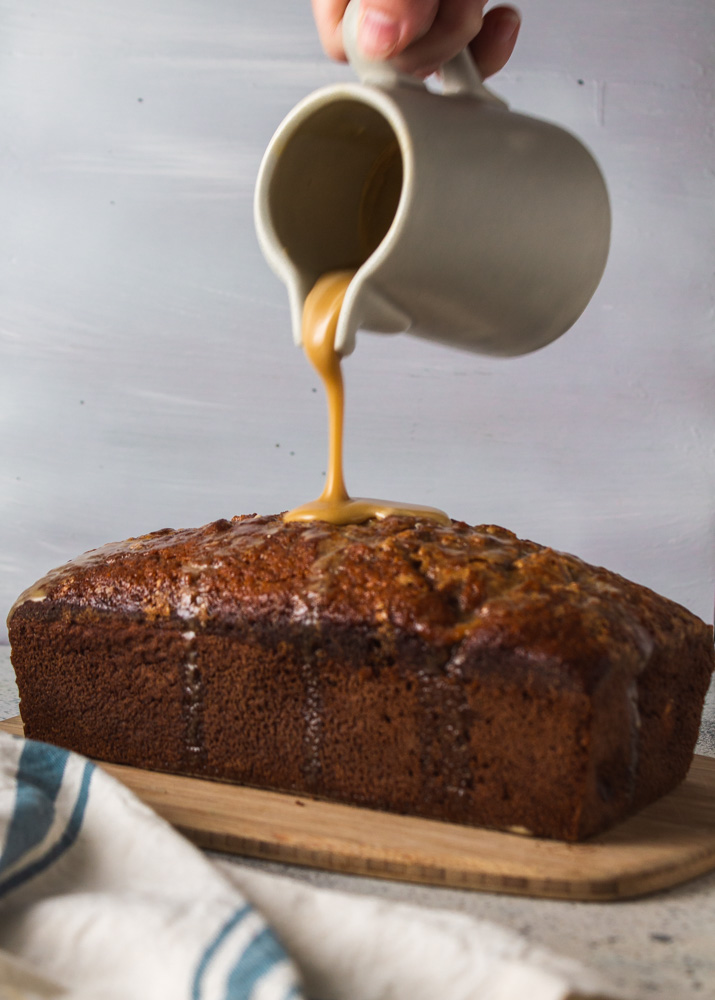 Today will be rather brief, but I committed myself to two recipes each week for you and I intend to stick to it despite life things trying to get in the way. I do have another recipe to add to the strawberry fest of the last couple weeks, but I'm afraid it will have to wait. And so I present an excellent banana and coffee cake. Not a coffee cake, but a banana cake with coffee – semantics are important.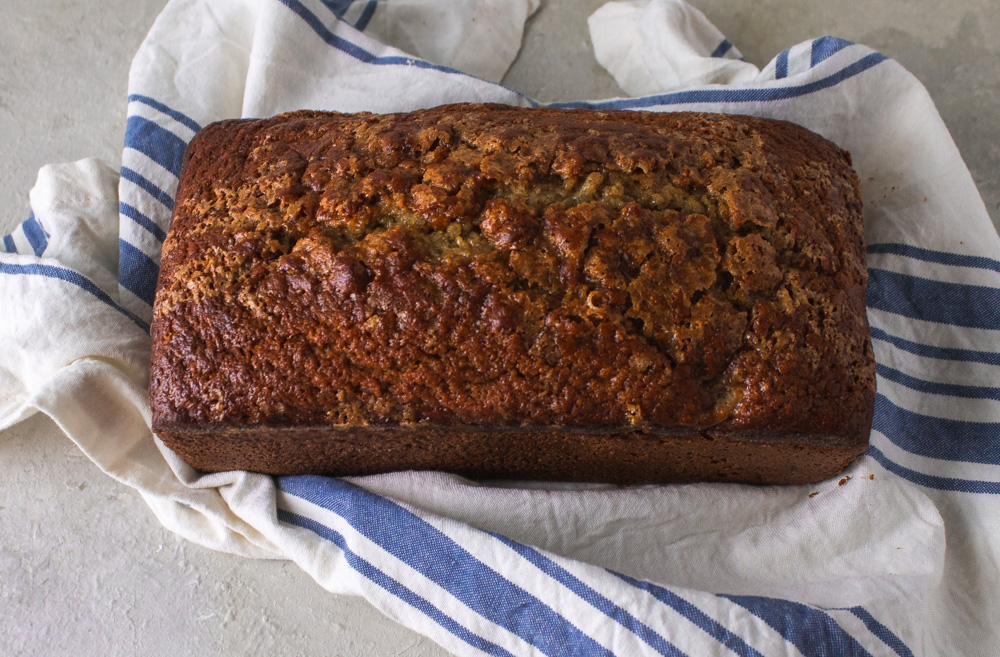 Speaking of, what makes something a fruit or vegetable bread rather than cake? I mean, it's not the presence or absence of yeast, there are plenty of cakes with yeast. I suppose one could argue texture, but that doesn't seem to be consistent either. And quantity of sugar is certainly not a factor – I've put more sugar in a zucchini bread than in many chocolate cakes. I think would a great topic for further debate. The odd places my mind goes. Actually, The Flour Handprint did a nice post on quick breads though it still doesn't cover why certain ones get particular names…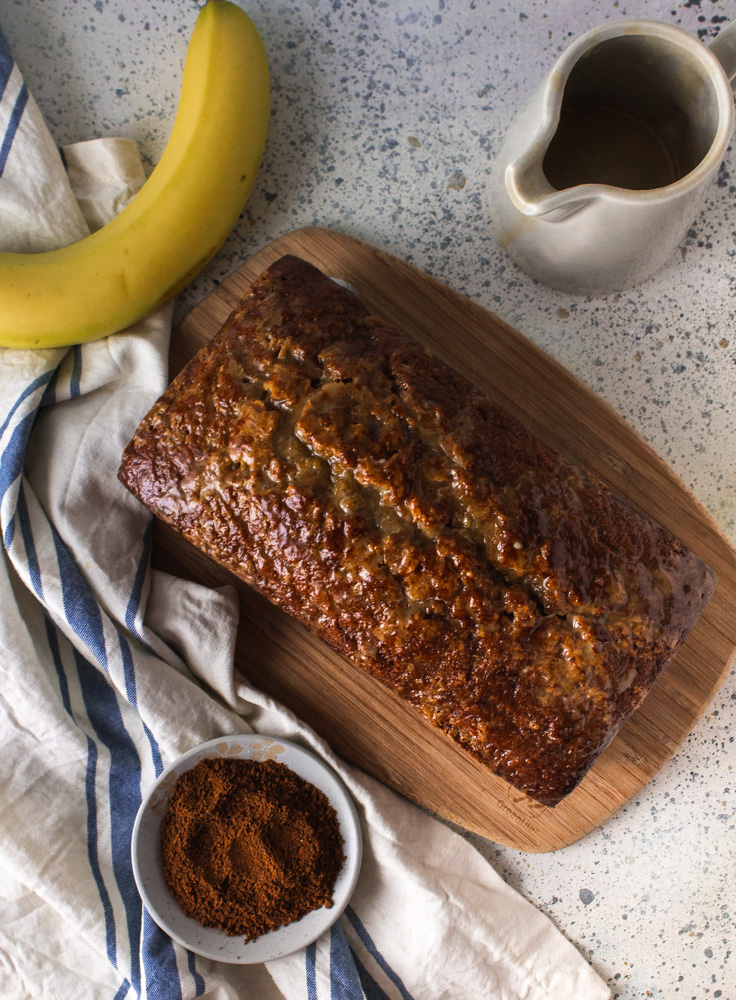 I would definitely categorize this as a cake rather than a bread. Like the carrot cupcakes from the other week, this recipe originates from Eat Fresh by Annabel Langbein and she calls it a cake. Even though I've adapted it heavily, I think it is still very much a cake – especially with the drizzle on top!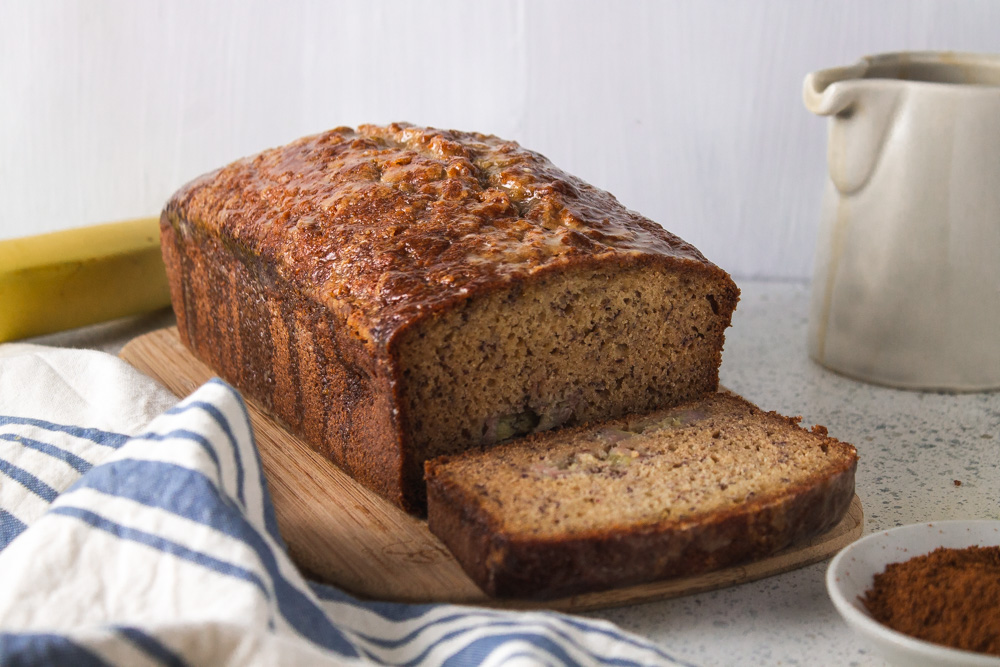 Banana and Coffee Cake
Adapted from Eat Fresh by Annabel Langbein
Ingredients
½

c/115g unsalted butter

softened

¼

c/50g white sugar

1/3

c

+ 1 tbs/85g brown sugar

packed and separated

3

lg eggs

2

tbs/30ml bourbon

1

c/225g mashed bananas

about 2

1

tsp/4g baking powder

1

tsp/6g baking soda

¼

tsp

salt

1

tbs/4g espresso ground coffee

¼

c/60ml yogurt

1 ¾

c/150g all-purpose flour

1

banana

sliced in 1/4" rounds

1

c

+ 2 tbs/125g powdered sugar

2-3

tbs/30-40ml strong brewed coffee*

at room temperature or cooler
Instructions
Preheat oven to 350Grease and flour a 9" x 5" loaf pan

Cream butter and sugars with an electric mixer until creamy.

Add eggs and bourbon and continue beating until fluffy.

Add banana and beat until combined.

Add baking powder, baking soda, salt, coffee grounds, and ½ of flour. Beat until just combined.

Mix in the yogurt until just combined, and then remaining flour until smooth

Fold in sliced banana. Scrape batter into prepared pan and sprinkle with 1 tbs brown sugar

Bake for 45-55 minutes until a skewer inserted comes out with a few crumbs. Allow to cool in pan for 20 minutes before removing and cooling to room temperature.

In a cup or bowl with a pouring spout, mix powdered sugar and just enough coffee to bring to a pourable consistency.

Slowly pour over cake lengthwise to coat the top.
Notes
*I recommend coffee made in a French press, cold or warm brewed. I like having just a few bits of grounds remaining.