A chutney with fresh strawberries, herbal cilantro, and a hint of spice from ginger and white pepper. Perfect for a spring cheese or charcuterie board or just to have on toasty as a savoury alternative to jam.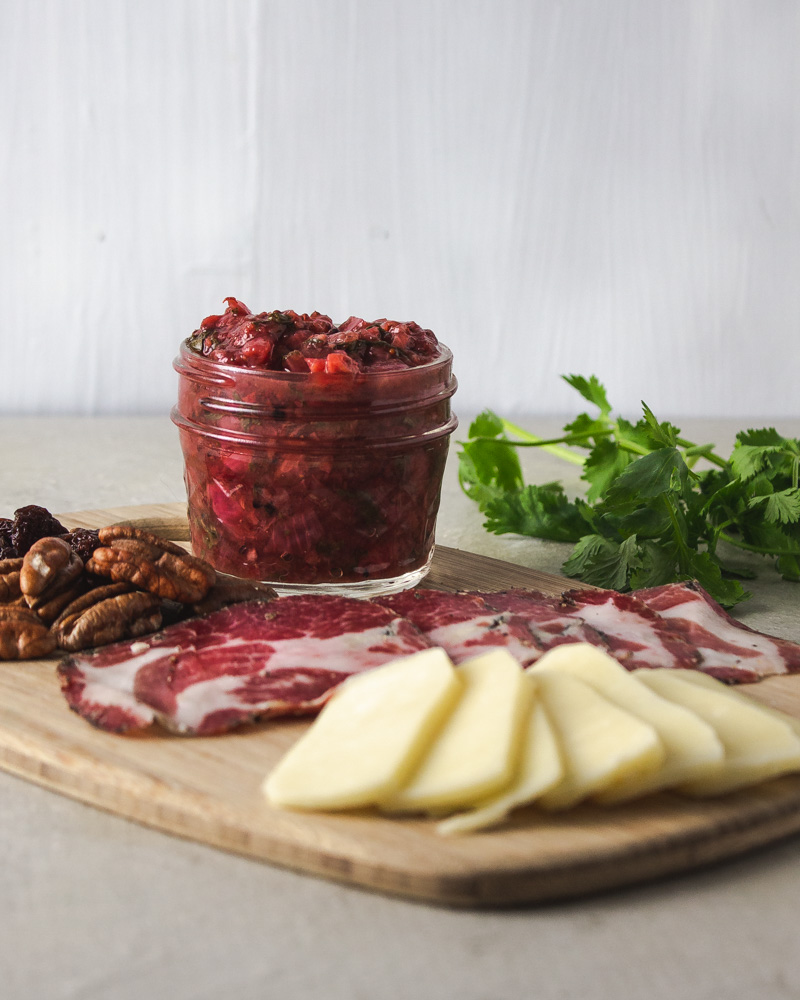 And for more spring strawberry madness: strawberry cilantro chutney! I really wanted to create a semi-savory strawberry garnish, and cilantro or parsley seemed to be the key (also I have both of those in the garden now). I tried eating both herbs with fresh strawberries before setting off in a direction. While I liked the parsley, it could too easily dominate the strawberries. The cilantro was a better balance, highlighting the herbal flavours in the fruit without overwhelming them.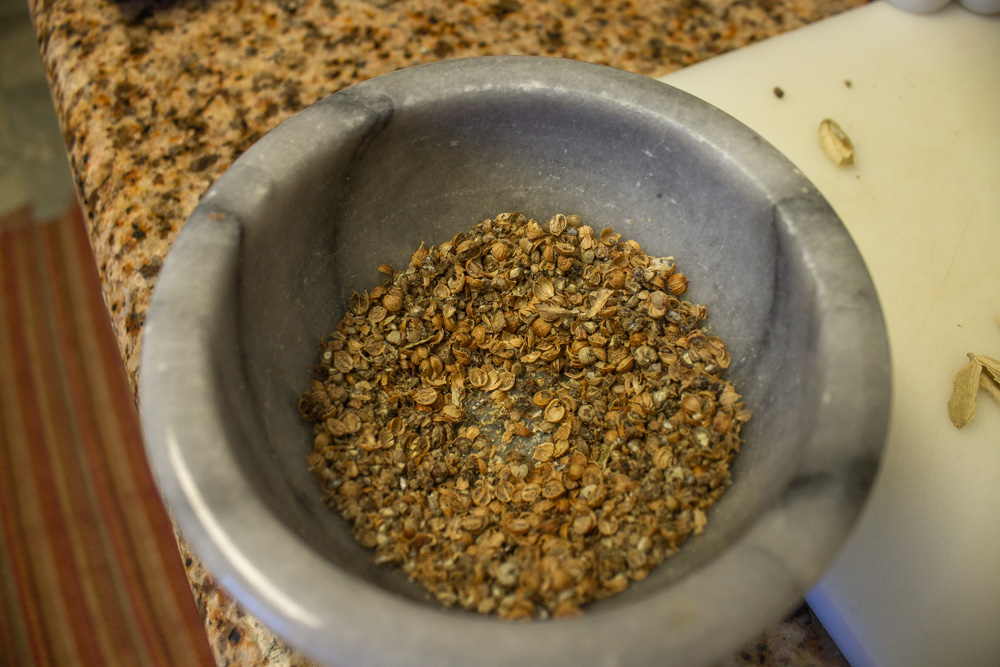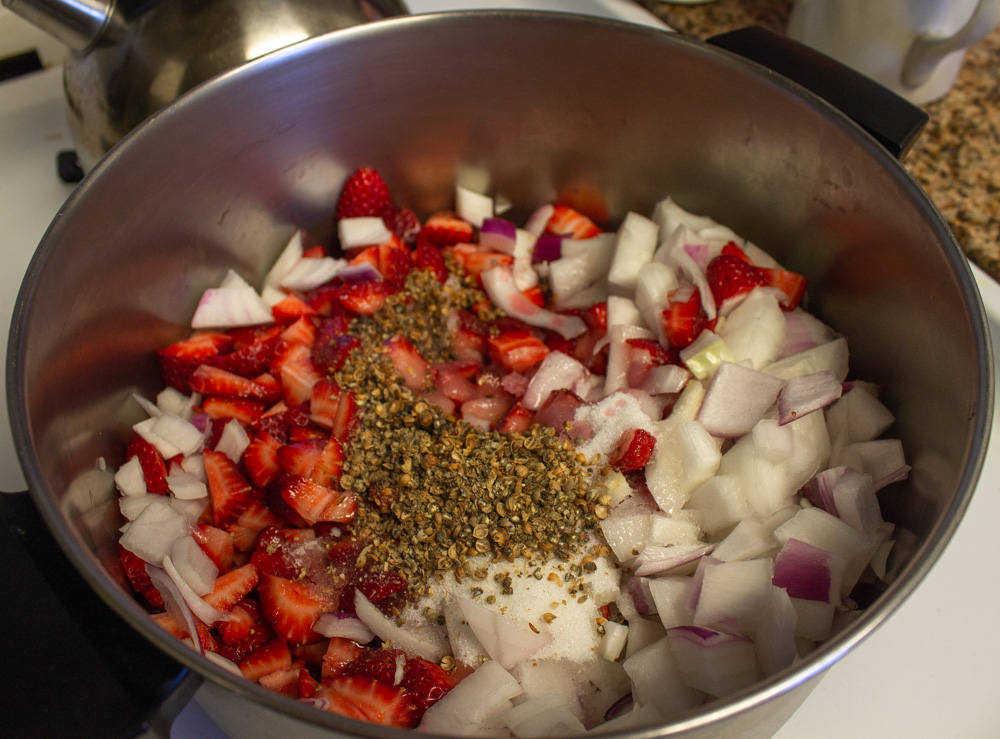 Chutney is one of those things that gets a lot of use in our house – atypical for most American households – buts that's what you get when you put a Canadian and South African in the same house. Any combo of sweet fruit with some acid and a bit of spice that can be used on lots of dishes? Definitely going to be eaten quickly. On toast (my favourite is to add an egg), with cheese or vegetables, or H's favourite: with pasties (I don't make them often because of their time consuming nature). I did a couple variants last year that I will have to repeat for the blog when their seasons come around; tomato with peppers and pear apple.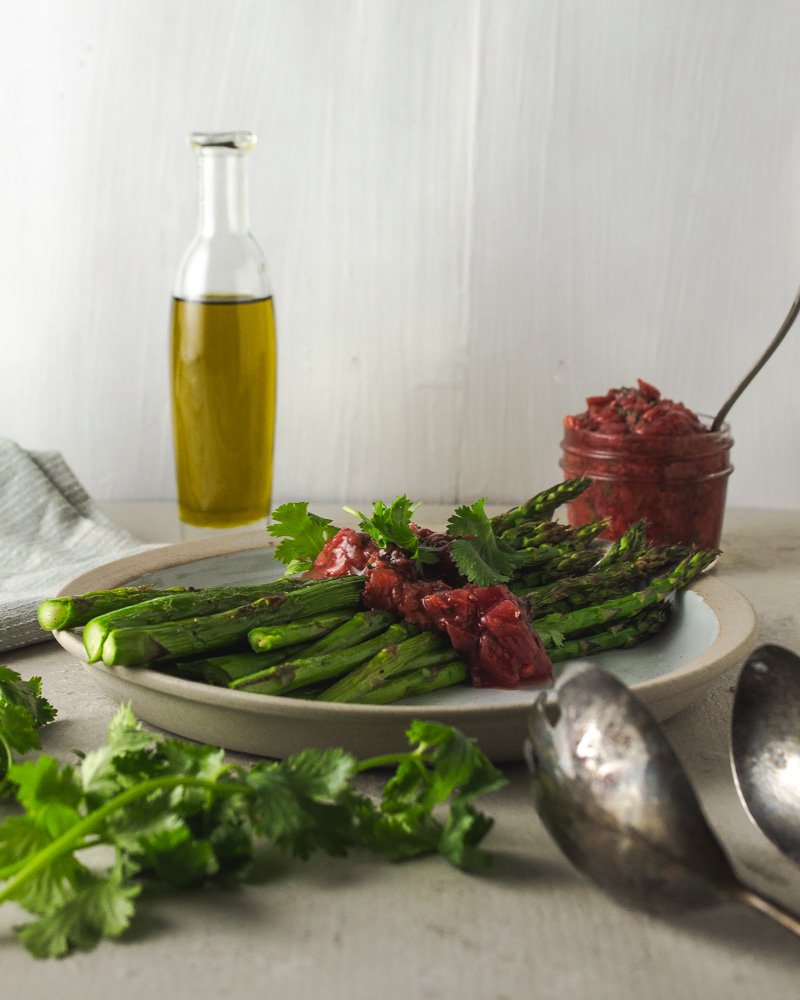 A Dash of Science
Making chutneys versus jam entails a lack of added pectin. Instead they use the natural pectin and starches contained in many fruits (plus some added sugar) to create a gelatinous texture with the application of heat and acid. Pectin is a fiber that is present to varying quantities in fruits and vegetables. (The Spruce Eats has a nice list of relative pectin quantities in most fruits.) Basically you are activating the pectin and reducing the water quantity to make a thick gel. Since chutney typically calls for less sugar, it's not as thick as jam (and contains larger chunks) but you will often see fruits with higher pectin called for as part of the recipe – apples, pears, or lemons – but it can absolutely be done without those. Since strawberries don't have much natural pectin, some added sugar and properly reducing the water are the biggest components of a well textured chutney here. For those that want more of discussion about how the pectin, sugar, acid, and heat interact, Food Crumbles has a good description.
It's been mentioned before that I am rather lazy when it comes to things like canning. Rather than do full water baths to make everything shelf stable at room temperature, I store them in the fridge or freezer. Typically, I'm not making enough of any particular product that I can't fit it. And since things like chutney get eaten so quickly in our house, it really isn't an issue. Since I add the very hot product into clean jars and seal them immediately, I still get a vacuum seal creation which keeps air out and extends the fridge self-life by eliminating oxygen. I do recommend that you read up on proper water bath canning methods if you want to store things at room temperature or give them as gifts. Savvy Eats has good scientific explanation of this.
Strawberry Cilantro Chutney
Ingredients
22

oz/600g strawberries

1

med/400g red onion

½

c/100g granulated sugar

½

c/120ml red wine vinegar

2

tsp/4g coriander seed

1

tsp/5g white peppercorns

1

tsp/4g cardamom seed

without pods

1

tsp/3g mustard seed

2

tsp/15g minced ginger

1

c/30g loosely packed cilantro leaves
Instructions
Wash strawberries, remove leaves and thinly slice.

Coarsely grind spices in a mortar. They do not need to be pulverized, just crushed.

Combine all ingredients except cilantro leaves in a large pot. Heat on low for 40-60 minutes stirring occasionally until most of the liquid has evaporated.

Prepare some jars by washing in hot water.

Remove chutney from heat. Stir in coarsely chopped cilantro. While still hot, ladle into jars until ½" from top. Wipe off excess with a damp paper towel and close tightly with clean lids. Refrigerate.