A strawberry curd with fresh bites of strawberries on a nutty oat and whole wheat base for a not-too-sweet and creamy treat. Strawberry bars are a unique alternative to lemon bars for gatherings, pot lucks, and bake sales.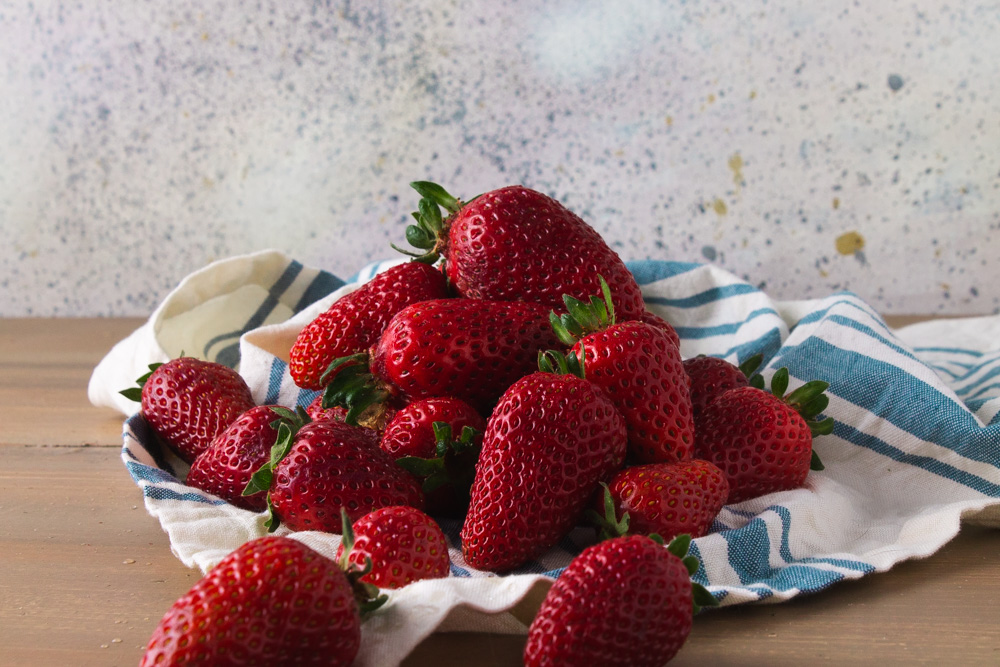 It's strawberry season! Well ok, in California strawberry season lasts from April to November sometimes, but the best ones are here now. I have several strawberry-centric recipes coming up for you. Including several for when you let yourself buy the whole flat at the farm stand and now you need to use them up fast.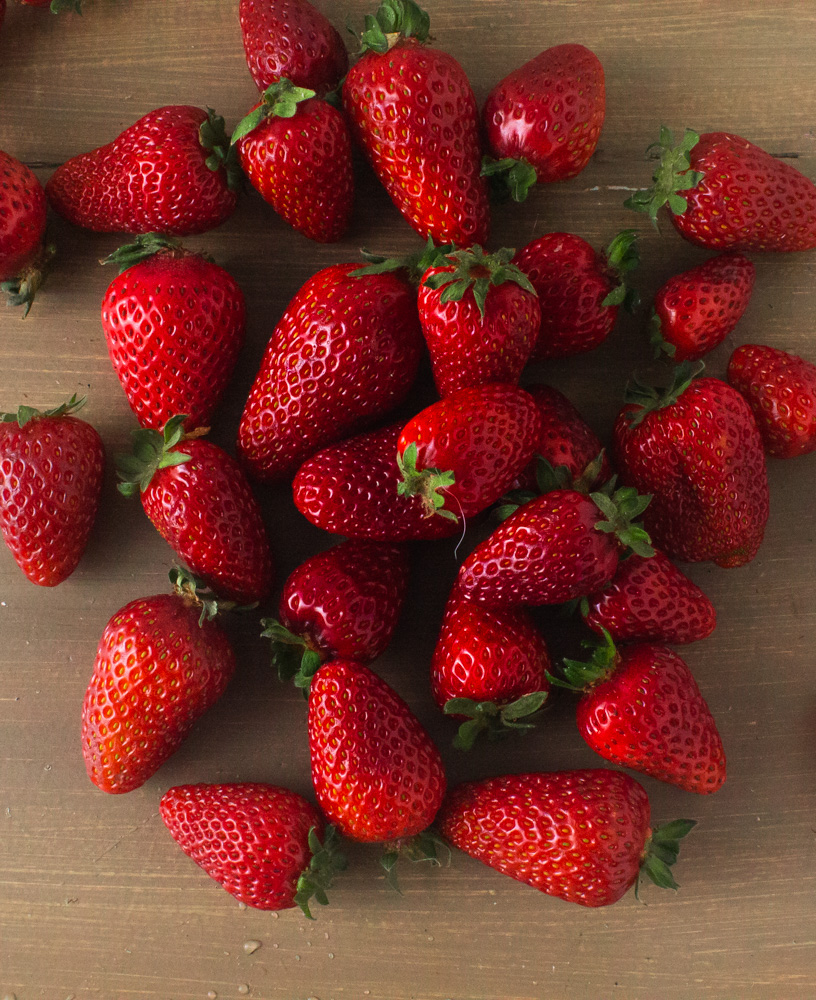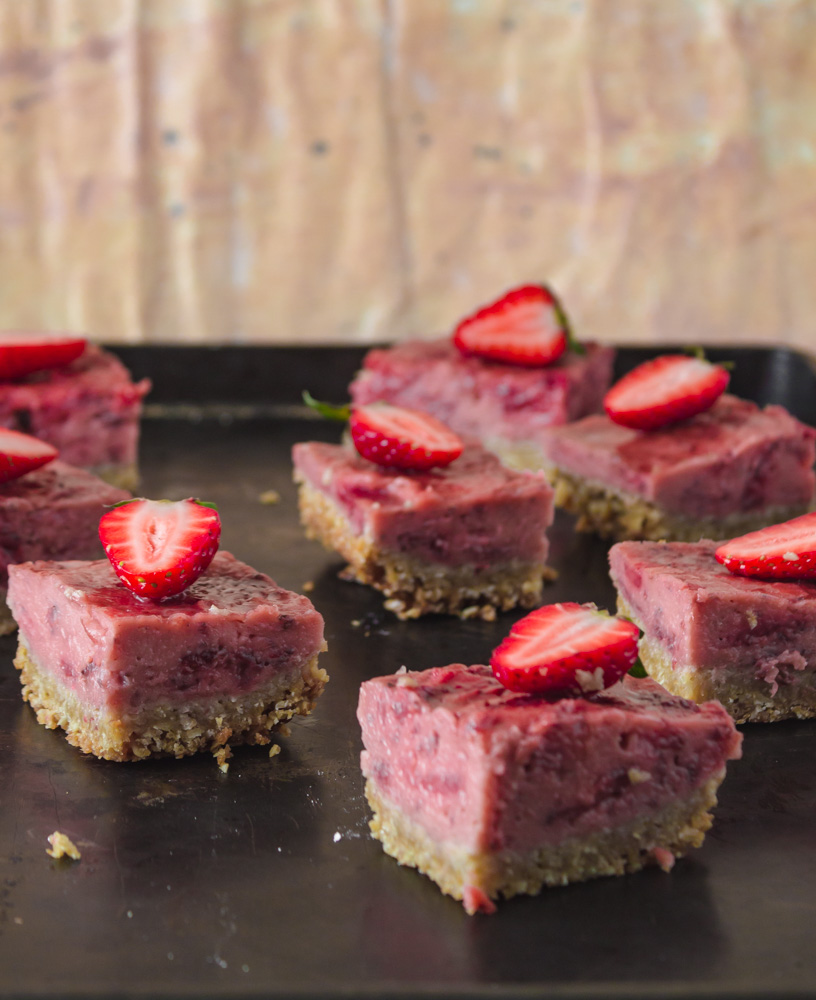 I have been waiting to share this recipe since last year – strawberries were still in season for me, but not most people – when I developed it out of the question: can you make something like a lemon bar without it being predominantly lemon? And yes, yes you can. The principles are very similar; you are starting the process of making a curd with butter, water, sugar, and fruit on the stove, and then finishing it in the oven. You just have to use a lot more strawberries than lemon to get the same intensity of flavour (and most of the liquid here is coming from the strawberries). And here is a lemon curd recipe if you want to check out the similarities.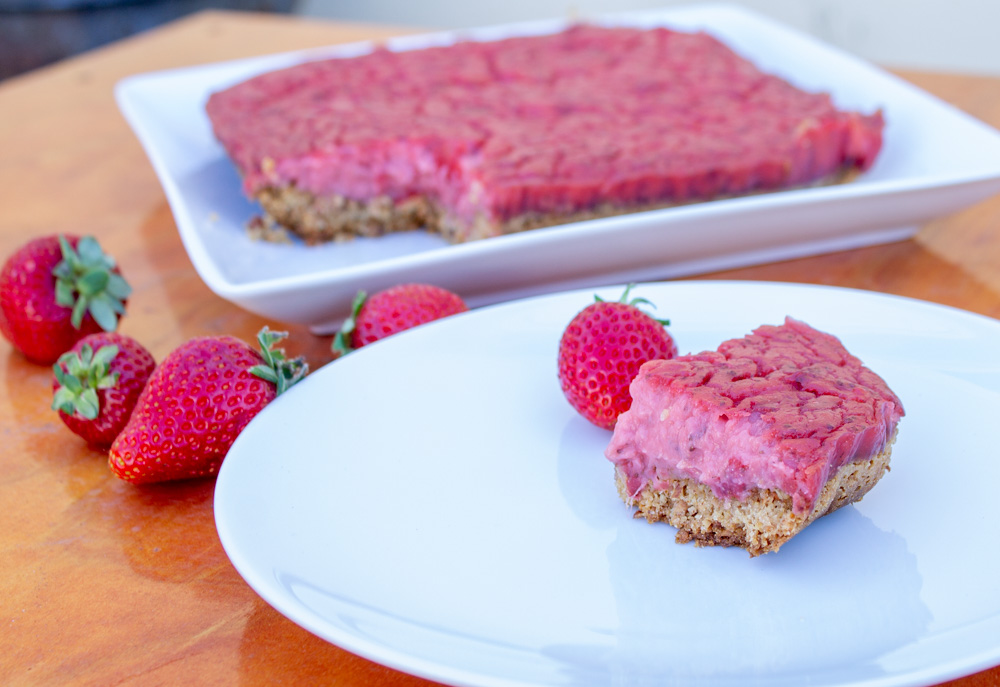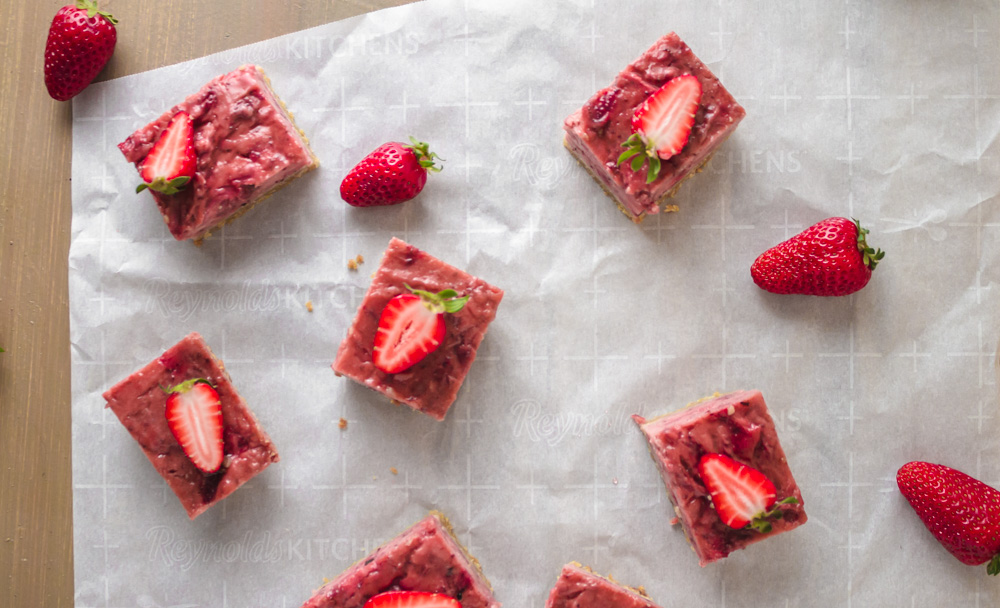 But it was fun to go in a different direction than just making strawberry lemonade bars. They are creamy without containing a bunch of dairy; cooking with strawberries down with the butter made for a nice texture to the curd, with chunks of fruit scattered throughout. And they don't need an excess of sweet to balance out the acidity of the lemon. If fact I advise against trying to coat them in powdered sugar. They have more moisture than your standard bar (cooked fruit will do that) and the powdered sugar just turns into a runny, translucent slick on the top. Not quite as appealing. So the overall bar is less sweet, but still very flavourful.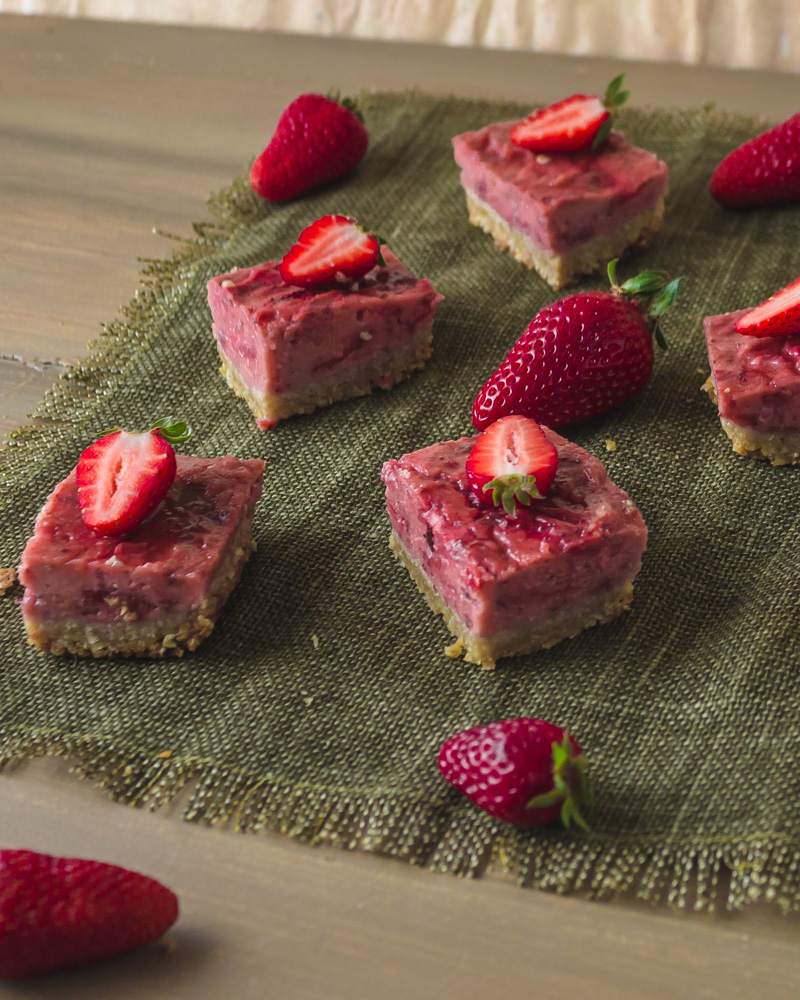 Most of the time I steer away from whole wheat flour in my desserts (I think a little is critical in bread though), but sometimes you just want that extra nuttiness without sacrificing structural integrity. The original recipe was made with a combination of ground almonds and very fine corn meal, but it was super tricky to work with (i.e. only worked 50% of the time). So I passed on trying to make them gluten free (sorry, can't please everyone all the time) and went for the oat/whole wheat combo for a flavorful crust. The almond and corn meal combination was very tasty, so if you are gluten free; try using 2/3 c of each rather than the wheat and oats.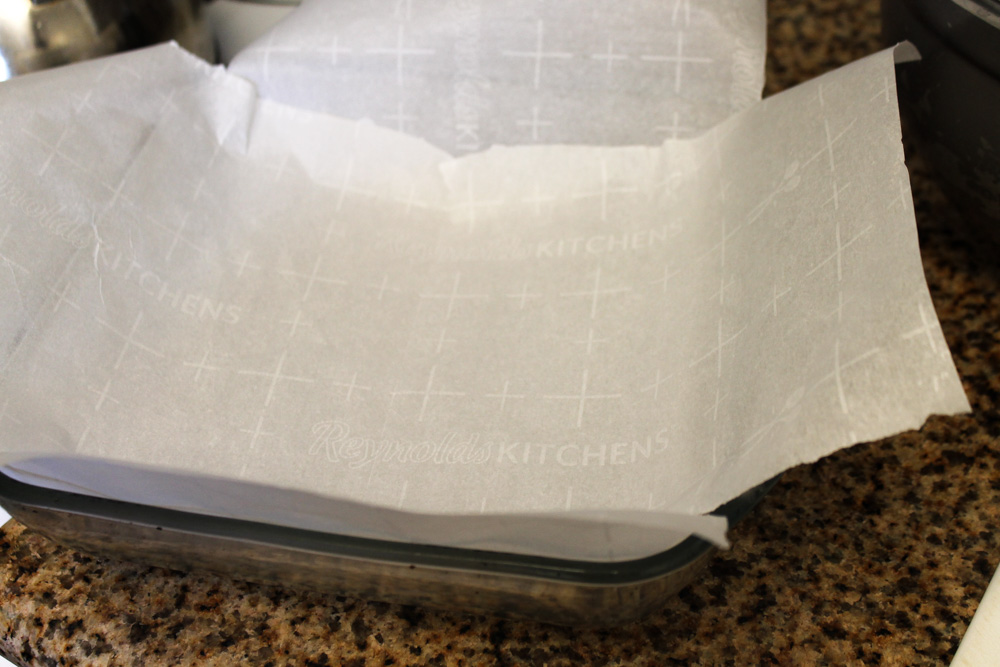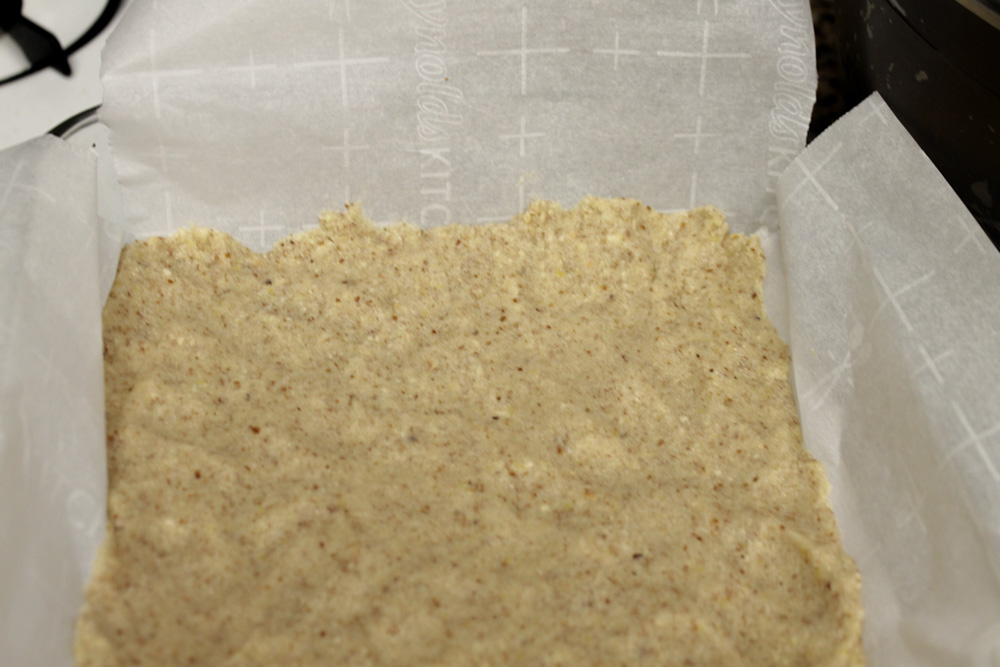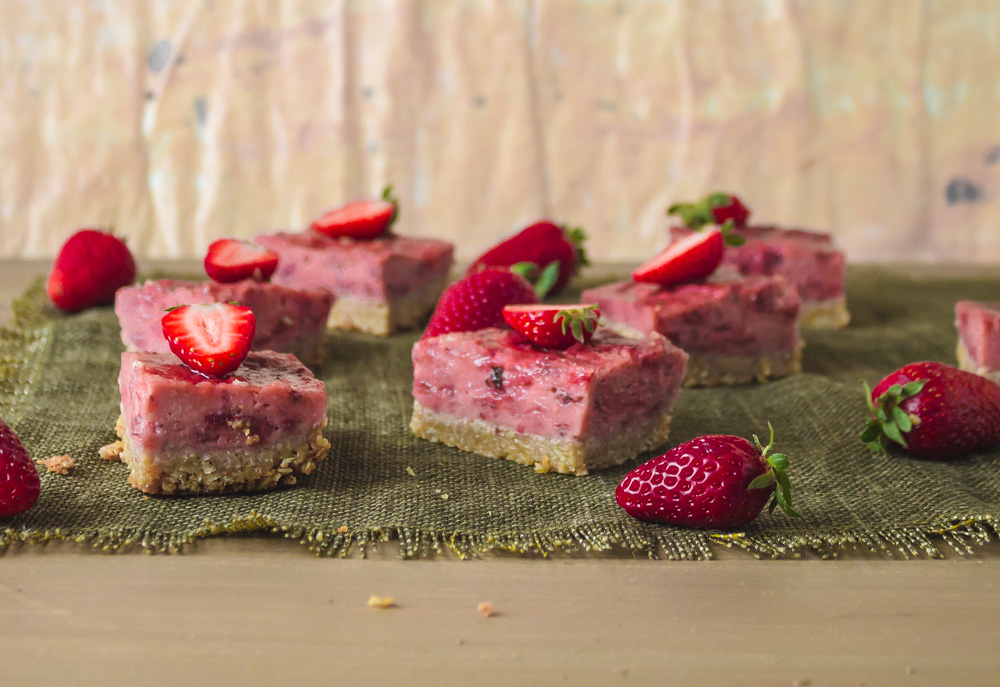 Strawberry Bars
Ingredients
Crust:
½

c/75g whole wheat flour

¾

c/90g rolled oats

½

c/100g granulated sugar

½

c/115g butter

cubed

1

tbs/7g lemon zest

¼

tsp

salt
Strawberry layer:
1

lb/500g strawberries

washed and sliced

4

tbsp/60g butter

3

tbsp/30g corn starch

3

tbsp/45ml lemon juice

½

tsp

salt

¼

c/65g granulated sugar

3

large eggs
Instructions
Line 8"x8" pan with baking parchment (cross two strips).

Combine all crust ingredients in a food processor and blend until a dough forms and there are no lumps of butter. The oats will get slightly ground up, but this is ok.

Pat into prepared pan until level. Refrigerate for at least 20 minutes.

Preheat oven to 350F. Par bake crust for 20-25 minutes or until just starting to get a hint of brown at the edges. Remove from oven and allow to cool slightly.

While crust is chilling and baking, prepare strawberry layer:

Combine butter and strawberries in a pot over low heat. Stir regularly for 15-20 minutes, until mixture is creamy looking and the strawberries are very soft. Remove from heat.

Combine cornstarch and lemon juice in a small bowl, stirring until cornstarch is completely dissolved. Set aside.

Whisk together eggs, sugar, and salt until light and frothy.

Add corn starch mixture to egg mixture, combining thoroughly.

Stirring continuously, pour egg mixture into strawberries. Return to heat and stir constantly for 5 minutes until thick and drops slowly from spoon.

Pour strawberry mixture onto crust, smoothing until even.

Return to oven for 30-40 minutes. When jostled, the strawberry layer will jiggle but should otherwise be set. Remove from oven and allow to cool completely. Very good chilled as well.