This page may contain affiliate links to outside products including the Amazon Associates program, from which I earn a commission on qualifying purchases. Read full disclosure policy here.
This variation on the traditional lemon meringue pie can be made with any combination of stone fruits – peaches, nectarines, cherries, apricots, or plums. A fun use for whatever stone fruit you have an excess of. Less tart than the original, most of the sweetness comes from the fresh fruits and is topped with a pillowy meringue that gets lightly toasted in the oven.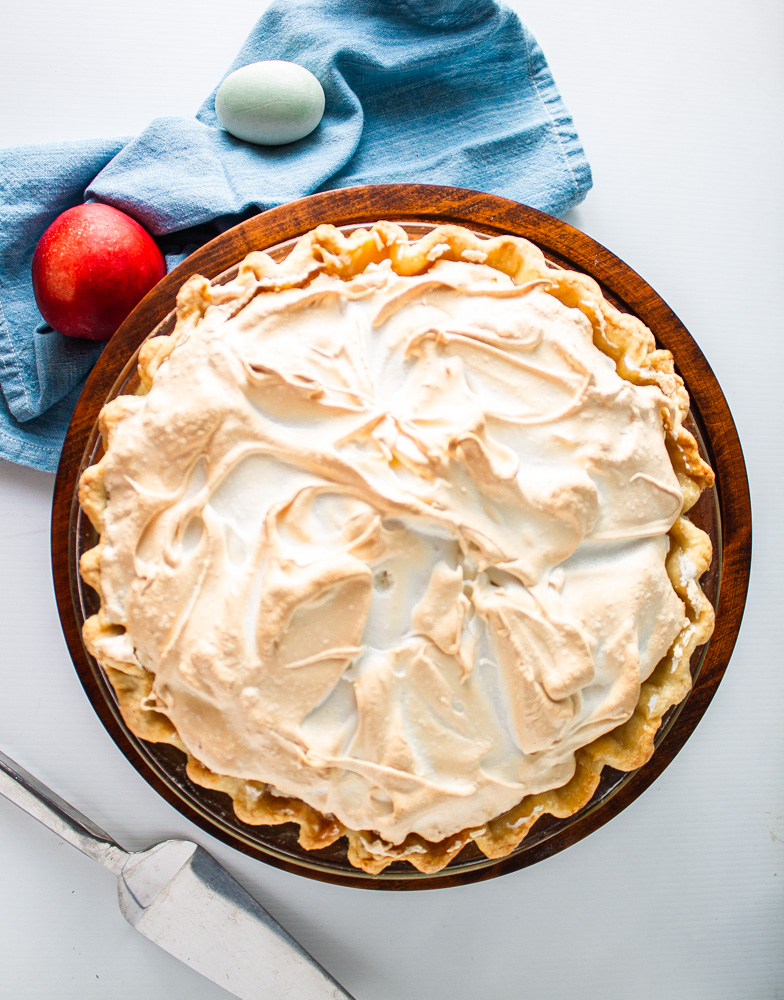 Like the strawberry bars I did this spring, I wanted to mix up some standard recipes with more seasonal ingredients. And apparently not everyone likes lemon bars or lemon meringue pie (those people are rather odd, but whatever), so why not make a fun alternative for them? And I just like to push myself to be inventive.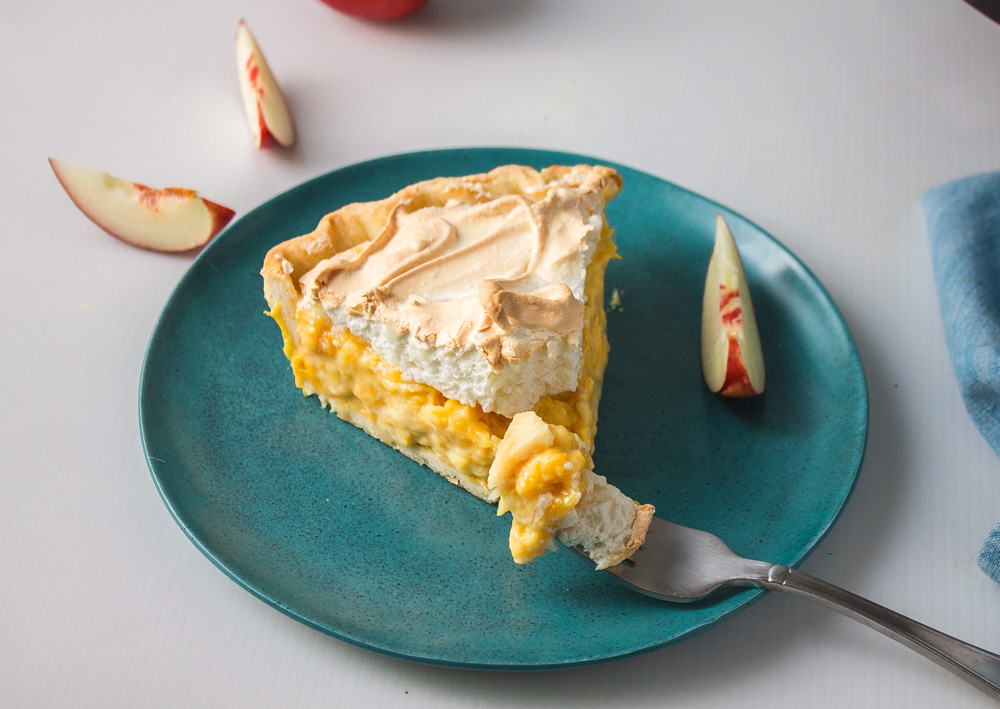 I have made this with combinations of just nectarines and peaches (white and yellow) and in conjunction with cherries. I really like the addition of cherries, but it is entirely dependent on what you have a plethora of. If you do use cherries or plums, I suggest 1 part of them to 2 parts peaches and nectarines to balance the water content/sweetness.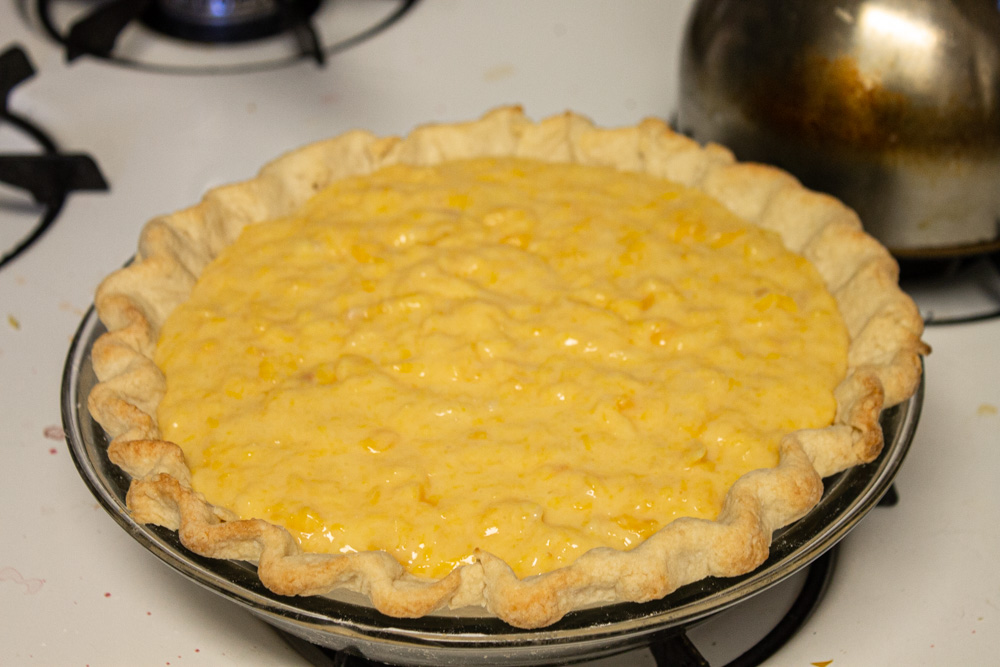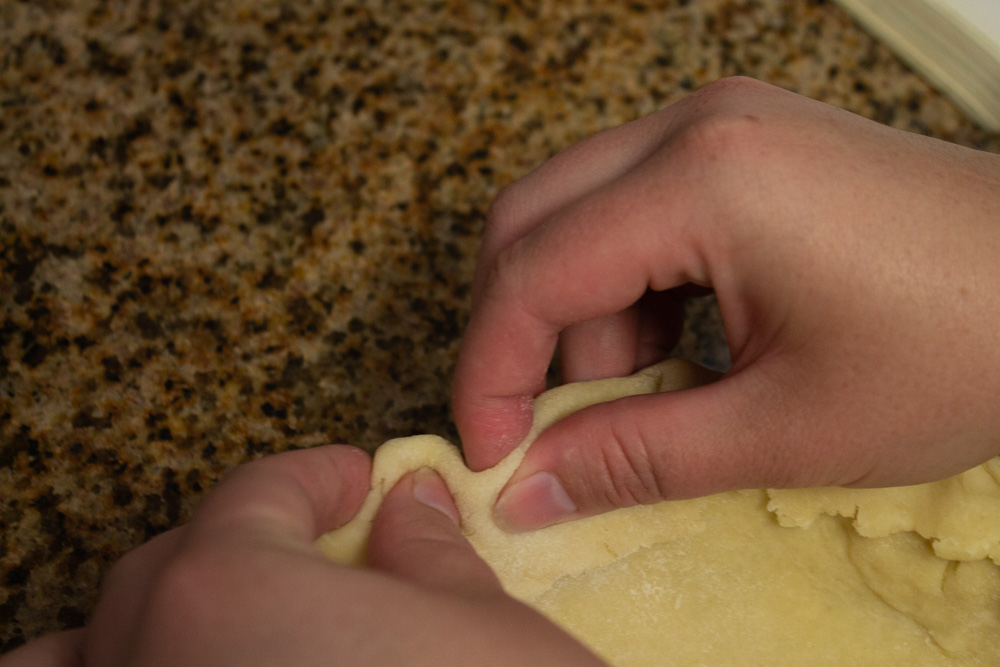 The Dash of Science
Today's science isn't so much about the food itself as the tools. I've lightly covered a lot of the principles that are used here previously: cold butter for flaky pastry and whipping egg whites. I have yet to get to thickening with egg yolks or corn starch, but that will be for some other time. If you can't wait, Not So Humble Pie has a good overview (using a lemon meringue pie!). Or for the even more in depth analysis, Food Crumbles discusses egg yolks in relation to lemon bars and cornstarch custards.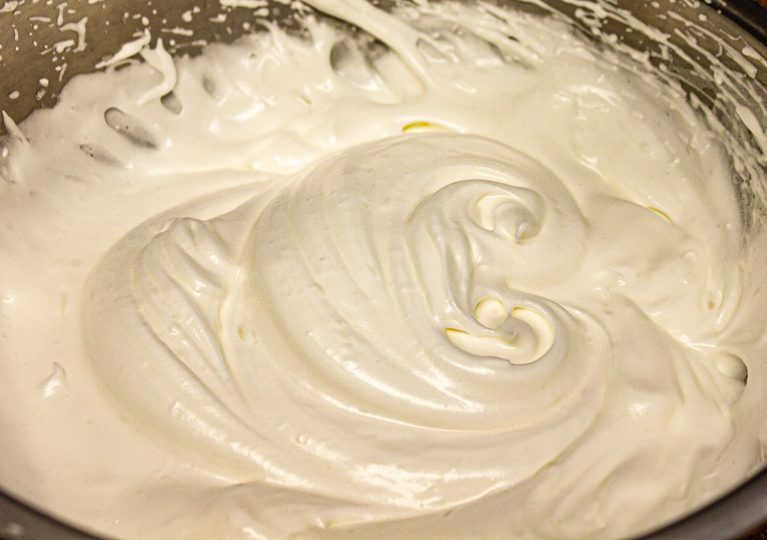 But one of the fun extras – not critical, but makes things easier – of whipping egg whites and creating similar emulsions is copper. No need for cream of tartar when you get the extra ions (negatively charged particles) from the (seriously) minute amounts of copper that fleck off from the bowl when the whisk hits it. But really, don't worry about ingesting copper, it is truly a tiny amount. Just think – if it weren't, your bowl would wear away. I got my copper bowls from ones my grandmother had. Trust me, they don't get thin. Not So Humble Pie has a hilarious chart on the relative efficacy of bowl materials on egg whites from back in the day (I miss her blog, I hope I'm able to pick up a bit of where she left off combining innovative food and science).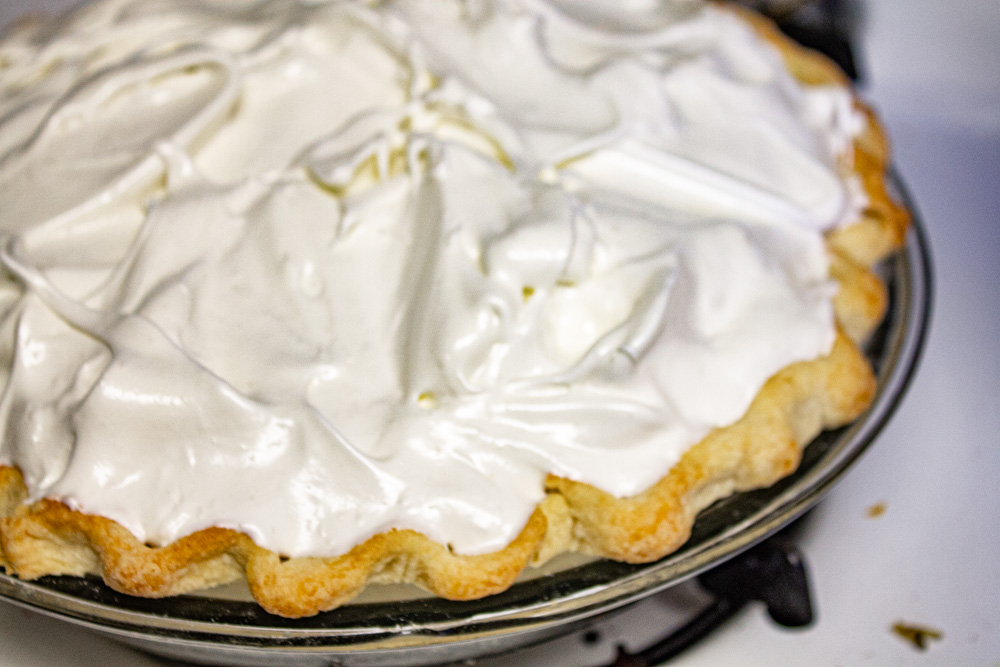 But copper does tarnish. That unsightly dark colour impeding your view of the bright, beautiful copper (yes, I'm having fun being silly, shush) is also bad for your emulsion. Basically, in the copper oxide, the ions are already attached to other molecules and so aren't free to help stabilize your egg white proteins. Also it flakes off and tastes bad. But the solutions is easy: lemon and salt. Cut a lemon in half, sprinkle some salt on it and rub it on the bowl. Rinse and you are ready to use your bowl. The acid from the lemon helps dissolve the copper oxide and the salt helps with this and acts as mechanical abrasion to scrap any extra off. Just look how clean the bowl is after one swipe.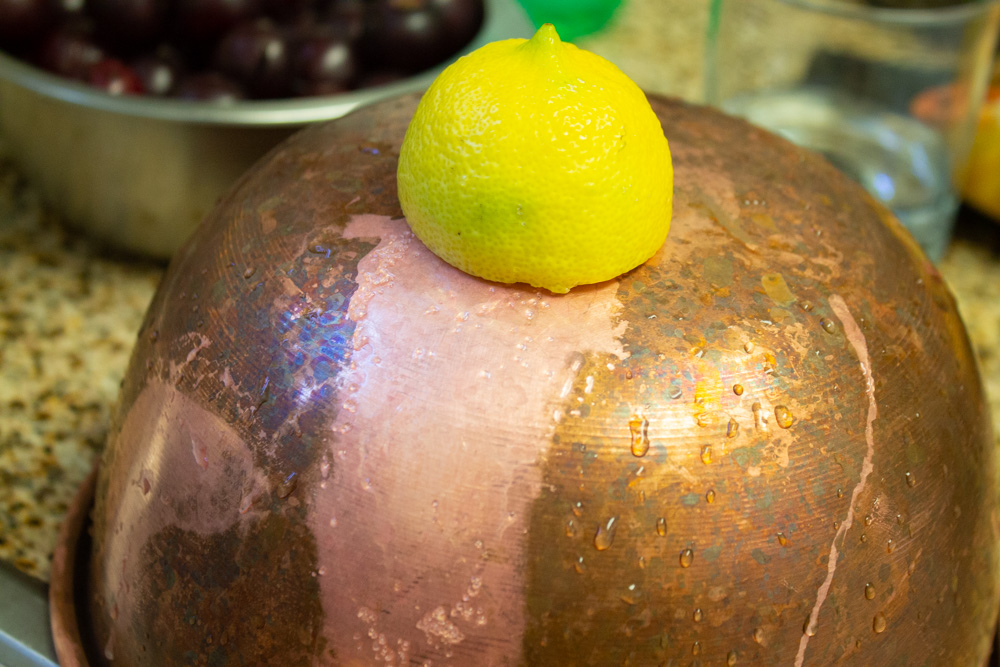 But basically, if you beat a lot of egg whites, copper is worth it. And it's fun to see it go all shiny.
Free Shipping on All Orders of $59 or More with Code SHIPFREE at SurLaTable.com!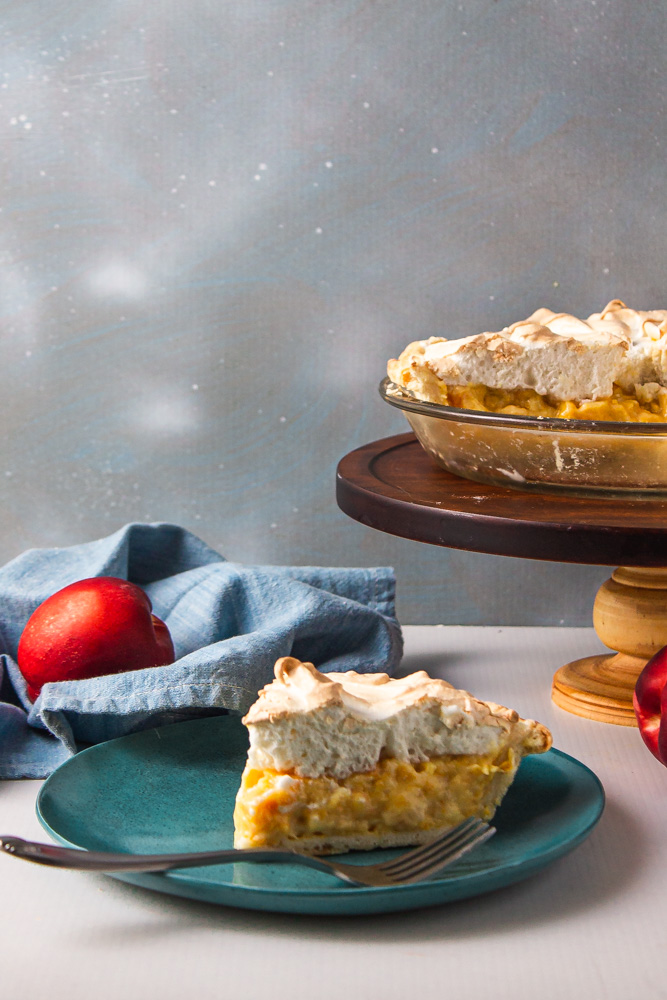 Stone Fruit Meringue Pie
A variation on the classic with mixed stone fruits for the curd in a short crust pastry shell and topped with lots of meringue.
Ingredients
Pastry
1 ¼

c/150g all purpose flour

2

tbs/25g granulated sugar

6

tbs/90g butter

frozen

¼

tsp

salt

¼

c/60ml water
Filling
2

lb/900g mixed stone fruit

peaches, nectarines, cherries, apricots, plums*

4

tbs/60g butter

¼

c/60ml lemon juice

4

egg yolks

¼

c/50g granulated sugar

4

tbs/28g cornstarch
Meringue
4

egg whites

room temperature

½

c/100g granulated sugar
Instructions
Make pastry
Combine flour, sugar, and salt in a large bowl. Grate frozen butter into dry ingredients.

Work butter into flour using your fingers until coarse (butter pieces should be still defined).

Cut water into pastry with a knife or pastry blender until a shaggy mass forms. Bring together with your hands and form into a disc. Cover in plastic and chill for at least 30 minutes.
Start filling while pastry is chilling
Blanche and peel any nectarines, peaches, or large plums by cutting a X into one end and submersing in boiling water for 30 seconds followed immediately by cold water. Pit any cherries or smaller fruit.

Chop fruit into small pieces and add to a med-large sauce pan with lemon juice and butter.

Cook down for 20-30 minutes on med-low heat, stirring regularly. Use a spoon to squash any larger pieces of fruit against the side of the pan as they soften.
Blind bake pastry
Roll out dough until ¼" thick. Drape over a 9" pie pan. Fold the edge back over to create a double layer just on the edge of the pan. Crimp the edges. Prick the base with a fork several times and return to fridge for another 10 minutes.

Preheat oven to 400Line the pastry case with parchment and baking weights or beans.

Bake for 13 minutes. Remove the paper and weights and bake for a further 6-8 minutes until the edges are starting to brown.
Finish the filling while case is baking
Whisk the egg yolks, sugar, and cornstarch for the filling together. Add about ¼ c of hot fruit mixture to eggs. Add egg mixture back into cooking fruit mixture, stirring constantly. Continue cooking and stirring filling until it thickens – it should take about a second to fill back in after you pull the spoon through.

Set filling aside to cool slightly.

Beat egg whites on medium-high in a metal bowl (preferably coppeuntil soft peaks form. Slowly add ½ c sugar 1 tbs at a time, beating well after each addition. Once all sugar is added, beat until stiff peaks form.

Reduce the oven heat to 375Fill blind baked pastry case with fruit filling, spreading to edges. Dollop meringue on top, spreading until touches the edges of the pastry, sealing the filling in. Use a clean spatula to make a few swirls in the meringue.

Bake for 14-16 minutes, until meringue is slightly toasted and browned.

Allow to cool completely before slicing.
Notes
The recipe is loosely based off the Lemon Meringue Pie from The Ultimate Desserts Cookbook edited by Rosemary Wilkinson, but it has been changed a lot.
*Mentioned above, but I suggest 1 part cherries/plums to 2 parts other fruits. And if your fruit is really ripe you might want to reduce the sugar a bit.