A summery salad with flavourful vegetables, crispy chickpeas, and a thick avocado dressing.
This is a very simple, refreshing salad perfect for the beginning of summer. Just enough variety of flavours and textures to enjoy it as a meal but keeping preparation minimal. With the temperatures back up to the 90's where I am, I definitely want easy cold foods for supper. Add a summery shrub cocktail and my evening is perfect (ok, not really, it's still way too warm for me, but I can dream).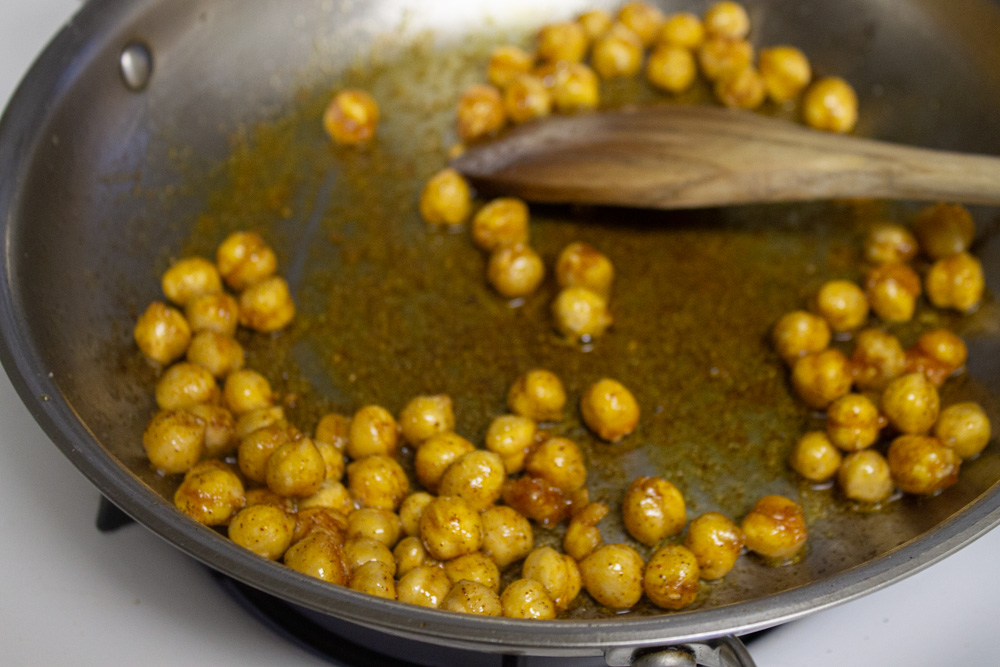 When it comes to cucumbers, I like to use ones that you can eat with the skin on. For one thing, preparation is a lot easier. And I find them to have more flavour. I often get Persian cucumbers, though Japanese are also good. Where I am, you don't often find locally grown English cucumbers, but they would certainly work in this recipe also. And lemon or Armenian cucumbers might be a little too different for this style of salad.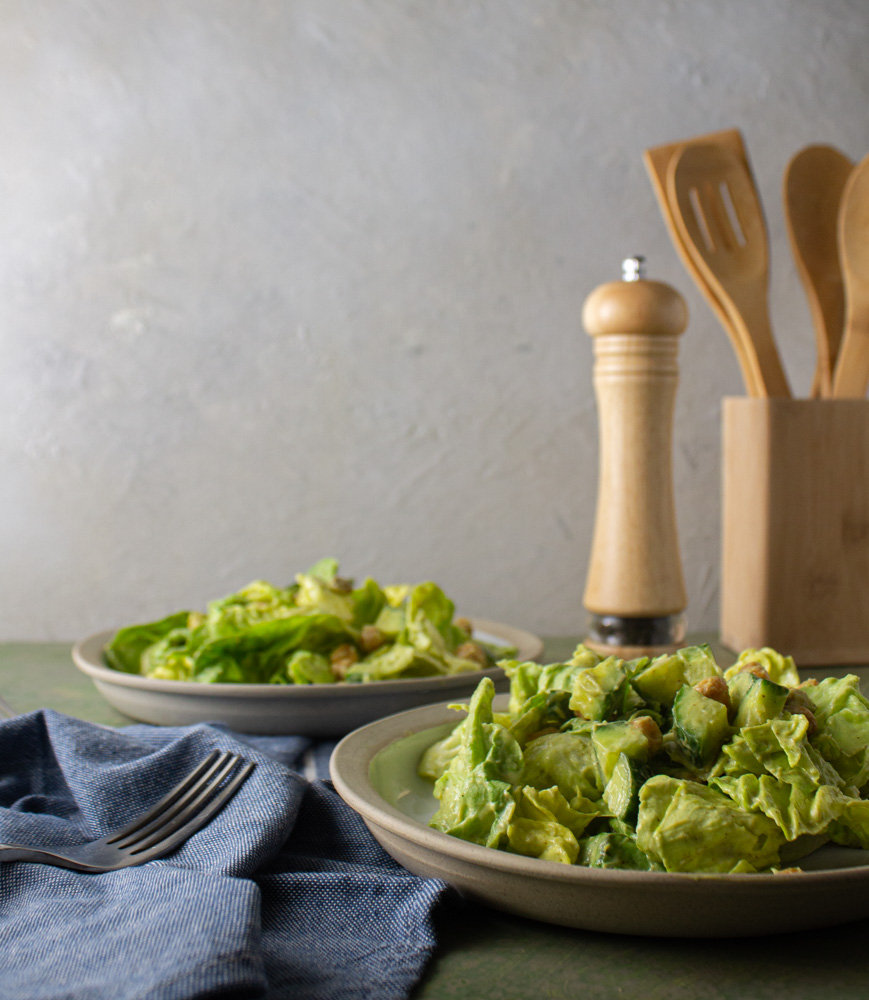 The primary star here is the dressing. It is very thick, so you definitely need to toss it with the salad – it's not the sort of thing you can drizzle on. You can use water to thin it out, but I like also being able to use it as a spread. A slightly Mediterranean alternative to guacamole. Maybe layered with some hummus and grilled vegetables for a nice sandwich…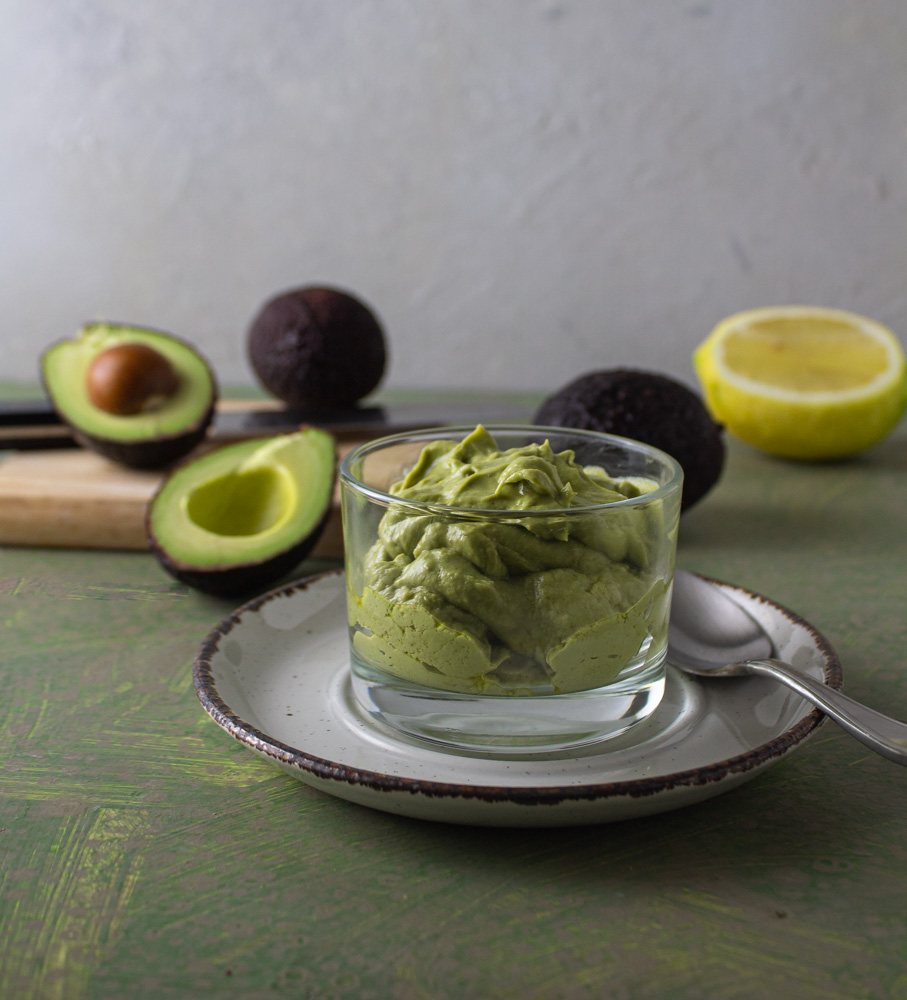 With the beginning of summer I'm really looking forward to even more fresh vegetables from the local farms. (And the sun gold tomato plant in my yard is starting to produce!) It's time to welcome a bunch of new seasonal recipes.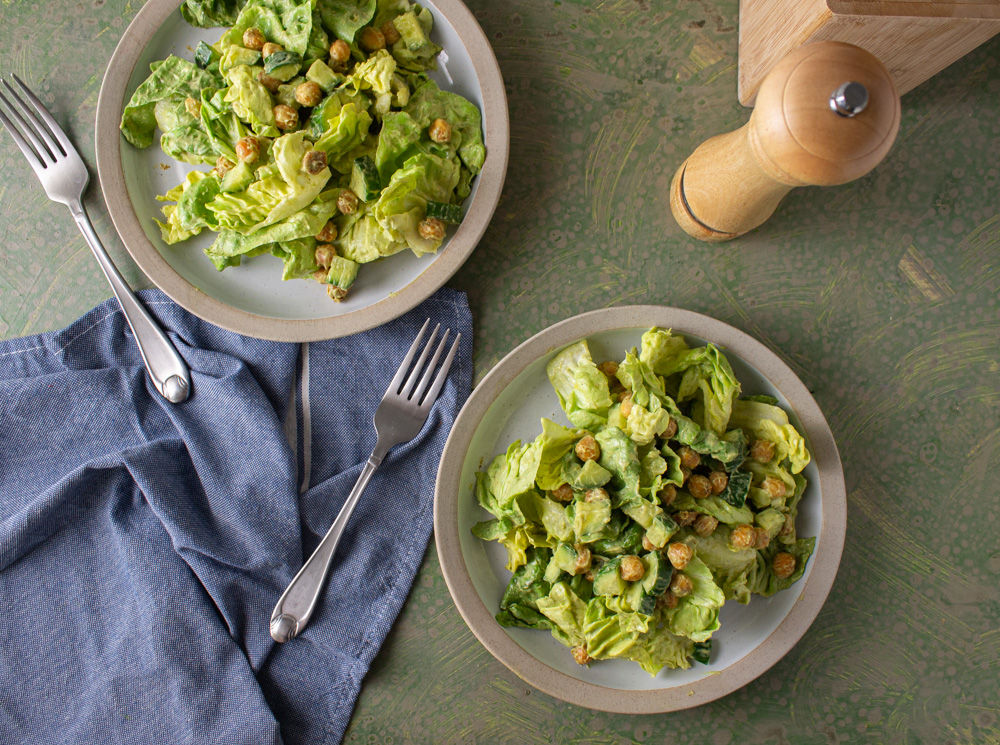 Summer Salad with Avocado Dressing and Crispy Chickpeas
Serves 2 as a main or 4 as a side
Ingredients
Dressing
2

med/340g avocados

pitted

1

tbs/15ml Dijon mustard

2

tbs/30ml lemon juice

½

tsp

ground coriander

¼

tsp

salt

2

cloves/10g garlic

1

tbs/15ml olive oil

2

tbs/30ml water

1

tbs/15ml tahini
Salad
1

small head/275g butter lettuce

washed and dried

6

oz/180g cucumber

thin skinned variety

1

c/200g cooked chickpeas

1

tbs/15ml olive oil

¼

tsp

salt

½

tsp

paprika
Instructions
Combine all of dressing ingredients in a blender or food processor and process until smooth. Add more water until desired consistency is reached.

Cook the chickpeas: Heat 1 tbs olive oil in a pan on med. Add chickpeas, cook, stirring frequently for about 3 minutes. Add salt and paprika, cook for a further 2 minutes until beans are slightly crisp on the exterior.

Cut cucumber into ½" chunks. With small cucumbers, I liked to do ¼ circles.

Tear lettuce into manageable pieces. Toss with cucumber, cooked chickpeas, and dressing.