A free form caramelized onion tart robust with potatoes and brightened with crème fraiche and thyme. Plus the scientific key to perfect caramelized onions with the Maillard reaction.
I have a major fondness for caramelized onion anything. There are several products that Trader Joe's sells/has sold that definitely fall in this category and I have eaten them all with gusto. Even though it's summer, there are such wonderful (huge) onions at one of the farm stands that I had to make something. Besides, summer is a good time to have a tart in the fridge that can be quickly sliced and served with a salad for an easy supper.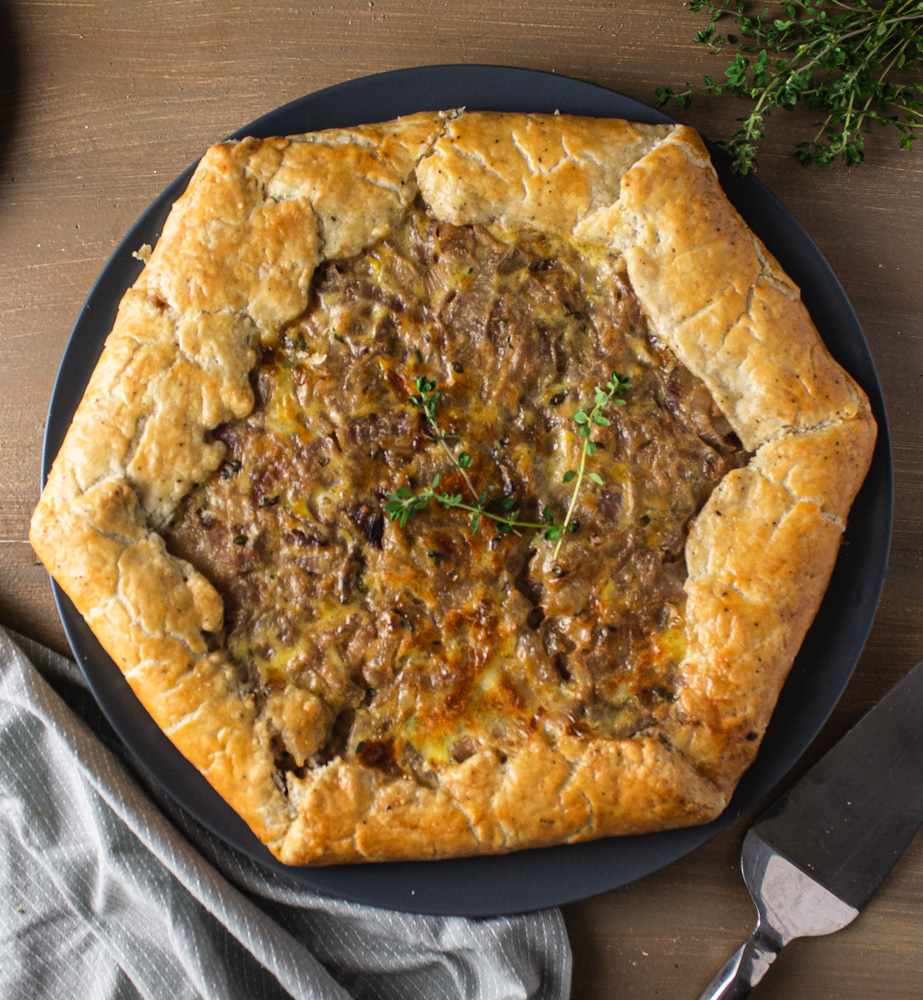 One of the great things about farm stands is that the produce isn't the perfectly standardized pieces that you always see in the grocery stores. For one thing I got this 1 kg onion. Seriously, it did actually fill both my hands.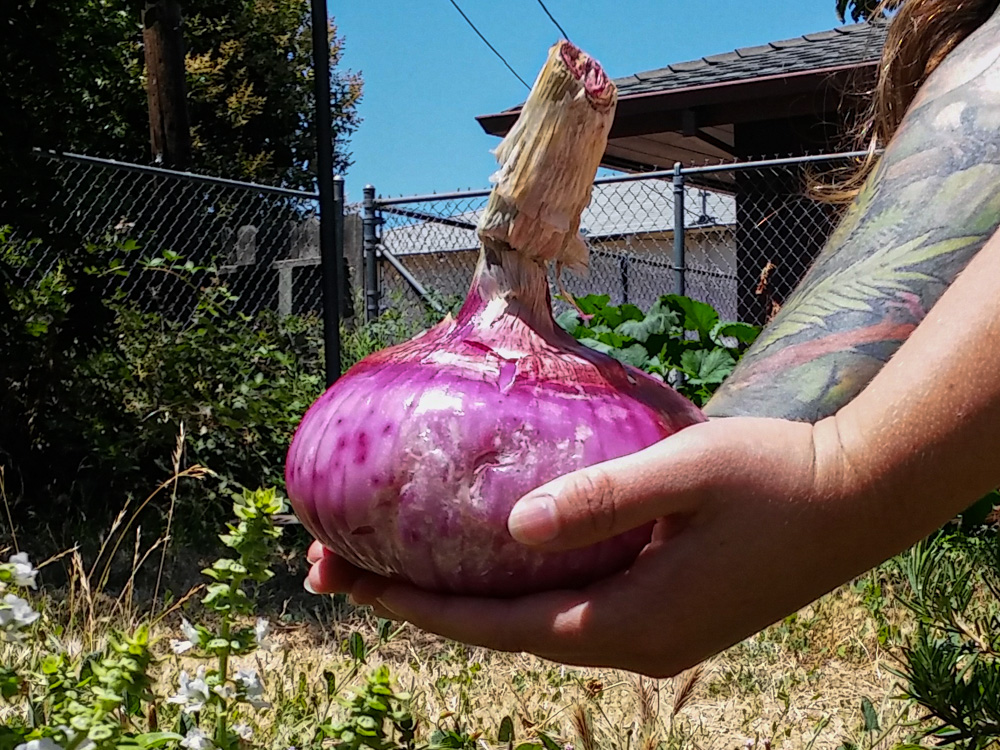 And a Dash of Science (or maybe more than a dash)
But on to the fun part – the science behind browning protein containing foods (as opposed to caramelizing which is purely sugar based) is the Maillard reaction. Both reactions result in darker colours and change the structure of the sugars, but the Maillard reaction increases the perceived sweetness of the end product. In the Maillard reaction, the amino acids (in the proteins) react with sugars – catalyzed by heat – which form aromatic compounds and melanoidins ("dark compounds" – knowing your Greek etymology makes everything sound less fancy).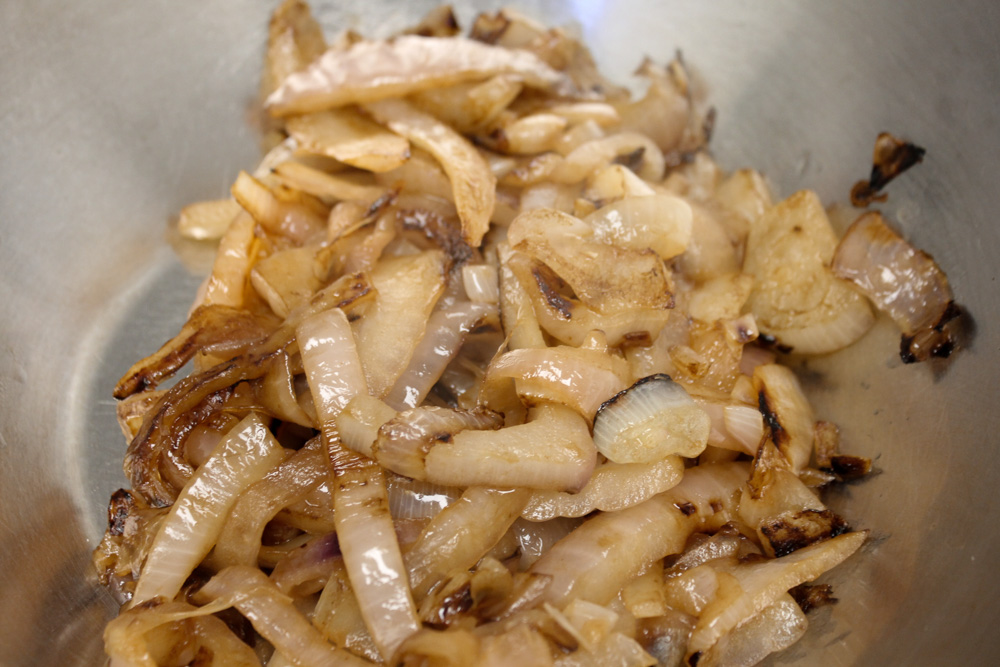 Very high heat results in pyrolysis which is just burning/blackening (there's that Greek again) before the Maillard reaction can occur. At high heat, you have to be stirring very frequently to prevent the individual components from having too much contact with direct heat. At lower heats, the reaction takes longer but is more evenly achieved. The other thing that helps "evenly distribute" the reaction throughout your food is baking soda. The more alkaline/basic environment facilitates the reaction. You can easily test this by making two batches of caramelized onions – add 1 tsp of baking soda to one and see how that pan ends up with a more even product. As duct tape is the solution to repair anything, baking soda is the magic ingredient in the kitchen (at least when it comes to the chemistry).
I've been very superficial with the Maillard reaction. If you are interested in more of the details, Food Crumbles has a very in depth chemistry discussion. Since I've discussed the chemistry behind flaky and tender pastry before, I won't bore you with it, but it is worth noting the process of cooking pastry also relies on the Maillard reaction…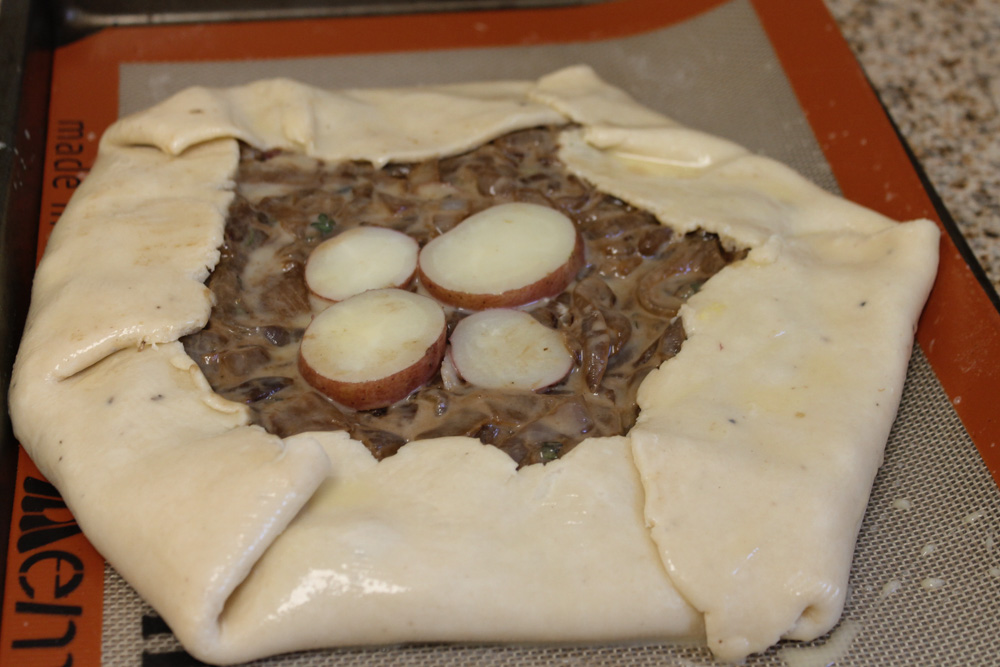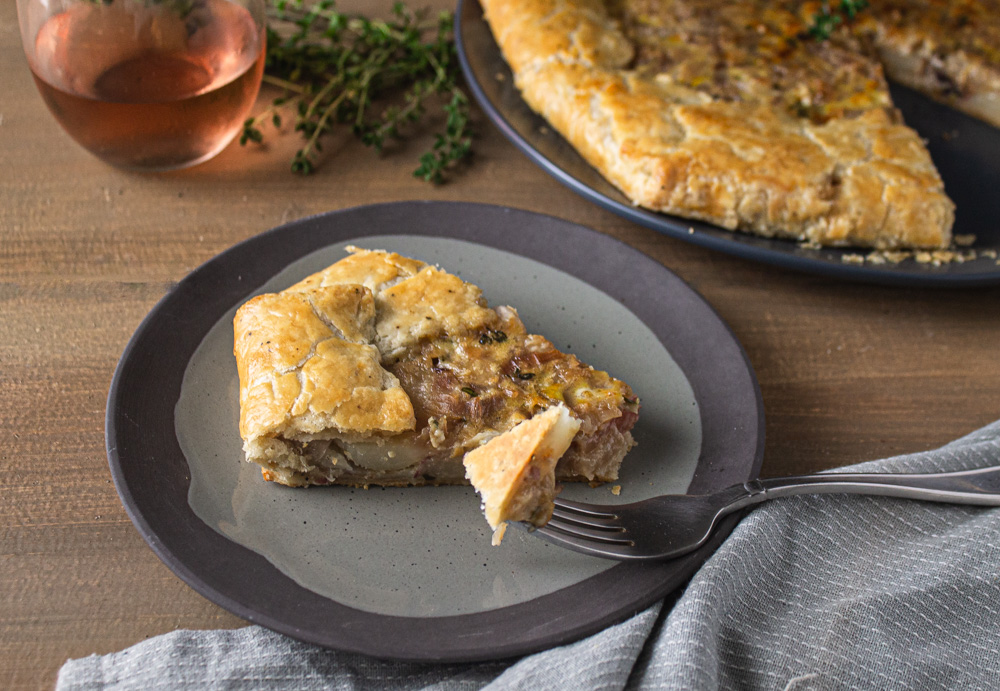 Onion Potato Tart
Ingredients
Pastry:
½

c/115g butter

cold and cubed

1 ½

c/245g all-purpose flour

¼

tsp

salt

½

tsp

ground pepper

¼

c/60ml cream

¼

c/60ml water
Filling:
2

tbsp/30g butter

2

large onions/1 kg

slice in ¼" thick semi-circles

10

oz/300g small creamer potatoes

cut in ¼" thick rounds

4

tbsp/60ml crème fraiche

1

tbsp/4g fresh thyme

½

tsp

salt
Instructions
For the pastry:
Combine flour, butter, salt, and pepper in a food processor. Pulse into coarse crumbles.

Add cream and water. Pulse until a dough forms and pulls away from the walls of the food processor.

Form into a flat disc, cover with plastic wrap, and chill in the fridge for at least 30 minutes.

Steam potatoes until just starting to tenderize – a sharp knife can be inserted. Set aside to cool.

Melt 1 tbsp butter in a pan on medium-high. Sauté onions until caramelized, stirring frequently, about 10-15 minutes depending on size of pan (it is a lot of onions).

Add crème fraiche, thyme, and salt to onions, tossing to combine. Set aside.

Preheat oven to 375F.

Roll out dough on a lightly flour surface. Roll to ¼" thick and about 18" around.

Assemble on a lined baking sheet: Place dough on sheet. Place potato rounds in a 9" circle on the center of the dough disc. Reserve 3-4 rounds for the top of the galette (optional).

Spoon the onion mixture on top of the potatoes, spreading evenly.

Fold the bare edges of the dough over the filling, giving the galette five or six edges.

Place the remaining potato slices in any desired pattern on top of the onion mix if desired.

Whisk water and egg together. Use a pastry brush to glaze the exterior of the dough and drizzle the remaining egg on the filling.

Bake for 35-45 minutes until the crust is golden and the filling is bubbling slightly.

Allow to cool for 10-15 minutes before serving. Also does well at room temperature.