This cherry mascarpone ice cream has a mild, fresh fruit flavour that balances with the cheese for a sweet, creamy treat.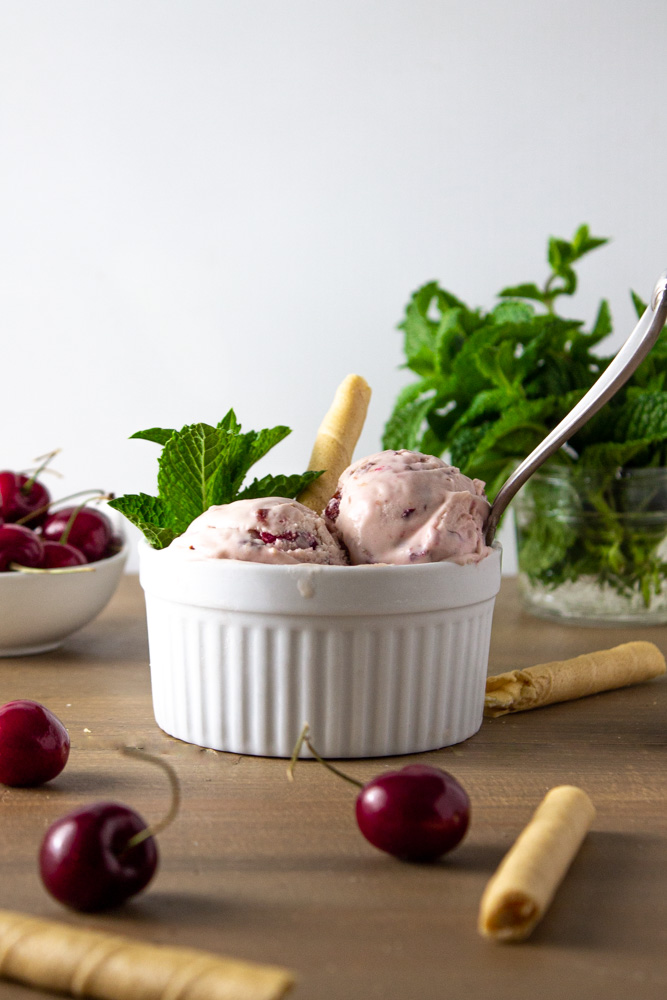 When I was first thinking of what to do with cherries, I was a little stumped. I've done a lot of baked goods and drinks recently, so I wanted to provide you something different. But a straight forward cherry ice cream would never be my style of course. I started with ricotta as the flavour variant, and well, it didn't work so well. It tastes just fine, but I couldn't get a good creamy texture from it. Which is interesting in its way, but not what I wanted. And mascarpone is always a nice blend.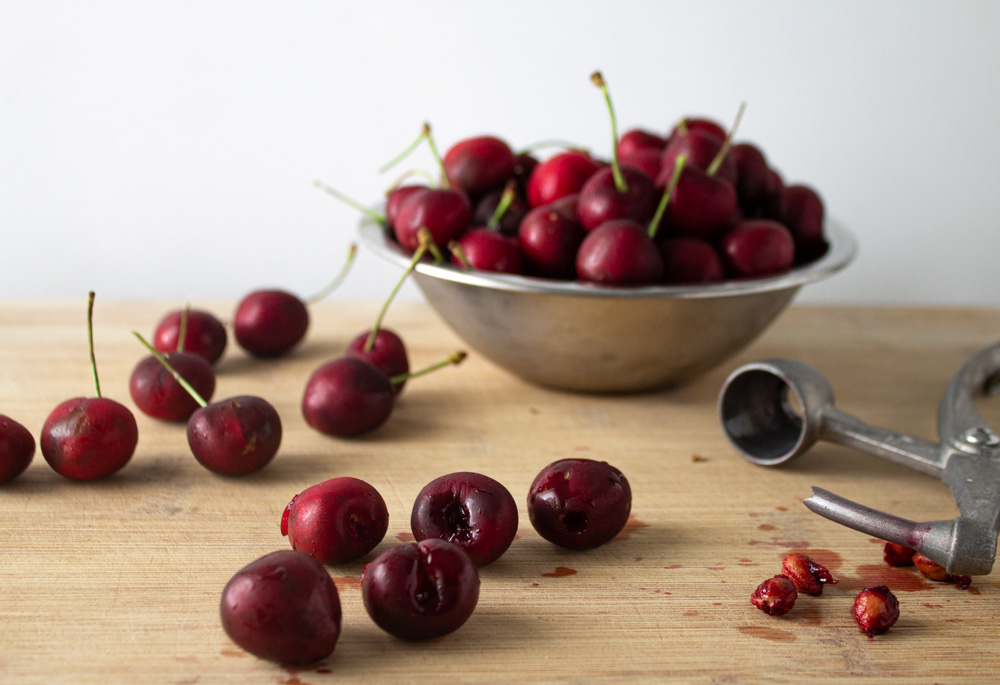 I think a cherry pitter is a very important tool in summer. Yes, it has very few alternate uses and so is one of those things that people without a lot of space might disregard. But it makes such a difference when you have one. But you definitely want a lot of towels around (and to wear dark colours) while using it, because you will probably end up with counter that looks like an episode of Dexter. Dyson (my kitchen clean-up crew) ended up with some red splatters on his mostly white snout.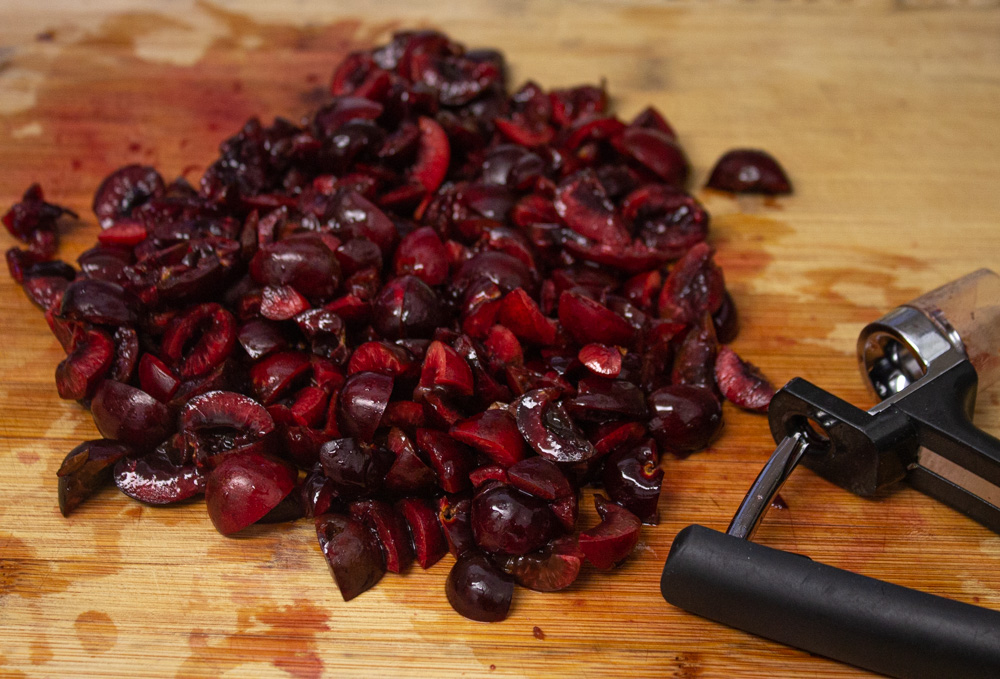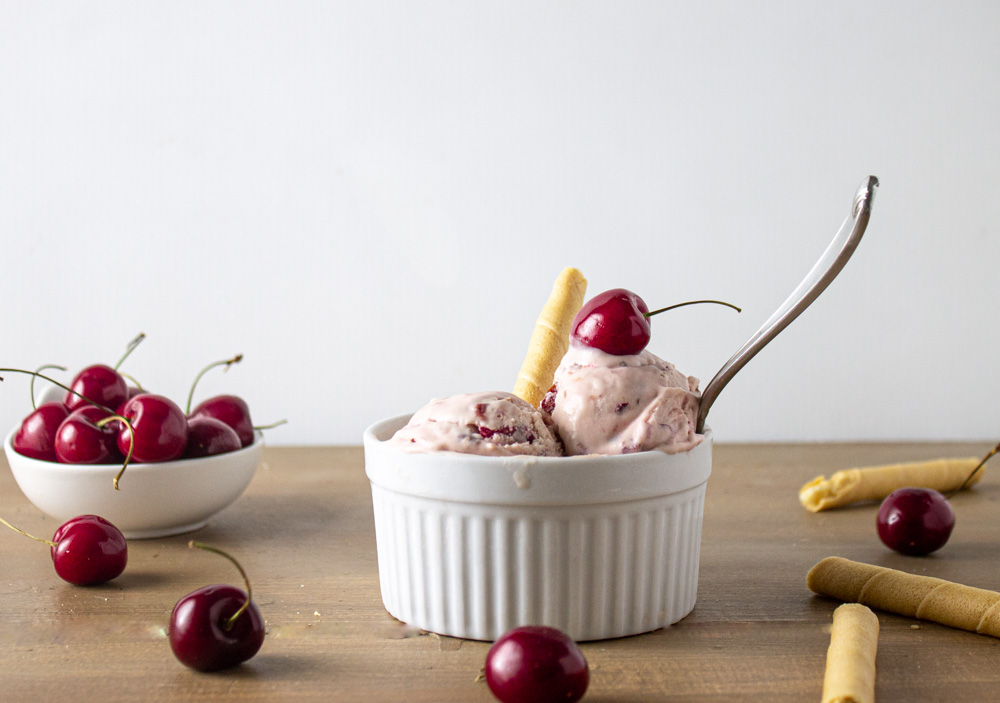 Really Just a Dash of Science This Time
Macerating the cherries with sugar prior to freezing serves several purposes. For one, it helps distribute part of the flavour to the cream without being too intense or cooked. The sugar also serves an important chemistry function by drawing out some of the water from the cherry flesh, preventing it from becoming too icy during freezing. This keeps your ice cream from having too many ice crystals (sugar lowers the freezing point of water) or large frozen chunks of cherry. With less water in them, they are just slightly frozen pieces of fruit with lots of flavour.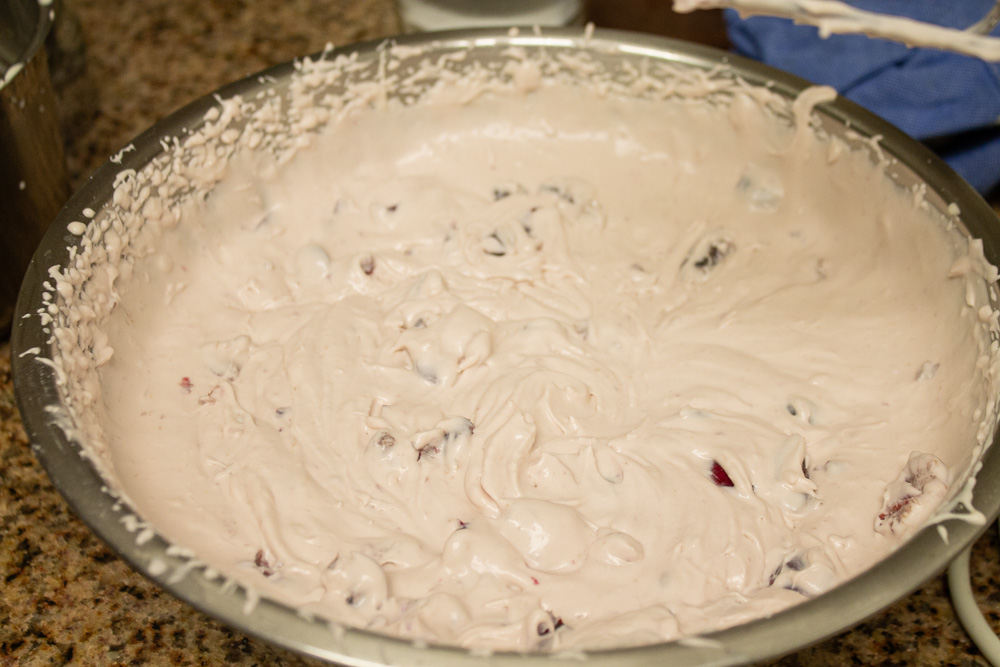 This recipe is adapted from Gastro Senses Balsamic Strawberry and Mascarpone Ice Cream. It is originally written without the use of an ice cream maker, but given that I have one, I like to use it so I get the creamiest texture. Given that the original recipe is done simply in the freezer, you most likely could get away with it. But it might be helpful to add the extra egg yolk the original recipe calls for. Increasing the fat in the custard will also decrease the potential for large ice crystals.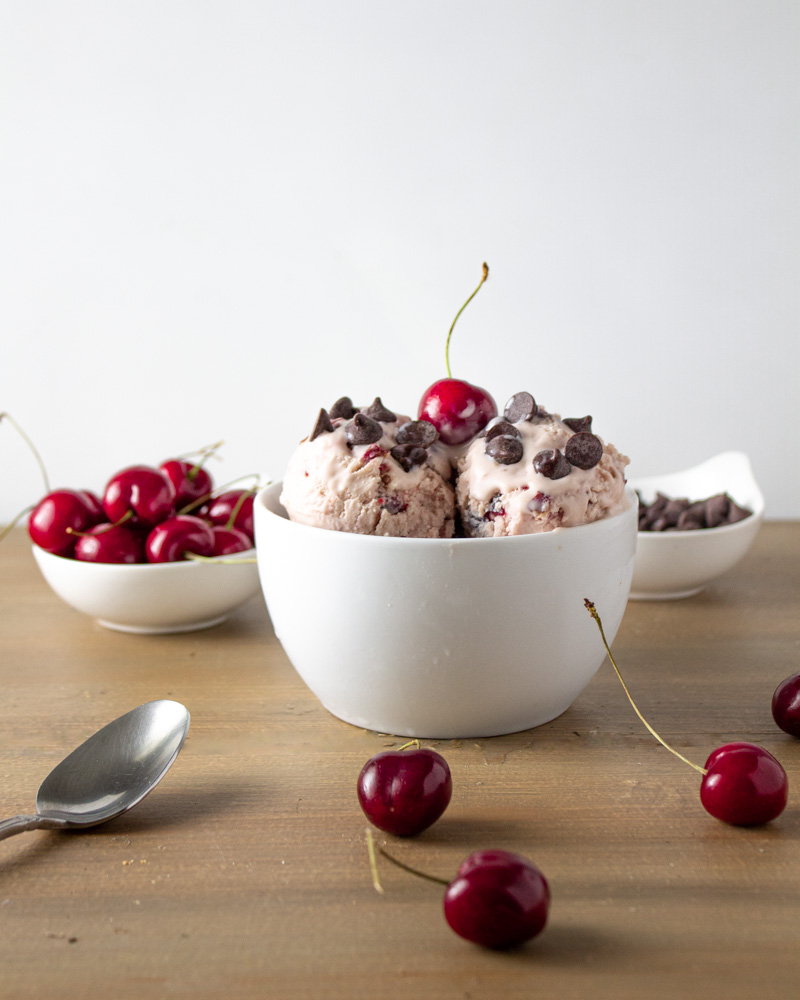 Cherry Mascarpone Ice Cream
Ingredients
1

lb/450g cherries

pitted

1

tbs/15ml lemon juice

2

c/475ml heavy cream

2/3

c/140g granulated sugar

2

egg yolks

8

oz/225g mascarpone

½

tsp

salt
Instructions
Chop cherries into coarse pieces (1/4 pieces or smaller). Blend with 1/3 c sugar and lemon juice. Cover and set in fridge to macerate.

Whisk egg yolks with 1/3 c sugar until pale yellow ribbons. Heat 1 c cream in a sauce pan over med until not quite simmering.

Add ¼ of the cream to the egg yolk mixture while whisking constantly. Pour egg mixture back into hot cream slowly while stirring constantly. Continue stirring until custard starts to thicken.

Remove from heat, cover with plastic wrap pressed to surface to prevent a skin forming and chill until room temperature.

Beat remaining 1 c cream with mascarpone and salt until smooth (but not truly whipped). Add in custard and macerated cherries (including all liquid). Beat until completely combined and cherry pieces are distributed.

Chill according to your ice cream freezer's directions.
Notes
Adapted from recipe by Gastro Senses.