Tender, flaky scones with slightly caramelized spring onions and sharp cheddar.
Everyone needs a good scone recipe. Something that is a good base for whatever your preference in scones is – crumbly or flaky (my preference is flaky). And once you have a good base you can add anything to it (if you even need to).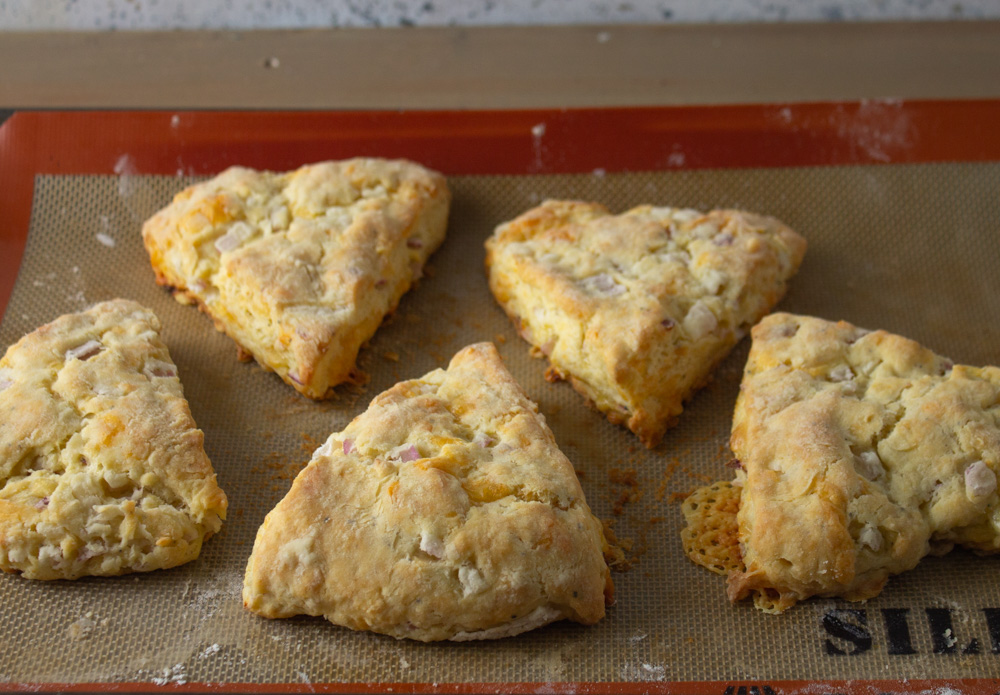 I don't remember where I got my scone recipe from. I think I started basing it on something from The Joy of Cooking years ago, but I know it's adapted since. Many recipes that include cream do not have eggs, but I like both. The eggs add a nice lightness to the scone and of course the cream keeps everything very tender (or "short" as I wrote recently). Lots of spots to absorb more melted butter!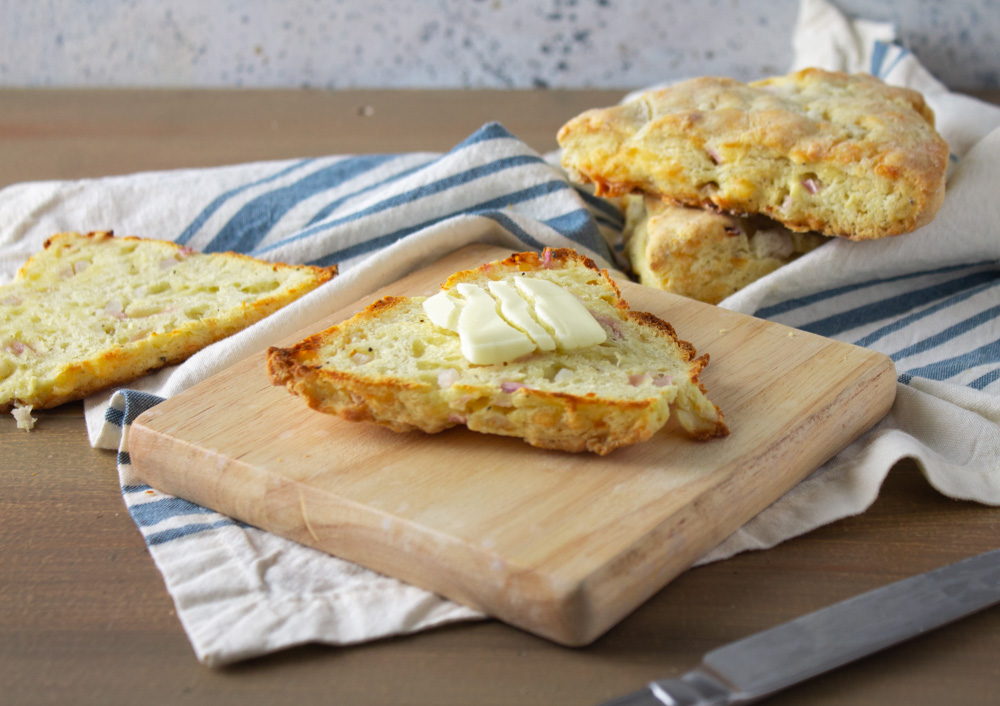 My onion and cheddar came out of one of those what-I-have-in-fridge moments. I originally did these earlier in the spring when my onions were true spring onions, but the nice plush, fresh onions I got at the farm stand for the photographs cooked very well. They add just a hint of sweet caramelization to balance the sharp cheddar.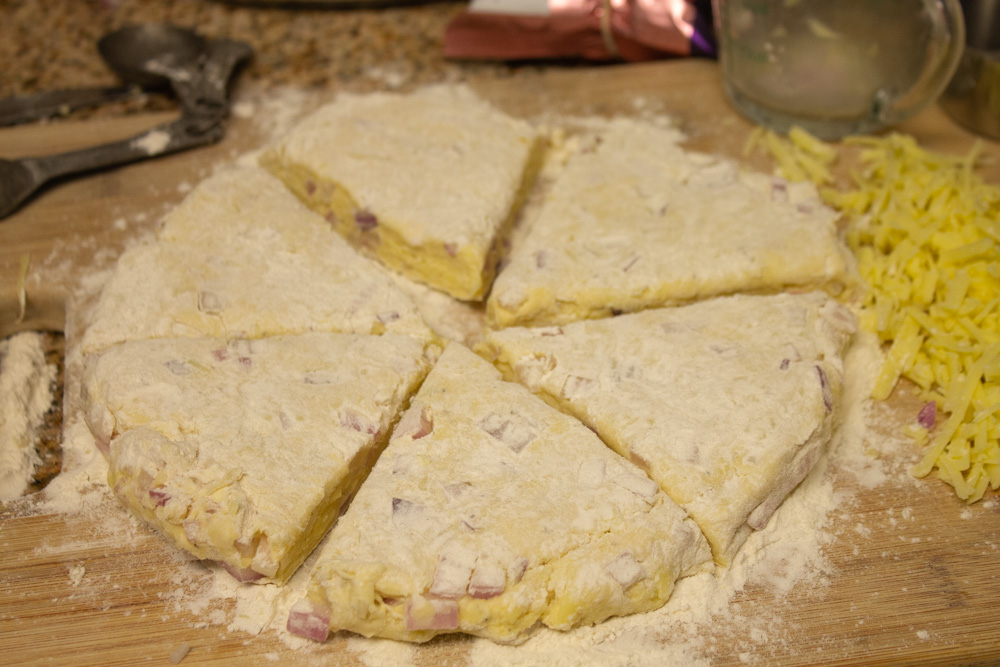 I've discussed my method for grating frozen butter previously as a way to create great flakes in pastry. It's also very useful if you tend to store your butter in the freezer and need to bring it to room temperature quickly. Just grate it into the bowl and let it sit for a few minutes. And of course it makes a very flaky scone.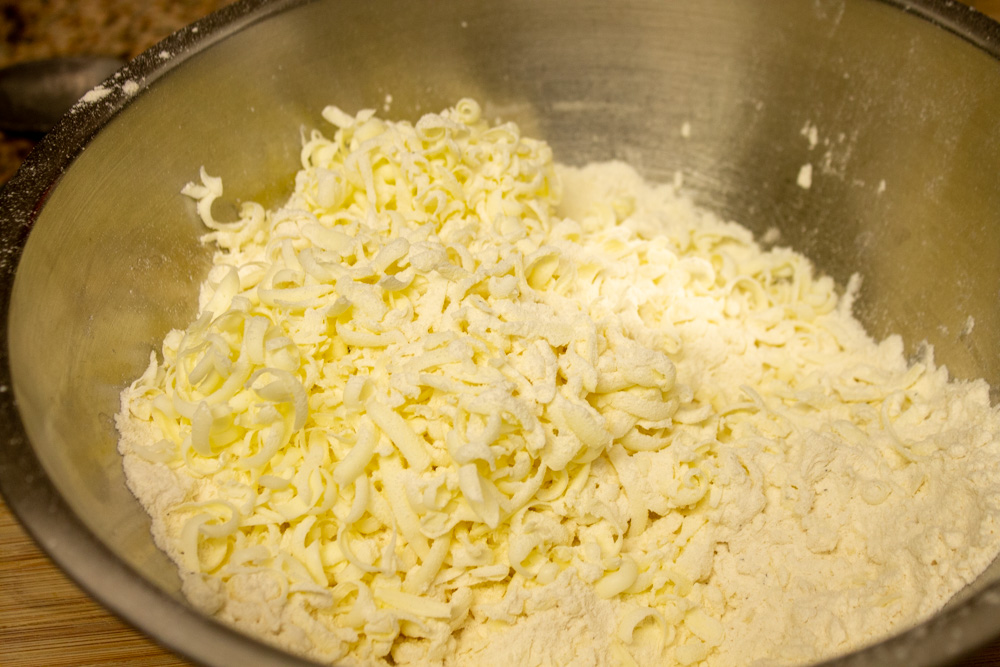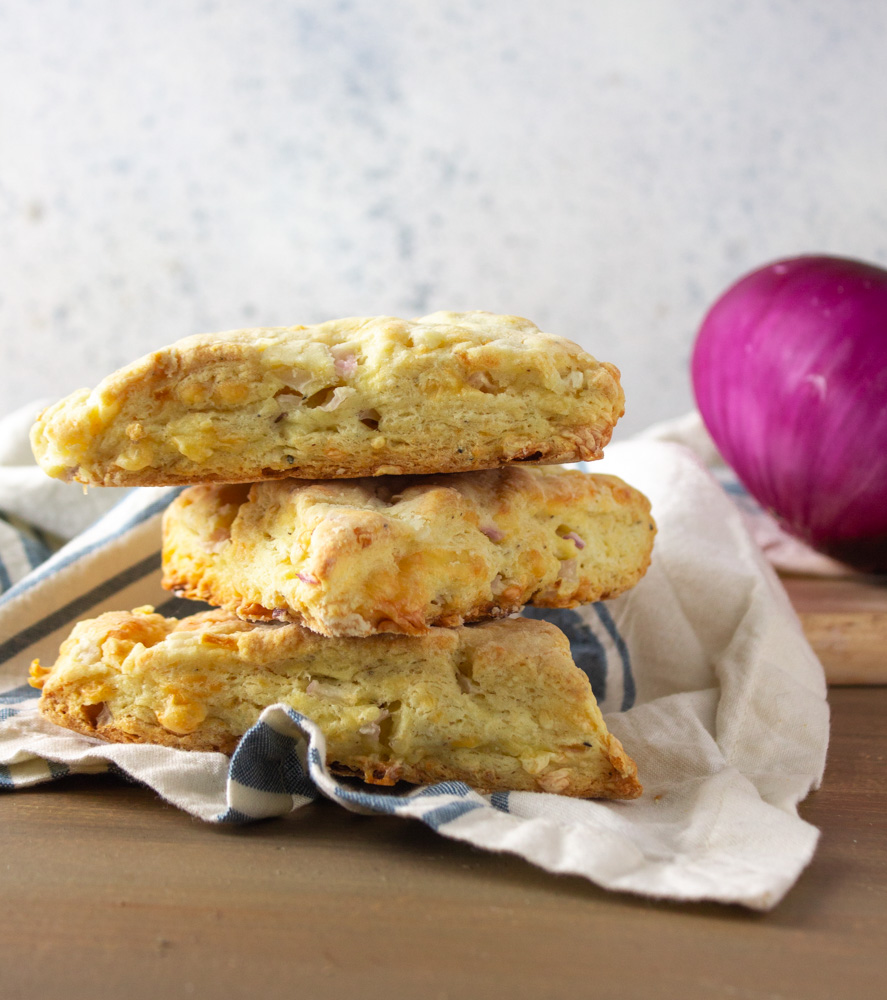 Onion Cheddar Scones
Ingredients
1 ¾

c/210g all-purpose flour

½

c/115g butter

frozen and grated

2

eggs

1 ½

tsp

baking powder

¼

tsp

salt

¼

tsp

ground pepper

1/3

– ½ c/80-120ml cream

1

c/140g finely diced spring onion

1/4 large

1

c/100g grated sharp cheddar
Instructions
Preheat oven to 350F.

Combine flour, baking powder, salt, and pepper in a bowl. Work grated butter into dry ingredients with finger tips until coarse.

Create a well and add the eggs to it, whisking them together, slowly incorporating the pastry mixture until just combined.

Add 1/3 c of cream and cut into pastry. Add more cream as necessary until dough forms a shaggy mass.

Bring together into a ball using your hands and flatten into a circle ~1" thick on a lightly floured surface.

Cut into 6 equal segments. Place on lined baking sheet and bake for 30-35 minutes. Serve warm.