Fresh tomatoes and cucumber highlight these chicken lettuce wraps with Asiatic flavours. Perfect for summer appetizers or eat several as a light meal.Summer fruits and veggies draw me to an over abundance of salads and desserts, so I felt like I needed to expand my offerings and make myself be a little more creative for you. Ok, so I suppose lettuce wraps aren't particularly creative, but they are a convenient appetizer (or meal) for summer and it's always good to have a recipe for them. Mainly, I wanted to use the sun gold tomatoes from the garden. Aren't they pretty?
For those who don't follow my Instagram account, here's another picture of the sun golds and some garden squash blossoms. Have you eaten sun gold tomatoes? They are deliciously sweet.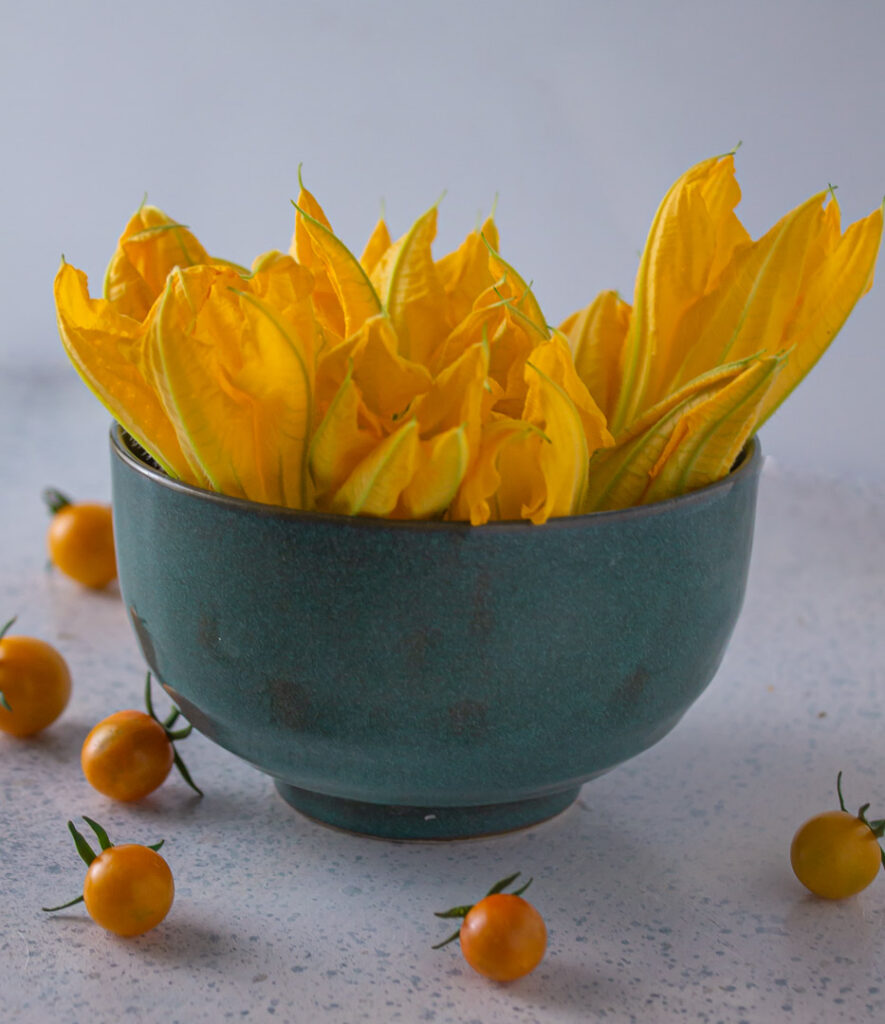 Bean thread noodles are a good way to bulk out a salad or other Asiatic vegetable dish. While a low-flavour starch like white rice (and good for absorbing sauces), they don't have the same fall-out-of-the-wrap problem as you would. But unlike rice, they contain almost no protein being purely starch based. So you'll want to add a protein source if you are using these as a meal (like I do). I chose chicken since my husband is not particularly a fan of tofu, but you could easily replace it here.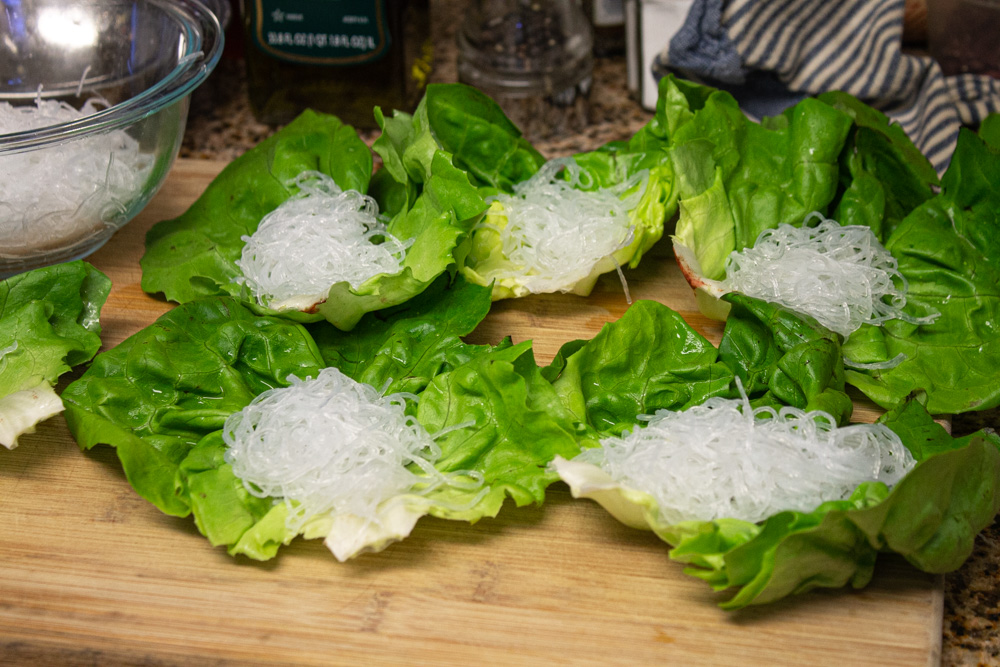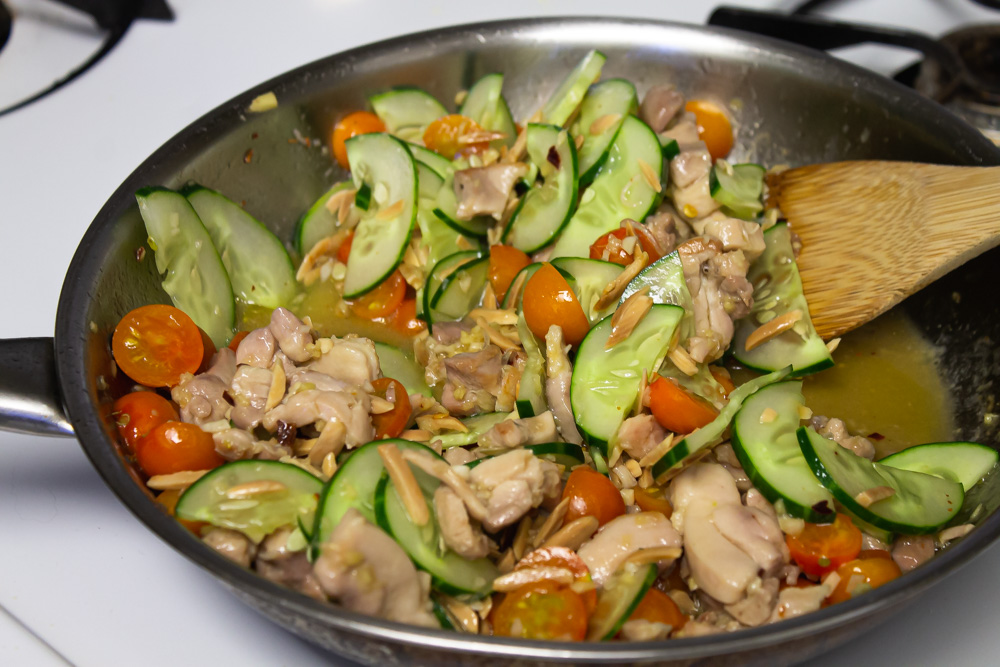 I've vaguely alluded to it before, but I eat everything I photograph (or find someone else to). This means I often make a meal out of appetizers or sides. Often if I describe a salad as being a side for two people, it means I ate both portions as my meal. This does mean that you can be sure there are no non-edible ingredients or additions to my photographs. In learning photography I've heard people recommend some of these kinds to create perfect food photos, but I would rather have an imperfect photo and not waste the food after. My tomatoes may not glisten the same way, but they sure are tasty!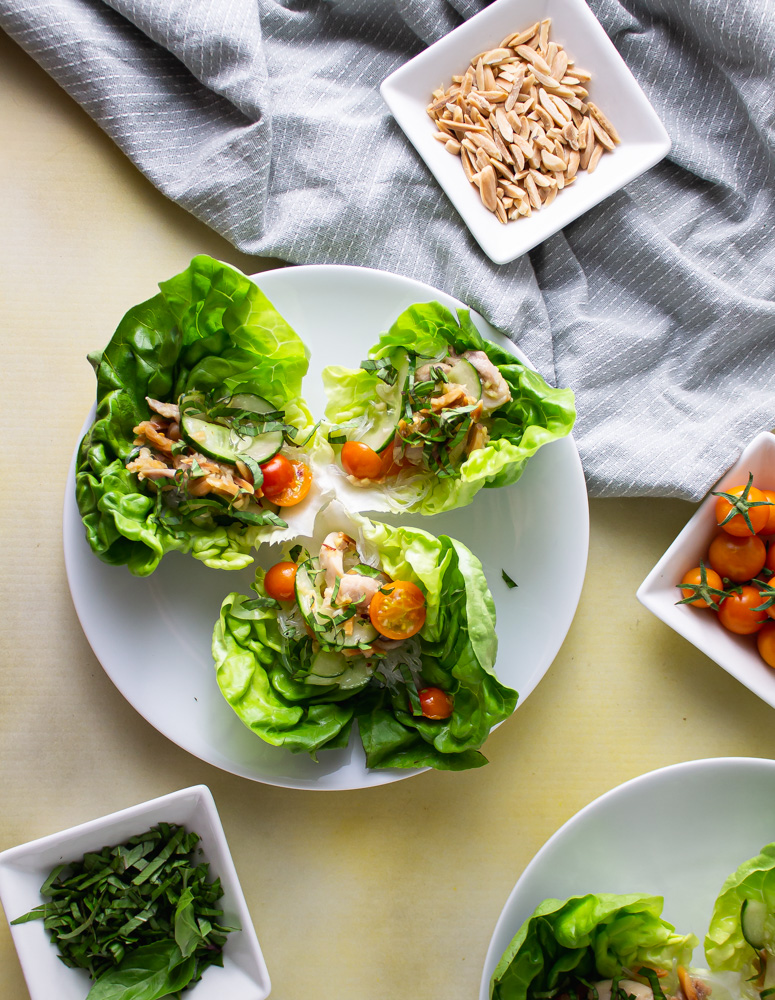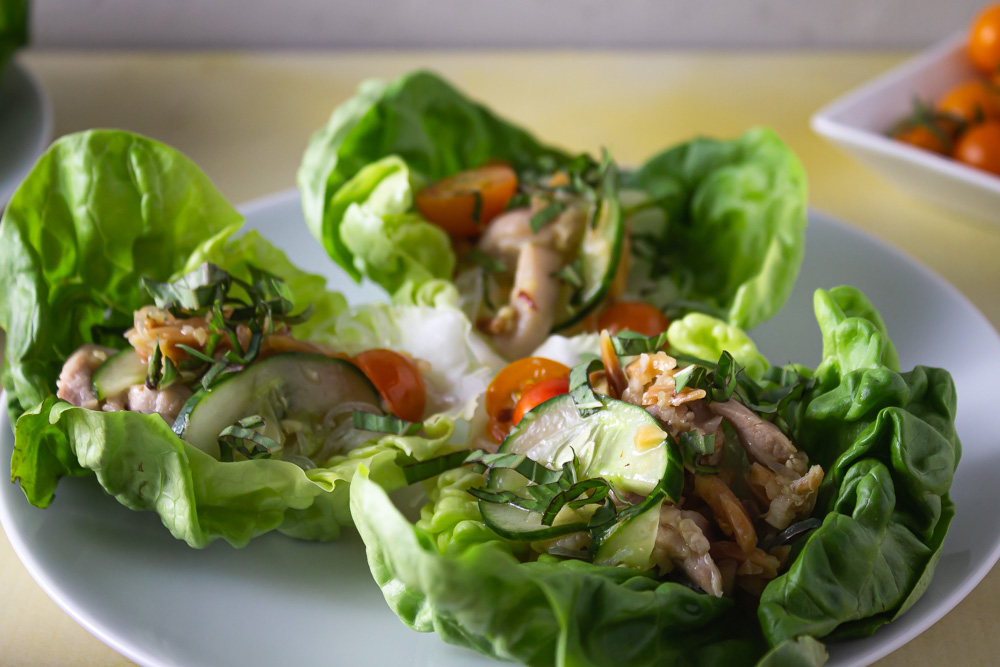 Asiatic Chicken Lettuce Wraps
Makes about 15 wraps
Ingredients
2

bundles/70g dry bean thread noodles

2/3

lb/300g boneless skinless chicken

diced

1

c/130g cherry tomatoes

halved

½

med/150g cucumber

1/3

c/45g slivered almonds

toasted

1

tbs/15ml neutral cooking oil

2

sm heads butter lettuce

Sliced thai basil to garnish

optional
Sauce
1

tbs/13g brown sugar

2

tbs/30ml fish sauce

1

tbs/10g minced garlic

3

tbs/45ml lime juice

1 ½

tbs/15g minced ginger

¼

tsp

red pepper flakes

½

tsp/3ml sesame oil
Instructions
Combine all sauce ingredients, mixing well. Set aside.

Separate lettuce leaves. Wash and dry.

Soak bean thread noodles in boiling water for 30 seconds. Drain and rinse in cold water. Allow to cool.

Heat oil in a pan over med-high heat. Add diced chicken and cook, stirring regularly until just starting to brown. Add sauce and continue cooking for 30 seconds before removing from heat.

Thinly slice cucumber in semi circles. Add cucumber, tomatoes, and almonds to chicken.

Place about 1 tbs of bean threads in each lettuce cup. Add an equal portion of chicken mix to each cup.

Garnish with chiffoned Thai basil if desired.