One of the disadvantages to writing a food blog from a growing region California is that my food seasons are different than so many other people's. While I want to write things that people can make now, what I can make is different. While I'm seeing other bloggers post everything fall (so much pumpkin spice and winter squash!) we are still seeing squash blossoms at the farmer's market and delicata squash hasn't even shown up at the local farm stands yet.
I haven't worked much with squash blossoms previously as I though them too fussy and most of the recipes I saw were for fried blossoms. This year when I realized the only way to slow the plethora of zucchini was to harvest a lot of the blossoms, I started looking for other things to experiment with. No sense in wasting a free ingredient that some people pay upwards of $10 a pound for. My first foray into cooking with them was a complete and utter flop. I tried to stuff them with a rice mix and bake them. I ended up topping the baked rice with the blossoms. But I did see several recipes suggesting their use in a creamy pasta, which led to this.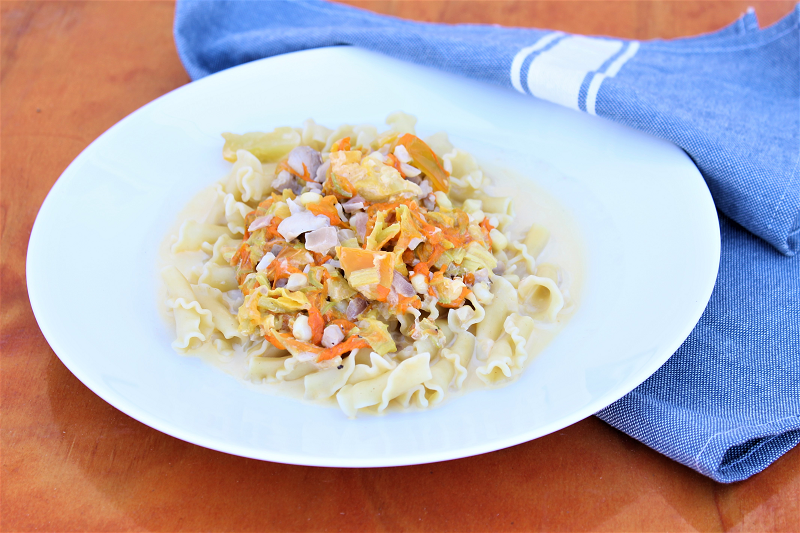 It was also rather fun playing with the blossoms because of the anatomy of the flowers. While I knew there were male and female blossoms for zucchini, it's another thing to see the pattern of the anthers and how they differed. As everyone suggested removing the anthers before cooking, I elected just to chop off the base of the flowers at the sepals, letting everything fall out rather than trying to reach into the blossom. It was much faster than my first try. And it made it easy to set aside the baby zucchini from the female blossoms, which I sautéed with some blood orange olive oil for a excellent vegetable side.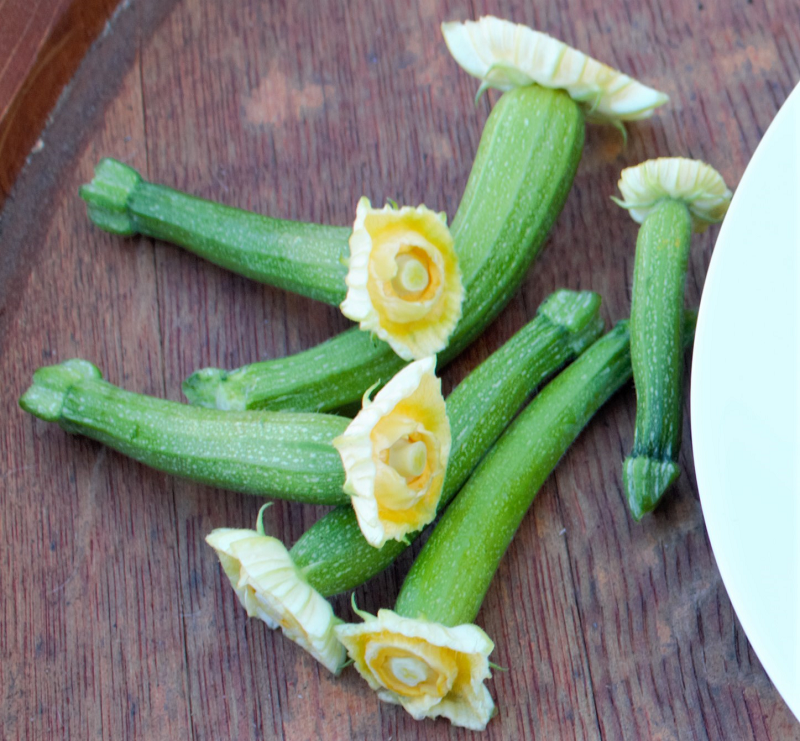 The subtle play of flavors here makes this a dish you don't want to stop eating. There's sweet from the corn, a little bit of acidity from the tomato, and the peppery note from the squash blossoms. I ended up making this twice within a week and it was demolished both times. So while I may be one of the few still able to make this dish, it is too tasty not to share so that you can be ready to make it at the start of next squash season.
Squash Blossom and Corn Cream Sauce with Chicken
Ingredients
2/3

c/100g diced red onion

2

tbsp/30g butter

1

c/185g fresh corn kernels

1 ear

½

lb/250g boneless

skinless chicken, sliced thinly.

½

c/125ml dry vermouth

1

lg/~300g heirloom tomato

yellow variety preferred

4

oz/115g squash blossoms

no baby zucchini attached

½

c

cream

½

lb

pasta

I prefer some short variety like penne or rotini, campanelle was used here, cooked

Salt and pepper to taste
Instructions
Melt butter in a large pan over medium-high heat. Add onion and corn and sauté for 5-7 minutes until soft stirring occasionally.

Add chicken and continue cooking until chicken is mostly opaque, 3-5 minutes.

Reduce heat to low and add vermouth, stirring vigorously to scrape up any browned bits. Simmer for 20 minutes.

Remove base of blossoms, including anthers and sepals (I just cut off the base and shake everything out). Wash in cold water. Dry as you would salad greens. Slice crosswise into thin rounds (< ¼").

Turn heat to medium and add tomatoes, cook for 3-4 minutes until barely starting to soften.

Add sliced squash blossoms and cream. Cook for 1 minute further, stirring. Season with salt and pepper to taste.

Serve over hot pasta.