Blondies with lots of nuts and honey to mimic the flavors of your favorite baklava can be made easily in one bowl for a fast treat.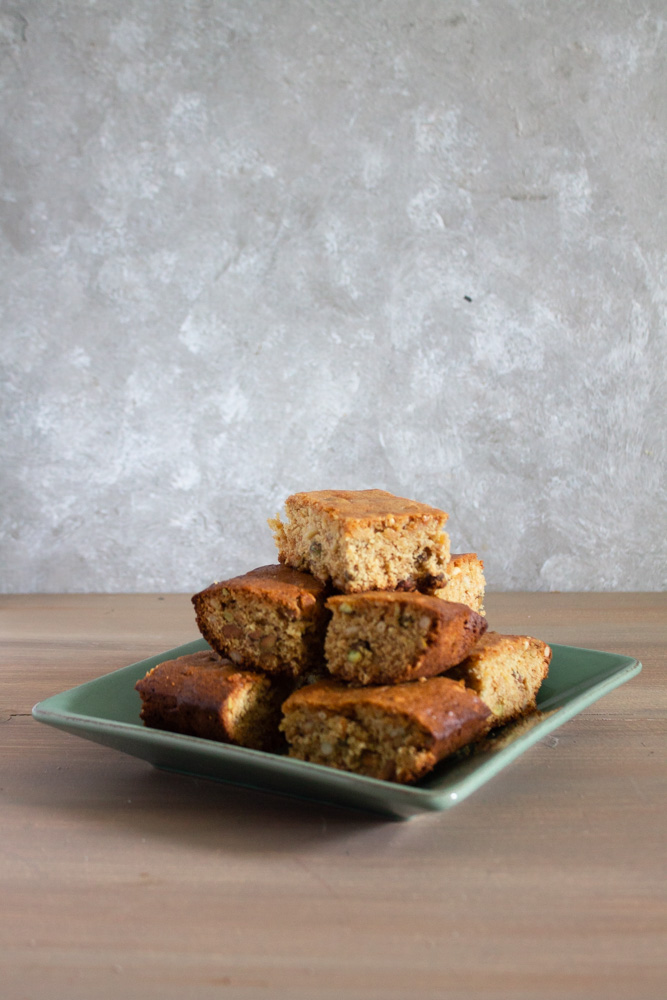 I had a major hankering for baklava a few days ago. But baklava is a pain to make (though there is a local place that does some excellent baklava) with the filo. So I used the flavors and made a one pan/pot blondie. Ok, maybe it's not that close to most baklavas being made with multiple types of nuts, but it sure is tasty and has that wonderful honey flavor coming through.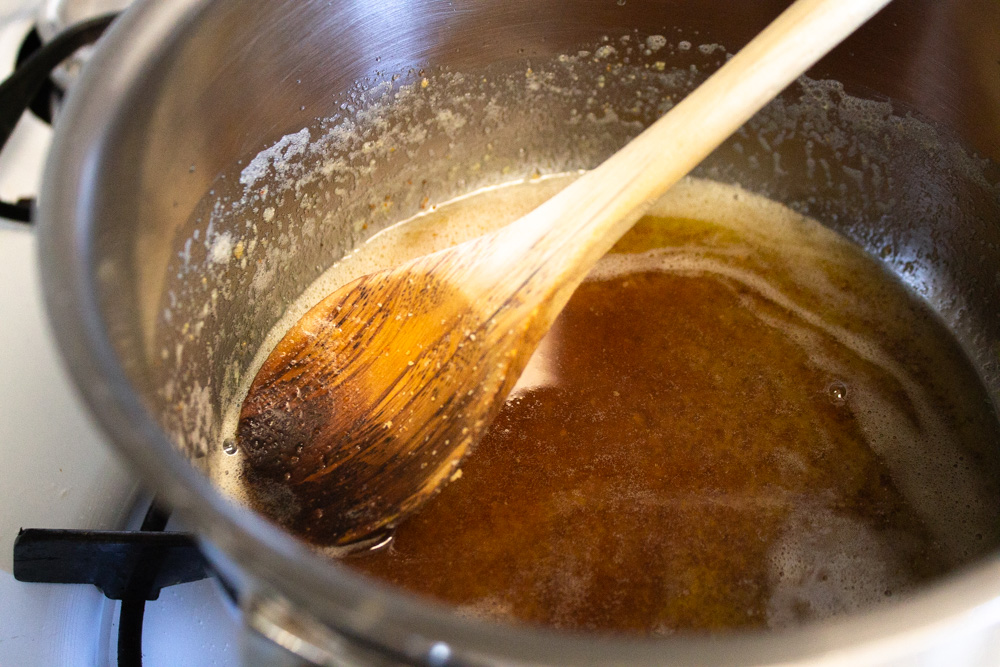 Personally, I like a mixture of nuts in baklava over just walnuts. The other flavors I typically associate with Mediterranean cuisine are pistachio and pine nut (and almonds) so I included those. Also, they tend to be what I have around the house. I know many people love cashews, but I'm pretty indifferent. They can be good, but over used.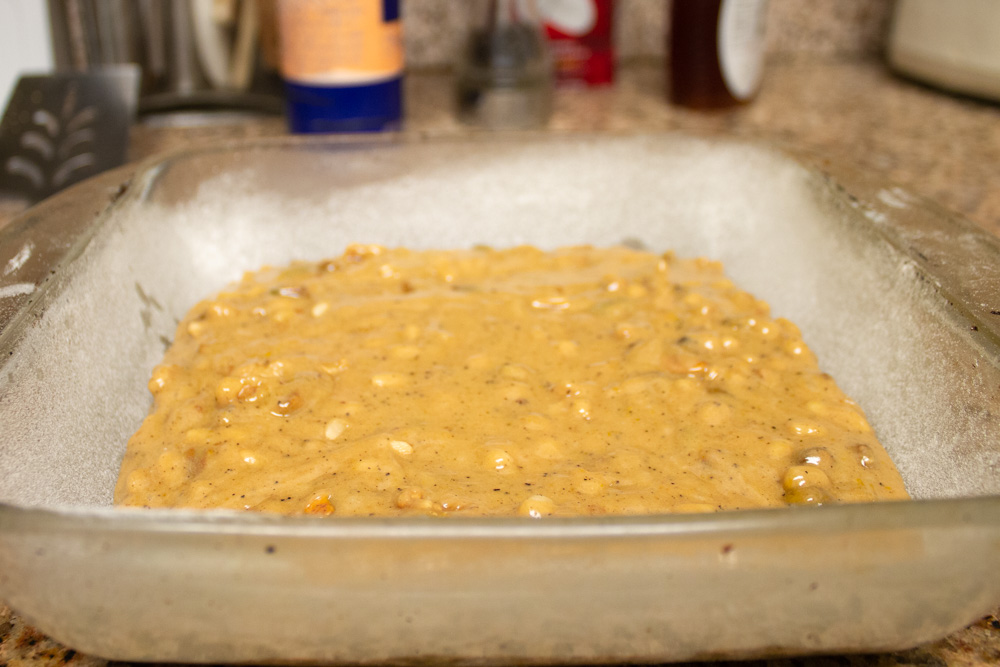 I also tried adding the honey in a couple different fashions; on top after baking and as part of the sweetening. Used in the blondies in conjunction with brown sugar produced the best flavor and a moist crumb.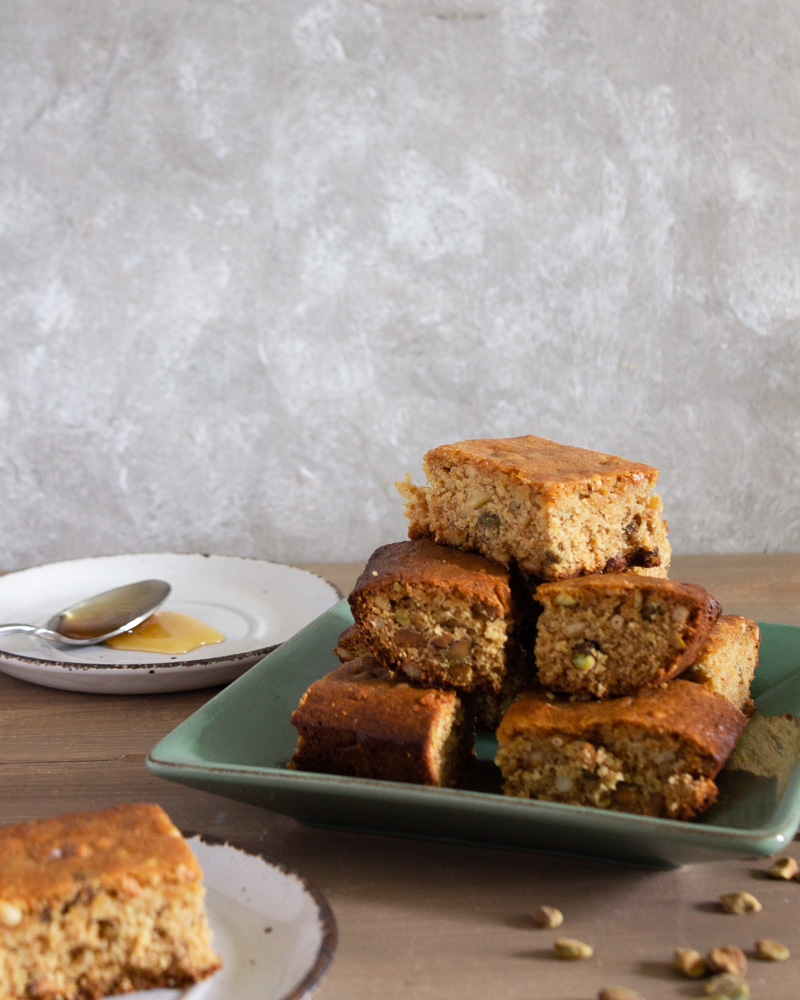 A Dash of Science

Honey can be tricky to use in baked goods. For one thing, it changes the consistency since it is liquid at room temperature, but not because it is adding water. Honey contains predominantly glucose as opposed to standard cane or beet sugar which is mostly sucrose. The difference is that glucose is a single molecule where as sucrose has two joined molecules – one of which is glucose. Glucose dissolves (and digests – a side note at a different time) much more readily than sucrose. It also caramelizes differently. A fun test is to try making a simple cookie recipe with different types of sweeteners. A cookie made using honey is going to:
be sweeter (if using the same volume)

spread further

be puffier

brown faster
This is all in relation to standard granulated sugar. We did fun experiment in a class using multiple different types of sweetener. If you have time and want to experiment, try it (but do some other research before using artificial sweeteners).
Baklava Blondies
Makes 12-16 depending on cut
Ingredients
½

c/115g butter

browned

¾

c/150g brown sugar

¼

c/60ml honey

1 ¼

c/160g all-purpose flour

¾

tsp/3g baking powder

2

large eggs

1/8

tsp/4 dashes orange flower water or orange bitters

¼

tsp

salt

1/3

c/50g pistacchios

toasted

1/3

c/45g pine nuts

toasted

½

c/65g walnuts

toasted

Optional: 1/3 c/35g sliced almonds

toasted
Instructions
Preheat oven to 350F. Grease 8" x 8" pan.

Brown butter in a medium sauce pan. Allow to cool to warm or room temperature.

Stir in brown sugar and honey. Whisk in eggs and orange flower water.

Stir in flour, salt, and baking powder until completely combined.

Fold in nuts.

Pour into prepared pan and level.

Bake for 30-35 minutes until tester comes out with just a couple crumbs.

Cool in pan. Serve at room temperature or slightly warm. If warm: amazing with cream.

Store in fridge in an airtight container.