This post may contain affiliate links. Please read my disclosure policy for more information.
A refreshing corn and tomato gazpacho that requires no cooking (and no bread!) and is perfect for tasty appetizers or a light summer meal.
–This post was originally publish on August 25th, 2018. Updated August 2019.
This corn gazpacho is the soup entry I did for the Fairfield Tomato Festival 2018 cooking competition, and actually the recipe I was most pleased with. It may have only gotten second place in its category, but it is an amazing summer soup. For one thing: gazpacho = no cooking, which is great when there have been too many 90F + days. With the Festival coming up this year, I've been thinking about my past entries and experimenting with new things. And with corn back at the farm stands it seemed like a great time to update the photography – which I have drastically improved since last year!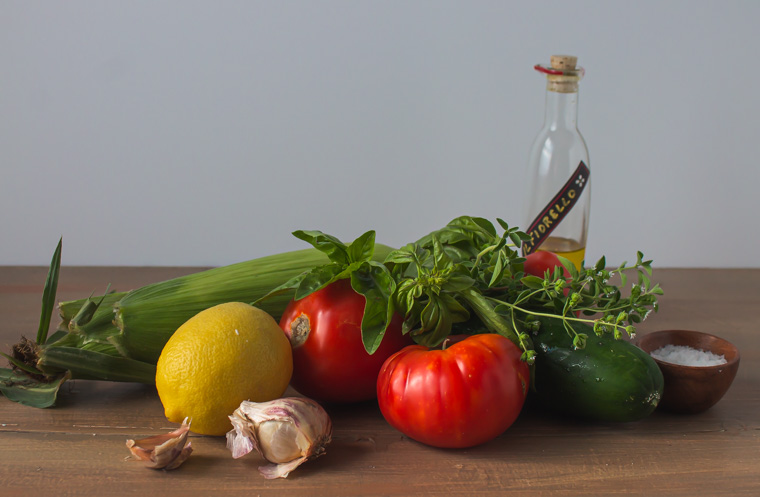 This was actually my first attempt at gazpacho. In true me fashion, I ended up trying multiple batches at once, both this and a cherry and tarragon version. I've had a cherry gazpacho before when I was working in catering, and I was trying to create something similar because I thought that would be the most unusual dish to bring to the competition. But the corn version ended up being so much better. The cherry was tasty but a little too intense – not something you could easily eat a whole bowl full of. I will have to work on tweaking it some more. (2019 edit: It's still being tweaked. I got distracted.)

But the sweet corn version: The fresh white corn lent an incredibly creaminess to the soup without making it heavy and the combination of oregano, parsley, and basil gave it just enough nuance to be earthy. Also with the starch from the corn, I didn't need to add any of the traditional bread, making this conveniently gluten free. Also I don't often have extra bread around.
When I was trying to decide between the two versions, my best indication was when I gave Ian an option between the two and he eagerly chose the corn. Usually he tries to be all chivalrous and try to figure out which one I want, but there was no contemplation this time. This gazpacho made a great accompaniment to a thin crust pizza, but I'm sure it would be excellent with a cold quiche or even a salad if you are looking for a lighter meal. And of course there is the fun option of serving it in small glasses as a shooter appetizer at a party!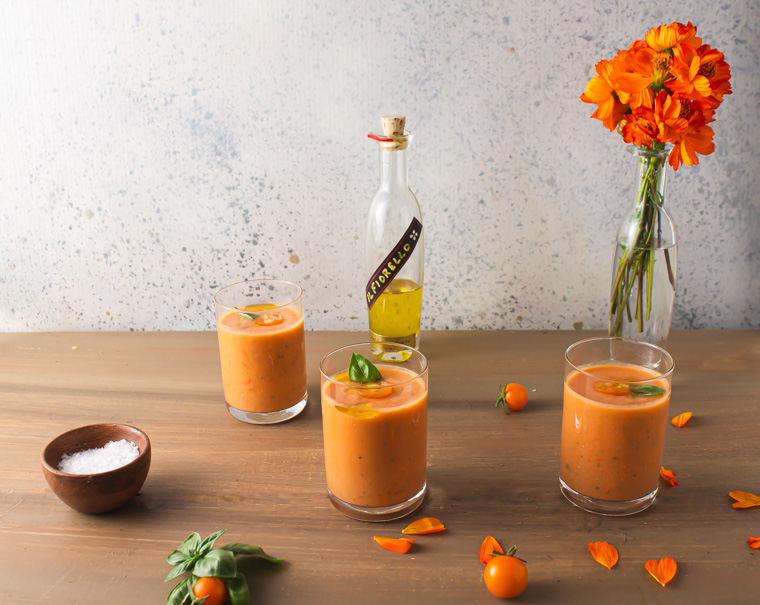 Sweet Corn and Tomato Gazpacho
Serves 4 as a heavy appetizer or light meal
Ingredients
1

c/150g fresh corn kernels

1

lb/450g tomatoes

diced

½

lb/225g cucumber

peeled, seeded and diced

3

tbsp/45ml lemon juice

1 ½

tsp/5g minced garlic

2

tsp/4g fresh oregano leaves

3

tbsp/45ml olive oil

Il Fiorello's Pendolino

2

tsp/4g parsley

½

tsp/2g salt

¼

tsp pepper

2

tbsp/30ml rice vinegar

1

tbsp/5g fresh basil leaves
To garnish
Fresh parley or basil

Sliced cherry tomatoes

Il Fiorello lime co-milled olive oil

or a pungent olive oil and a squeeze of fresh lime juice
Instructions
Combine all ingredients in a bowl. In batches (as necessary), puree in a blender or food processor on high until smooth.

Return to bowl and chill in fridge for at least 1 hour, preferably overnight to let the flavors settle.