This sweet corn tomato gazpacho is a quick, no cook, gluten free, and vegan soup appetizer or light meal. So easy to make ahead and store in the fridge for later.
Corn tomato gazpacho is an amazing summer soup. For one thing: gazpacho = no cooking, which is great when there have been too many 90F + days. I love how easy a soup gazpacho is. Chop up the veggies and throw them in the food processor. Plus it lasts for several days in the fridge.
About Gazpacho
Typically gazpacho includes bread (usually stale) but the corn adds some of the starch and texture you would normally get without the gluten. The corn also gives the soup almost a creamy quality without the use of any dairy products. Fresh corn has that effect! I wouldn't be surprised if corn milk makes a rise in popularity once the oat milk trend fades a bit.
Gazpacho can be served in a bowl for a larger portion or a fun option for a party is to serve it in shooter glasses as an appetizer. And since it's easy to make ahead, it can really dress up a party table without adding too much extra work. This gazpacho made a great accompaniment to a thin crust pizza, but I'm sure it would be excellent with a cold quiche or even a salad if you are looking for a lighter meal.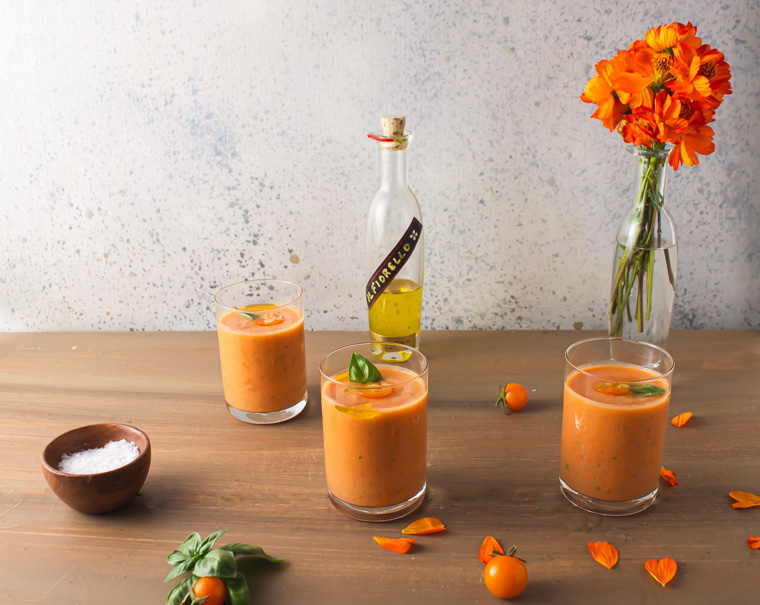 Storing Produce
The produce is critical in this recipe so getting the best flavor out of it is paramount. Storage can impact that as well as the freshness and source. I of course advocate for getting the freshest produce you can and from small local producers. But no matter where you get your produce storage can make an impact on longevity and flavour.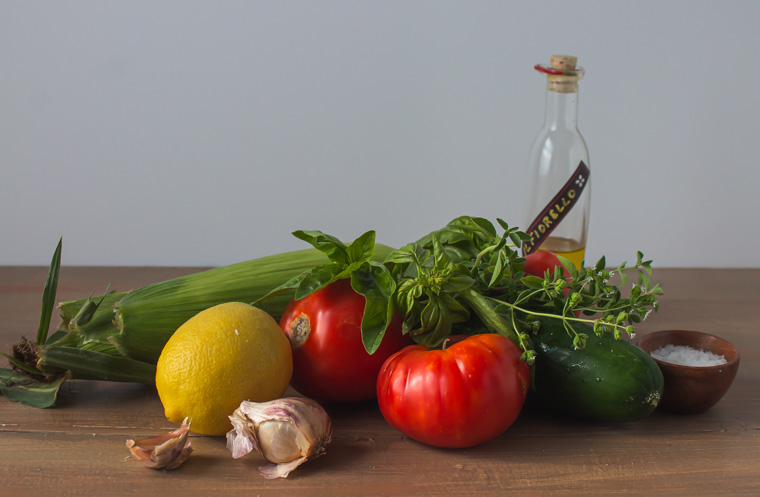 How to Store Tomatoes
Don't store you tomatoes in the fridge. Please. Tomatoes stored in the refrigerator do not have the same flavour as when they started. And the texture gets granular. The best method is in a well ventilated plastic/ceramic container on the counter. This keeps air circulating and moving the ethanol from the ripening fruit away from the tomatoes which helps them last longer.
Once the tomatoes are starting to excessively soft, certainly put them in the fridge if you aren't going to use them immediately. How long tomatoes last depend on how ripe they are when you got them, but at most a tomato bought when firm will last for 5-7 days on the counter and maybe 1-2 days in the fridge once it's starting to get too soft.
How to Store Corn
Corn is best stored in its husk in the fridge. Once you remove the husk or cut into the corn it is much more prone to mold and bacteria. Really fresh corn can even last up 1 ½ to 2 weeks in the fridge.
How to choose corn without husking it.
Now that I've told you to keep the corn in the husk to store it, you might be wondering how you can select a good ear of corn without removing the husk.
Look for a husk that is bright green and tight to the ear of corn (not loose or drying out).

Select only corn that has white or pale gold tassels (corn silk, tuft, hairs, whatever your preferred nomenclature). These will be the freshest ears and last the longest. If the tassels are dark brown or slimy, the corn is starting to go bad.

Feel the corn through the husk. You should just be able to feel most of the rows of kernels, but not too easily. Really prominent kernels mean the ear was harvested late and the kernels are most likely starchy rather than sweet. Also feel for any soft spots – these indicate insect activity or that the ear is going bad.
How to Store Cucumbers
Make sure there is no moisture on the cucumbers before storing them in a sealed container in the fridge. Any moisture leaves cucumbers very prone to rot. They also do not do well with temperature changes which cause condensation. If cucumbers have gotten warm from being the car or out at a market in the sun, bring them to room temperature first, then cool further in the fridge (not in plastic) and dry before bagging or sealing. Cucumbers realistically only last at most 1 week in the fridge.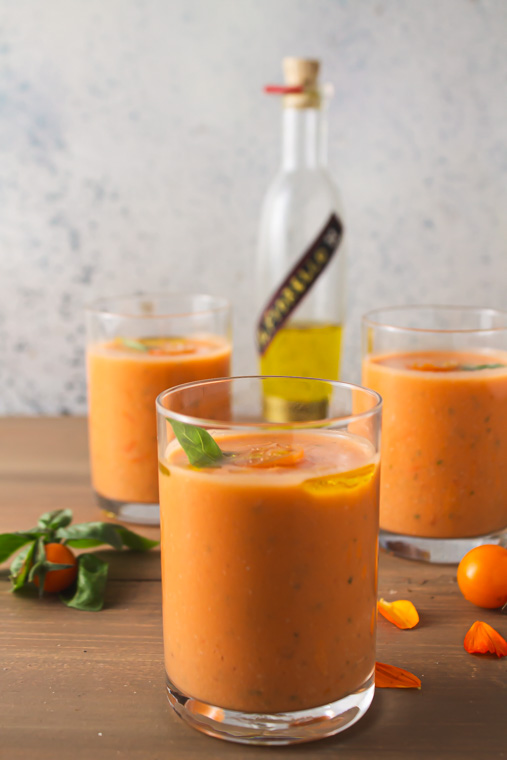 Sweet Corn and Tomato Gazpacho
Ingredients
1

c/150g fresh corn kernels

1

lb/500g tomatoes

diced

½

lb/250g cucumber

peeled, seeded and diced

3

tbsp/45ml lemon juice

1 ½

tsp/7ml minced garlic

2

tsp/10ml fresh oregano leaves

3

tbsp/45ml olive oil

Il Fiorello's Pendolino

2

tsp/10ml parsley

½

tsp/2ml salt

¼

tsp/1ml pepper

2

tbsp/30ml rice vinegar

1

tbsp/15ml fresh basil leaves
To garnish
Fresh parley

Sliced cherry tomatoes

Il Fiorello lime co-milled olive oil

or a pungent olive oil and a squeeze of fresh lime juice
Instructions
Combine all ingredients in a bowl. In batches (as necessary), puree in a blender on high until smooth.

Return to bowl and chill in fridge for at least 1 hour, preferably overnight to let the flavors settle.