Lots of earthy kale and onion flavors balance with spots of bright, creamy goat cheese in this quiche with a flaky crust.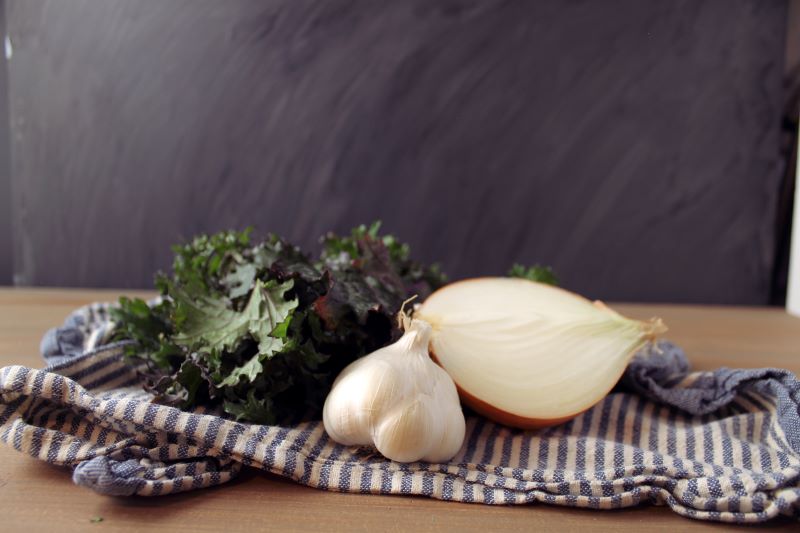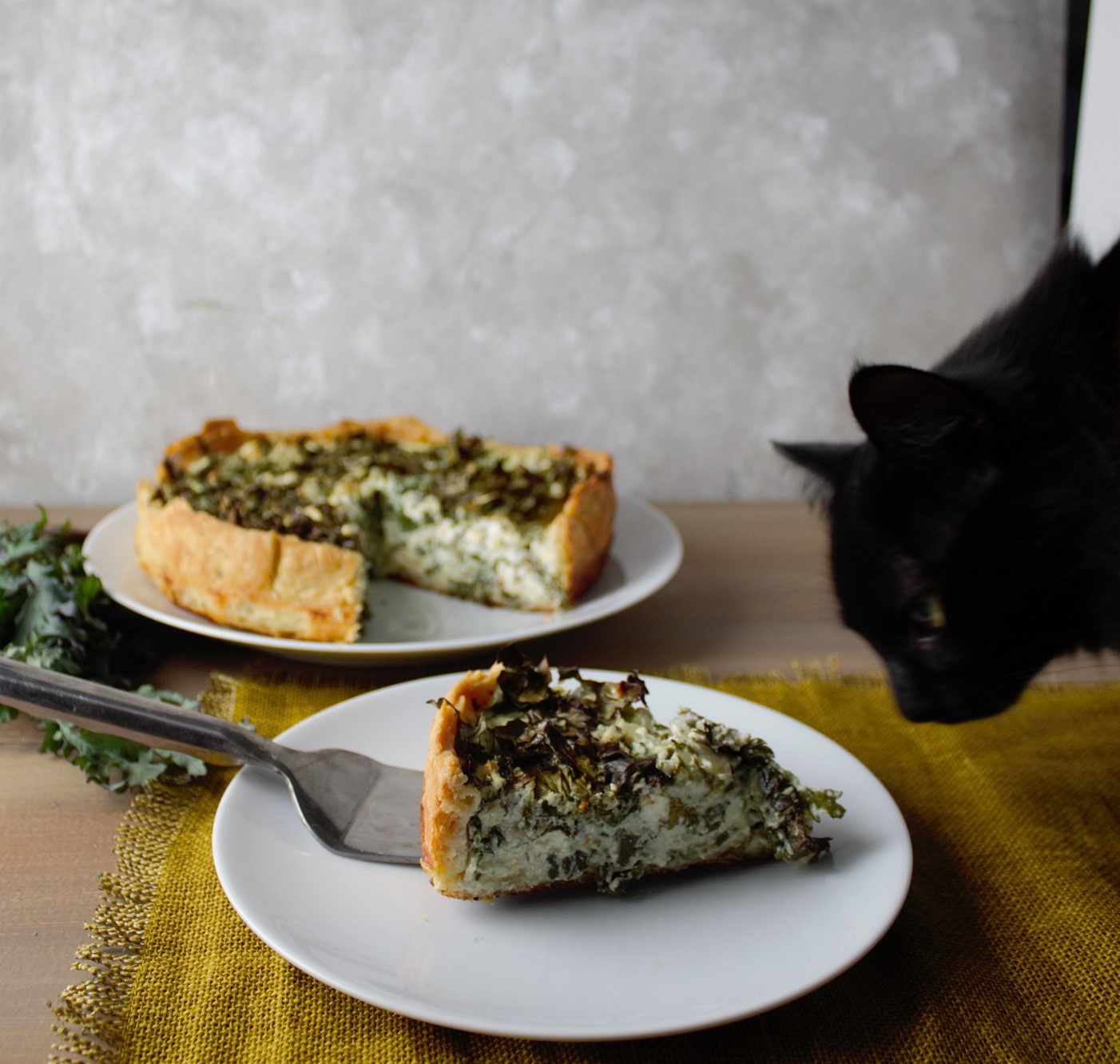 I got really into experimenting with the pictures on this one – as did the kitten. Brun kept stealing the kale. She would run off and then I couldn't find it. I strongly suspect Dyson (our own little puppy hoover) at it. He loves kale, even raw. Go figure. Brun has also been a menace since I stopped photographing in the kitchen (where she is banned from any elevated surfaces). She keeps sitting between the light and food!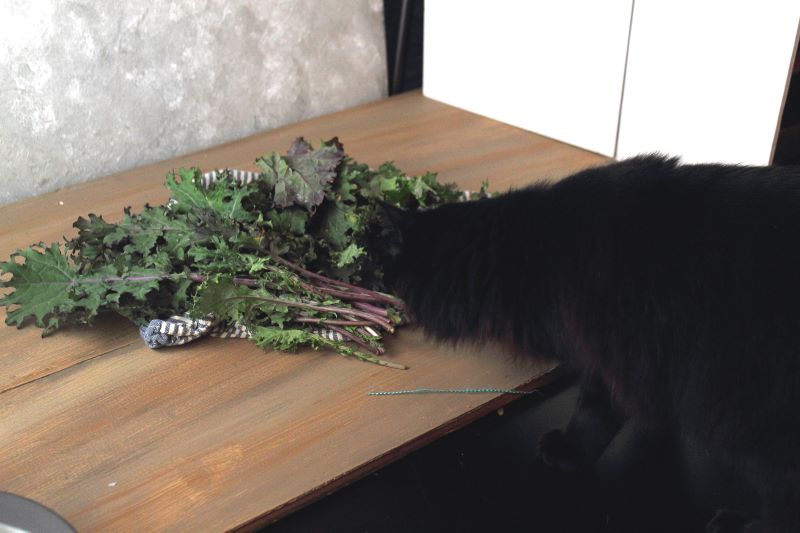 This iteration was made with some lovely purple kale I got in my CSA box, but it can be made with any variety. Wasn't this kale lovely? I tried to catch the subtle purple of the stems.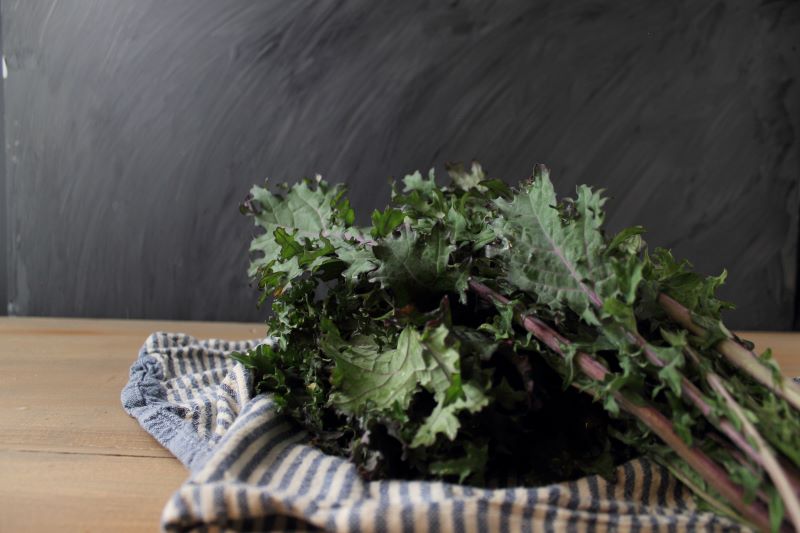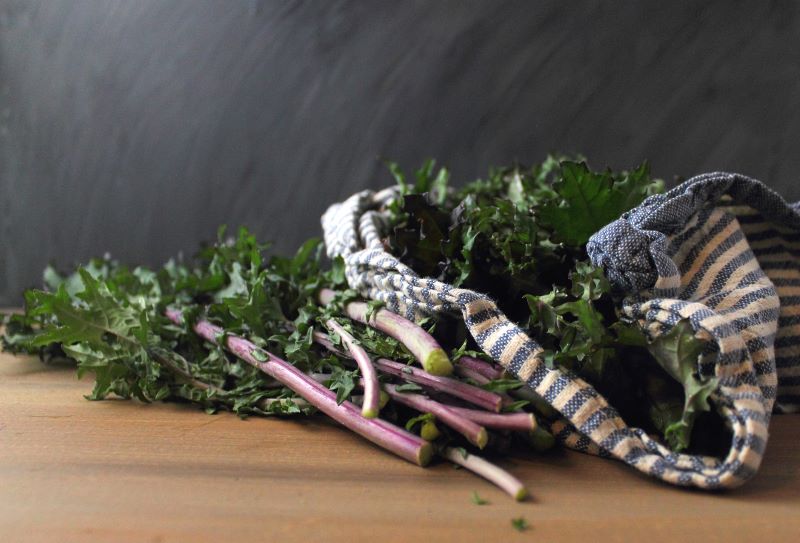 A word to the wise – do as I say, not as I did for the crust. I was trying to be all swish the time I made it for the pictures and make the edge of crust perfectly even and trimmed it before baking – which didn't work. The edge sunk too much and some of the liquid leaked over changing the proportions in my quiche. I advise that you just leave the crust drooping over the edge of tin and cut it off later.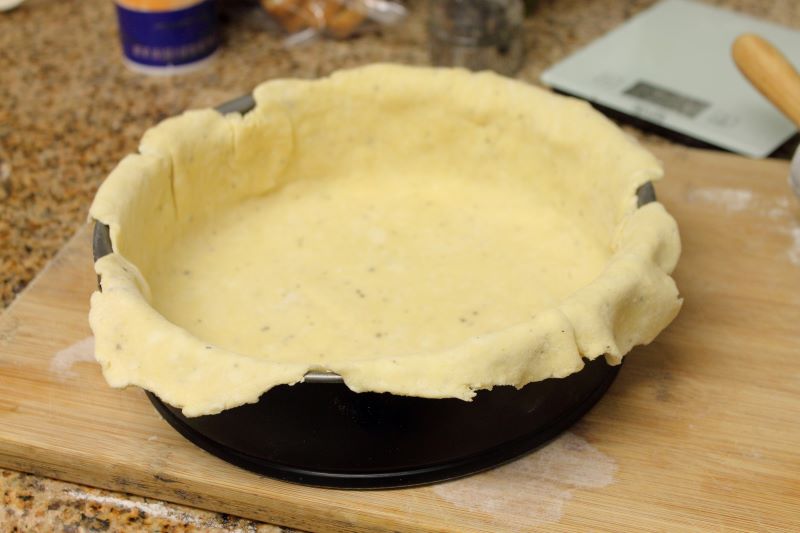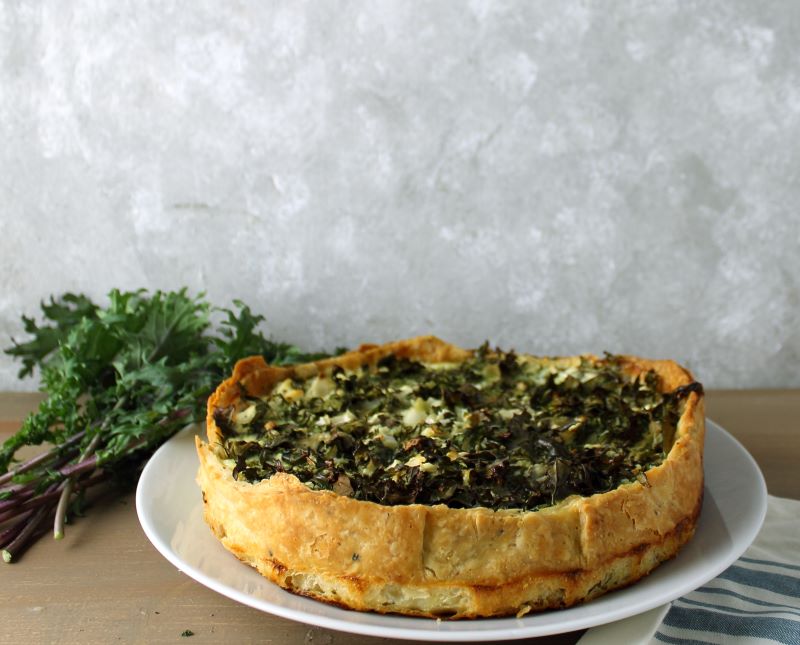 Like I said, I was having a lot of fun with the pictures on this one.
Kale and Goat Cheese Quiche
Ingredients
Crust:
1 ½

c/200g all purpose flour

¼

tsp

salt

½

tsp

ground pepper

½

c/115g butter

frozen and diced or grated

¼

c/ cold water

1

large egg
Filling:
1

bunch/200g kale

washed and stripped from stems (120g w/o stems)

½

yellow onion

130g, finely diced

4

oz/150g goat cheese

2

lg/15g garlic cloves

minced

5

large eggs

2

c/475ml half and half

¼

tsp

pepper

½

tsp

salt

½

tsp

cumin
Instructions
Make crust:
Combine flour, salt, and pepper in a bowl. Rub butter into flour mix with fingers until a few coarse crumbles form.

Beat egg into water. Add ¾ of egg and water to flour mixture and cut in with a knife. As needed, add more of mixture until all the flour is part of the shaggy mass without overworking.

Bring all of dough together and pat into a disk. Wrap in plastic and chill in fridge for 20-30 minutes.

Preheat the oven to 375F.

Roll out dough to ¼" thick and drape into a springform tin. Gently press into corners. Leave the extra dough over the edges of the tin. Puncture the bottom of the crust all over with a fork. Cover with aluminum foil and put in freezer for 10-15 minutes.

Parbake in oven for 15 minutes. Remove foil and continue baking until just starting to turn golden on the sides (10-15 minutes). If the edges are turning dark quickly, cover just the edges with foil.
While crust is baking, make filling:
Cut kale into ½" strips. Break goat cheese into small crumbles (about 1").

Whisk eggs with half and half until combined. Add in garlic, spices, and onion, mixing thoroughly. Fold in kale and goat cheese.

Pour into parbaked crust and return to oven for 30-40 minutes or until springy in the center.

Allow to cool in pan for 10 minutes before trimming the extra crust (debate whether you feed this to yourself or the dog) and removing the outside of the springform.

Can be served slightly warm or at room temperature.