An earthy, wintery vegan soup with cauliflower and parsnip that is rich and creamy (without any cream), highlighting the subtle sweetness of parsnip as an under-appreciated vegetable.
What would winter be without creamy vegetable soups? Especially when they don't even include cream. Inspired by the ingredients I had in the fridge at the time, this parsnip and cauliflower is wonderfully warm when it gets so frosty out that the dog is refusing to go outside. Dyson really will do anything to avoid the outdoors when it is cold or rainy. We haven't tried introducing him to snow yet, but that may have to be an adventure soon. He can have his own bowl of soup after!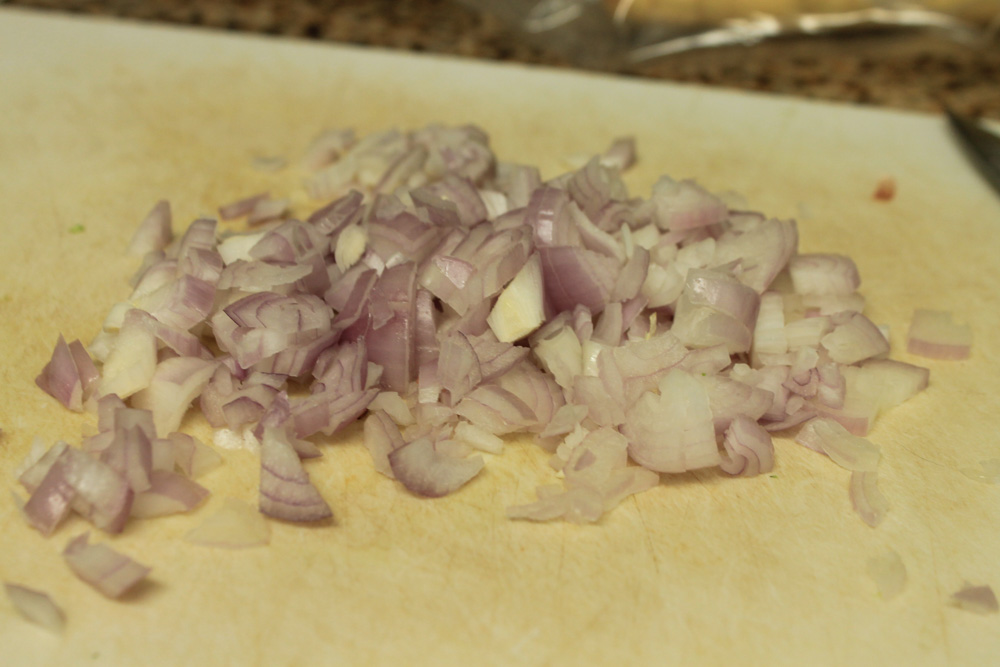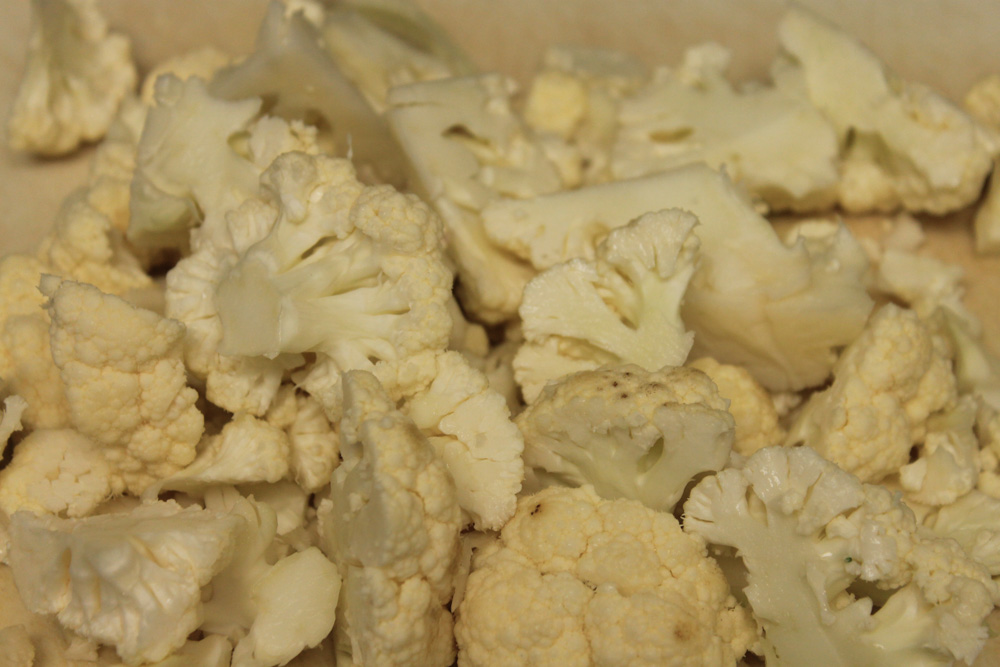 A lot of the food I make is based on what I have in the fridge at the time; which can make writing a recipe for it challenging. I don't want to create a recipe for something that will be difficult for anyone to replicate due to incredibly precise ingredients or awkward because it requires odd amounts. I'd rather put recipes out there that others can enjoy as well – or at least use for inspiration for their own mismatched fridge remnants.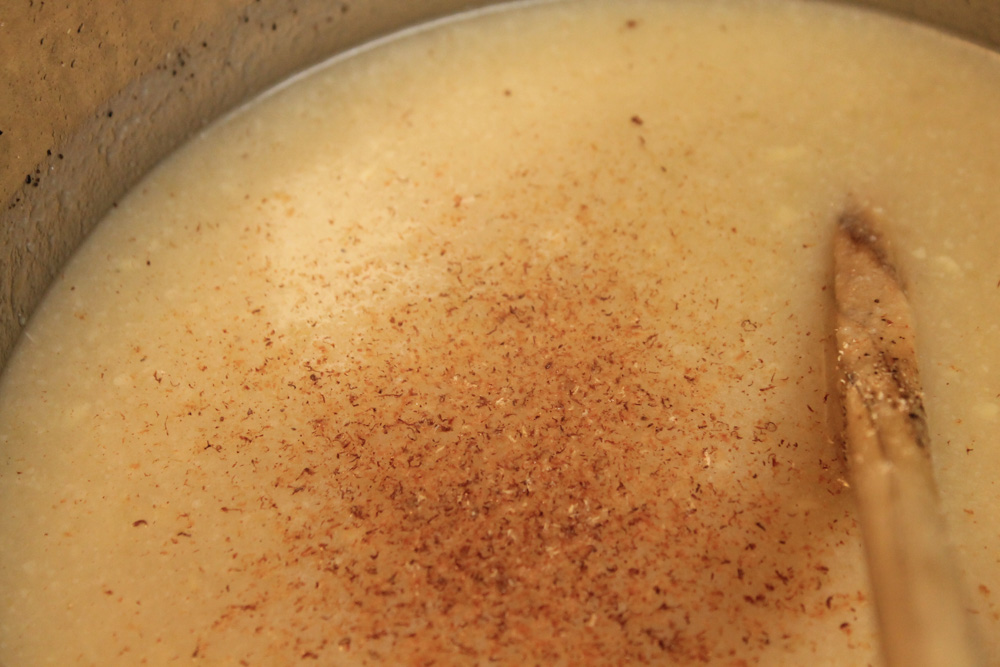 This would also be a great soup if you need to serve a variety of people with diverse dietary requirements. Naturally without dairy or wheat, you can of course serve those crowds, but depending on what you choose to add – I suggest fried shiitakes or crispy pancetta – it can be vegan or serve meat eaters. While neither of these additions are strictly necessary, I do find that the pungent qualities of these things bring out the creaminess and sweetness of the cauliflower and parsnip for an all around enhanced meal.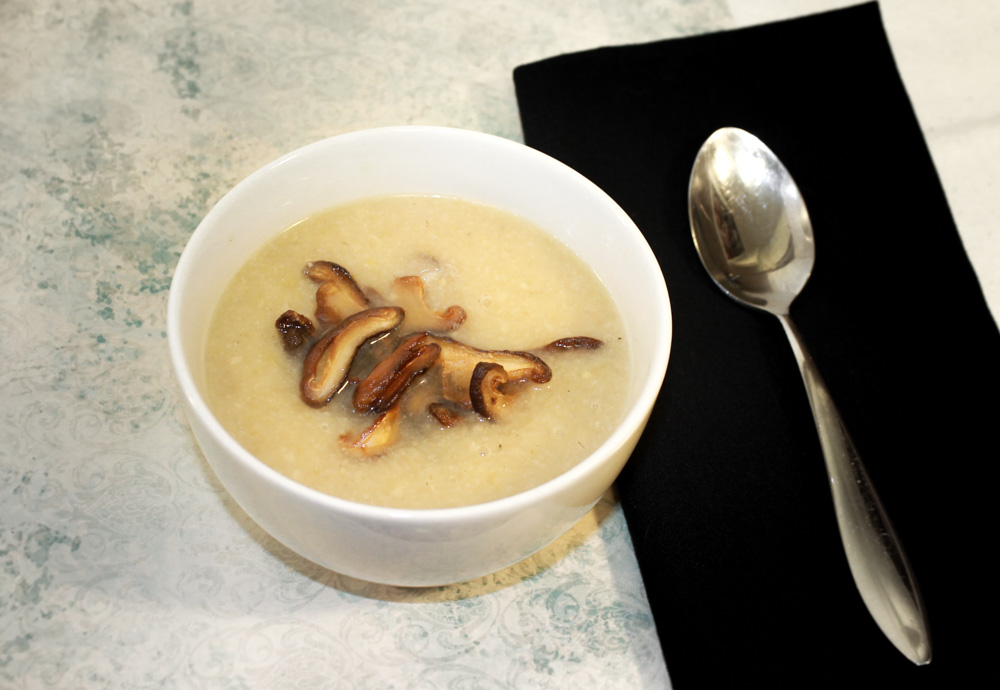 Parsnip and Cauliflower Soup
Ingredients
115

g/3 small shallots

minced

1

tbsp/15ml olive oil

1-2

ribs/90g celery

diced

1

sm head/325g cauliflower

cut in florets

1

parsnip/230g

peeled and diced

5

c/1.2L broth*

¼

tsp

cinnamon

¼

tsp

nutmeg

½ -1

tsp

salt

½

tsp

pepper
To serve:
6-8

oz

shiitake mushrooms

2

tbsp/30 ml olive oil
Or
Fried pancetta and parsley
Instructions
Heat oil in a medium pot on medium. Add shallot and celery, stirring occasionally.

After 1-2 minutes, add parsnip and cauliflower. Saute for 2-3 minutes.

Reduce heat to low and add broth and spices.

Simmer 1-2 hours until everything is soft. Remove from heat and allow to cool so it doesn't damage any plastic blenders.

Puree in a food processor or blender. Return to heat and season further with salt if needed.
If serving with shitakes:
Slice shitakes in 1/4" slices. Heat oil on medium-high.

Add mushrooms and stir frequently until browned.

Alternatively fry up some pancetta pieces until crispy.

Either way, divide between the bowls and enjoy.
Notes
*Vegetable if you are keeping it vegan, but chicken or beef also work very well here.