This post may contain affiliate links. Please read my disclosure policy for more information.
This unique pasta salad with sweet apricots and salty prosciutto is an excellent addition to any summer event.
This page may contain affiliate links to outside products including the Amazon Associates program, from which I earn a commission on qualifying purchases. Read full disclosure policy here.
You know you're going to want an interesting pasta salad for this summer – so why not do something very different than anyone else? This salad sort of came out of that idea; I helped at an event recently where there were a lot of potluck salads – many of the starch plus mayonnaise variety. A very different dish is always welcome at the inevitable summer events. Or be like me and just eat it for supper.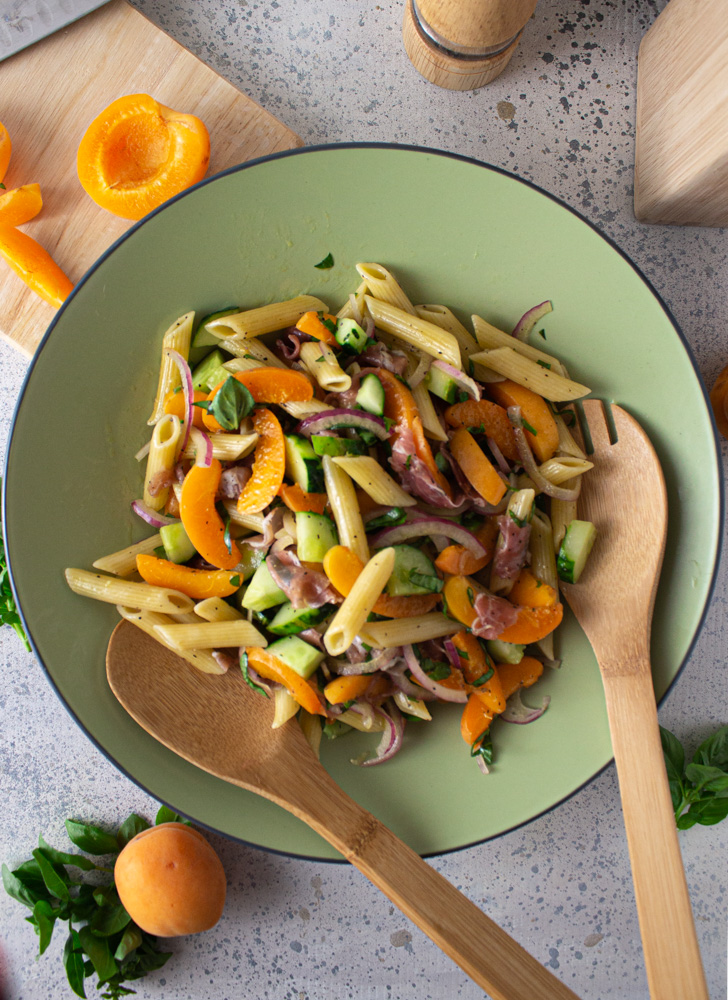 I didn't put quite as much effort into my garden this year as last, so my harvests have been a little scant. But I am getting a few apricots this year from the old tree that I trimmed this winter. And an odd assortment of other things. This time of year there is a bit of everything – the last of the spring peas, summer tomatoes and basil, all the way to a couple figs from our tiny tree. It's so nice getting fresh food from the garden, so of course I made a salad with it.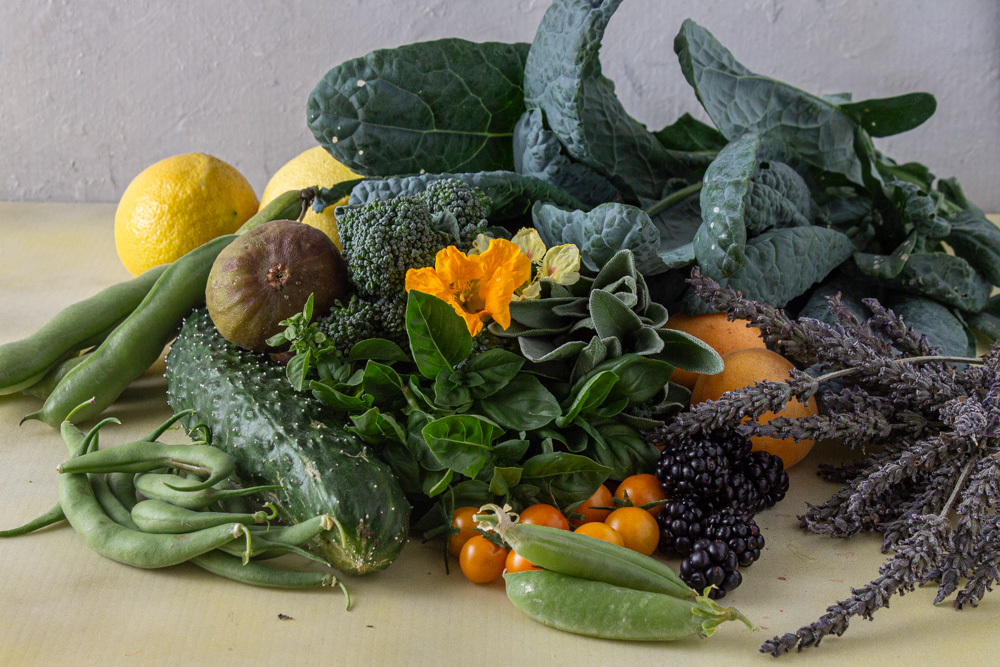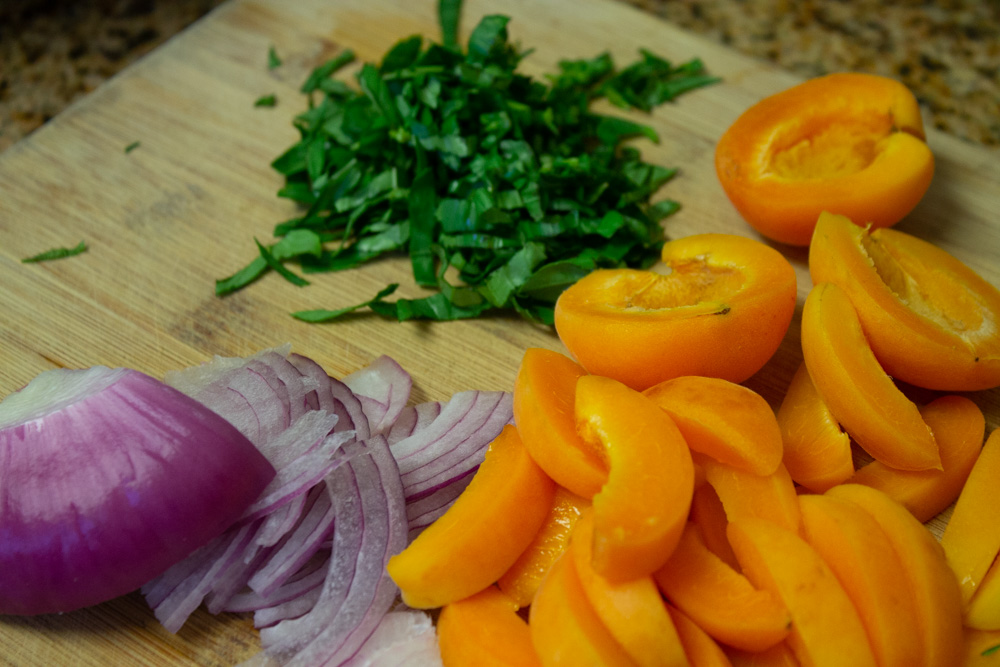 If you keep a fancy bottle of olive oil for bread dipping or salads, this is great place to use it. Given that the olive oil is the only dressing, you can really taste unique elements in a nice oil. Mellow, herbaceous flavours are great here, complementing the salty prosciutto along with a little pungency to offset the fruit. I used Il Fiorello's Taggiesca oil (this isn't a sponsored link, I just like their products and they are local).
We got a new little bit added to the menagerie. She doesn't have a proper name yet, I've just been calling her Little One. But she has discovered the delights of interfering with my photography. With her and Brun, I'm torn between the cuteness of photographing them being investigative and trying to train them not to interfere. I suppose it will be an ongoing battle.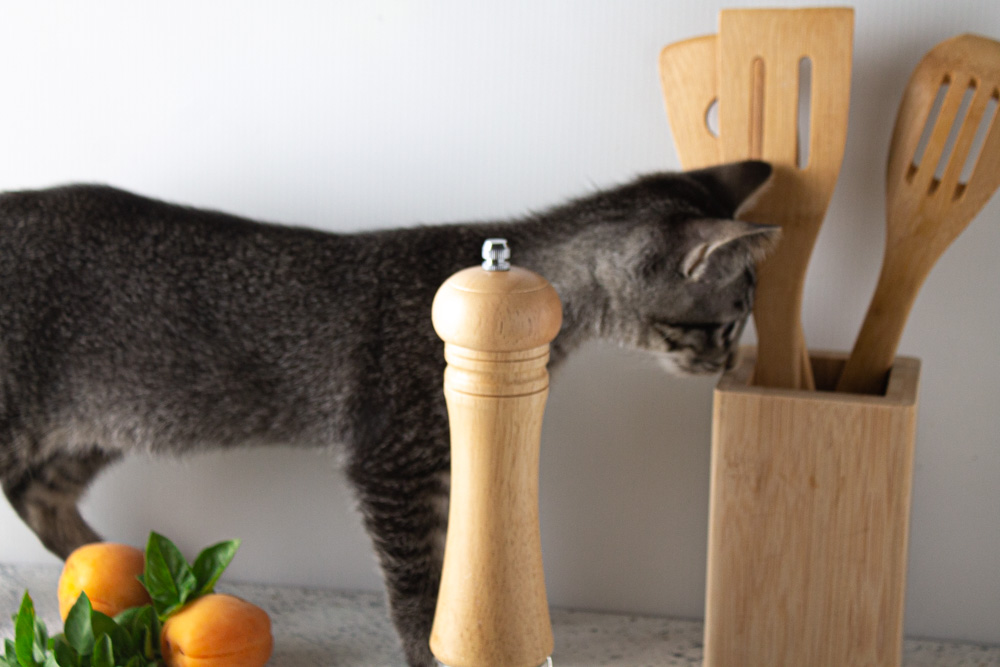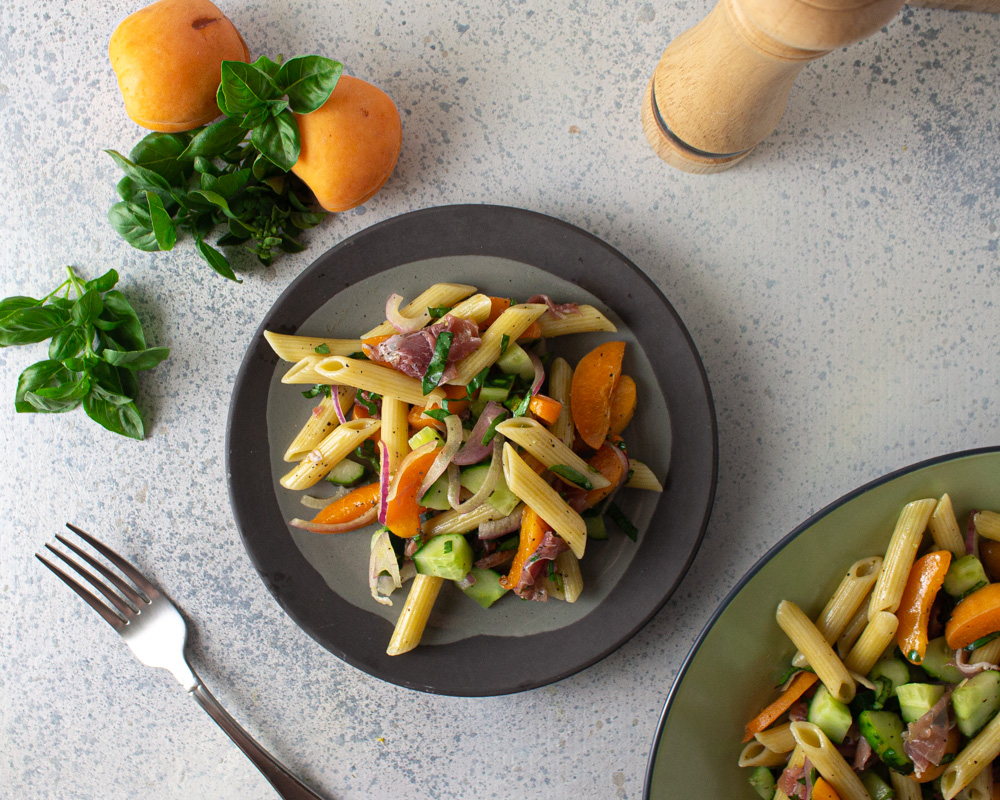 Apricot and Prosciutto Pasta Salad
Ingredients
½

lb/225g apricots

¼

c/40g red onion

very thinly sliced

1/3

lb/150g cucumber

diced (I like skin on)

2

tbs/30ml olive oil

¼

c/10g basil leaves

loosely packed

¼

tsp

ground pepper

2

oz/60g prosciutto

¼

lb/115g short pasta

Salt
Instructions
Cook pasta to al dente according to package directions. Drain and set aside to cool.

Slice apricots into thin slices, 10-12 slices per fruit. Chiffon/thinly slice basil. Tear prosciutto into bite size pieces.

Toss all ingredients with cooked pasta thoroughly, making sure to evenly distribute prosciutto.

Add salt to taste (will depend on your prosciutto). Serve cold.