The salad has all the flavours of your favourite Mexican street corn – otherwise referred to as elotes – with some extra late summer vegetables to give it a bit more bite. Mexican street corn salad is a great side for any late summer meal.
Who doesn't love the flavours of elotes? They were one of my favourite things about living in Mexico as a child. But they can be very messy to eat. And rather annoying to prepare for a number of people (they don't sit well on a plate). And there's no helpful system to stand them up like you get for cones in ice cream shops.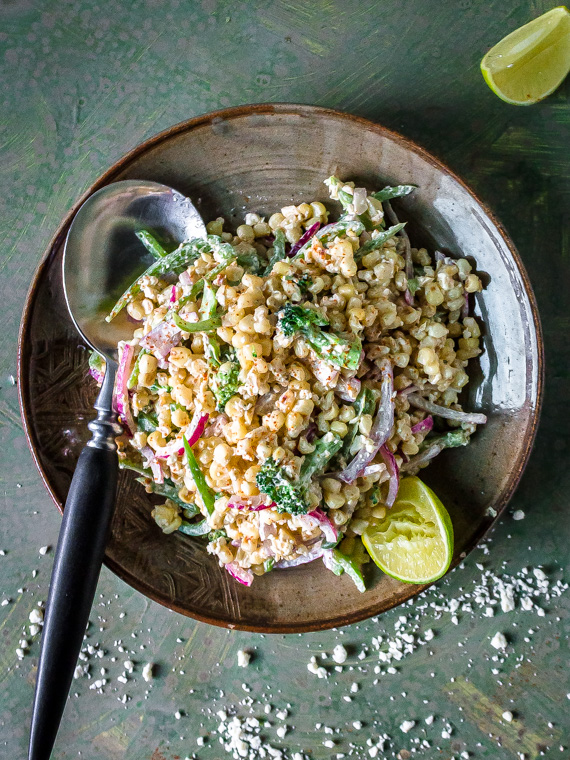 As I was writing this it occurred to me that I was probably wrong and someone must have invented a rack to hold food on sticks to alleviate this problem. I mean, they came up with a microwave smores maker (apparently a plate is too problematic?) and elotes are a not-really-counter-culture obsession so there must be something. I went to look for it to prove that I was wrong about there not being an easy way to hold multiple elote sticks – but I was right! The closest I could find was this rack that was designed to hold multiple kebabs. Perhaps there was still hope for people not making everything ridiculous! Then I found a condiment gun. Why?!
But anyway, the best solution to the preparation problem is of course to take the corn off the cob and make it a salad. Besides, it sounds so much healthier when you call it a salad (we'll just ignore that cheese and cream). I did add some other flavours I associate with late summer to give it a bit more bite, so my version is more of an actual salad. But it complements a vegetarian meal of spiced black beans and fried plantain perfectly!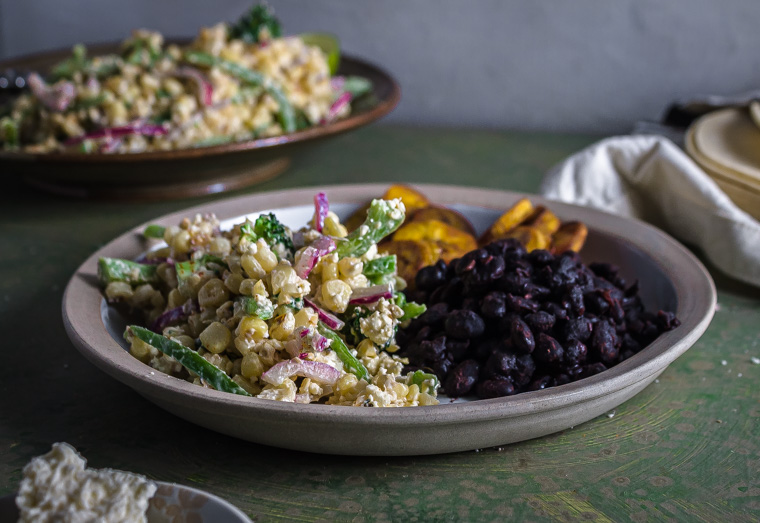 I suggest a slightly sour crema for this salad, but a standard crema fresca (table cream) works also, just add a bit more lime juice or it's a tad heavy. You can also adjust the cayenne to taste as you would on a regular elote. It's been discussed before, but I like just a hint of spice to my food. Call me a pansy, but I prefer to able to taste my food. You do you when it comes to spice.
Mexican Street Corn (Elote) Salad
Ingredients
2

c/90g broccoli florets

1

c/75g thinly sliced green bell pepper*

1 ¾

c/275g corn kernels

2 ears

1/3

c/70g thinly sliced red onion

1

tbs/15ml olive oil

¼

c/60ml crema

¼

c

+ 1 tbs/60g cotija cheese

crumbled

1/8

– ¼ tsp cayenne

Ground pepper to taste

Lime juice to taste
Instructions
Heat oil med high

Cook broccoli for 30 seconds to lightly char in a couple places.

Reduce to med and add corn. Cook further 2 minutes until there is some colour on the kernels and it is a bit soft. Remove from heat and cool to room temperature.

Toss corn and broccoli with remaining ingredients, adding cayenne and ground pepper to taste. Squeeze lime juice over it just before serving.
Notes
*Poblanos would also work here for those that like a bit more spice