Mini peppers stuffed with ricotta, shallots and fresh oregano are a tasty appetizer for late summer or early autumn. Also great with other sweet peppers if you can find them, like habanadas – the capsaicin-less (non-spicy) version of habeneros.
I got the pleasure of playing with some habanada peppers recently. They are like habeneros – floral and citrusy flavour – but without the spice! Hard to find (I got them mixed with some other specialty peppers from Tenbrink Farms) but tasty if you can. I really advocate for experimenting with some of the more unusual varieties of peppers when you find them. To keep the heat down when using spicy ones, cutting out the seeds and the white ribs lets the other flavours shine. And not all of them are spicy. I'm quite pleased with how some roasted corbachi peppers did in a peach salsa!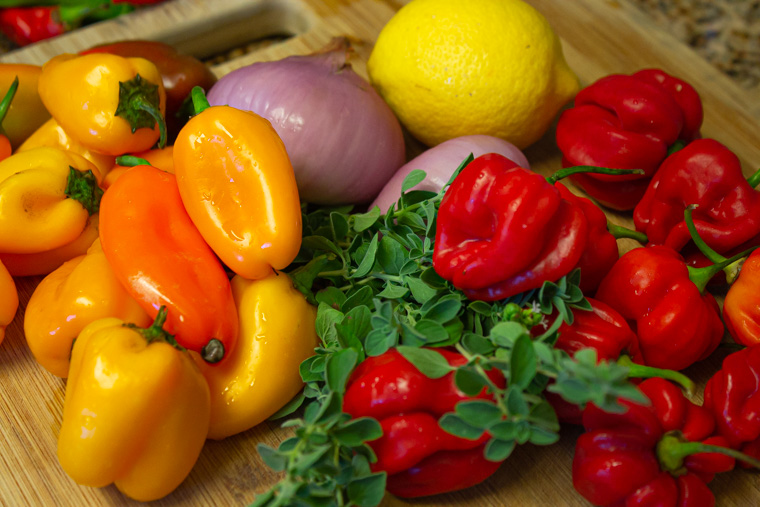 A (tiny) Dash of Science
The spice of peppers comes from capsaicin – a compound which literally burns your mouth (and skin, and eyes – don't cut super spicy peppers without gloves!). Different pepper varieties have more or less capsaicin, but in all peppers it is concentrated in the ribs and seeds (hence cutting those out, etc. etc.). And capsaicin is not soluble in water, which is why you need milk or yogurt to cool the spice. As always the folks over at Food Crumbles have in depth chemical reaction info for those you like that kind of thing.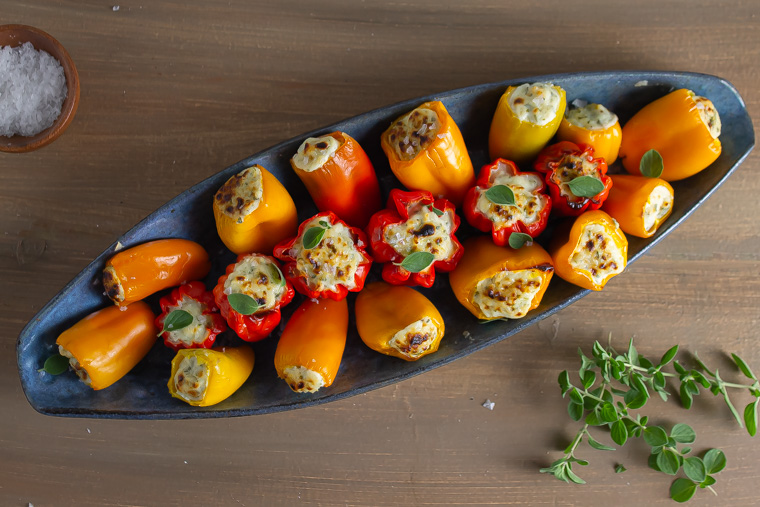 Back to the Food
And since most people will not have ready access to habanadas, lunchbox peppers are just great too. Until this year, I did not know lunchbox was the "official" name for the mini peppers (also called snacking peppers or baby bell peppers) you find in bags at supermarkets. I planted a lunchbox pepper this year in the garden – but got a grand total of 4 peppers off it – and also started getting them from my Eatwell CSA produce box.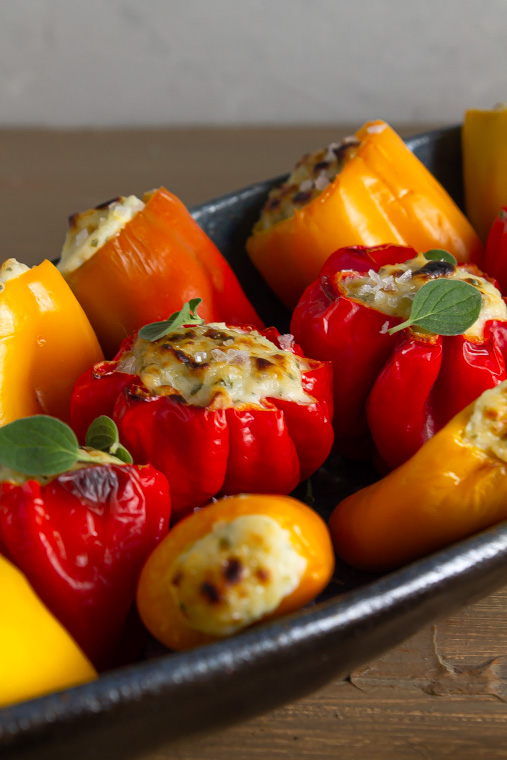 Both varieties of peppers are very difficult to fill in such a way that the filling doesn't flow out when you cook them. And of course they don't stand up. It took me several tries to find the right size supportive pan. I almost never use my 8" cake pans, but they were just right. Who knew all that Tetris playing would come in handy when cooking?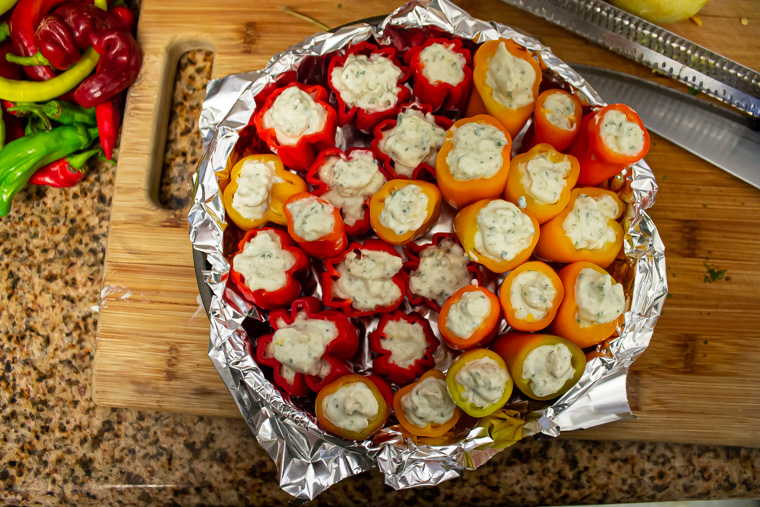 Ricotta Stuffed Mini Peppers
Ingredients
1

c/130 diced shallots

1

tbs/15ml olive oil

2

tbs/3g fresh oregano

chopped

2

tsp/ lemon zest

1

c/260g ricotta

¼

tsp

salt

1/8

tsp

ground pepper

¾

lb/375g snacking/mini peppers
Instructions
Heat broiler. Line 8-9" cake pan with foil.

Wash and dry peppers. Slice tops off and shake out seeds. Use a paring knife if necessary to cut the heaviest portion of the ribs out.

Heat olive oil in a frying pan over medium heat. Add diced shallots and cook until translucent, stirring regularly.

Combine shallots with ricotta, oregano, salt, pepper, and lemon zest. Process briefly with a hand blender or in a standard blender.

Stack peppers in foil lined pan so that the cut tops are facing up. Pipe filling into peppers until just rounded.*

Place under the broiler for 8-10 minutes until ricotta is just browning.

Sprinkle with some oregano leaves and flaky sea salt and serve warm.
Notes
*Or use a couple of small spoons.
I didn't get an opportunity to try it, but I imagine that some ground or finely chopped pine nuts would also be amazing in these. Reduce the ricotta by about 3 tbs and add a similar amount of pine nuts.