Use some of that amazing (and prolific) rainbow or Swiss chard with some sliced garlic, fried until crispy, with chickpeas and sun-dried tomato for a healthy but flavourful meal ready in under 30 minutes. I got the chard from one of the local produce delivery companies: Golden Gate Organics and I'm going to tell you all about their boxes.
I love supporting my local produce delivery boxes and CSAs. Particularly the smaller companies. I worked with Golden Gate Organics to create a couple recipes based on their organic produce delivery box and I'm telling you all about what you can find in their farm delivery boxes. Plus, I developed another recipe exclusively for their recipe database: Warm Beet and Parsnip Salad with Cara Cara Oranges.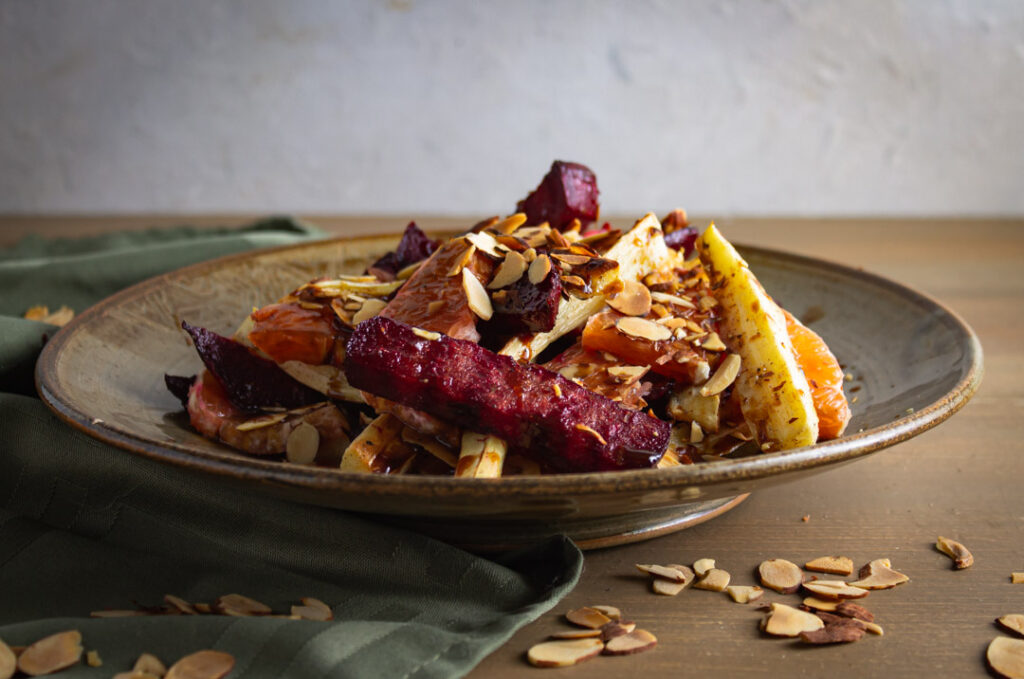 What is a CSA?
The original form of produce delivery in the Bay Area was strictly community supported agriculture farms, or CSAs. People would pay for a season's worth of vegetables early in the spring and the farmers would use this money to pay for seeds and planting. Then the customers would get a weekly box of vegetables that were picked up at a central location (or a couple different ones).
While there are still many CSAs and farms that work this way, a lot of other options have popped up too.
How are product boxes and CSAs different?
The standard CSA is one farm selling only their produce directly to the customers. It is really fresh, but you don't get much choice (in any) in what you are getting in your box each week. And if something doesn't grow well in your area – fortunately not as much of an issue in California – you won't get it. Plus, your options can get a bit repetitive, particularly in winter.
There are several companies that have branched out and now do produce box delivery. Of course, the wonderful local company we are highlighting today is Golden Gate Organics.
While the term produce box can encompass CSAs, it is best for describing those companies that act as a central point for multiple small farmers to distribute their fruits and vegetables. These companies are not farms, but they curate boxes of produce each week for their customers, pulling from several farmers.
The good ones (like Golden Gate Organics) still bring you lots of fresh, seasonal produce from small, local farmers, but they can give you a wider range of options each week. Plus, most of them deliver directly to your door.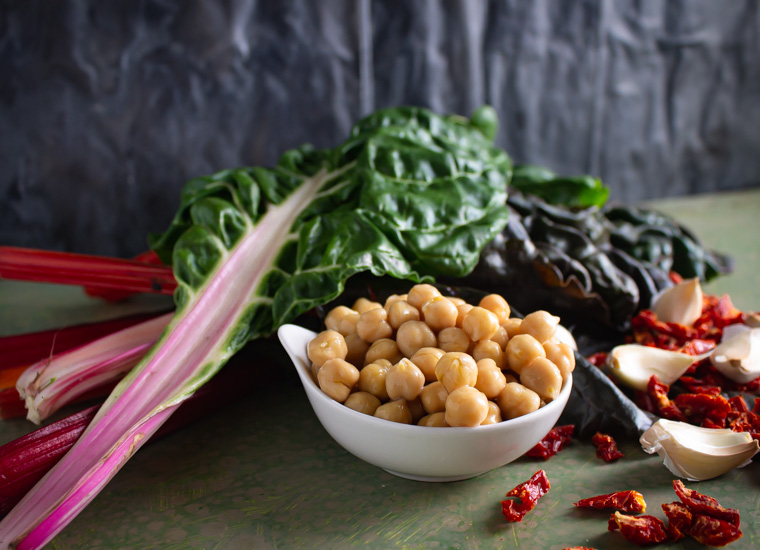 What does Golden Gate Organics offer?
I was pleased with the assortment I got from GGO. A wide range of winter fruits and vegetables. There were two bunches of chard, but not too much of anything else. (It does seem the chard did really well in CA this year, there was sooo much of it everywhere. More on that later.)
Everything pictured here was part of their regular box – which they tout as good for two people for a week – for $34. No too bad for everything organic and delivered to your door. Good quality and fresher than the stores.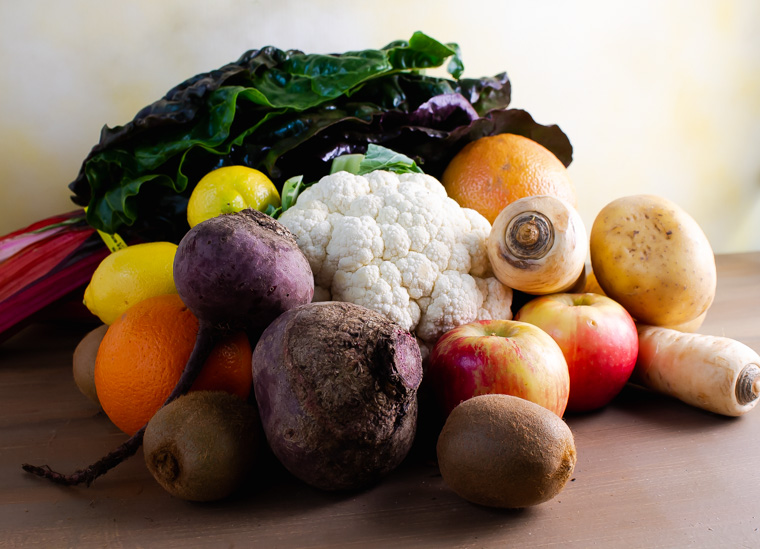 We all know that I'm a little spoiled living right near a bunch of farms that sell directly, so my bar for fresh is really high. I've gotten used to the farmers walking out of the field with a bucket of strawberries to sell me! But GGO had some nice fresh vegetables, and a much wider variety than I could get in the winter from the local farms.
Why Golden Gate Organics may be a good choice for you
The produce box is all organic
GGO also does all certified organic. Hence the name. My opinion on whether organic is better or not can be divisive, but a lot of California's small farms obey the spirit of being certified organic not just the letter of the law, resulting in better produce that is better for the environment. That, I am happy to support.
They do home delivery
While they have been expanding fairly steadily, as of the time of writing this, they currently do home produce box delivery all over the San Francisco Bay Area: the peninsula from San Jose to San Francisco, out all the way to Livermore and the rest of the East Bay, north to Novato, and edging east into Solano with Vallejo.
You can customize the box
One of the advantages of GGO's box is the ability to customize your selections each week (or every other week). You can also add on some locally produced pantry items or eggs. I elected not to customize the box I received because I wanted to push myself. Fortunately, they do curate a nice default selection each week.
They also have produce that comes from a little further afield, so you can get things like mangos or bananas. Great when you want to add a few of those tropical fruits without going to the store on top of your delivery.
All around, if you are looking for home delivery of organic fruits and vegetables in the Bay Area, Golden Gate Organics offers a great box and is one of those small companies that I love supporting.
If you want to try them out, you can use the code TwistZest for 15% off 4 boxes. $29 for all that produce doesn't sound too shabby.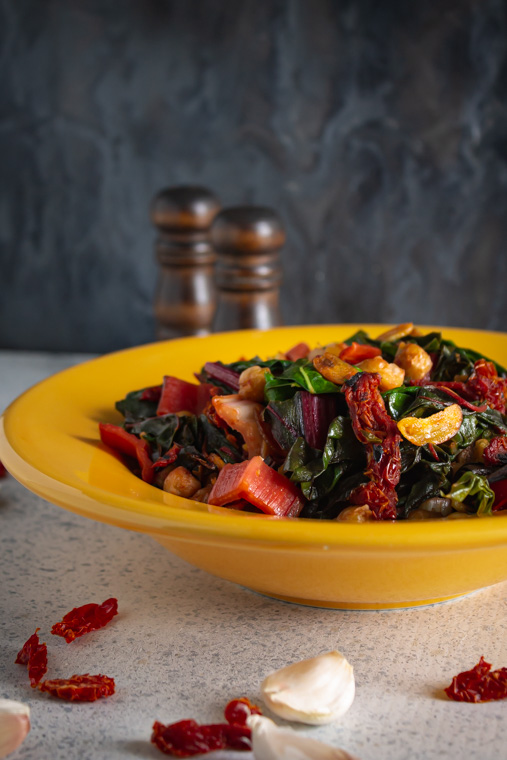 But I couldn't leave you without a recipe….
When I said earlier that chard has been doing really well this year, I meant it. The CSA I regularly get produce from has been sending a ton. My tiny garden has been producing it. It is just everywhere. I have definitely been stretched coming up with new ways to prepare it.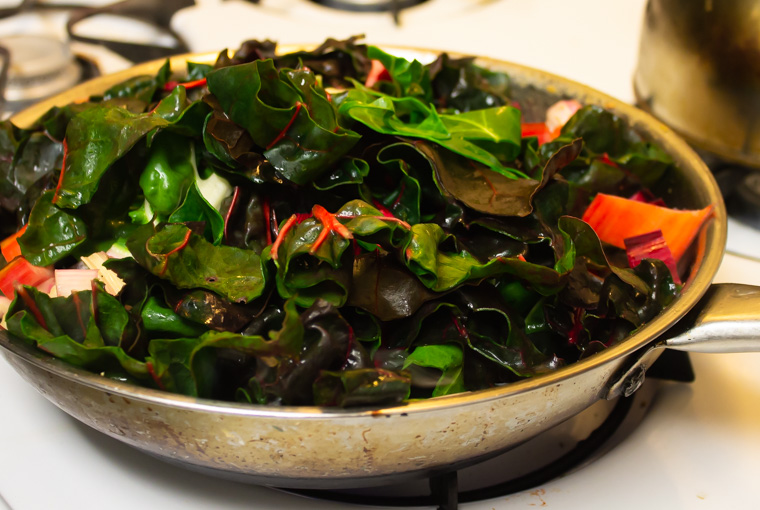 Yes, I know this is another sautéed chard recipe like the butternut squash and chard, but it is very different. For one thing, the garlic slices play a huge part here. They are sliced thinly and allowed to fry with the chickpeas so that both get crispy before the wine is added (just enough the steam the chard), so you get a nice melding of textures.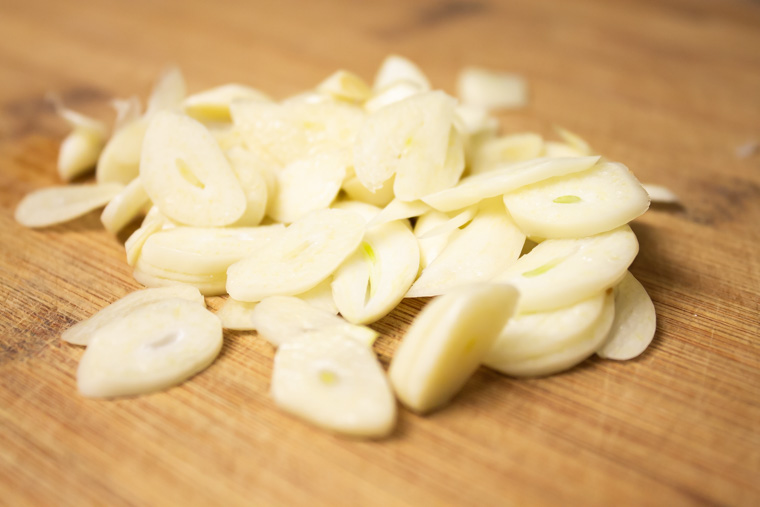 If you are still looking for more ways to cook chard, don't worry. I have some more recipes coming soon.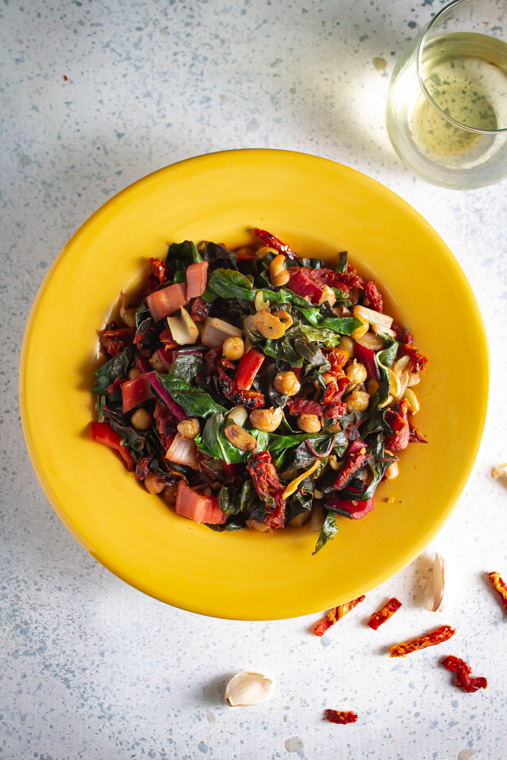 Sautéed Chard and Chickpeas
Serves 1-2 as a light meal
Ingredients
1

bunch/370g chard

1

c/150g cooked chickpeas

8

cloves/35g garlic

½

c/40g sliced sun-dried tomato

½

c/120ml dry white wine

2

tbs/30ml olive oil

½

tsp/3g salt
Instructions
Dry chickpeas between two paper towels.

Wash and dry chard. Slice crosswise into 1" wide strips. Cut stems to ½" wide or less.

Slice garlic into very thin ovals – 1/8" or less.

Heat oil in a large frying pan on med-high. Add chickpeas and sliced garlic. Add salt. Cook for 3-4 minutes, stirring frequently until slightly crispy and golden.

Remove chickpeas and garlic from pan and set aside in a bowl, leaving the excess oil.

Reduce heat to medium. Add sliced sundried tomato and chard. Cook for 1-2 minutes, stirring regularly to redistribute vegetables in relation to the heat.

Add white wine and cook for a further 5-7 minutes until chard is completely wilted. Remove from heat.

Add chickpeas and garlic and toss to distribute. Serve immediately.